We've given multi-media reporter Kathy Reiser license to be nosy in the name of public service.
Put her to the test by dropping in questions here or via email at [email protected]

Kathy Reiser/The News-Gazette

Big dig northwest of Champaign
"Cardinal Road between Duncan and U.S. 150 has been closed for a while and now recently Duncan Road between Cardinal Road and Route 150 is closed as well. One would have to think this is related to the I-74/I-57 interchange reconstruction. Any word on how long the roads in this area will be closed to traffic?"
and
"What is happening on North Duncan in Champaign, specifically between Cardinal and Route 150?
The for-sale signs for acreage have been removed. They graded up half the road today. Will businesses be built there?"
The scoop on a really big dig comes from Champaign County highway engineer Jeff Blue: "Cardinal Road is closed because Duce Construction has a borrow pit off of Cardinal and is hauling fill material to the interchange project. Duncan Road, therefore, has to take more traffic and needed to be regraded and seal-coated by the township."
"The work on Duncan was completed on Friday (Aug. 12), and Duncan is now open. I am not familiar with the for-sale sign and what is happening with respect to that," Blue said.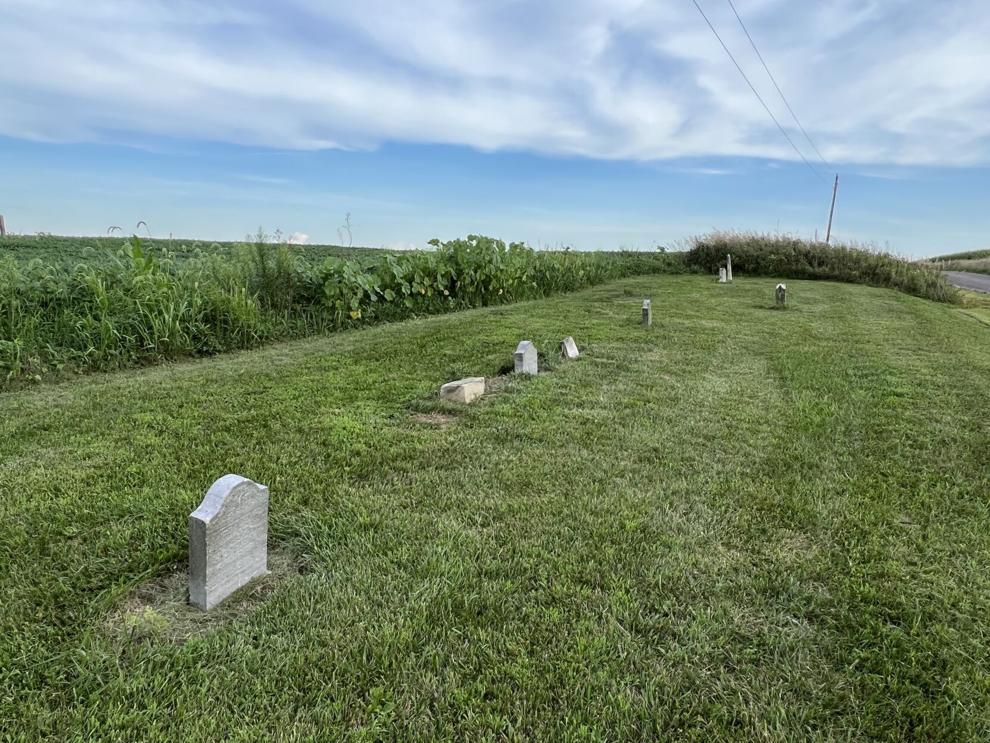 Kathy Reiser photos/The News-Gazette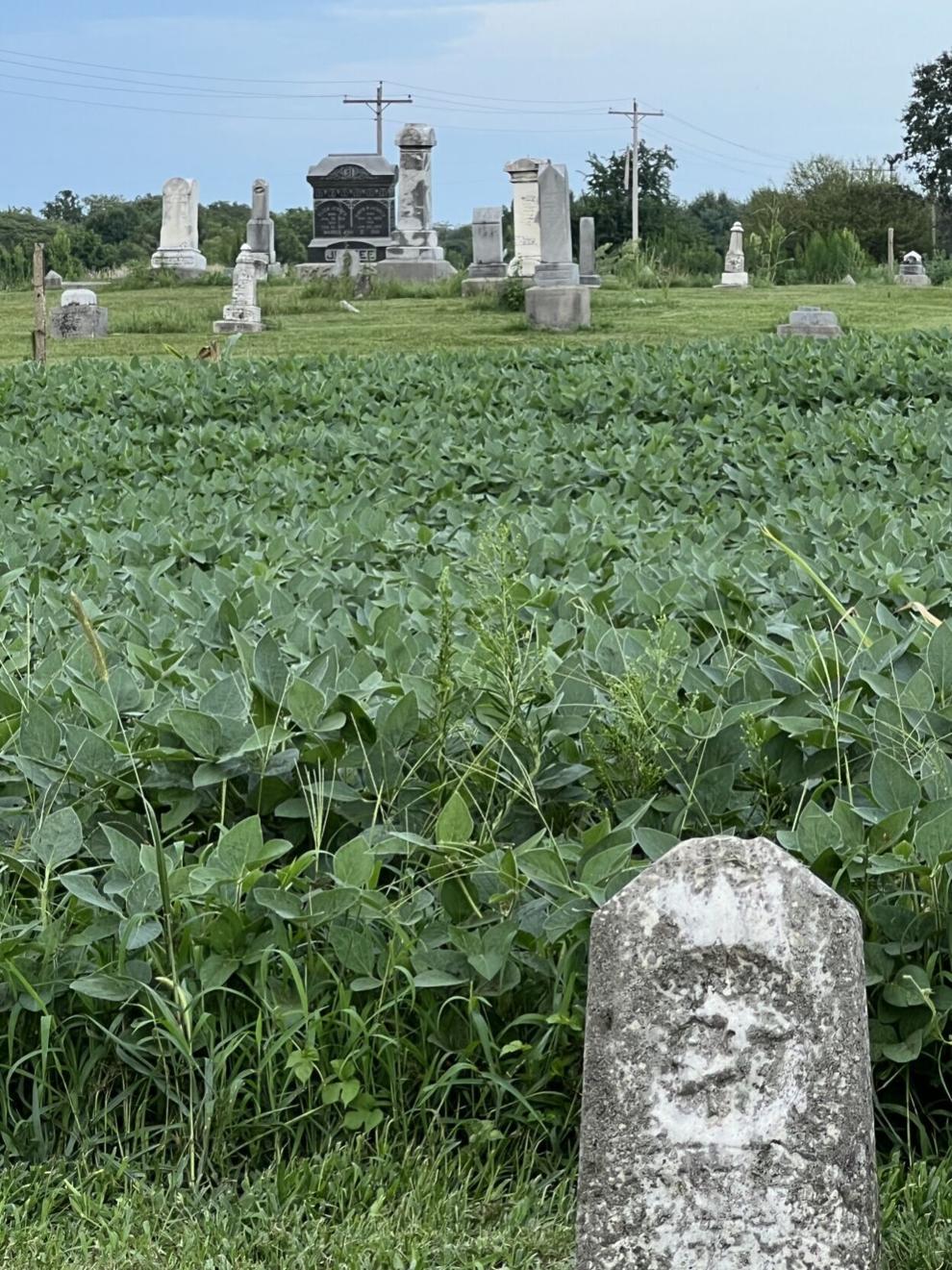 Underground Railroad burials
"Wondering if you know anything about the cemetery at Champaign County Road 100N/1400 E that I pass regularly by bicycle on the way to Villa Grove or Camargo. It's odd in that there are seven or so graves separated from the main cemetery, with these seven being next to the right of way. Someone actually farms the small space in-between.
"One thought on this was a separate location for Black residents of the area but I don't know anything of the history of Black farmers in the area/county."
It took a while to track down an answer to this question. And was it worth the wait!
The larger Jessee Cemetery was established as a community and family burial ground in the 1860s or earlier, according to Mary Anne Spannagel of rural Crittenden Township. But that's not the interesting part of the story.
Spannagel says there's no telling how many people were buried in the smaller graveyard – the one with just eight weathered headstones visible.
She said escaped slaves came through that part of Champaign County on the Underground Railroad before and during the Civil War. The little cemetery is believed to hold remains of several Underground Railroad "passengers" who died while making the arduous journey north to freedom.
Spannagel said there are no written records of burials prior to 1860 for either cemetery, and markers would not have been placed on the graves of fugitive former slaves. Even without records or markers, she said the Underground Railroad burial stories are an important part of the oral history that's been handed down through generations of some families in the immediate area.
Spannagel's late father, James Spannagel, and other family members maintained the larger Jessee Cemetery and the smaller graveyard for many years. She said he volunteered to do that because, "he felt cemeteries were your last chance to pay respects to people's loved ones."
In some of her dad's old cemetery files, Spannagel found records indicating that the smaller graveyard also had been used as a potter's field. It includes the unmarked graves of people who were unknown, unclaimed or indigent. Some infants were buried there, as well. Back then, most infants who died were buried in a separate section of the graveyard – not alongside their deceased relatives – because "they didn't need as big a plot," Spannagel said.
Crittenden Township currently maintains both cemeteries. There's not much activity in either of them these days, other than visits from history buffs who stop by to take a look at the oldest headstones. "In my lifetime, I don't know anyone who's been buried there. And I'm 70 years old!" Spannagel said.
Persistent burn pile
"I drive the I-74 corridor at least daily between Mahomet and Champaign. Almost every time I drive the route, regardless of whether it is 6:30 a.m., 5:30 p.m., or 9:30 p.m., there is a property at the southeast corner of I-74 and Lindsey Road, (4514 Lindsey Road per Champaign County GIS) that is burning something.
"Oftentimes the smoke doesn't smell like wood or leaves, and is dark colored. Though the fire is rarely very big, the smoke does occasionally linger low over I-74. Is it legal to burn in Champaign County in this manner? Recently I have noticed a number of cars at the east side of the property, too. What could the resident be burning that requires a burn pile so often?"
Champaign County Zoning Administrator John Hall said that location is within one mile of the Village of Mahomet — and thus, the only allowable open burning is for landscape waste that is from the property. "We have not received any complaints about this property but will follow up," he said.
Downtown Champaign security
"The City of Champaign has a contract with AGB Security (for over $200,000) to provide security in the downtown area on certain nights of the week. I wonder if you can follow up with the City to find out if AGB is staffing the area appropriately and keeping up with their end of the contract. Do they have enough of the right kind of personnel to handle the task?
"Videos and other social media posts indicate they are out of their league. Fights are common, and large crowds gather regularly, putting everyone in danger. Guns are commonly seen in the videos or on those arrested. Now, the Champaign Police Department (CPD) is back assigning officers to patrol the area, which is the very thing that the administration was trying to avoid. Any comment from the city?"
A response from CPD Lt. Andre Davis: "AGB Security serves in a civilian security role in the downtown area, with a duty to observe and report, rather than serving in any capacity as police. They are assigned to patrol in downtown Champaign, providing a visible presence, addressing quality-of-life concerns, and reporting major issues to Champaign Police for officer response.
"It is important to distinguish that they are not empowered to engage in law-enforcement activities that are the responsibility of sworn officers. In the event of an incident of concern, protocols in place dictate that they contact CPD, then position themselves nearby at a safe distance to capture it on body camera and serve as an eyewitness, but not intervene.
"Staff from AGB maintain an open line of communication while they are on-duty on Thursday, Friday and Saturday nights, providing their observations to CPD personnel and keeping our officers informed of what they are seeing.
"These observations have led to the assignment of additional patrol presence during the very late hours of the night in recent weeks. That is not a reflection on AGB, but a reflection on the behaviors spotted among large gatherings in the downtown area in the hours after midnight on some evenings. They include alcohol consumption in the right of way, excessive noise and even fighting, as mentioned by your reader," Davis said.
"Even as our officers are in the area, addressing these concerns, AGB is aiding us in identifying and citing those involved, as they serve as credible witnesses and provide body-camera footage. Officers from the Champaign Police Department welcome their partnership and are glad to have their assistance.
"They provide a presence in a highly public area while we are working to address high-priority calls for service throughout the entire City, give us eyes and ears so that we can respond to concerns that arise with appropriate resources, and aid us in quickly and efficiently addressing smaller issues that arise."
Urbana sidewalk cuts

"The City of Urbana has gradually been replacing the existing sidewalk cuts for wheelchairs with new ones that have high concrete borders. As an elderly person with brittle bones I cringe every time I see them making this change. I have already fallen over one of the borders because I was chatting with someone as I walked instead of constantly watching my feet. I am very worried about what will happen in the winter when the edges are obscured by snowfall. What gives?"
Replacement curb ramps are constructed in accordance with the Public Right of Way Accessibility Guideline (PROWAG), according to Tim Cowan, Urbana's public works director.
"The 'design pedestrian' is now understood to be not an individual but a range of users – children, elders, people pushing or pulling strollers and delivery carts, using a wheelchair or scooter, or traveling with a long/white cane or a service animal. The roadway and pedestrian environment must function effectively for all of them. The normal direction of travel should be parallel to the concrete borders or curbs and normally pedestrians wouldn't be stepping over these barriers as trip hazards."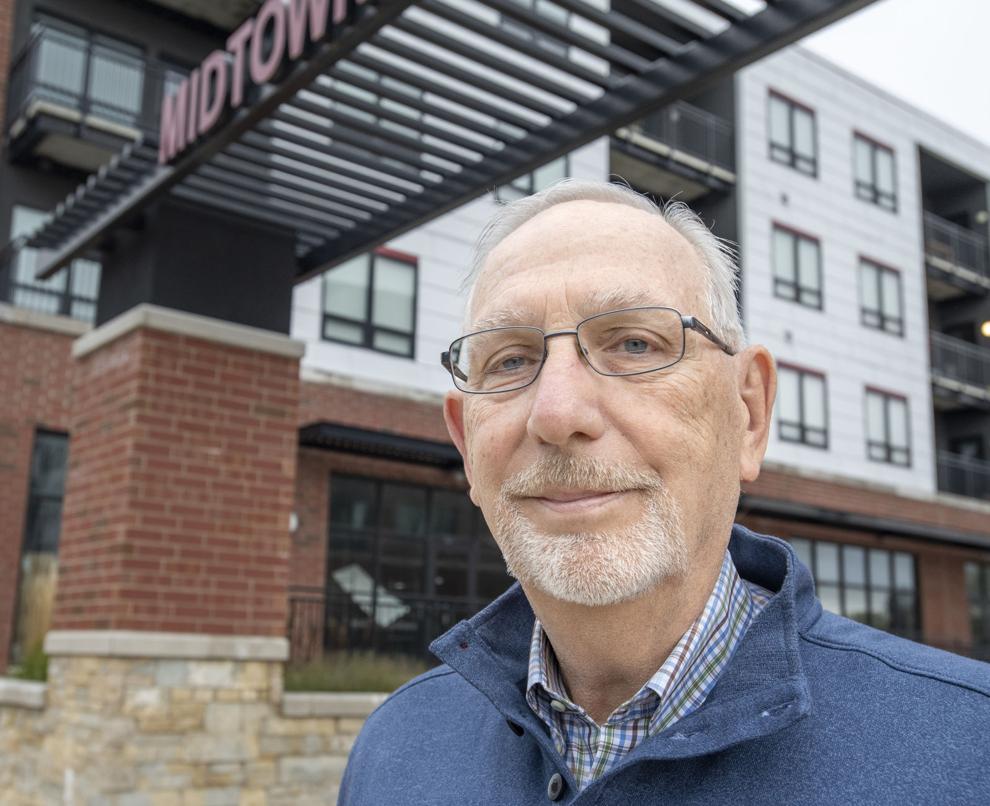 University Group Chairman Dan Hamelberg poses outside its Midtown Plaza complex Wednesday on First Street in Champaign.

Robin Scholz/The News-Gazette

Clint Atkins and his wife, Susan, pose for a photo at the banquet honoring him as the Parkland College Foundation's inaugural V. Dale Cozad Entrepreneur of the Year on March 16, 2010, at the I Hotel and Conference Center in Champaign.

The News-Gazette
Newspaper alumni tycoons
"Reading the N-G this morning (Aug. 13), I see that University Group's Dan Hamelberg is wanting to build another apartment building. My question is, wasn't he an employee of The News-Gazette at one time along with Clint Atkins?"
Kathy here. I have to admit that at first, I had my doubts about this possibility. But sure enough, both Dan Hamelberg and the late developer Clint Atkins began their careers as local newspapermen.
Atkins' 2011 obituary said he began working in The News-Gazette's circulation department in 1964. He enjoyed working with colleagues and the youth of the community – the kids who had paper routes – to get the papers delivered on time.
"After retiring at the age of 30, he had acquired several properties in Champaign and the surrounding communities," the obituary said. He went on to develop many commercial and residential properties in the area including the Stone Creek subdivision, and bought and sold several successful companies.
Hamelberg did not work at The News-Gazette, but he was employed – twice! – by our crosstown competitor, The Champaign-Urbana Courier, in the late 1960s and early '70s. He started at the Courier shortly after he graduated from the UI with a communication degree.
He left the paper to work at Krannert Center for the Performing Arts for about a year, then returned to The Courier for a few years. In a 2016 story about Hamelberg, News-Gazette writer Deb Pressey quoted him as saying, "While I did that, the thought occurred to me that there might be times I might not have a job. I might need a backup."
Pressey's article said Hamelberg's backup plan involved selling his own house, moving into an apartment, and investing in a student duplex in Urbana. In the years since, he's become one of the twin cities' most prominent real-estate developers and investors.
"I left the newspaper, and never looked back," he said this week.
Urbana police chief search
"It has been months since our police chief in Urbana retired and – far as I can tell – the City has yet to even choose a search firm, or post a job opening, to help it find Bryant Seraphin's replacement. What's the holdup? Is there an internal candidate who is making a search unnecessary or something else?"
There is some progress to report, according to Urbana Mayor Diane Marlin.
"The City has hired executive search firm POLIHIRE to conduct the searches for Chief of Police and for a new Head of the Community Development Services Department. We have been working with the firm to develop position descriptions and a recruitment brochure. The jobs will be posted shortly."
Current UPD leadership includes Interim Chief of Police Richard Surles and Interim Deputy Chief of Police Matthew Bain.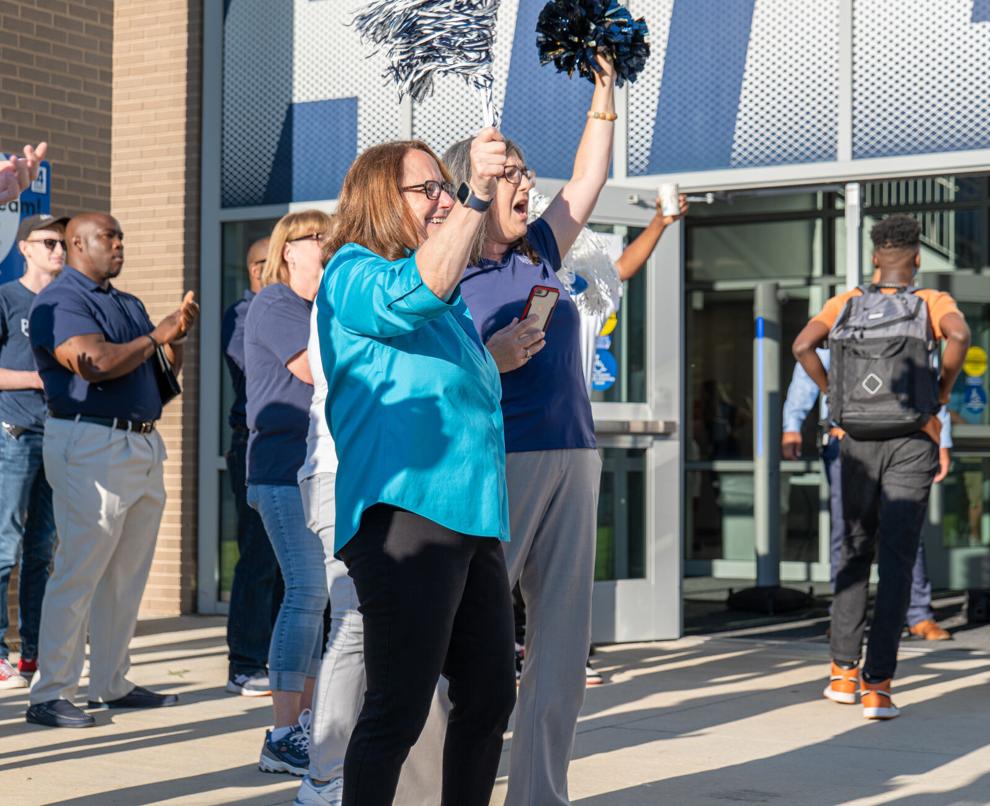 Champaign mayor Deb Feinen and city council member Vanna Pianfetti cheer as students arive for the first day of freshman orientation on Thursday, when staff and community members lined the sidwalk to cheer the students in. Anthony Zilis/The News-Gazette
Earlier school start dates
"When I was a child, the new school year usually started between Sept. 1 and Labor Day. Since then, the start date has gradually been pushed into mid-August for many districts. What are some of the reasons behind this trend?"
There are several reasons, say area school administrators. One of the biggies was a need to provide more balance between fall and spring semesters for high school students.
Carol Munson, Villa Grove superintendent of schools, said an earlier start, "allows students to complete projects and exams prior to Christmas break rather than having to return to school after two weeks off and (then) testing." Students needed a lot of review after the break, so instructional time was lost.
Munson also said the longer the school year extended into June, the harder it was to keep students focused and engaged. This led to lost instructional time, as well.
St. Joseph-Ogden Superintendent Brian Brooks pointed out that most schools have air-conditioning now. So extremely hot weather is not as hard on students or staff as it once was. Brooks also said an earlier start to the school year allows for schools to take slightly longer breaks over the holidays and still finish the school year around Memorial Day in May.
Rantoul City Schools Superintendent Scott Woods added that high school students typically change schedules after winter break, sometimes taking different courses during the spring semester. When they end the fall semester before winter break, the students can dig right into their new courses when they head back to school in January.
Bar-entry age boundaries
"My daughter goes to the UI, and at age 19 is allowed to enter campus bars. My question is this: is there a boundary as far as what bars can allow a 19-year-old in?"
Champaign's deputy liquor commissioner Matt Roeschley said, "the short answer to this question is that all establishments in the City of Champaign holding a Class A (Tavern) license – the license category held by campus bars – may admit patrons age 19 and over. Patrons under age 19 must be accompanied by a parent or legal guardian. Establishments can choose to adopt a 21-and-over entry policy, but that is at the discretion of the business."
Meanwhile, Kate Levy, Urbana's deputy local liquor commissioner, said any Class A (bar) licensees may choose to allow 18-, 19- or 20-year-olds to remain in a public area of their premises at their discretion. They must file that intention with the City.
Of course, anyone under age 21 can't legally purchase or consume alcohol at local establishments in either city.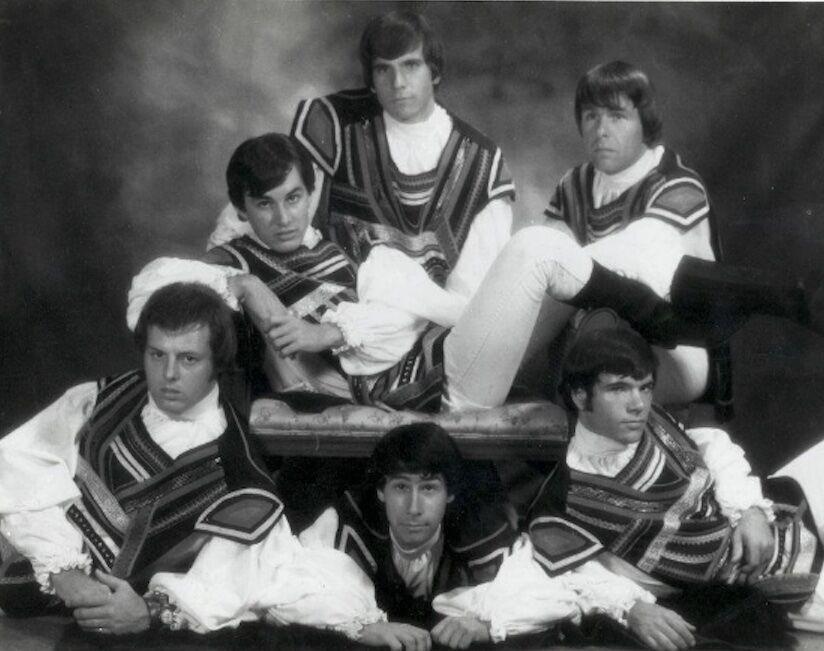 One-Eyed Jacks band members
"I'm 75 years old. I spent some time in Chances R back in the 1960s – probably more than I should have – listening to rock bands, particularly the One-Eyed Jacks. Are the One-Eyed Jacks still together? I see there is an establishment in New Orleans named One-Eyed Jacks. Is there any connection to the band that played at the Chances R in Champaign in the 1960s?"
Larry Fredrickson, co-host of the "Homegrown 'KIO" radio program that showcases local bands of the past 50+ years, filled us in on what some of the former band members are doing these days:
"We're basically building our whole Homegrown 'KIO show around the genesis of CU rock and roll history with the immensely popular and professional One-Eyed Jacks (OEJ)! Quite a band that started in a fraternity on the U of I campus. Many of the individual members went on to spectacular careers in the music industry.
"Budd Carr, lead singer, went on to manage the band Kansas and is Oliver Stone's music director for his movies amongst other things. Tom Kelly in OEJ wrote 'Like a Virgin,' 'True Colors' and many other hits and is in the Rock & Roll Songwriters Hall of Fame.
"John Baruck, OEJ road manager, works with Irving Azoff and manages some of the biggest bands in the U.S., including Journey. Other members were very successful in their other professional fields."
Fredrickson said he and Homegrown co-host Dave Leake interviewed former members of OEJ via Zoom a few months ago. That audio interview is posted in the podcast section under Homegrown on the WKIO website, www.1079wkio.com.
Homegrown 'KIO airs from 7 to 8 p.m. Sunday on WKIO 107.9 FM. Out-of-town listeners may stream it live via The News-Gazette app or the WKIO website.
Oh, and … several restaurants/bars around the U.S are named One-Eyed Jack(s), and we are not aware of any connection between any of those establishments and the local band.
Main Street Reinvestment Grants

"Did the City of Urbana apply for one of those downtown/Main Street reinvestment grants? If not, is there any way to find out why not? I see where both Champaign and Rantoul got nice-sized awards for their communities. It feels like a missed opportunity to me, or perhaps they did apply and were denied funding. Thanks for whatever information you can find out."
"As often is the case with grant opportunities, it's a matter of timing," said Mayor Diane Marlin. "The City of Urbana didn't have an approved plan ready to go that met the criteria for this particular grant. However, we currently are engaged in a Downtown Public Realm Study and are asking for the public to participate." Residents may learn more about that study and get involved at https://urbanaillinois.us/publicrealm
The "public realm" includes public right of way such as streets and parking lots, squares, plazas, courtyards and alleys. "The feedback we receive will inform development of a downtown plan." Marlin also said she anticipates new opportunities for redevelopment along Main Street on the site of the former county jail.
To read more about Main Street Reinvestment Grants that were awarded to area communities in recent days, check out the Aug. 17 edition of The News-Gazette.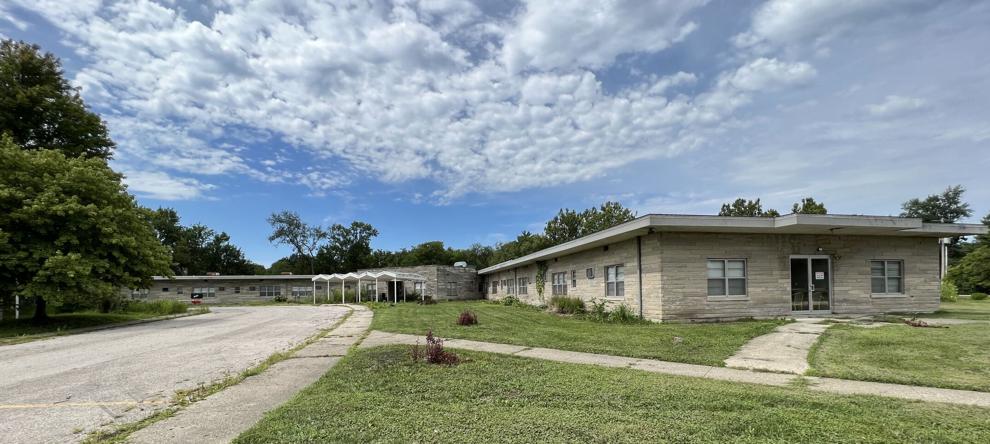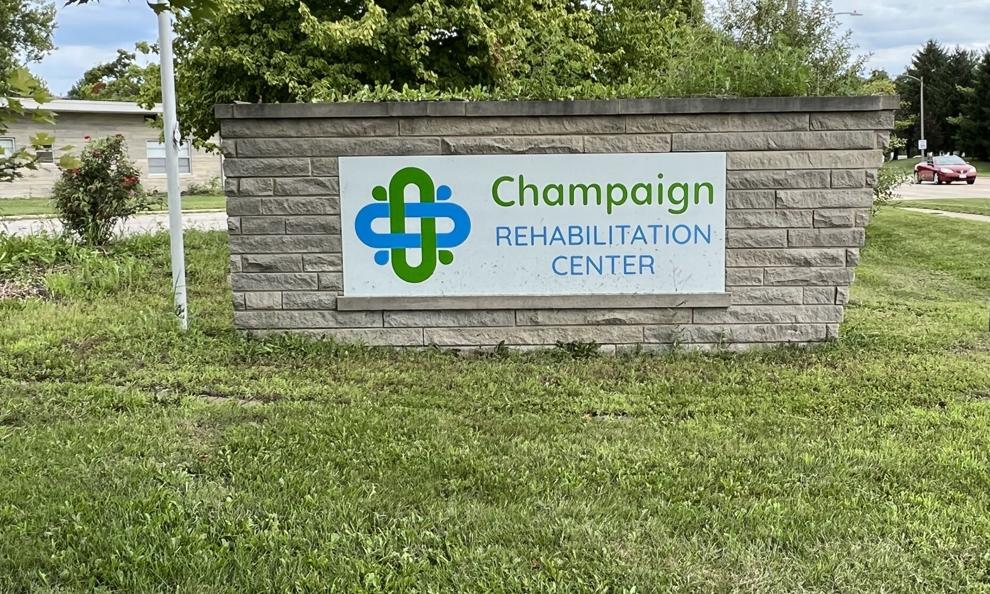 Vacant rehab center building
"What's to become of the former Champaign Rehabilitation Center on South Mattis? The greenery is taking over and the backside of the building is beginning to get graffitied. Is this going to continue to be an eyesore and then possibly a safety issue?"
Rob Kowalski of the city's Planning Department said the property is now owned by Fairlawn Real Estate, and the company, "has indicated future plans to build townhouses, which current zoning of the property would allow. However, at this time no plans have been submitted to the City for review and/or permitting."
Meanwhile, the city's code-compliance manager, Tim Spear, said he is sending an inspector out to check on the vegetation and the graffiti. "If there are other exterior issues with the building, the inspector will address those, as well. Due to the location of the issues, we would be unlikely to notice the issues without receiving a complaint."
Spear said readers who have concerns about properties in the City of Champaign may contact the Neighborhood Services Department at either (217) 403-7070 or by filling out a form on the City's website (https://champaignil.gov).
Blind corner at Mattis & John
"There is a gas station sign at the corner of John and Mattis that blocks the view of the oncoming traffic going north on Mattis. I was almost hit when a car ran a red light as I was turning south from John onto Mattis. The gas station sign blocks the view on the traffic, and with so many people running red lights you cannot see them coming.

"Is there any way that sign can be moved back before a serious accident happens?"
It does not appear that the City can force the issue at this time. Ben LeRoy, Champaign's zoning administrator, said, "At present, and presumably at the time this sign was approved as well, the sign regulations for this property's zoning district allow a freestanding sign in this location.
LeRoy said there is no process to revoke a sign permit that complies with the City's Zoning Ordinance. "Should the City of Champaign amend its sign regulations in the future to prohibit new signs at corners like this, this sign would become a nonconformity. In general, nonconformities are allowed to persist and be repaired, but cannot be enlarged or rebuilt if demolished."
Plaque to mark VP's childhood home
"I am wondering if the City of Urbana is planning (or already has placed) a plaque of some sort in front of the home where Vice-President Kamala Harris spent part of her childhood? I think her father was a professor at the UI at the time. I think this would be a nice honor to her from the City."
Actually, it appears her family lived in Champaign.
Tom's Mailbag ran an item about VP Harris's local ties a few years ago. Her father spent a year in the UI department of economics right after he earned his doctorate at the University of California-Berkeley. He continued his career at Northwestern University, Wisconsin and then Stanford.
VP Harris was born in 1964, so she was a very young child when her family lived at 315 Avondale in Champaign (in 1966) and moved sometime later to 508 N. Prospect.
Jeff Hamilton, communications manager for the City of Champaign, said city officials are not aware of any public request or inquiry regarding a commemorative plaque.
Gravel roads

"Why did Old Church Road, starting from First Street going east, turn into a gravel road all of a sudden? Race Street off of Old Church is also gravel now. Is this temporary or permanent?"
and

"What's the deal with completely covering Airport Road east of First Street, Old Church Road east of First Street, and Race Street in that area with gravel in the past few days? Are there massive road works planned or is it just for drivers' excitement?"
The answer from Champaign County highway engineer Jeff Blue: "All of those road were 'oil and chipped' recently by the township. With oil and chip, liquid asphalt is spread on the road and the rock is placed on top. It is usually pretty dusty for the first several days until the rock settles into the oil."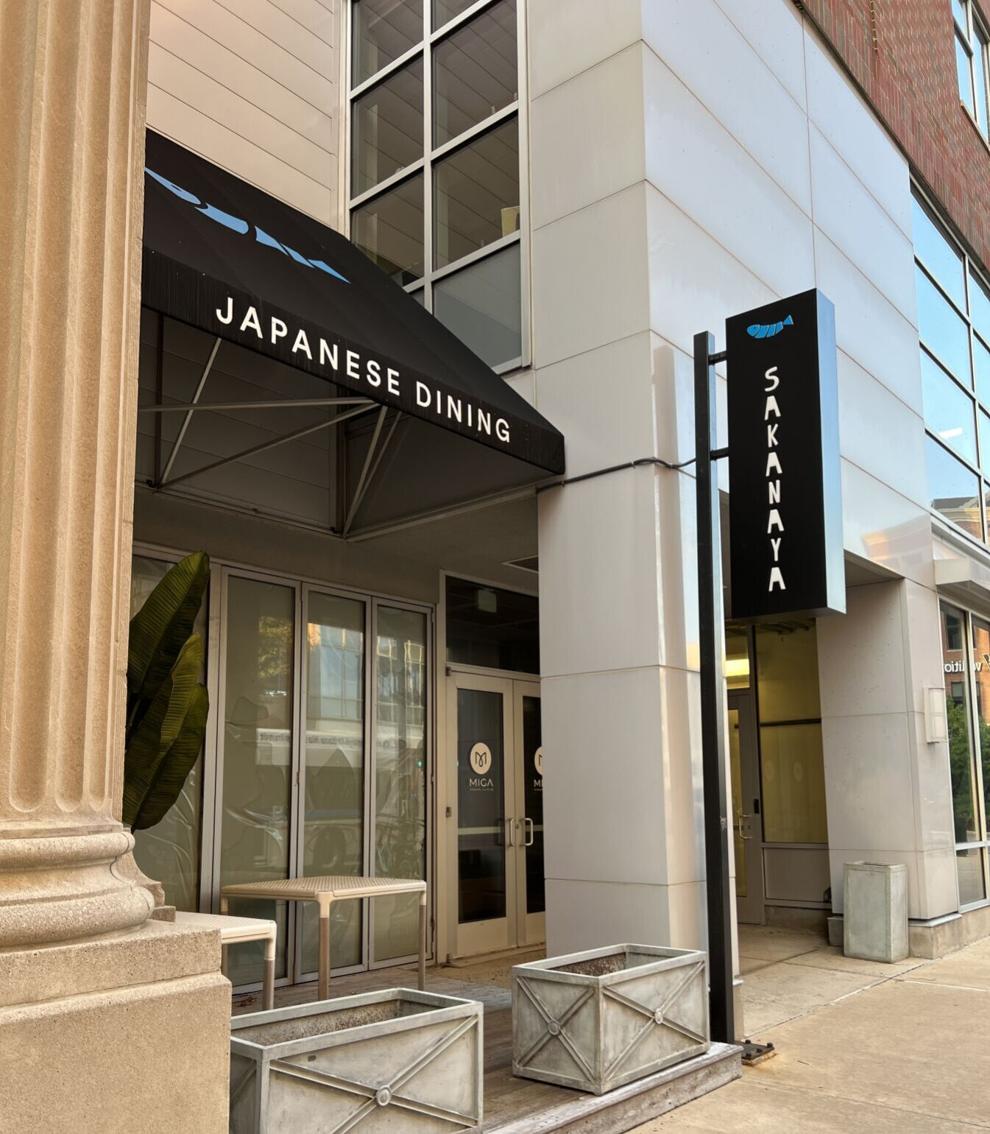 Sakanaya II downtown
"Whatever happened to Sakanaya opening a second location in downtown Champaign? I thought it was set to open in May of this year."
There is a newish Sakanaya sign at the former Miga restaurant on Church Street in downtown Champaign. An email seeking information about the eatery went unanswered. When we called Sakanaya's UI campus location this week, the manager on duty said there are no plans to open a second location at this time.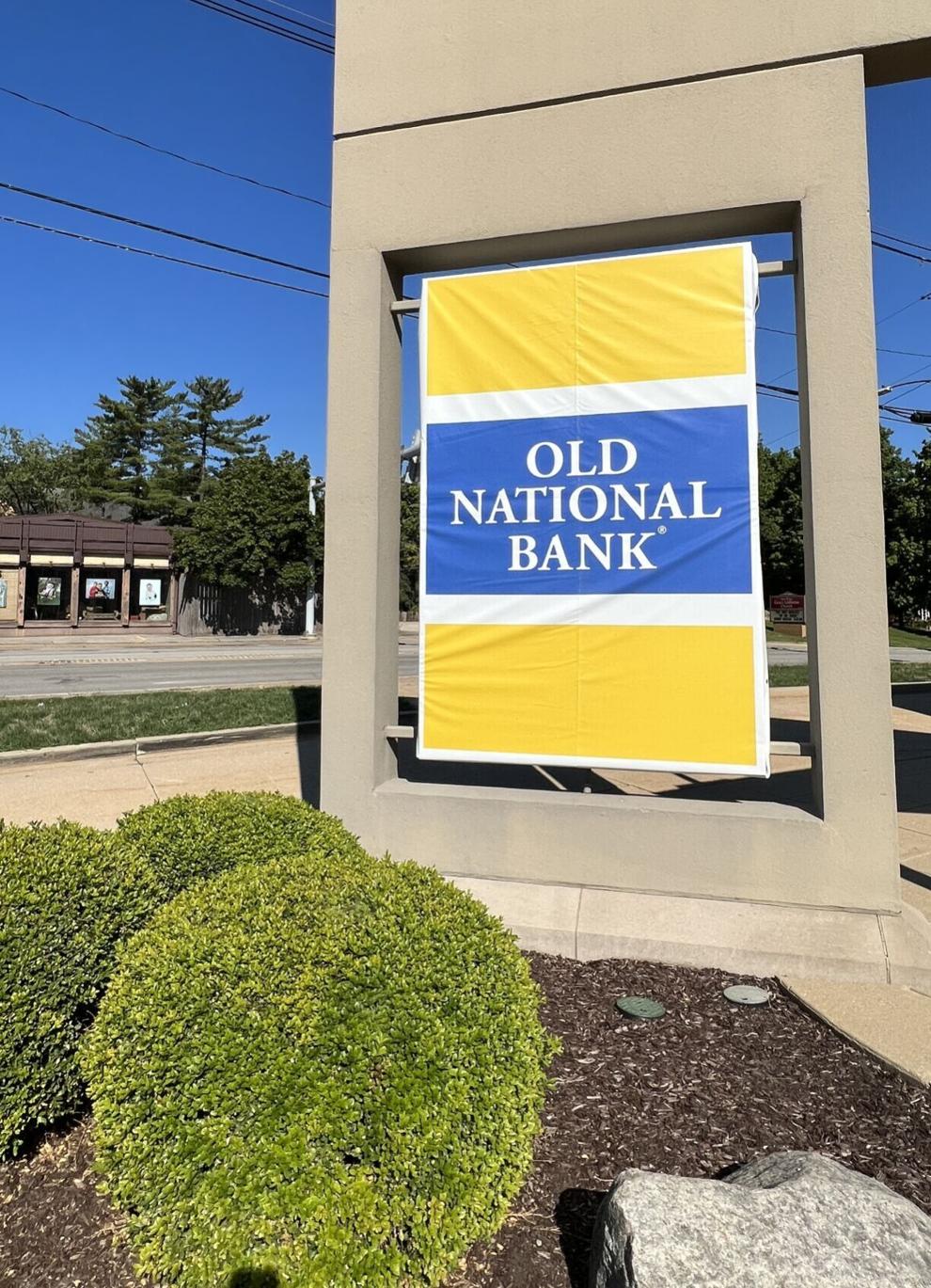 A new Old National
"Has the bank at Springfield and Prospect Avenues in Champaign changed names? I don't remember seeing the Old National Bank sign before this week. This is the bank that had a rash of robberies, if I recall."
Old National Bancorp, based in Evansville, Ind., has merged with Chicago-based First Midwest Bancorp. The company's website says the combined bank operates under the Old National Bank and Old National Bancorp names in several Midwestern states.
The changeover was completed on July 11, and a teller at the Springfield Avenue branch said the new exterior signs were installed the weekend before that. Here in east-central Illinois, Old National also has two branches in Danville.
Traffic light needed
"In southwest Champaign, Staley at Springfield and at Kirby both have traffic lights but only a stop sign at Windsor. The heavy traffic at Windsor causes many disputes between drivers and occasional road rage. Is the city considering installing a traffic light there, given that other nearby intersections all have one?"
Champaign Public Works' Kris Koester said the intersection likely will get a traffic light "at some point in the future." However, one is not currently in the City's 10-year Capital Improvement Plan.
He said the guidelines for installing a traffic signal include criteria related to traffic volumes, pedestrian volume and traffic safety. Several other intersections across the City "are similar to Windsor and Staley, in the sense they may warrant a signal. The installation would have to be part of a capital project and compete with other proposed City projects for funding within the plan during its annual update."
Tai Chi in the C-U

"Tai Chi in the C-U – I cannot find any classes. Hoping your connections and investigative moxie will turn something up."
Tai Chi is a form of slow-motion, low-impact exercise that enhances strength and flexibility.
The Urbana Park District's Mark Schultz says UPD has offered monthly Tai Chi lessons this summer. The final summer lesson is at 6:30 p.m. on Tuesday, Aug. 23, at Meadowbrook Park. UPD also will be offering Tai Chi classes this fall at Phillips Recreation Center – Monday/Wednesday classes in the evening and Tuesday/Thursday classes in the morning. Classes start September 12. Register by August 29 for a discount.
Jimmy Gleason at the Champaign Park District said the district does not have any plans for Tai Chi classes at this time. He said they "used to offer Tai Chi at Kaufman Lake, but the demand dropped and the classes were canceled."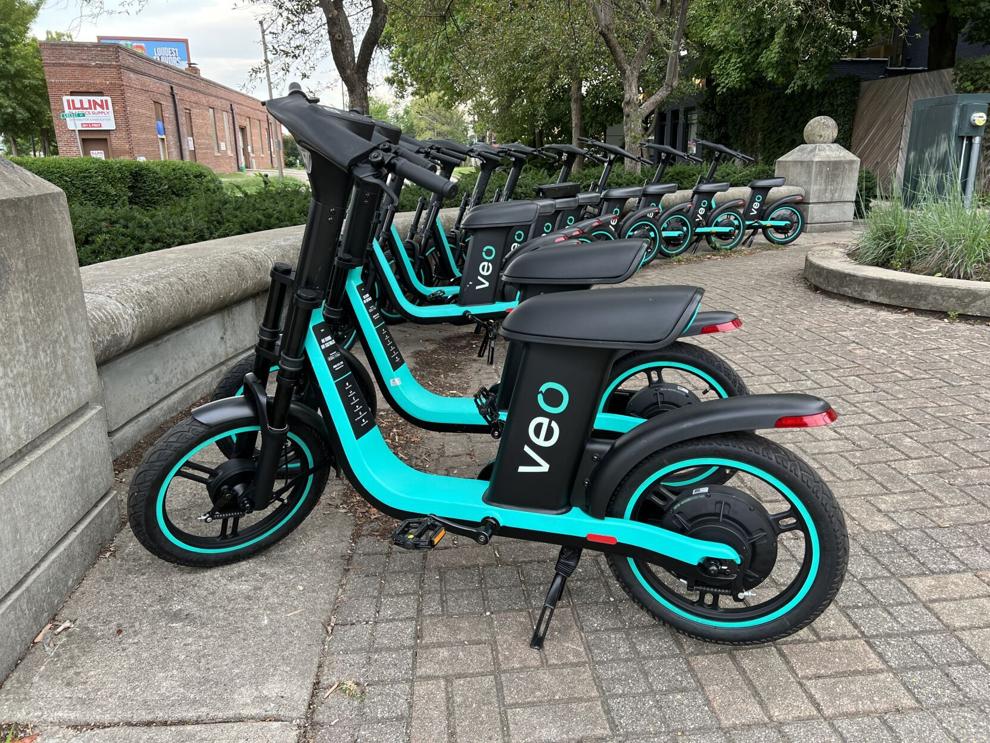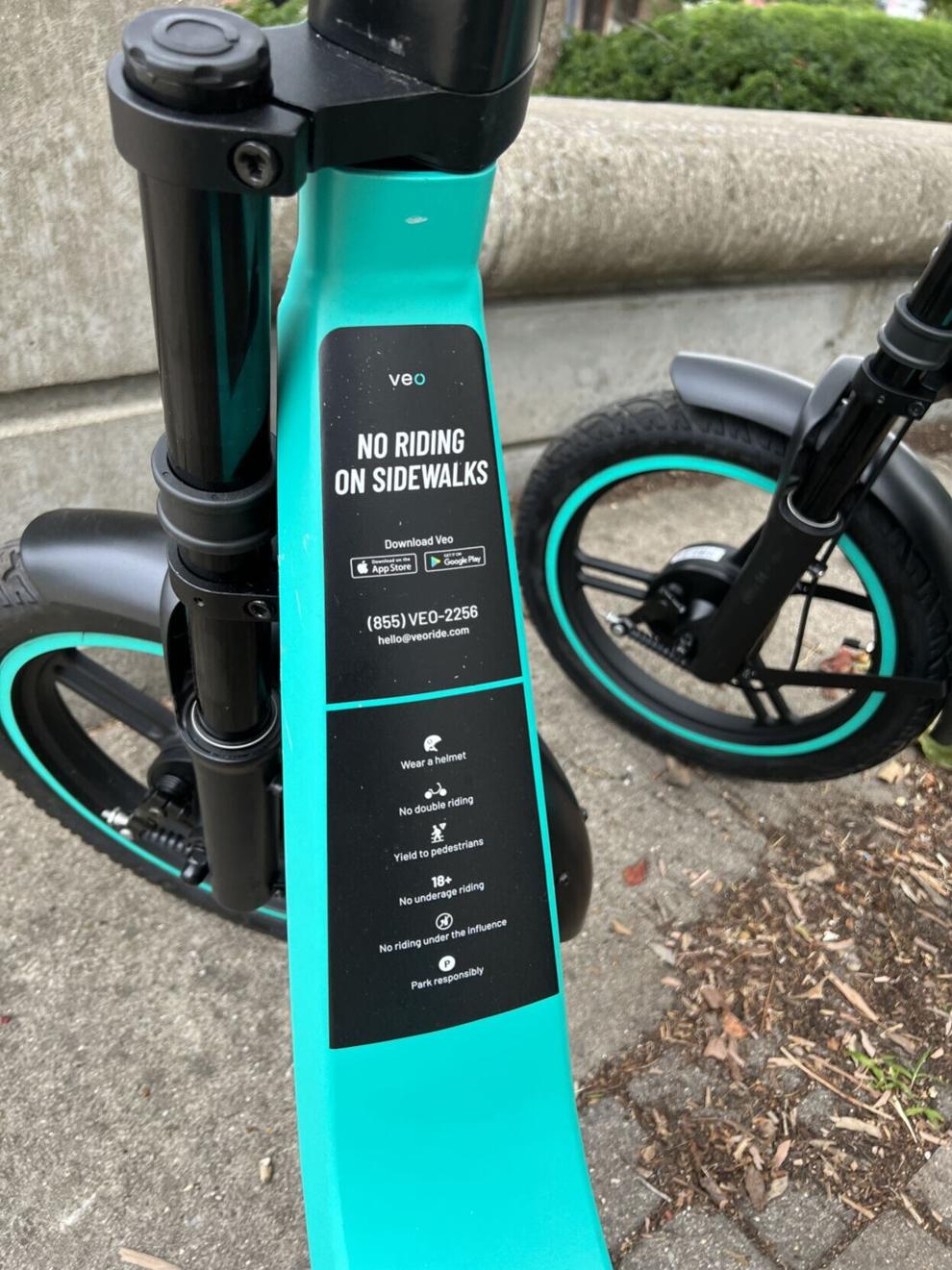 Sit-down scooters
"I've noticed dozens of new sit-down rental scooters parked at racks in downtown and midtown Champaign lately. Now I'm seeing them in Urbana, too. How many of these scooters are there in Champaign Urbana, and at the University of Illinois?
"Are they strictly battery-powered, or is it a combination of battery power and old-fashioned pedal power? They look fun. What would it cost to take one for a spin?"
These vehicles are Class II Cosmo-e bikes, which feature both a throttle and pedals, according to Jeff Hoover, VeoRides' director of policy and partnerships.
"Veo's research has found that the throttle-assist allows riders of varying body types and physical abilities to get where they need to go if they are unable to pedal, are traveling a farther distance, need assistance traveling up hills or for carrying cargo, or want a boost to get up to speed from a stopped position."
Expect to see more of them around town in the coming weeks. Hoover said about 400 Cosmo-e bikes will be available in Champaign and Urbana by early September. Riders must be age 18 or over, and the bikes are street-legal.
The Veo smartphone app is needed to unlock the bikes. They cost $1 to unlock, and 30 cents a minute to ride. They do not need to be returned to the point of origin.
While the Cosmo-e is not available on the UI campus, members of the campus community have access to Veo's Halo e-bikes, which also allow riders to travel with electric-assisted pedal power.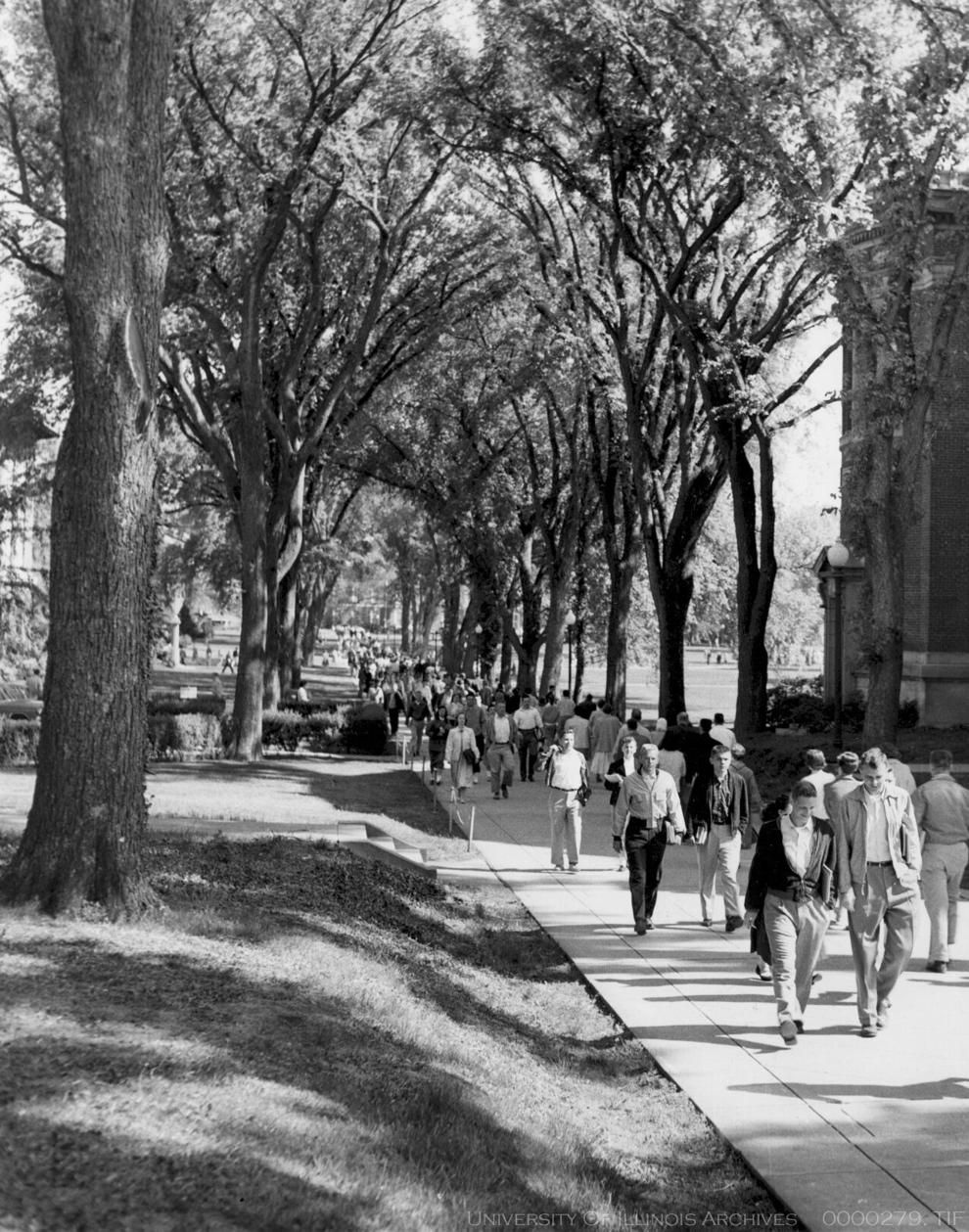 Younger trees on the UI Quad
"As I walked through the University of Illinois' Main Quad recently, I noticed that most of the trees did not seem as old as I would expect. What is the history of the trees on the quad? Have there always been trees there? When were the current batch of trees planted?"
A short history, courtesy of grounds superintendent Ryan Welch and landscape architect Brent Lewis, both with UI Facilities & Services:
In 1929, the Board of Trustees took the advice of renowned landscape architect Ferruccio Vitale, who warned that planting a wide variety of trees on the Quad "would tend to minimize the impressiveness and the serenity of the planting design."
Elm trees were a traditional choice that did well in local conditions. "No tree is more majestic nor better adapted in form and in scale to form the setting of the University's new buildings," Vitale said. So the walkways on the Quad were lined with elms sometime around 1930. Over the years, they were lost to Dutch elm disease and phloem necrosis (elm yellows). The last elm trees were removed in 1956. 
The elms were replaced with thornless honey locusts. This tree was selected for its large mature size; light, dappled shade produced by the lacy foliage; tolerance to a wide range of soil conditions and drought; and yellow fall color. Only six honey locusts remain on the main quad from the 1956 planting.
A variety of native oak trees replaced trees that were removed. Most of the recent plantings include chinquapin, swamp white and bur oak.
The university's current strategy is to diversify the tree plantings with native species and avoid overplanting any one type of tree. Welch and Lewis note that the current diversity of plantings on campus is "very high and is on par with most arboretums."
Diversifying the campus' tree inventory turned out to be a wise decision. Between 2015 and 2020, more than 500 of the UI's ash trees – about 3% of the campus' tree inventory – were removed due to the damage caused and risk posed by the emerald ash borer. The wide variety of trees on campus meant that the loss of even 500 ash trees did not leave large swaths of the campus looking barren.
Plant geeks may view the campus' tree plan and get to the tree inventory database at http://go.fs.illinois.edu/tree.
Patio lights as beacons
"The first house east of Dr. Howard School kept their patio/party lights on nearly year-round through the pandemic. I want to thank them. It was a constant reminder that sooner or later we would get back to normal. It became my beacon of hope."
I know what you mean. It does seem as if a lot of folks around the area left their decorative white lights on for many months into the new year. Some stayed lit all summer. Others went back on just as soon as the first hint of pumpkin-spice-everything started wafting through the air in the fall.
Seeing the strings of lights in my own neighbors' yards gave me a lift whenever I'd drive by or catch a glimpse of them as I did the evening dishes. I think many of us were looking for a little extra light in the darkness. So yes – thank you, "enlightening" neighbors, wherever you live!