Submit a question of your very own by clicking here
Blasts from the past this week: the Lincoln Lodge, the Tumor, Destihl, Lou Gold, Illini Oil, Illinois House Speaker Michael Madigan and running at the UI Armory.
Also, the Illini Anthem, Custard Cup traffic, The Ribeye, Li'l Porgy's, video gaming, very tall corn and causes of death in Illinois last year besides COVID-19.
Illinois football team lodging
"I noticed the U of I's football team coaches, and staff stays at a hotel the night before a home game. In what year did this start? And the cost for doing so? It seems like a lot of money being spent unnecessarily since they could just as easy meet for a team dinner and go back to their respected dorms or apartment's to spend the night."
It is a longtime practice to have the football team stay as a unit the night before a game.
"It's very difficult to find out exactly when the tradition of housing the football team together the night before games, but there are stories that go back to at least the early 1930s of the Illini teams staying at places like the Allerton Mansion and the Champaign Country Club many decades ago, The Chancellor Hotel for many years, and currently the Hyatt Place Hotel in downtown Champaign," said UI Associate Athletic Director Kent Brown. "Since the beginning of time, coaches are much more comfortable having all the players in one place, knowing what they are eating and drinking, where they are sleeping, and what time they go to bed, prior to a game.
There might be a few schools around the nation who don't follow this tradition, but there are very few."
University of Illinois professor Lamont Holden (left) and Jarrel Young pose in front of Memorial Stadium on Thursday. Holden and Young wrote and produced "Illini Anthem," which they'll perform at Illinois Sights and Sounds at the stadium on Aug. 19th and at halftime of the season opener against Nebraska on Aug. 28. Anthony Zilis/The News-Gazette
Illini Anthem
"What happened to the new fight song 'Illini Anthem?' I was really excited about it when it was first released and the band played it at the first halftime performance of the year, but I've been to all the home games and haven't heard it since. I know the intent was to introduce new traditions that we can all be proud of and it's hard to establish traditions if we don't stick to them."
"'Illini Anthem' which debuted at the first halftime show on August 28th is still being played and performed throughout campus," said Barry Houser, director of the Marching Illini and associate director of bands. "It won't be performed live during halftime again due to the technical set up of speakers, mixers, etc.
"It was performed at the start of the Illinois Homecoming 5K and again at the Homecoming Kick Off at Alice Campbell this past weekend."
Houser said the song has been released on Spotify.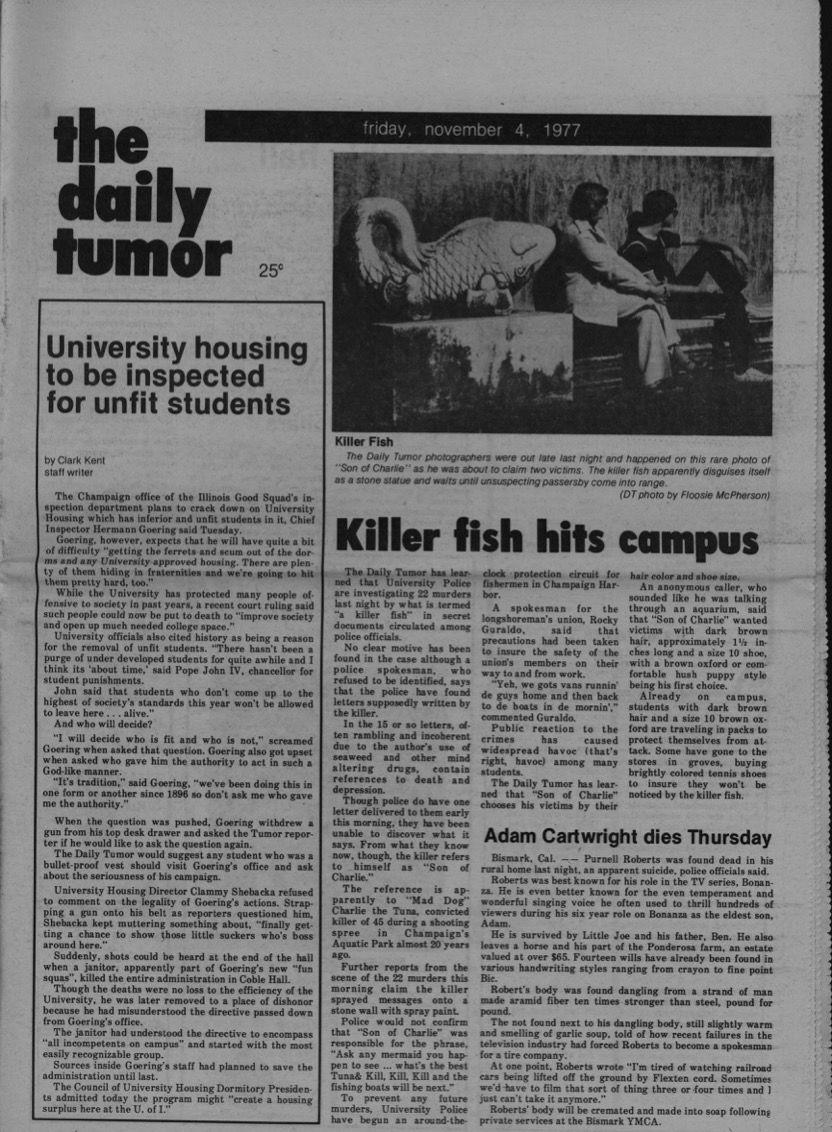 Parody papers
"My recollection is that, once upon a time, the student journalism society at the university would publish an annual parody newspaper during Homecoming week, pre-dating but similar in some aspects to The Onion. What became of that worthy enterprise?"
The local chapter of Sigma Delta Chi, the Society of Professional Journalists, published the College Tumor (also Illini Tumor, Romut and Tumor) on Homecoming Week for a number of years, according to the University of Illinois Archives.
The practice apparently started in 1932 with the Illini Mirror, (1932), the Illini Home-Companion (1934), the Boneyard Blast (1937, 1939) and the Broadwalk Bull (1938). The parodies included articles, photographs and cartoons satirizing campus life, morals, university administrators, public figures and political candidates, the homecoming football game, social activities and sex.
The last of the publications was in 1987, according to the Archives.
Lou Gold
"Can you find out whatever happened to former political science professor/community activist Lou Gold? At last report he was living off the land in the Pacific Northwest, returning to 'civilization' occasionally to deliver lectures on environmental issues."
Gold, who would be about 83 years old now, apparently moved to Brazil in 2012, according to his blog, "Visionshare, A Photoblog of Lou Gold and Friends."
The last blog entry was in September 2020. It is unclear where Gold is today or whether he is alive.
Gold was a professor of political science at the University of Illinois Urbana Champaign from 1967 to 1973. In the early 1980s, according to a story in the Chicago Tribune, he moved to the mountainous wilderness of the Siskiyou National Forest in southwestern Oregon and became a hermit and "the self-appointed guardian of the Siskiyou Mountains."
He traveled the country, lecturing on the Siskiyou and the urgent need to take care of the environment.
"It can be hectic being a hermit these days," he said in the 1989 Tribune story by Paul Galloway.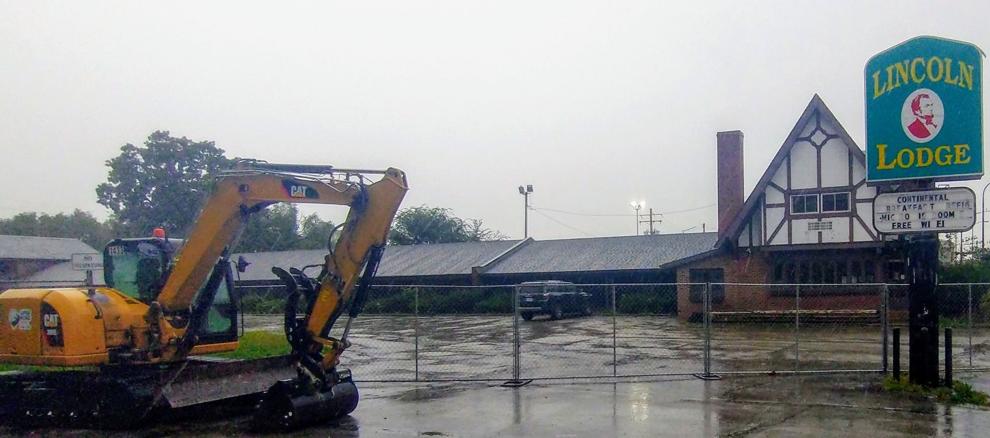 Lincoln Lodge
"There's a big construction fence around the Lincoln Lodge. Can one hope it is finally being torn down?"
That would be a good bet but as of Thursday this week, no demolition permit had been sought for the property at 403 W. University Ave.
The Lincoln Lodge closed last month. County records show that previous owners, Elim-Ke Inc., sold the 1.15-acre property to the Carle Foundation in April for $1.2 million.
The original Lincoln Lodge opened at the site in 1952, but much of it burned down in a fire in November 1954. The current Lincoln Lodge opened in January 1956.
Custard Cup backup
"This is more of a seasonal issue, but is there any future plan to deal with the Custard Cup traffic spilling onto eastbound Kirby Avenue? I have seen several near-accidents there as the cars back up sometimes five deep waiting to get into the parking lot because of the drive through and eastbound cars come over the rise just west of there. I know that when new fast food restaurants open, they have to account for the drive through traffic not overflowing into the street. On many summer nights, one lane of Kirby is blocked for hours with cars going through the relatively slow Custard Cup drive through. Are they exempted from traffic plans for their drive through?"
When new drive-thru restaurants are built they are required by zoning to provide eight stacking spaces for the drive-thru, said Rob Kowalski of Champaign's planning department.
"For most businesses, eight stacking spaces is plenty to accommodate drive thru customers without causing any other issues. However, there are always going to be certain restaurants, and certain times of the day, where demand is a little higher and lines get longer," he said.
Also, the zoning regulations cannot be applied retroactively. Custard Cup has been around longer than the regulations, noted Bruce Knight, Champaign's director of planning and development.
Video gaming in Champaign
"Regarding last week's Mailbag question about 1409 N. Prospect Ave. and its future use, how can a gaming facility go there after the gambling parlor moratorium was put in place a couple of years ago? Wasn't that put in place specifically to stop the spread of these?"
While there is no longer a city moratorium on video gaming establishments, the city council set a cap of 23 class VL (Video Gaming Lounge) liquor licenses in Champaign and made the requirements to receive a VL liquor license more restrictive, said Jeff Hamilton, communications manager for the city.
"For example, a business must now operate for at least a year as a licensed liquor establishment before it can apply for the VL license required to provide video gaming," said Hamilton. "The city of Champaign has not been contacted by the proposed business nor has it received an application for a liquor license for 1409 N. Prospect Ave."
Closing off streets?
"Has Champaign considered blocking off one end of some residential streets to create a cul-de-sac? It seems that might help in some higher crime neighborhoods where speeding cars race down side streets near main routes, and it could deter drive-by shooters if they cannot easily flee."
"Thank you for your inquiry. Ensuring public safety is the city of Champaign's number one priority and we welcome suggestions from our residents to help address and prevent crime anywhere in the city," said Hamilton. "An approach similar to that suggested by your reader was used in the past when some residential roads were converted to one-way streets.
"This solution received mixed reviews from the neighborhood and was not as effective as everyone hoped it would be. Cul-de-sacs are engineered to allow traffic (including large trucks) to easily navigate and turn around, but blocking one end of a street would not allow for that same functionality. The resulting dead-end street could cause safety concerns for first responders, particularly the fire department which needs to be able to quickly reach all homes in a neighborhood and have enough room for a large fire engine or ladder truck to turn around.
"During their study session meeting on Oct. 5, the city council gave preliminary approval to install Automated License Plate Readers and other technology in areas experiencing an increase in criminal activity. If formally approved by the council in November, this equipment could help police identity vehicles driven by people engaged in criminal activity and fleeing the area."
Destihl in Champaign
"A favorite downtown brewpub restaurant, Destihl, closed in (April 2020) with announced plans to reopen at Carle in the Fields in 2020. Then the pandemic happened. Are there plans for Destihl to open a location in Champaign-Urbana again?"
"While we do greatly miss our Champaign fans and the community, we have no further plans or updates regarding any new locations at this time," said Matt Potts, founder, CEO and brewmaster at Destihl. "However, Destihl can still be experienced and enjoyed at our restaurant and at our brewery and beer hall locations in nearby Normal."

Freshly baked bread cools in the kitchen.

Robin Scholz/The News-Gazette

Reopenings
"It looks like Li'l Porgy's and The Ribeye both opened this week, can you confirm?"
Li'l Porgy's reopened Sept. 7 and is open 11 a.m. to 7 p.m. seven days a week.
The Ribeye opened Sept. 29 and is open from 4:30 p.m. to 9 p.m. Tuesday through Friday. It opens at 4 p.m. on Saturdays.
(I'll have more on the local restaurant business in my Sunday column.)
Illini Oil
"What happened to Illini Oil? What's the history of that corner in Urbana?"
Illini Oil has closed. According to city directories there was nothing at the address (301 E. Main St., Urbana) before 1952. At that time it was Applegate's filling station, owned by Champaign County Board member Wayne Applegate.
The building was a Texaco station from about 1952 to 1975. It also briefly was the home of C.J. Sales & Service.
Carle caller ID
"Any update on the Carle caller ID project?
"I was really interested to read their first reply, and I still have yet to see a call from Carle come through identified as Carle."
"We continue to work closely with major phone retailers to ensure calls from Carle can be identified accurately to ensure patient confidence," said Carle spokesman Kaleb Miller. "We've made some great progress in this effort with these retailers, however some calls may still display a number, depending on what service provider you have. Our representatives will always provide confirmation that they are with Carle Health."
UI Armory
"When might the Armory track reopen?"
"The Armory Track will remain closed to the public for the time being," Brown said of the year-old indoor track. "It is reserved for ROTC and the Fighting Illini Track & Field teams only. In addition, we'll still rent it for track and field events."
Ambulance safety
"Another day, another close call with one of the private ambulances in town when it crosses an intersection against the red light. Any update on why Carle and OSF don't use the system available on the traffic lights in Champaign and Urbana? The last time this was asked in 2017, Kris Koester said it was because the companies hadn't purchased the necessary equipment. It seems like it would be reasonably inexpensive additional protection for our very valued paramedics and vulnerable patients."
"Nothing new to report," said Koester. "The ambulance companies are not required to use the system, it is optional. They have not opted to utilize the system."
Madigan pension
"How much does the former Speaker of the Illinois House collect from his pension?"
Former House Speaker Michael Madigan, who served in the Legislature from Jan. 13, 1971 to Feb. 18, 2021, now collects a gross monthly pension of $7,093.11, according to the General Assembly Retirement System. 
Causes of death
"I see the daily updates on COVID have restarted as well as the continued death clock. While each death is tragic, I am curious as to how many of the 190 deaths, had comorbidities? Also, since public health tracks the deaths back to March 2020, how many Champaign County residents have died from coronary diseases, cancer, homicide, and accidents during the same time period?"
According to the Illinois Department of Public Health, the top 5 underlying causes of death in Illinois in 2020 were:
Heart disease      132,701 deaths
Cancer                 27,466
COVID-19             24,020
accidents              15,715
stroke                    7,159
Even for the oldest Illinoisans, COVID-19 was not the leading cause of death. For those 65-84 cancer, heart disease and COVID-19 were the leading causes. For those 85 and older the leading causes were heart disease, COVID-19 and cancer.
The Champaign-Urbana Public Health District does not compile those figures, said Administrator Julie Pryde.
"We do not have the specifics on each COVID case in any way that we can readily retrieve," she said.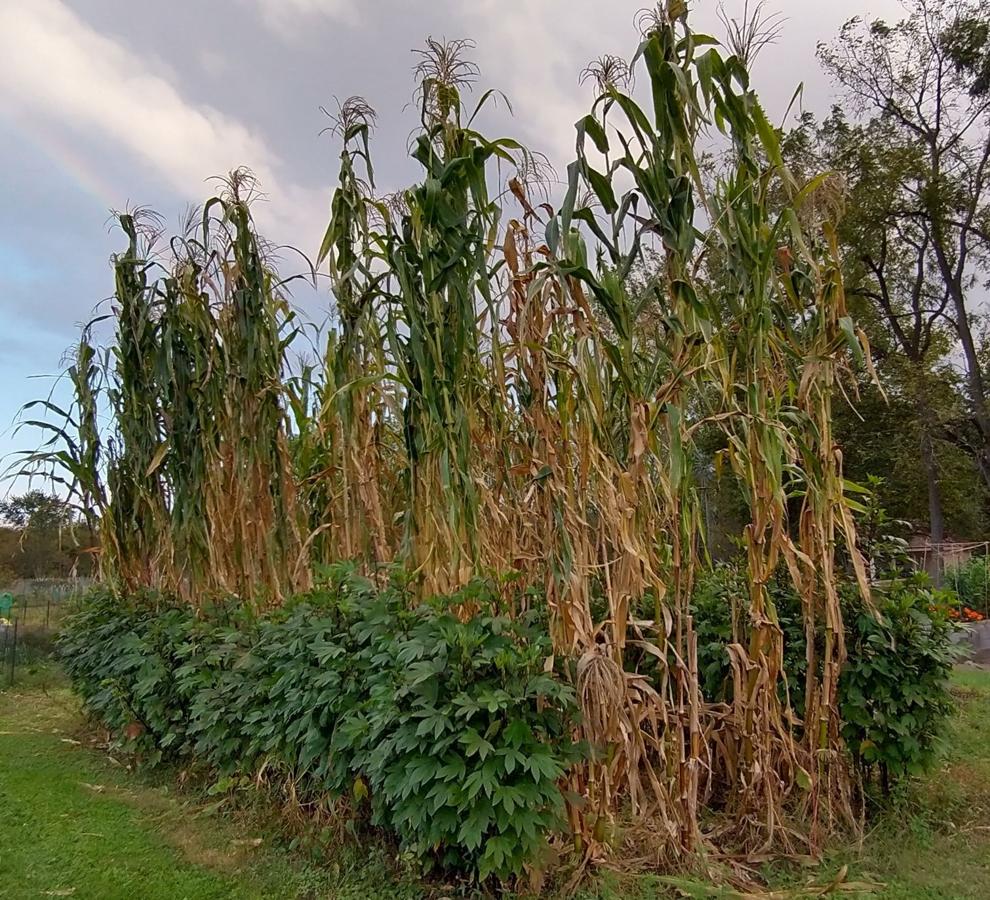 Tom Kacich photos/The News-Gazette

Weird plant
"I saw this weird, tall plant at the Meadowbrook Park garden plots. What is it?"
It's corn. Corn that "is as high as an elephant's eye," to quote the Rodgers and Hammerstein song from "Oklahoma."
Some tropical lines of corn, or maize, can grow that high, said Darin Joos of the crop sciences department at the University of Illinois. There's a story on the internet about corn plants in western New York that grew up to 45 feet high.
Tom's #Mailbag, Oct. 8, 2021 | Tom's Mailbag Source link Tom's #Mailbag, Oct. 8, 2021 | Tom's Mailbag