We've given multimedia reporter Kathy Reiser license to be nosy in the name of public service.
Put her to the test by dropping in questions here or via email at [email protected].
'Cola wars' town names
"All of the hype about this week's Tuscola-Arcola 'cola wars' high school football game has me wondering: how did those two towns get their names?"
Both towns sprang up along the Illinois Central Railroad in its early days, and both names end in "cola." That's about all we know for sure. There are several theories, but no definitive proof of the origin of either name.
Friday's N-G sports cover features @clikasNG on @whms975's "Game of the Week" with three keys to the Cola Wars showdown between @Tuscolafootball and @ArcolaFootball, plus Likas on Tuscola alumnus Brayden VonLanken now coaching at Arcola. #NGMedia@APSE_sportmedia @ngphotostaff pic.twitter.com/3UM89UIEKz
— News-Gazette Preps (@ngpreps) August 26, 2022
Edward Callary's book, Place Names of Illinois, says Tuscola may been named after the Mississippi settlement of the same name, or may have been a shortening of another Mississippi place name, Tuscolameta. Both are derived from the Choctaw word "tashka," which means "warrior." Today, the local high school's sports teams are called the Warriors. Another theory holds that the name came from a Michigan ethnologist who created a number of pseudo-Indian names, including Tuscola. At one time he claimed Tuscola meant "warrior prairie" and on another occasion he said it meant "level lands," according to Callary's book.
Arcola's original name was Okaw, given by the IC Railroad. But it turned out there was already a post office by that name in southwestern Illinois, so the name was soon changed to Arcola. Several early railroad historians, at least one of whom had access to the IC's archives, claimed Arcola was named after the village of Arcole in northern Italy. Another popular story says the name was suggested by a local resident and made official by the town's railroad agent. There are several other Arcolas in the eastern U.S., so it could have been named after one of them, as well.

Ben Zigterman/The News-Gazette
Former restaurants returning?
"I'm hearing rumors that two past Champaign restaurants are planning a return. Namely, O'Charley's and Smokey Bones. I'm also hearing that they will return to their old addresses and buildings, 730 W. Town Center Blvd. and 1910 N. Neil St., respectively. Any truth to this?"
A spokesperson for O'Charley's' parent company said there are no plans for the chain restaurant to return to the Champaign area at this time. Smokey Bones' parent company did not respond to our inquiry. The City of Champaign's building permit website shows no current building permits for either address. And Rob Kowalski in the city's planning department says he's heard nothing about a rumored return of Smokey Bones.

Kathy Reiser photos/The News-Gazette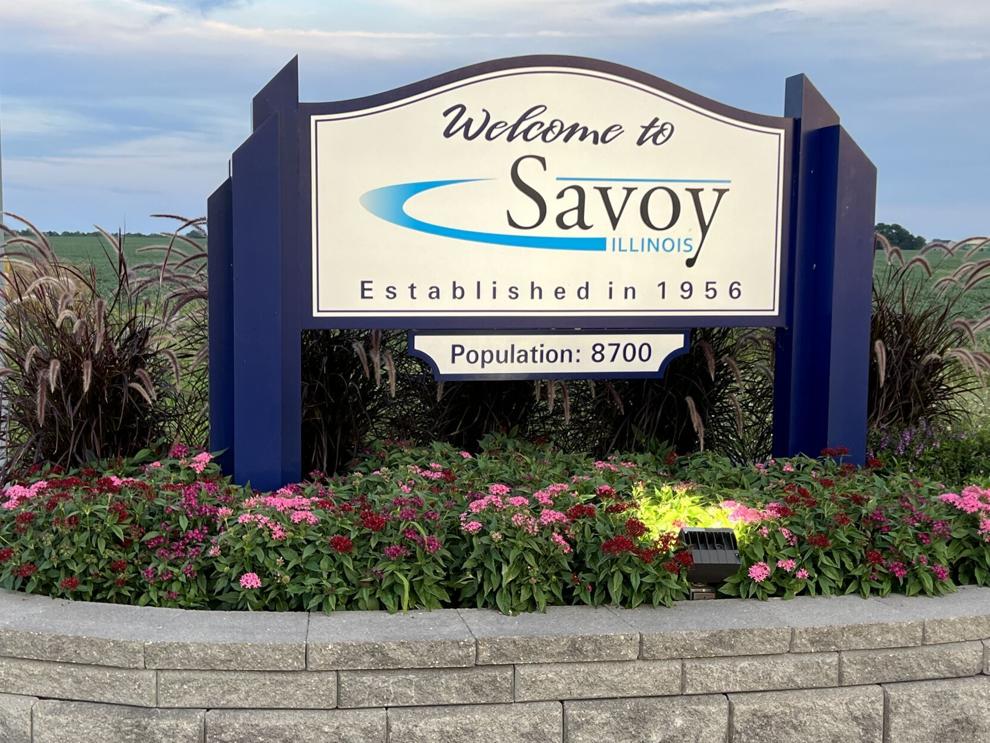 Population milestones
"Any educated prediction as to when Savoy or Mahomet will hit 10,000 residents? Will either city get special federal or state funding when this milestone is hit?"
The Village of Mahomet is an incorporated municipality with an official 2020 U.S. Census count of 9,434. However, village administrator Patrick Brown said, "When you factor in unincorporated high-density areas that are 'attached' to the Village, the Mahomet community is more than 15,000. We would expect that since Middletown Place Townhomes on Churchill Road and the Solace Complex at theintersection of (U.S.) 150 and Lake of the Woods Road were not complete when the Census was counted — plus the additional housing growth since 2020 — we have likely already exceeded 10,000," within the village limits.
Brown said most of a municipality's share of state revenue is calculated on per capita basis — and for those allocations, the only population tally that really "counts" is one taken by the U.S. Census Bureau. That is why Mahomet did a special census of certain fast-growing areas of the village back in 2016. The numbers from that special census became official in 2017. "We will plan to do another special census but will do so strategically, maybe in 2025 or 2026 since it is costly to conduct. That will give us about five years before the next (2030) census is official."
Savoy village administrator Christopher Walton said that town's official 2020 U.S. Census population was 8,857 — up 1,577 residents from the 2010 Census and an increase of 250 from a 2016 special census. Village officials believe Savoy's population likely is larger than the 2020 Census reflects.
Walton said the U.S. Census Bureau will begin accepting special census requests in March of 2023, and the Village Board of Trustees will determine whether and when the Village requests a special census at some point in the next few years.
There's nothing magic about reaching a population of 10,000, but Walton confirmed that a variety of state and federal "pass-through funding" allocations are calculated on a per capita basis. "An accurate population count is essential to ensuring that the village receives its appropriate allocation of state and federal funding." He did not venture a guess as to when Savoy might reach 10,000 residents.
Labor Day Parade change
"I just read that the AFL-CIO Labor Day Parade in Urbana has been moved to downtown Champaign. Was curious as to the reason behind the move."
Matt Kelly, president of the AFL-CIO of Champaign County, said they decided to move the parade because of planned construction within the park they had used in the past. "Not knowing whether construction would be ongoing or when it would be completed, we decided to move it to downtown Champaign, which is complemented not only by its surrounding buildings but by its beautiful park."
Kelly said he expects about 40 entries in this year's parade, which is set for Labor Day (Sept. 5), at 10 a.m. The parade will start at the corner of Chestnut and Main Streets, and proceed through downtown on Walnut, Chester, Neil and Washington Streets.
Post-parade, there will be complimentary children's games, food and entertainment in West Side Park – "all this effort by the AFL-CIO Champaign to celebrate working people in Champaign and beyond," Kelly said.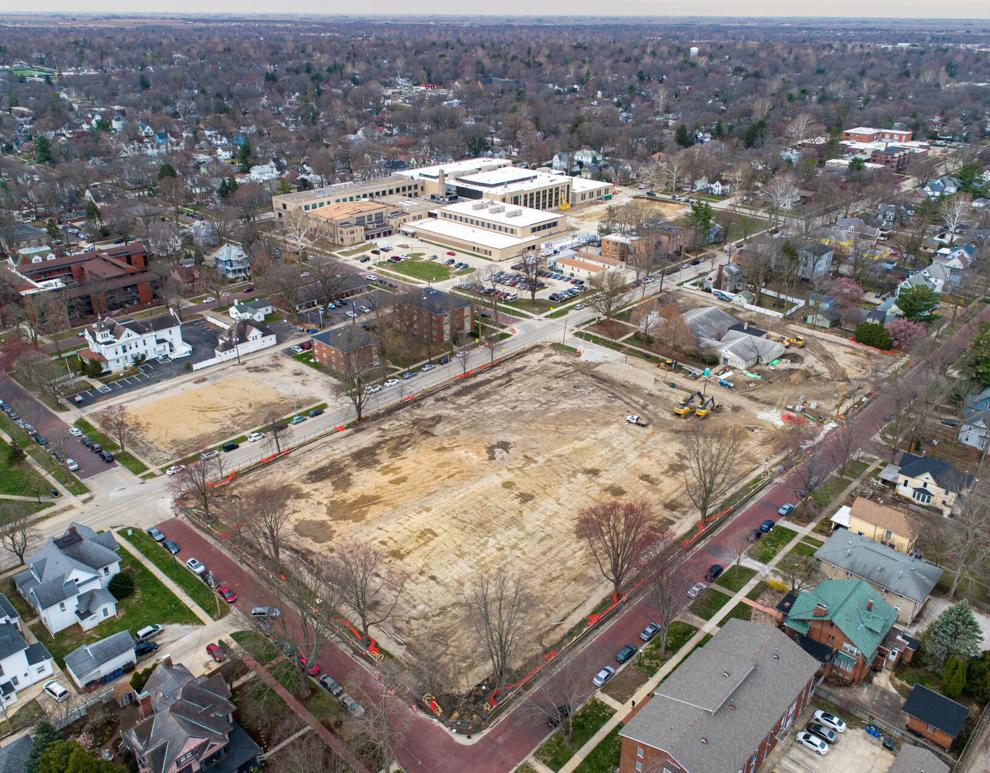 Champaign Central High School's north fields project is well underway, as shown looking southwest toward the school. The new soccer field, foreground, has been completely graded, while crews will wait under after the summer to create the new softball field on the site of the former church to the west, which is currently being used by the band until the new band room is ready.

Anthony Zilis/The News-Gazette
Funding Unit 4 cost overruns
"I listened to 'A Penny for Your Thoughts' on Aug. 10 and understand the total Champaign Unit 4 schools renovation budget has grown by over 30%, or more than $65 million. I remember the original budget included a transfer from the education fund of $25 million, but how did the school board find the additional 65 or more million dollars?"
During the referendum and construction process, the Board of Education "committed to a public and transparent conversation regarding construction costs and how those costs would be monitored," according to Unit 4 spokesperson Stacey Moore. "A Referendum Oversight Committee and a Finance Committee were formed to review the District's construction and financial activities. Both committees have community members on them and meet regularly."
The original budget for the construction projects was approximately $208 million. "With early supply and labor shortages, unforeseen conditions at the various sites, and the decision to build a new International Prep Academy K-5 elementary building, the overall project cost increased to approximately $273 million. Each requested increase to the construction budget was carefully reviewed, and publicly discussed at various committee and board meetings. The recommendations from the Referendum Oversight and Finance Committees were brought to the board for final approval." 

Moore said Unit 4 was fortunate to be able to issue new bonds "during historically low interest rate periods; restructure older existing debt, which generated additional bond premiums; invest the bond proceeds to generate interest income; issue new Education Fund lease debt; and utilize current fund balance reserves from the Food Service Fund to pay for kitchen and cafeteria construction projects." She said the combination of those sources allowed the district to provide an additional $65 million used toward completing the projects.
Unit 4 has wrapped up the majority of the 2016 referendum-approved construction projects to upgrade facilities at South Side Elementary, Dr. Howard Elementary, Centennial High School, Edison Middle School, International Prep Academy Elementary and Central High School. In addition, the referendum provided for renovated athletic facilities at McKinley Field, Tommy Stewart Field and Spaulding Field. Moore said the district's final project to be completed is the new Central North Fields, which will be ready for use in the Spring of 2023.
Vandalism at former school
"Washington School on Broadway Avenue in Urbana was sold to a private individual a few years ago. The building has been vandalized several times with the inside and outside being a mess. Any chance the building can be razed soon – or of fining the owner to take care of the mess? I'm a Washington K-6 graduate who's concerned about how neglected it has been!"
City of Urbana building official Nick Hanson said this is the first complaint the City has received regarding this specific concern. "A code-compliance inspector has visited this property and reached out to the owner to secure the property and remove the graffiti. And, at this time, the city has not received any future plans for this property.
"Thanks for bringing this to our attention. Citizens can always file a complaint with the city regarding concerns like these online at: www.citizenserve.com/urbanaillinois."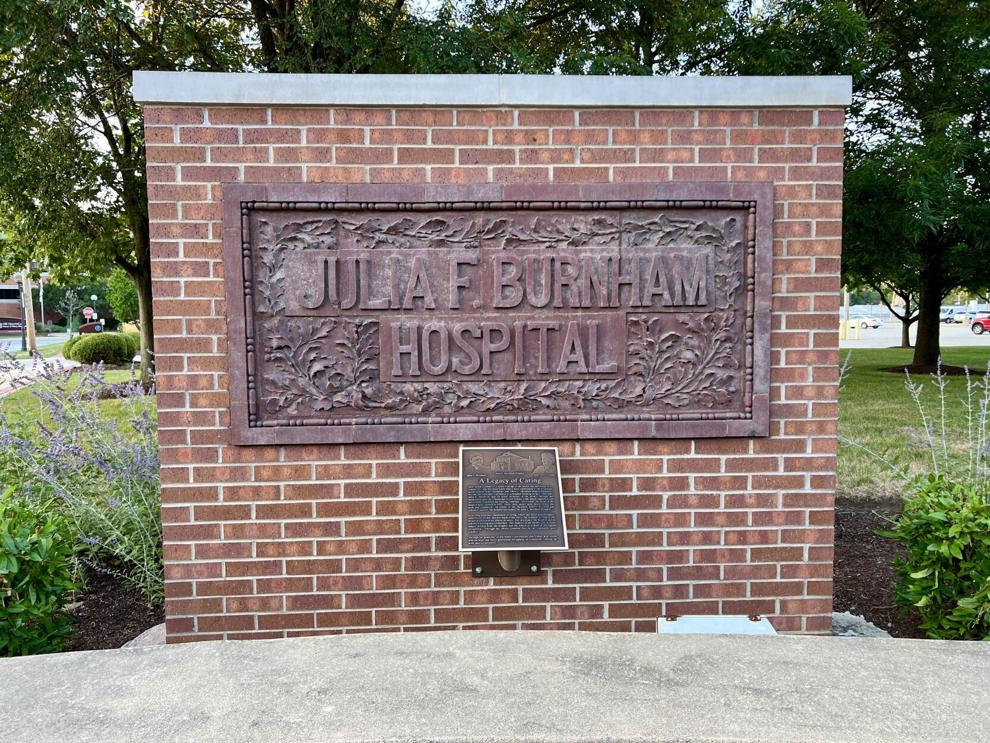 Historic Burnham plaque
"There is a beautifully restored plaque from Burnham Hospital, located directly south of OSF Hospital near University Avenue, Urbana. The plaque was carefully redone and placed to honor the oldest historic hospital in C-U. Does anyone know why the plaque is not lit at night? It looks like there is a spotlight near it, but it's either not working or not meant to be lit. It's a precious memory for many of us in our community and deserves to be honored."
OSF spokesperson Tim Ditman said he's glad to hear fellow history buffs are enjoying the restored Julia F. Burnham Hospital plaque. The square object directly below it may look like a spotlight from a distance, but it's actually a smaller bronze plaque that provides some historical information about Burnham.
"We agree with the reader that the marker is a great piece of local history. In fact, OSF Heart of Mary this fall is planning to commemorate 100 years of care at the Park Street site. Different buildings, names and owners, of course, but still a tremendous milestone and one OSF is proud to play a part in," Ditman said.
"Regarding the light for the marker, we wouldn't rule that out. But for now we invite people to safely park and take a look during the day."
Reporting public salaries in the paper
"When the N-G publishes salary info for public employees (firefighters, police, education, etc.), are the numbers inclusive of benefits, i.e. overall compensation including pension, health, disability, etc? These easily amount to 30 to 40% of salary. Or are the amounts listed take-home (subject to personal tax)?"
We didn't have to go far to find an answer to this one.
"When we refer to someone's salary in a story, it's just that — their base salary, not including benefits," said News-Gazette editor Jeff D'Alessio. "Different municipalities and agencies present compensation in different forms — some with benefits factored in, most without — but we never knowingly add the value of benefits to take-home pay and present that number as someone's salary."
D'Alessio said the reporting gets a little trickier with seven-figure college coaching contracts, but the salary figure never includes health/dental insurance or other standard employee benefits.
"In these cases, we often use the term 'total compensation' – only to account for the money coming from different sources."
The university itself will pay a base salary, often a much smaller number than the "additional compensation" in a coaching contract, which includes money related to TV, radio, PR, apparel deals, etc. 

"So, if I were to write, 'Bret Bielema will be paid $4.3 million between Feb. 1, 2022 and Jan. 31, 2023,' I wouldn't be including the family country club membership, the $8,000 annual vehicle stipend, the Memorial Stadium suite, the $50,000 in relocation expenses or any of the more traditional benefits that most full-time employees receive."
Local banks' interest rates
"The Federal Reserve raising short-term rates led most online banks to raise short-term deposit rates repeatedly and markedly. However, our local community banks have generally not raised deposit rates at all. They are receiving higher interest rates on their short-term loans, so why aren't they providing the community with higher deposit rates?"
We turned to Fred Giertz, a UI emeritus professor of economics, for an objective answer to this one: "I believe there is no legal requirement that the benefit of a higher federal funds target rate be passed along to depositors in various financial institutions. This is a choice the institutions make on the basis of competitive pressures.
"There is a good deal of inertia on the part of customers, especially in regard to interest-bearing checking accounts," Giertz said. "This provides banks a little maneuvering room. I would expect most banks to eventually raise their rates. This has already occurred for longer-term certificates of deposit."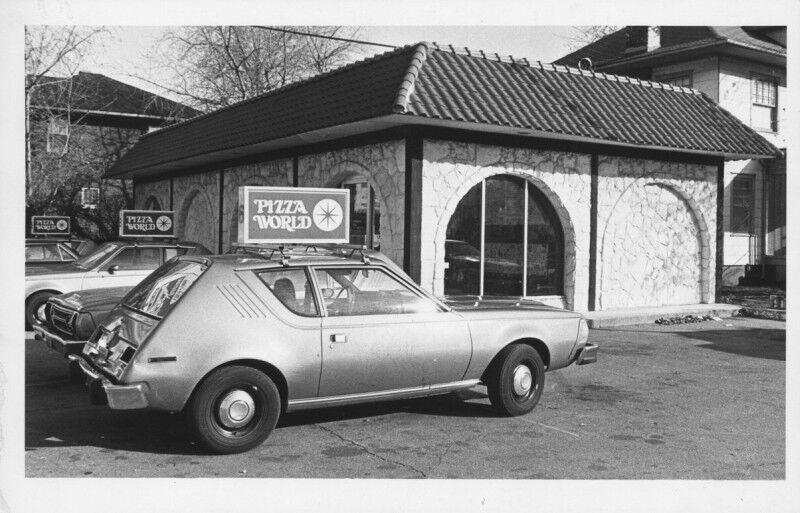 Champaign County Historical Archives/ Courtesy
Long-gone pizzerias
"Whatever happened to Pagliai's Pizza? And Pizza World?"
Pagliai's opened its Main Street Urbana pizzeria in November of 1970, according to an article in the Urbana Courier newspaper. Local telephone directories indicate Pagliai's maintained a downtown location until late 1989 or 1990. For a few years in the late 1980s, it appears there was a second Pagliai's Pizza in Champaign. The last telephone directory listing for a local Pagliai's was published in 1989.
If you still have a craving for Pagliai's after all these years, the nearest place to satisfy it is in Charleston, near the Eastern Illinois University campus. That restaurant's website, pagliaischarleston.com, says the regional chain that started in Ames, Iowa, once had "a total of 26 storefronts sprinkled around many small college towns throughout the Midwest."
Pizza World had several Champaign County locations at various times in the late 1970s through '90s. Their UI campus location, at 102 E. Green St., opened in 1975. Over the years, the chain also had locations at Washington and Race Streets in Urbana, on Sangamon Drive in Champaign, and on Century Blvd. in Rantoul. The last telephone directory listing for a Pizza World in this area appeared in 1998.
A quick web search didn't turn up anything that resembled the Pizza World I remember from my days as a UI student. I did find a Pizza World chain that's headquartered in Branson, Mo. However, given the fact that the Branson-based PW describes itself as a "gourmet pizzeria" that offers a "fine dining experience," it seems unlikely to be related to the local Pizza World that's remembered for late-night pies that were quick, cheap and filling. Just like late-night study-break pizzas were meant to be!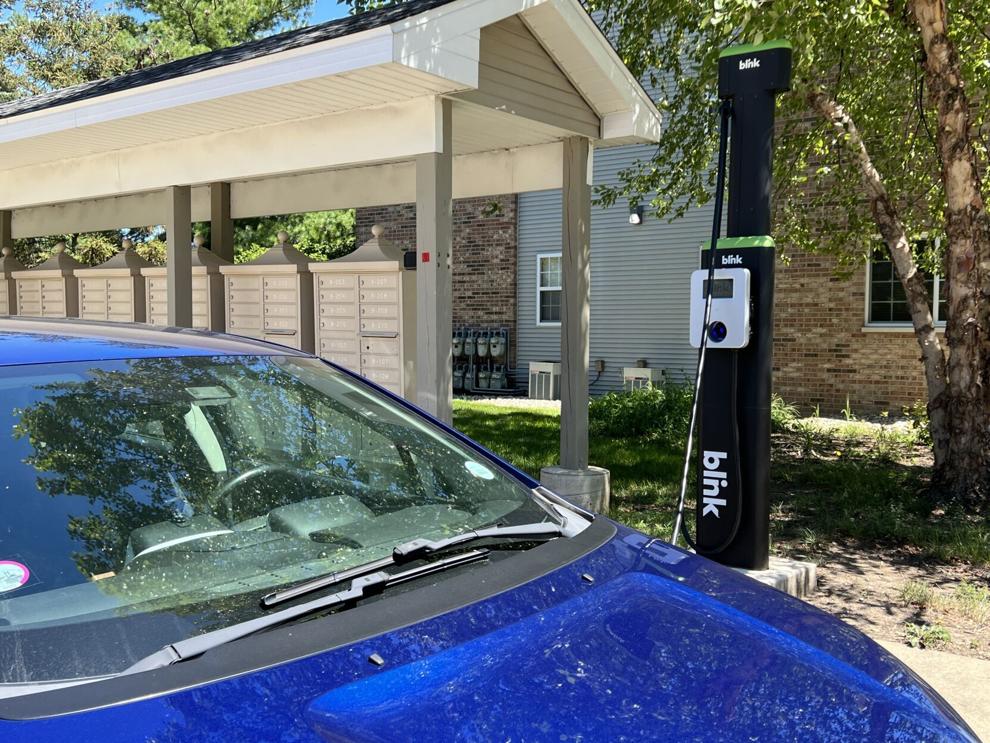 DC fast chargers for EVs
"I was wondering about Champaign and Urbana's lack of DC fast chargers for non-Tesla EV (electric vehicles). I was told by an unreliable source that there are several proposals in front of both localities but they are being 'slow-rolled' for some reason."
It seems the reader may have been right about the reliability of their "source."
Urbana Mayor Diane Marlin said the City of Urbana has no specific, pending proposals or bills related to public charging stations. "However, among the 2022-23 Mayor/City Council Strategic Goals recently passed by the Urbana City Council is a goal related to expanding green infrastructure. One of the action steps is to explore possible locations and funding streams for EV infrastructure. This is not yet underway."
Over in Champaign, city planning director Bruce Knight said EV charging stations are not currently in the workplan or budget of any of the city's departments. He said many city staffers have been focused on the Blueprint to Reduce Gun Violence, advancing the Garden Hills Drainage Plan and Strategic Neighborhood Action Plan, and other new initiatives, "so it is a challenge to find the staff time to advance this.
"I can also say there are not 'several proposals' in front of staff and nothing is being slow-rolled. Rather, we would typically go through a request-for-proposal process to select a consultant for a project like this and we have not had the time to initiate such an effort." He said it's possible the city could get something going this fall for implementation in 2023, "but that is speculation at this point."
Schumacher Electric's Randy Lawson, an avid EV fan, tells us many of the public charger installations we see at local businesses use an AC "ChargePoint" type of unit that can be used on any EV car type. Those typically are Level 2 units. Level 2 chargers are the most common, but they charge batteries more slowly than Level 3 chargers do.
A U.S. Department of Energy website (afdc.energy.gov) shows approximately 40 publicly available, Level 2 EV chargers in Champaign County at this time. Most of them have universal, rather than Tesla-specific, connectors.
"The Level 3 DC fast chargers are expensive and require a large power feed to supply this style charger," Lawson said. "These units would need city backing or some type of corporate backing to install, as the cost per charger is typically over $50k and they are tied into some type of credit card billing system for the user. There are certainly government credits and rebates out there for anyone wanting to install these types of chargers, though."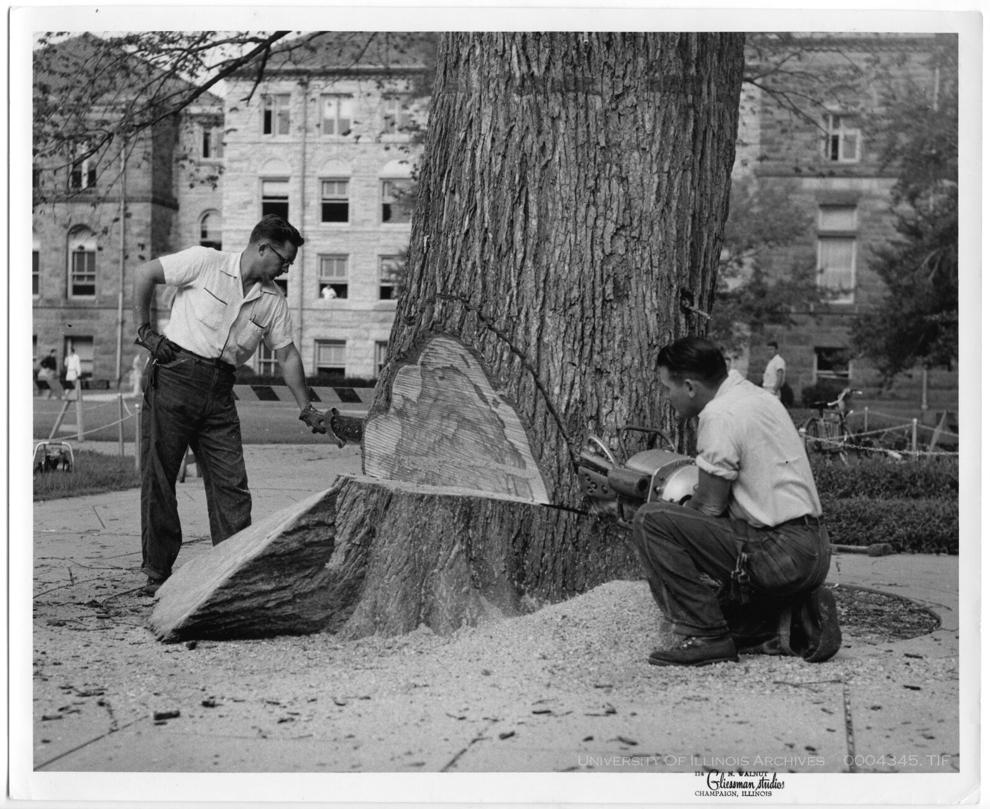 UI Archives/courtesy

Remembering Ma-Wan-Da
Last week's online Mailbag featured a UI Archives photo of elm-lined sidewalks on the UI Quad, probably from the early 1950s. The picture accompanied a reader question about why the current trees on the Quad seem so young – and an answer describing how Dutch elm disease and "elm yellows" had left the Quad nearly barren of trees by 1956.
As UI Archives grad assistant Sammi Merritt helped with our photo request, she came across evidence of a few "stragglers" – some elm trees that remained standing on campus through at least 1959. "One notable example is the Ma-Wan-Da tree, a large elm which was located outside the Illini Union and which was cut down in 1958 after it succumbed to phloem necrosis (elm yellows)."
Merritt said the campus newspaper, The Daily Illini, closely followed the decline and eventual loss of the elm trees throughout the 1950s. She also said UI Board of Trustees reports included appropriations for tree removal due to Dutch elm disease through 1959.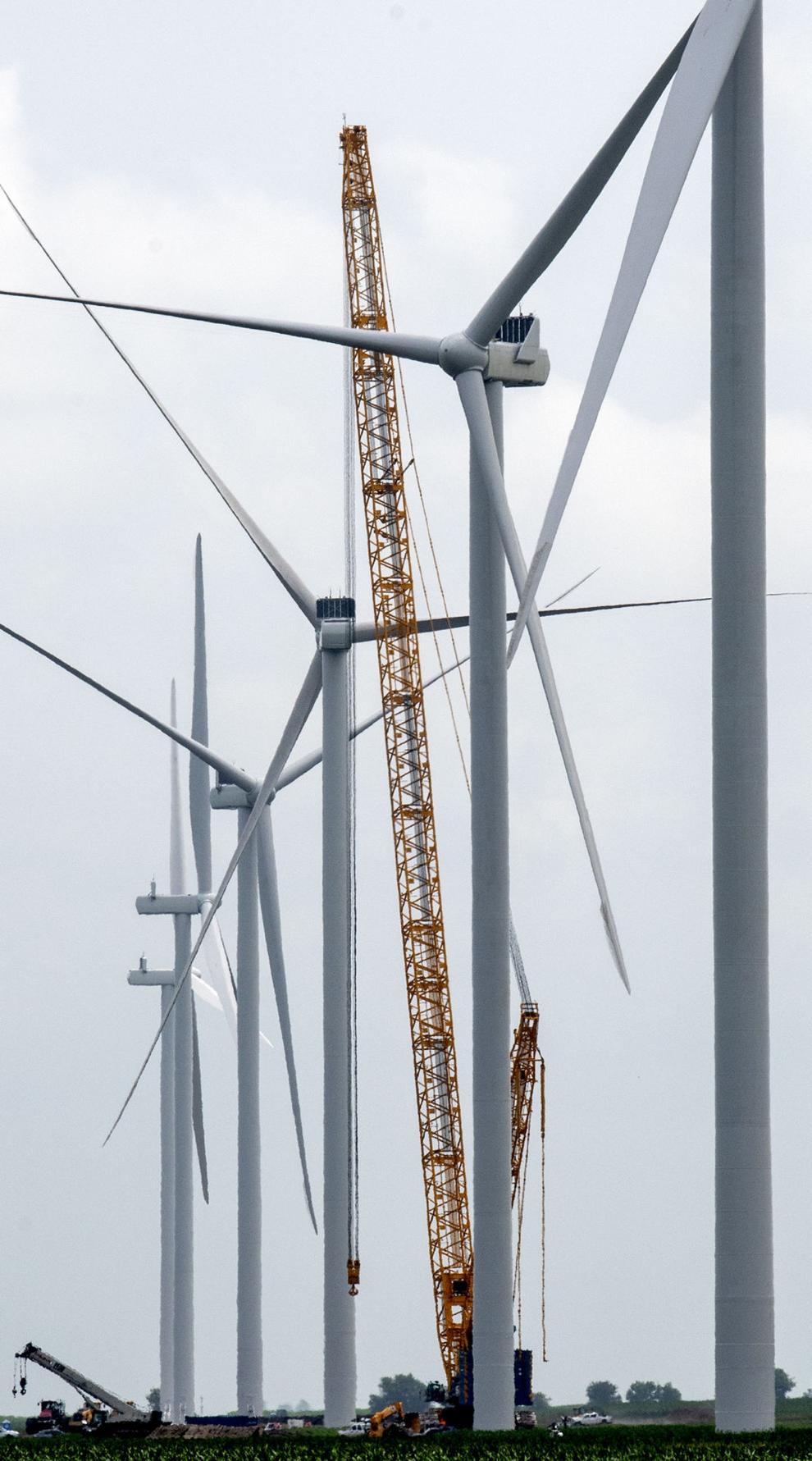 The Harvest Ridge Wind Farm comprises 48 turbines.

Robin Scholz/The News-Gazette

Locally generated wind power
"I understand the benefits of wind farms – clean, renewable energy, property taxes, etc. Are Champaign and Vermilion County consumers included in the power grid for energy generated by the wind turbines?"
"The short answer to your question is that it depends on the line to which the wind farm is interconnected," said Marcelyn Love, a communications executive with Ameren Illinois.
The lines to which these facilities typically connect are called transmission lines. They're designed to carry power long distances, and in some cases are owned by companies other than Ameren Illinois and serve areas beyond Ameren Illinois' grid.
Most of the transmission lines customers see in the Champaign and Vermilion County areas likely are owned by Ameren Illinois. "If the line is owned by Ameren Illinois, then, yes, the power from the windmills goes directly into the Ameren Illinois power grid that serves Champaign and Vermilion counties." She said Ameren's transmission subsidiary has interconnected many of the wind farm projects in the Champaign and Vermilion county area.
Love said the interconnection of different utilities' power grids provides greater reliability for customers of all of those utilities. Power grids in 15 states and a part of Canada are interconnected through the Midcontinent Independent System Operator (MISO) organization that manages transmission of high-voltage electricity across a wide geographic area. "All of the utilities in MISO are interconnected," Love said. "Not directly to each other in all cases, but one utility connects with several other utilities' grids, and they interconnect with still more utilities' grids, etc."
"So even if the wind farm is connected to a transmission line not owned by Ameren Illinois, our customers still benefit from the electricity it injects into the overall grid."
Golf carts on public roads
"I've noticed that several of the small towns in our area promote themselves as 'golf cart friendly.' Are there any state laws that govern operation of golf carts in local municipalities, or are all of the rules and regulations up to individual village boards?"
Illinois Secretary of State spokesman Henry Haupt said state law prohibits the use of golf carts on local streets unless a municipality passes an ordinance allowing them. Even with local ordinances in effect, golf carts are limited to using certain roads, unlike standard motor vehicles. (For anyone who's really curious, the statute is at 625 ILCS 5/11-1426.1.)
Haupt said a valid driver's license is needed for anyone who operates a golf cart on public roads, and the driver must carry liability insurance. All laws that apply to standard motor vehicles also apply to golf carts while in operation on Illinois roadways – and that includes laws relating to use or transportation of liquor.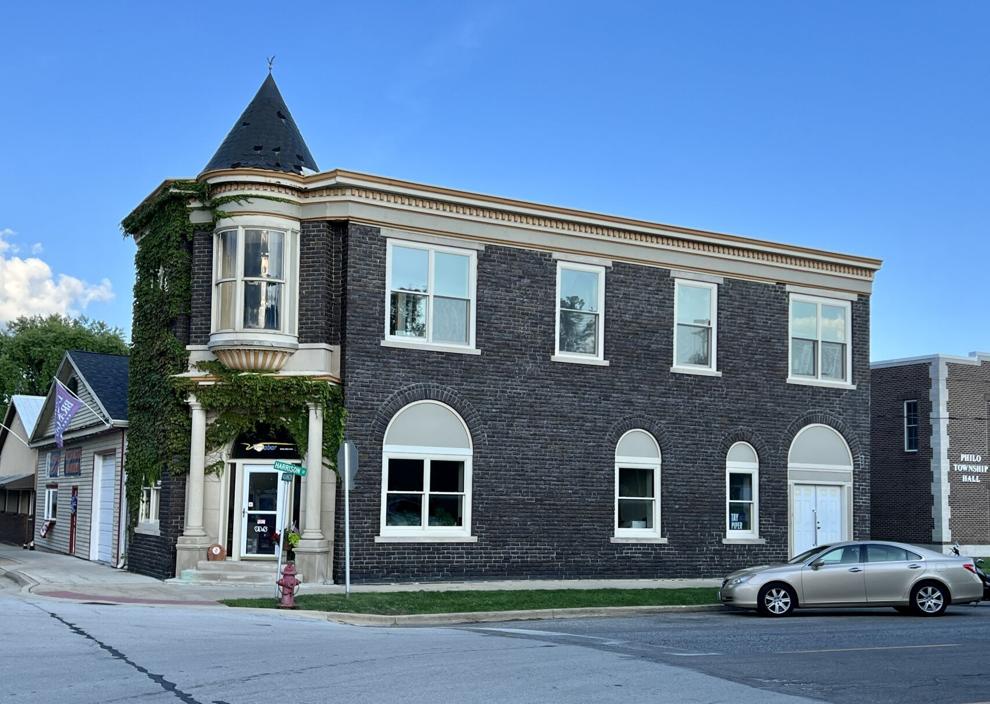 SJ Broadcasting
"Over the past few months, I know Stevie Jay has moved all of his stations from Windsor Road in Urbana to the old Versabar building in Philo. What was the reasoning behind the move? I have also noticed that it appears there's a faint echo when I listen to Tay and Piper on 93.5. Is this due to the new setup?"
"We decided to move for several reasons," said station owner Steven "Stevie Jay" Khachaturian. "Philo is my home. I grew a few hundred feet from our studios and I have wonderful memories growing up here with many of the same wonderful people still here. Secondly, my brother Jonny owns the former Versabar building and I got a good deal! It was a great business decision.
"We are in a 150-year-old building with one of our studios in the old Philo Catholic bank vault. Our main ESPN studio has a Persian rug and high ceilings, thus the slight echo. We like the reverb and think it adds a unique sound. And local radio should be local. We want to make eye contact with our listeners and our business partners. Being here helps us stay grounded with our mission: to impact our community in a positive way while entertaining and informing. We are thrilled to be here. And how could we not want to be in 'the Center of the Universe!'"
New opportunity for CMI flights?
"The Points Guy (travel blogger) reports that Air Wisconsin will be ending its affiliation with United Airlines and joining forces with American Airlines to provide more regional jet service to smaller airports served by AA. The same article said Air Wisconsin currently runs flights out of Chicago O'Hare and Dulles Airport near Washington. Any early read on whether Air Wisconsin's new partnership with AA might boost our chances of getting flights from Willard to the Washington, D.C. area?"
The American Airlines agreement with Air Wisconsin specifically states the aircraft will be based at Chicago O'Hare, according to Tim Bannon, executive director of the UI's Willard Airport in Savoy.
"Air Wisconsin currently operates at Washington Dulles Airport as United Express, because United has a hub at Dulles. American does not operate a hub at Dulles, so the Air Wisconsin aircraft based there now will be moved to Chicago." He said Air Wisconsin won't have a presence at any DC-area airport after the transition, as American uses Envoy and Piedmont Airlines to serve smaller airports from its hub at Washington's Reagan National Airport (DCA).
The bottom line: "The new Air Wisconsin – American Airlines agreement won't have any impact,
positive or negative, on air service at Willard Airport, or the effort to recruit service to Washington, DC."
Road redirect signs needed
"Traveling west on Olympian Drive and crossing Mattis Avenue heading for Duncan Road, the roadway (pavement) actually ends and gets redirected to the left. The only alert you get is a small orange sign once you get there. While traveling at night during a storm, I completely missed the redirect and ran off the road. Where are the yellow caution arrows to redirect the driver?"
Champaign Public Works' Kris Koester said his department appreciates the reader pointing this out. "We have visited the site west of Saber and noticed the issue. We are currently researching a solution and will implement one as soon as possible."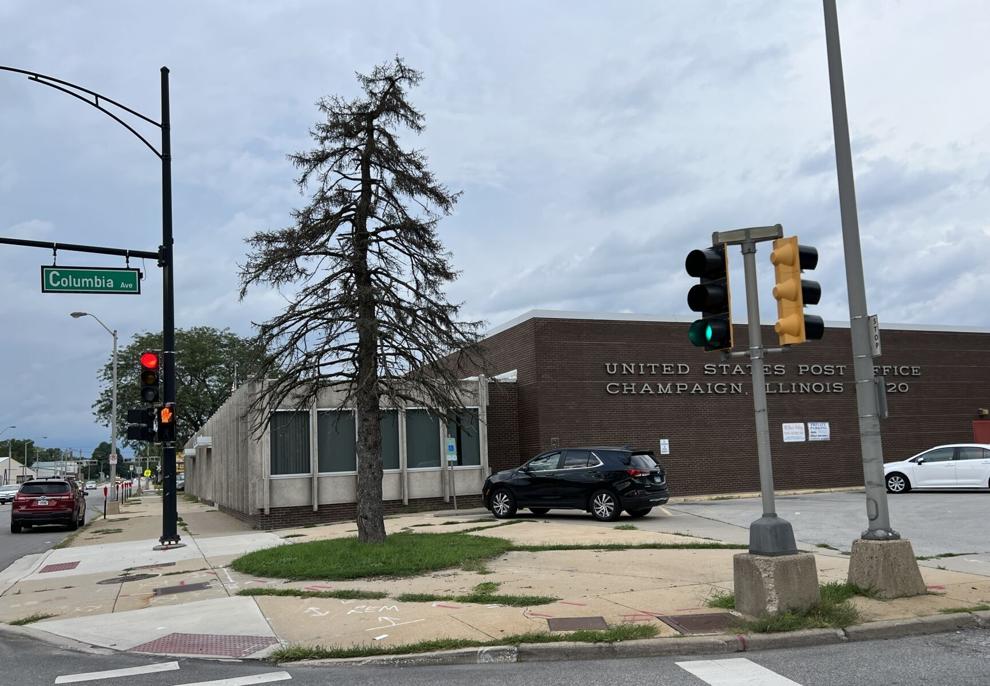 Dead tree at the P.O.
"I noticed a large dead tree at the south end of the Neil Street Post Office property. They might be interested in cutting it down and replanting."
They might indeed. U.S. Postal Service spokesperson Sharrie Johnson acknowledged that the tree is an eyesore and said USPS is concerned about how such things impact the community. "You will soon see the issue resolved to reflect pride in ownership," she said.
Rosamond du Jardin
"As a teenager in the 1950s one of my favorite authors was Rosamond du Jardin. Not too many years ago I learned that she was born in Fairland, Illinois, just over the Champaign County line in Douglas County. I am just curious as to whether she still has family in this area. I don't know what her maiden name was."
According to Anna Dvorachek, director of the Douglas County Museum in Tuscola, Rosamond Maud Neal du Jardin was born in 1902 in Fairland to Edgar E. & Ida May McConkey Neal. She moved with her family to Chicago when she was 2 years old, and she would grow up to become one of the 1950s' and '60s' best-known teen-romance novelists. Rosamond married Victor du Jardin in 1925 and had three children. She died in 1963, and an elementary school in Bloomingdale is named after her.
In 1949, du Jardin wrote her first book for teenagers, Practically Seventeen, and went on to write 16 more teen-romance novels, including Class Ring, Wait for Marcy and Boy Trouble.
Dvorachek noted that many of du Jardin's novels take place in a small town in Illinois. She also said gender-studies scholars have taken an interest in the author's work because it provides a useful view of the norms and rites of passage for teens in the 1950s.
The jacket of one of her books reveals du Jardin's soft spot for teens: "She firmly believes that despite the bad publicity that today's young people are getting, the majority of teenagers are interesting, normal and basically dependable people."
"I do not know of any (du Jardin) relatives in the area," Dvorachek said. "Since the whole family moved to Chicago when she was 2, it makes it harder to track. Wish I could be of more help, but maybe her parents' names will help?
"If anyone has any of her novels and would like to donate them to the Douglas County Museum, we would love to add her novels to the collection!"
David Foster Wallace papers
"David Foster Wallace taught at Illinois State for a decade, and two other colleges for shorter periods. His papers, however, are archived at the University of Texas. How did they end up there instead of at ISU?"
Wallace, author of the acclaimed novel Infinite Jest, grew up in Urbana. His father James was a professor of philosophy at the UI, and his mother Sally was a professor of English at Parkland College. Megan Barnard, of the Harry Ransom Center at the University of Texas at Austin, explained how his papers found their way to UT:
"The Harry Ransom Center at The University of Texas at Austin preserves, collects and makes accessible for research its extensive collections of literary and cultural archives. The Ransom Center took an interest in David Foster Wallace's work early in his career and inquired about his papers during his lifetime but received no response. Shortly after Wallace's death, an agent representing his Estate approached the Ransom Center, and an agreement was reached to place his papers in Austin, Texas.
"The archive documents Wallace's literary career through drafts, notes, research materials, juvenilia, college and graduate school writings, teaching materials and his library of annotated books. The Ransom Center continues to enhance the archive with complementary materials from other sources, including Wallace's literary agent, editors, friends and former students.
"Year after year, the David Foster Wallace Papers are among the most frequently studied of the Ransom Center's collections. Students, scholars, teachers and readers from around the world visit the Ransom Center to study Wallace's creative process, his adroit use of language, his reflections on our culture, his influences, and his unique approach to literature as a reader, writer and teacher."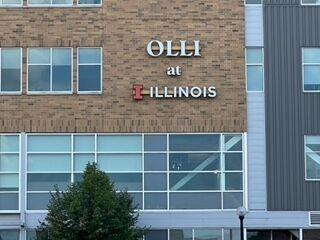 Who's OLLI?
"When exiting I-74 onto Neil Street south, when you get to the downtown area, on the M-2 building on the north elevation there are large letters on about the third floor that say OLLI AT ILLINOIS. Who is Olli?"
Kathy here. I've enjoyed several OLLI classes in recent semesters, so I'll take a crack at answering this one.
OLLI is an acronym for the Osher Lifelong Learning Institute. More than 120 universities and colleges across the U.S. have OLLI programs – and the one with offices and classrooms on Neil Street is part of the UI.
OLLI offers non-credit, non-graded courses and topical discussion groups. Most of these just-for-fun courses meet once a week for 4 or 8 weeks. Many are taught by current or retired UI faculty members. Some are presented in-person, others via Zoom, and still others offer a hybrid learning experience.
Topics vary – a lot! – from one semester to the next. Fall 2022 course topics include big bands, the evolution of vampires in film, genomics and you, time travel with historical documentaries, ballroom dance, international laws of war, and more than 20 others.
Membership is available to anyone age 50 or older with a connection to east-central Illinois or the UI; you do NOT have to be a UI retiree to join. Find out more about OLLI's offerings and costs at olli.illinois.edu.