Ed Zimmer doesn't believe the mansion at 17th and G was designed by Frank Lloyd Wright.
But he knows some people do.
This photo of the Little-Atwood House was taken around 1908.


Courtesy photo


"There are those who like to think that," the city's retired historic preservation planner said.
Here's why: The 7,000-square-foot neoclassical revival now known as the Little-Atwood House was built in the early 1890s for Illinois-native Frank Little, who moved to Lincoln to buy the Lincoln Street Railway Company.
At the time it was built, Wright was in his 20s, working for architect Louis Sullivan in Chicago and forbidden from moonlighting.
But he did, and his early work looks nothing like the homes that would later make him famous. One of those bootleg designs — the 1892 George Blossom House in Chicago — bears some similarities to Lincoln's Little-Atwood House, both with a bowed wall, both with imposing columns in front.
And then there's this: After Little's streetcar company went belly up in the Panic of 1893, and after he left Lincoln to reestablish his riches, he hired Frank Lloyd Wright to design a house in Peoria, Illinois. And then he hired Wright to design another near the Twin Cities.
People are also reading…

Watch Now: Housing boom changing role, and rhythm, of downtown Lincoln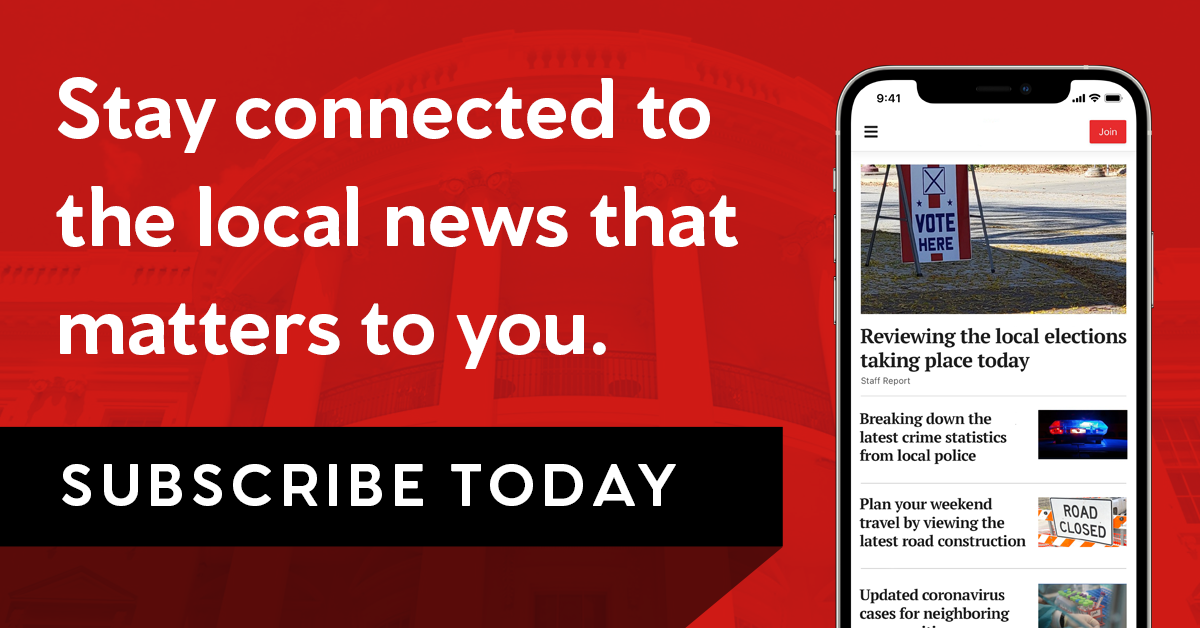 'The right thing to do': Why a Sioux warrior's ceremonial items are leaving Nebraska museum, headed to his family in Florida
So they had a relationship, though it's not clear when it started.
Finally, Zimmer has spent 35 years trying to identify the architects of Lincoln's finer homes, but this one — "the one at the top of my list" — has remained a mystery.
Despite all of that, he's not among the convinced. "I stick with evidence," he said. "It's a step too far to think this could be Wright's."
But the architectural historian and author will say this: If he were drafting a list of Lincoln's top 10 historically significant homes, 740 S. 17th St. would be on it.
For several reasons, starting with its age. It was built in the early 1890s, predating similar homes — there's a lookalike at 17th and C — by a decade.
He likes the grand entry, the sweeping staircase, the two-story bow on its south side.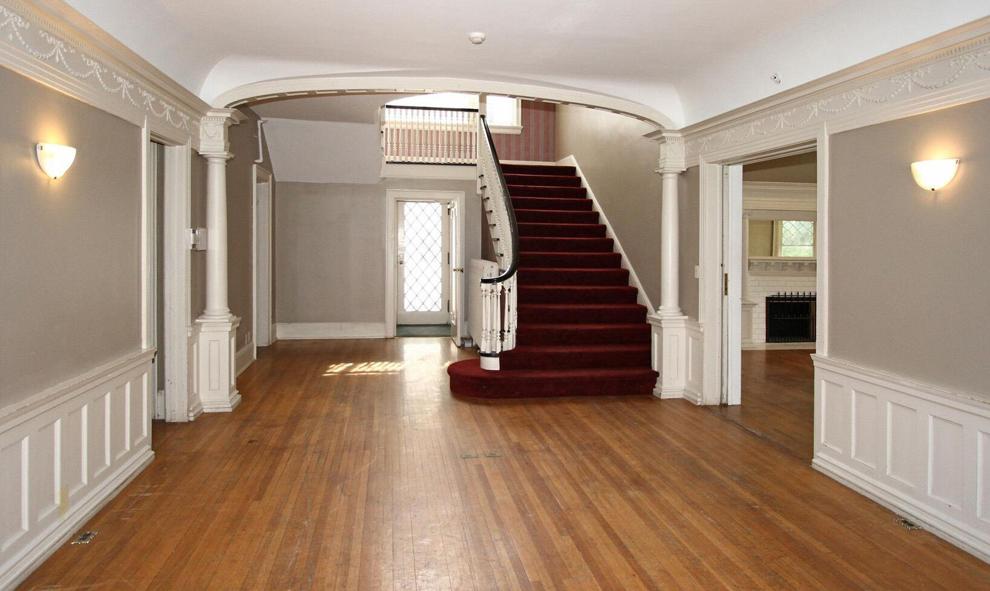 The 130-year-old Little-Atwood House, considered one of Lincoln's most historic homes, went on the market last month. It has six bedrooms and seven bathrooms.


Courtesy photo


"It's just a big, lovely house that's still in good condition."
The 130-year-old house has been updated. It has a fire suppression system and a full living area with its own kitchen on the third floor. The two-car garage, or carriage house, has heated floors and a 700-square-foot condo above.
And it's for sale. The six-bedroom, seven-bathroom house, around the corner from the Capitol, went on the market in March for $724,900.
Jack Jurgens, an agent for BancWise Realty, called the chance to sell one of Lincoln's historic mansions "once-in-a-lifetime."
"These don't come onto your table very often," he said.

Mysteries solved: Lincoln historian's research answers a family's desperate question

City keeps its promise to honor Van Dorn Park donor, 100 years later
Most prospective buyers have been interested in using it as a short-term vacation rental, or for some other business purpose. But at least one family he showed it to was considering making it their home.
And that would return it to its original use. After Frank and Mary Little moved out — just a couple of years after they moved in — the house was bought by Samuel Atwood, a stone mason, and his wife, Myrtle.
But in the decades since, it's also served as an apartment building, a collection of offices, a showcase for interior design events, the Lighthouse's first home, a longtime bed and breakfast, a sorority and a fraternity.
"It's a very unique place," Jurgens said. "It's got some great curb appeal, but when you get inside, you feel what 7,000 square feet really feels like."

His Lincoln elevator is officially worthless, but owner won't let go
25 of Lincoln's grandest old houses
Fairview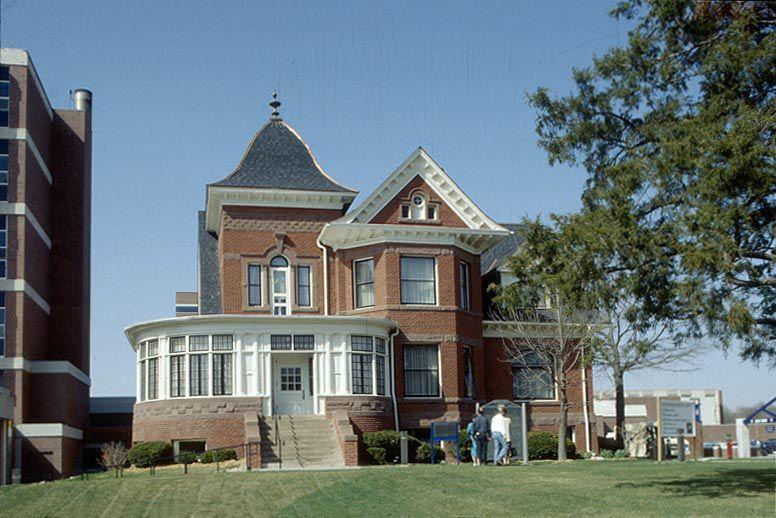 For 15 years, Fairview at 4900 Sumner St. was the Lincoln home of William Jennings Bryan, a nationally known political leader and orator. Bryan held lawn parties, public receptions and political rallies at Fairview. Designed by Lincoln architect Artemus Roberts and built in 1902-03, the house is a fine example of the Queen Anne style in transition and incorporates Neo-Classical Revival elements in its design.


Nebraska State Historical Society


Hitchcock house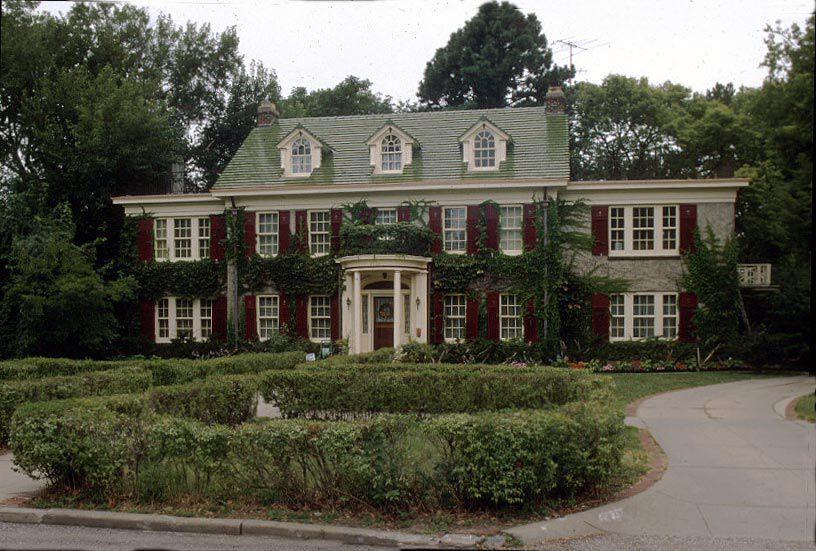 The Hitchcock house, 2733 Sheridan Blvd., is a two-and-one-half story Colonial Revival style residence constructed in 1922. Local architect Jesse Boaz Miller designed this symmetrical, stucco house, which features a central block with a gabled roof and flat-roofed side wings. In addition, there is a matching carriage house and extensive early landscaping, including a large limestone "alcove."


Nebraska State Historical Society


Murphy Sheldon house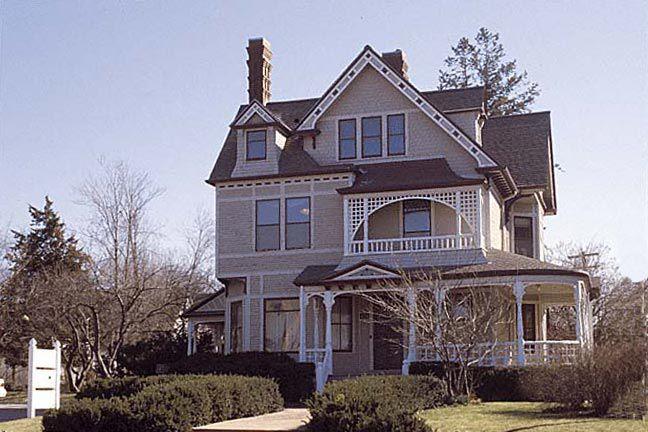 The Murphy-Sheldon house, 2525 N St., was built about 1889. It is significant as one of the most ornate examples of the Queen Anne style in Lincoln, and one of the most intact, with its rare surviving features including its elaborate main porch, carriage porch, carriage house and interior elements.


Nebraska State Historical Society


Yates house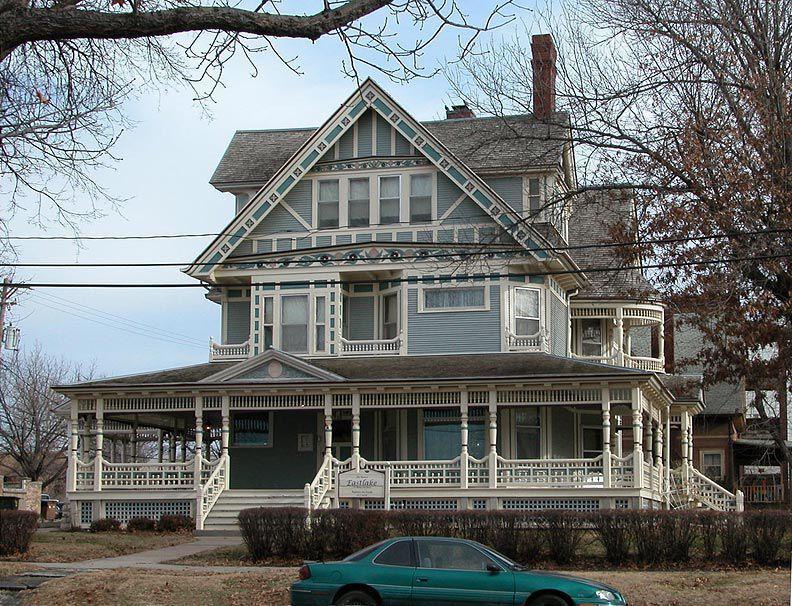 Built in 1891 from a design by architect Ferdinand C. Fiske, the Yates House at 720 S. 16th St. is prominently located on a large corner lot in Lincoln. The house is a two-and-one-half story frame Late Victorian/Queen Anne residence with Eastlake design influence. The house retains a high degree of integrity in its elaborate detailing, massing and extensive ornate porches.


Nebraska State Historical Society


Tyler house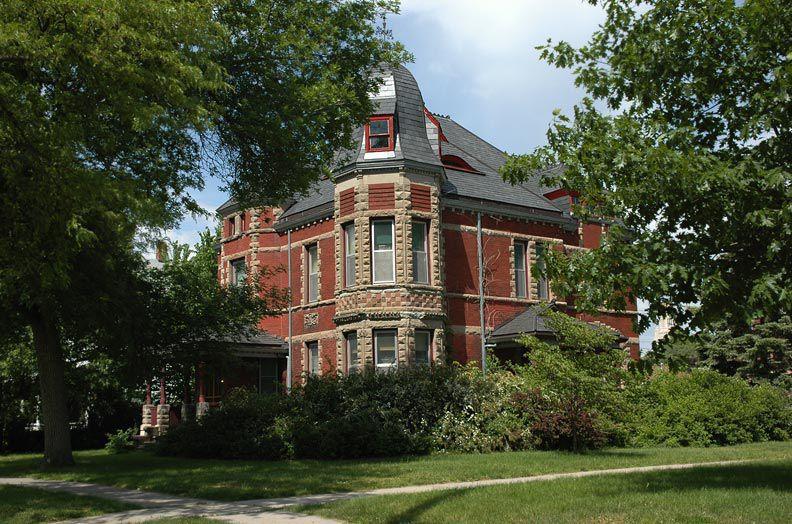 The Tyler house, 808 D St., was built in 1891 for William Tyler, who established the W.H. Tyler Stone Co. in Lincoln. Tyler built the dwelling as a showplace to demonstrate various residential uses of stone. James Tyler, a talented architect and brother of William, designed the brick and sandstone dwelling according to the formal characteristics of a typical Queen Anne dwelling, with Richardsonian Romanesque motifs.


Nebraska State Historical Society


Calhoun house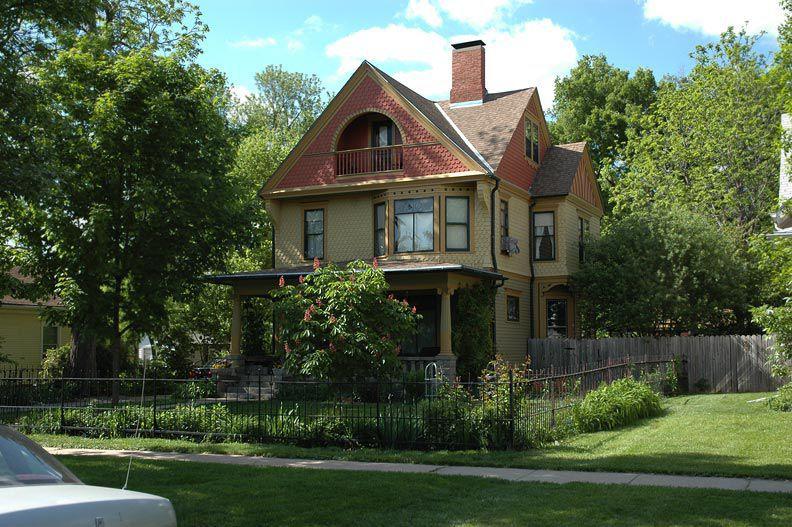 This two-and-one-half-story asymmetrical frame house, 1130 Plum St., built in the Queen Anne style is located in Lincoln. Constructed in 1889-1890, it closely follows a published "pattern book" design. The house has a steeply pitched cross-gable roof with decorative shingling in each of the gable ends.


Nebraska State Historical Society


Whitehall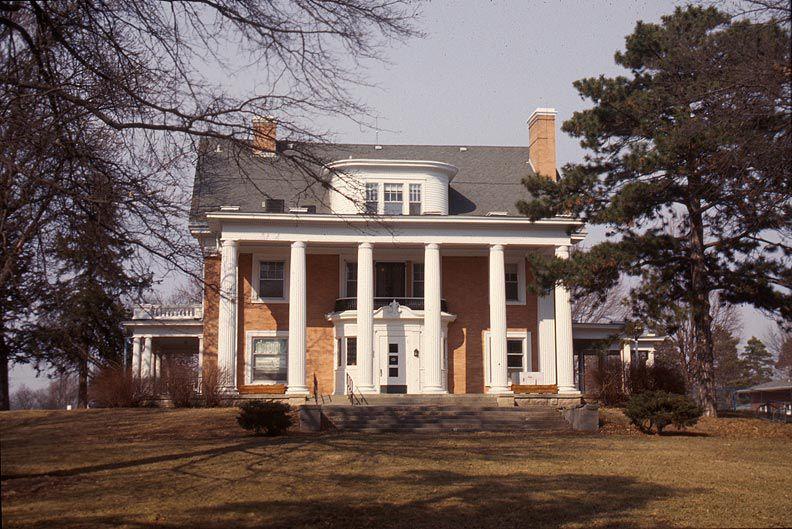 The Neo-Classical Revival style house, 5903 Walker, was built for Olive White, widow of C.C. White, owner of the Crete Mills from 1888 to 1895. Mr. White was a member of the Nebraska Wesleyan University's Board of Trustees for many years and an avid supporter of the institution. After her husband's death, Olive White moved to Lincoln, where she built the residence in 1910 near the Wesleyan University campus. Since 1926, the house has been used by the state of Nebraska as a home for children.


Nebraska State Historical Society


Beattie Miles house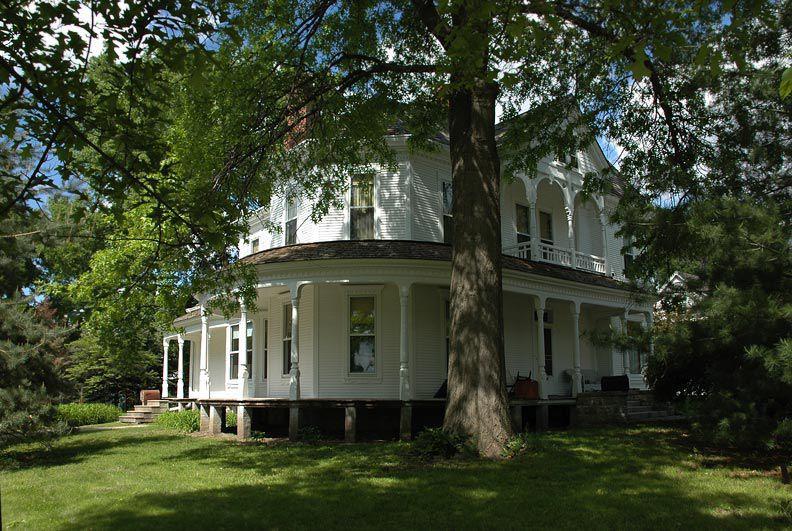 The Beattie/Miles house, 6706 Colby St., is significant in the area of architecture as the finest extant example of a Queen Anne-style residence in the community that was known as Bethany Heights (now part of Lincoln). This house is also significant for its important association with the founding of Nebraska Christian University and settlement of Bethany Heights. The Beattie/Miles house is the last remaining building that was associated with the college and retains its historical integrity.


Nebraska State Historical Society


Eddy-Taylor house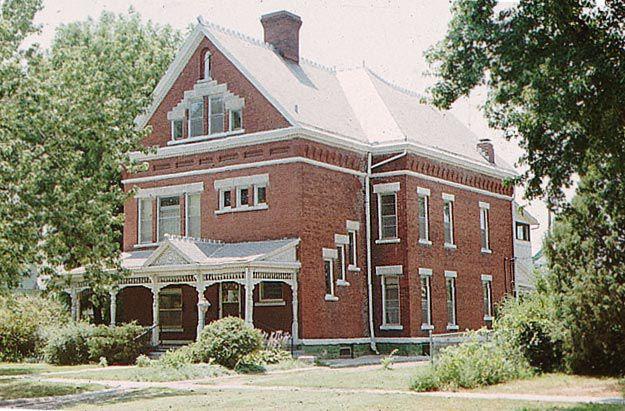 The Eddy-Taylor house, 435 N. 25th St., is a fine product of the Queen Anne style executed in brick. Constructed about 1891 by a local developer, Ambrose Eddy, the house was sold in 1902 to William George Langworthy Taylor, a distinguished member of the University of Nebraska faculty.


Nebraska State Historical Society


Ferguson house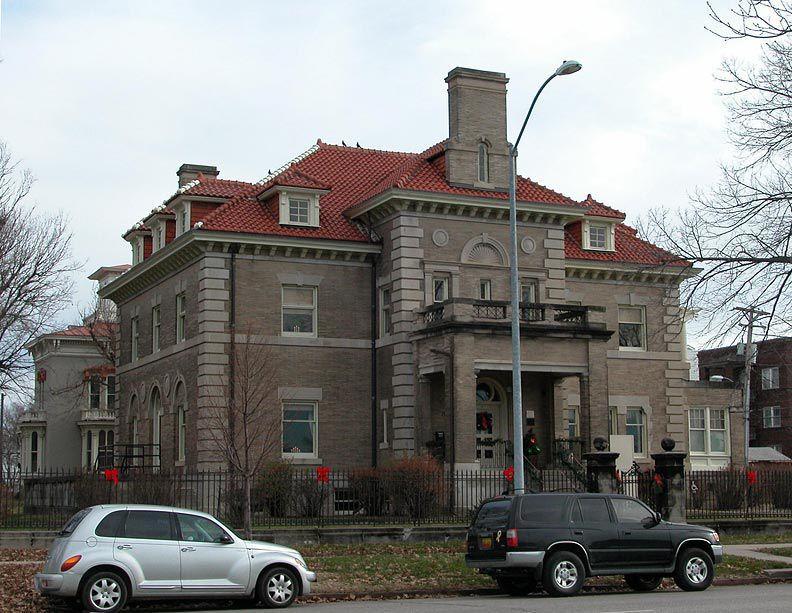 Built in 1909-11, the Ferguson house at 700 S. 16th St. is an excellent example of the Renaissance Revival style. It was designed by Cleveland architects Searles, Hirsh and Gavin. William Henry Ferguson was a Lincoln capitalist and entrepreneur, probably best known as a successful grain merchant.


Nebraska State Historical Society


Gillen house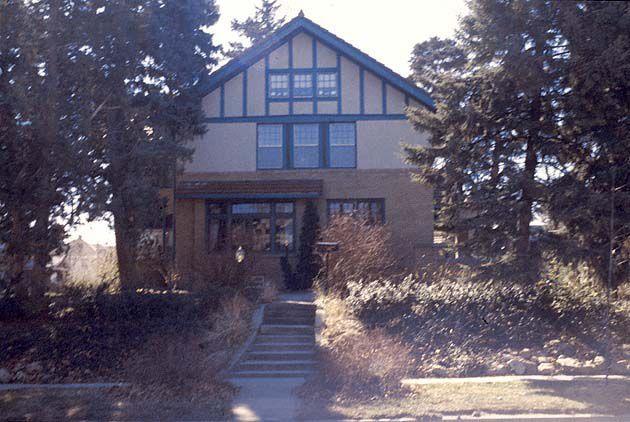 The Frank and Emma Gillen house, 2245 A St., is a two-and-one-half story, period revival-style single-family residence in Lincoln. The brick- and stucco-veneered house was originally constructed in 1903-04, then substantially remodeled to its present appearance in 1918-19. A garage was constructed as part of the 1918-19 remodeling. The interior and exterior of the house remain almost entirely intact.


Nebraska State Historical Society


Guy A. Brown house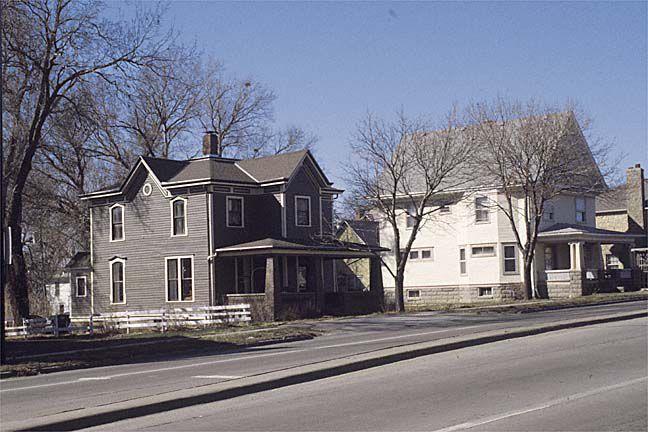 Constructed in 1874, the Guy Brown house at 219-221 South 27th St. is a two-story vernacular wood frame residence. It stands as a rare remnant of Lincoln's original residential development and is one of the first-generation homes in the city. It is an illuminating example of Italianate house design with considerable historic integrity. The house was converted into a duplex in the 1930s. The modifications of the 1930s are significant in their own right, without obscuring the original design.


Nebraska State Historical Society


Harris house
The house, 1630 K St., is a fine example of the Neo-Classical Revival style. The large frame dwelling was built in 1901-3 for Sarah F. Harris, widow of George Harris, who served as a land commissioner for the Burlington and Missouri Railroad. He was responsible for inducing immigrants to purchase land along the Burlington Railroad in Nebraska. John F. Harris, a son, donated the land that became Pioneers Park in honor of his parents in 1928.


Nebraska State Historical Society


Kennard house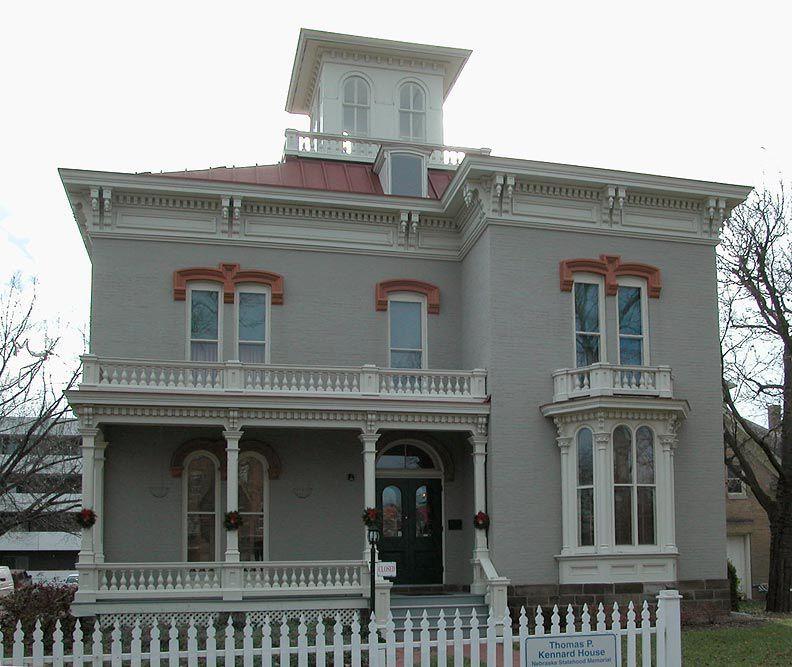 The Italianate brick house, 1627 H St., was built in 1869 as the residence of Secretary of State Thomas P. Kennard, one of three commissioners who selected Lincoln as the state capital. In 1965, the state Legislature designated the Kennard House, located in Lincoln, as the Nebraska Statehood Memorial and directed the Nebraska State Historical Society to restore it.


Nebraska State Historical Society


Kiesselbach house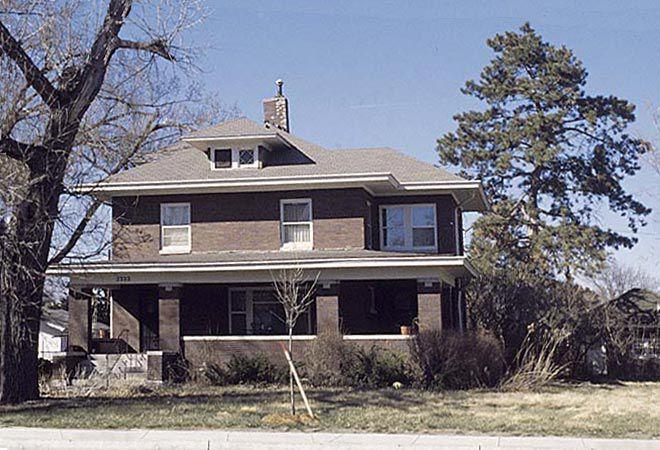 The Kiesselbach House at 3232 Holdrege St., constructed in Lincoln in 1913, is significant for its association with Theodore Alexander Kiesselbach, a pioneering Nebraska researcher in corn and other crops. Among other accomplishments, he developed the corn hybrids that significantly increased farm production and income throughout the state. No other historic property is as clearly or closely associated with Kiesselbach and his research.


Nebraska State Historical Society


Lewis-Syford house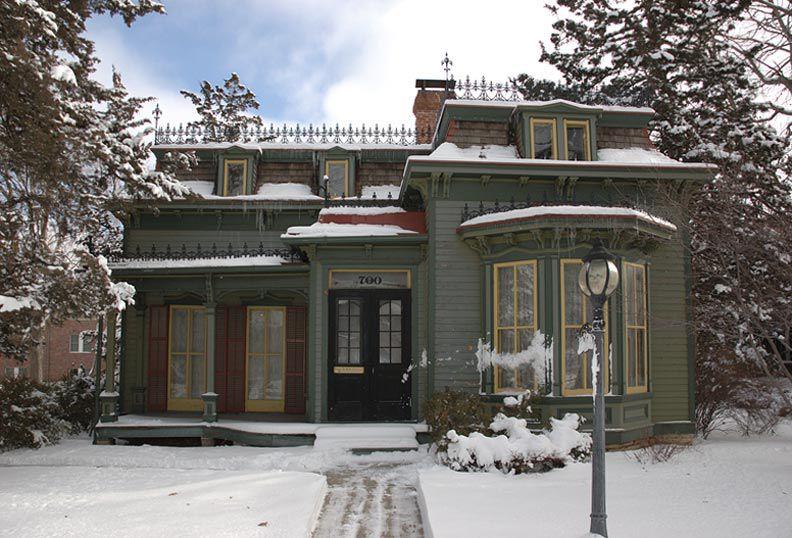 The Lewis-Syford house, 700 N. 16th St., was built sometime around 1878 during the apex of the Second Empire style and conveys architectural significance. The house is an excellent example of the Late Victorian period style, particularly for Lincoln, where the style is extremely rare. The Lewis-Syford house conforms to the strictures of the Second Empire style completely. It features a concave mansard roof punctuated by elaborate dormers with a miniature pediment. The windows on the first floor are all tall, narrow windows that are double hung. Two different scales of brackets are located under the narrow eave of the mansard roof. The building is elaborated upon with details of the romantic period, such as iron cresting and scrolled woodwork on the porches. Canted and projecting bays break up the flat planes of the surfaces of the facades.


Nebraska State Historical Society


Phillips house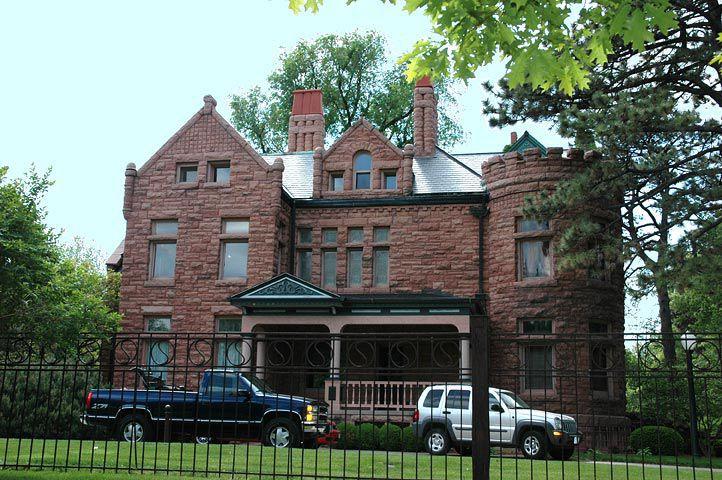 The R.O. Phillips House at 1845 D St., built in 1889-1890, is one of Nebraska's finest examples of the Richardson Romanesque architectural style. This style is characterized by heavy stone massing, an asymmetrical façade, irregular roof lines that commonly include a tower and arches springing from heavy piers. All are displayed prominently on the R.O. Phillips house. The interior is finished in wood or ceramic tile in various Victorian motifs and includes fifteen fireplaces.


Nebraska State Historical Society


Royers-Williams house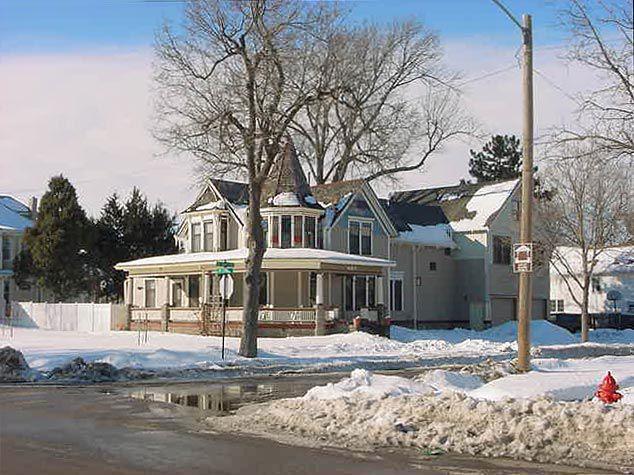 Constructed in the late 1880s, the Royer-Williams House at 407 N. 26th St. is a fine product of the Queen Anne style. The frame dwelling was originally built by Henry Royer, a carpenter, and later used as a residence by Hattie Plum Williams, a University of Nebraska scholar whose pioneering work in ethnic studies related to the Germans from Russia.


Nebraska State Historical Society


Ryons-Alexander house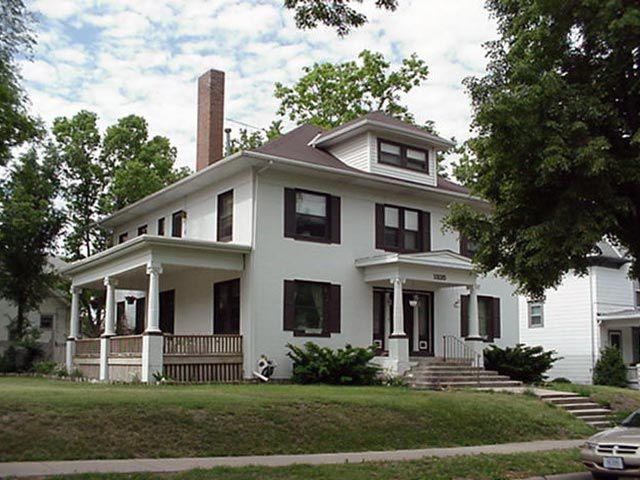 The house at 1835 Ryons, built in 1908, is important as the residence of Hartley Burr Alexander, philosophy professor of the University of Nebraska. Alexander's contributions in the fields of philosophy, architecture and anthropology are nationally and internationally recognized, while his contributions in literature and the performing arts were widely acclaimed. The builder of the house, William B. Ryons, was a longtime vice president of the First National Bank in Lincoln and son of Irish-born Joseph L. Ryons, for whom Lincoln's Ryons Addition and Ryons Street were named.


Nebraska State Historical Society


Spalding house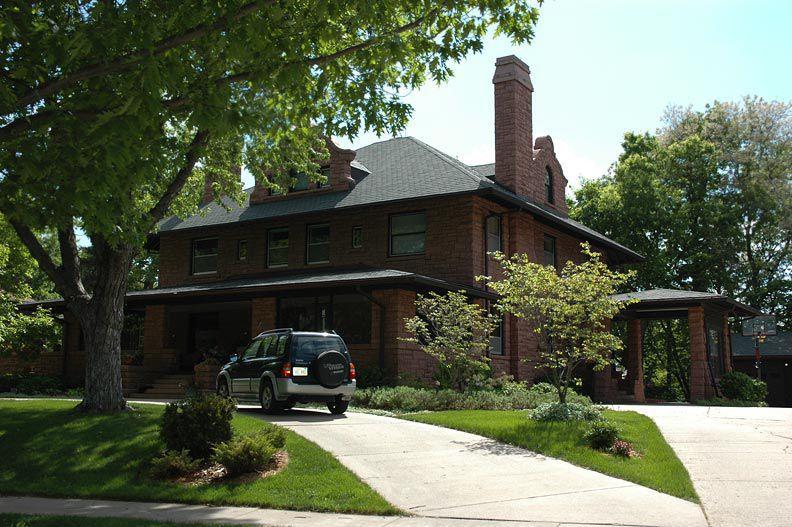 The Frank M. Spalding House, 2221 Sheridan Blvd., is a two-and-one-half story Mission Style residence in Lincoln. It was constructed in 1908-10 as the first residence in the Sheridan Place addition. The house is an important work of master architect Ferdinand C. Fiske and is the best representative example of Mission Style architecture in the city. It retains lavish original interior finishes in wood and tile, and its exterior stone construction is very distinctive.


Nebraska State Historical Society


Thayer house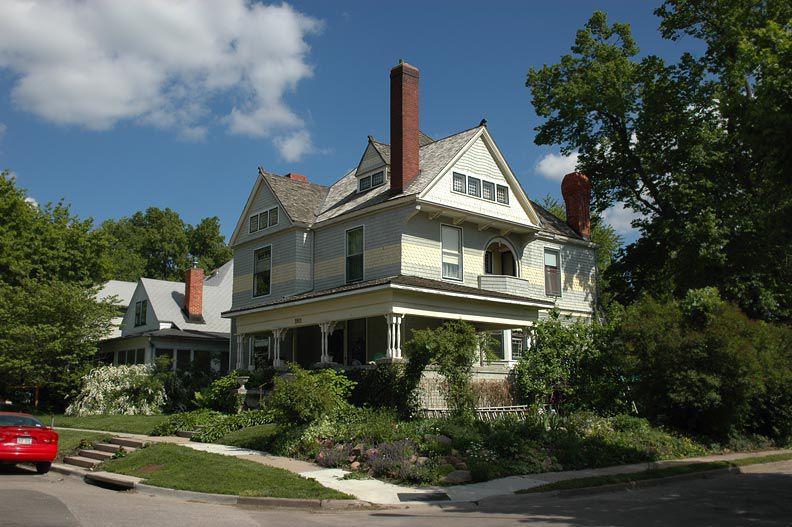 The John M. Thayer house, 1901 Prospect St., was constructed about 1887. The two-and-one-half story Queen Anne style residence was built for Nebraska Gov. John Thayer. Except for the years 1893-1897, Thayer resided in the house from 1889 until his death in 1906.


Nebraska State Historical Society


Watkins house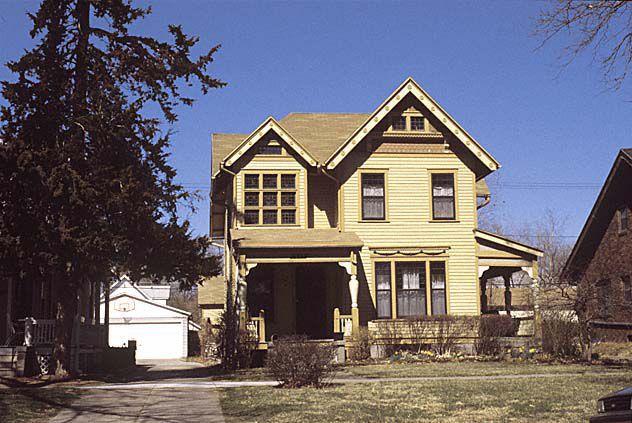 The Watkins house at 920 D St., built in 1887, is significant as the residence of Albert Watkins, an early Nebraska historian who wrote and edited one of the first scholarly histories of the state. He occupied the house for the final 36 of his 41 years in Lincoln. No other property exists that was as directly associated with Watkins, especially during the entire span during which he produced the Illustrated History of Nebraska. Furthermore, no other property as clearly associated with an early historian of Nebraska appears to exist.


Nebraska State Historical Society


Woods house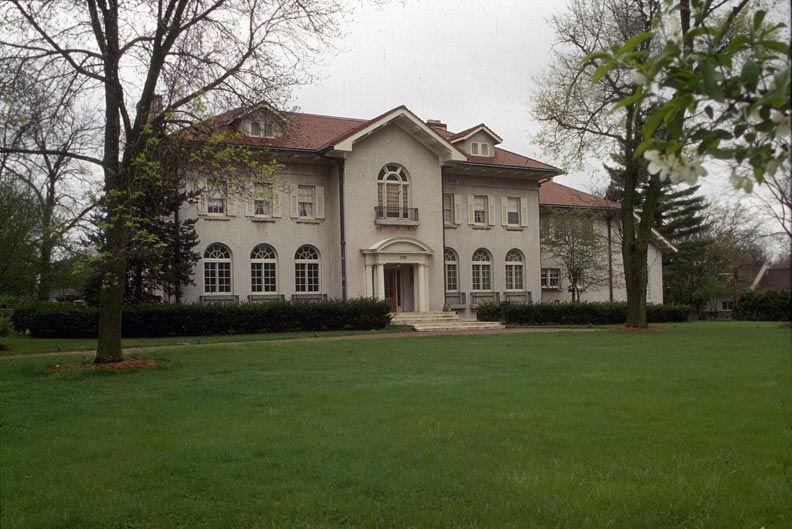 The Frank and Nelle Woods House, constructed in 1915-16 at 2501 Sheridan Blvd., is a uniquely large and well-preserved example of the Italian Renaissance Revival style in Lincoln. Designed by Chicago architect Paul V. Hyland, the house is situated on a very large urban lot, the most prominent setting in the innovative Woodscrest Addition. It retains a high degree of interior and exterior integrity, as well as significant features of its designed landscape.


Nebraska State Historical Society


Yost house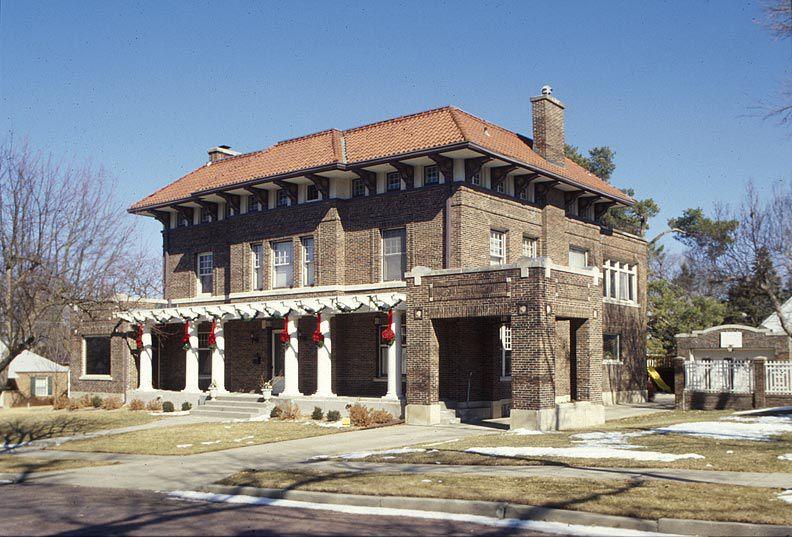 The Yost House, 1900 S. 25th St., was built in 1912. The two-and-one-half-story Italian Renaissance Revival-style residence is constructed of red brick and features a red tile hipped roof with broad eaves and heavy brackets.


Nebraska State Historical Society


Ziemer house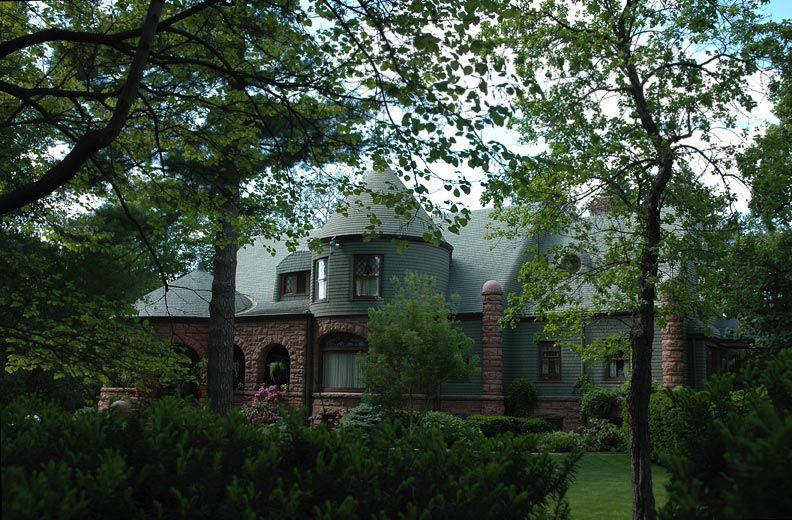 The house at 2030 Euclid, built in 1909-10 for Arthur C. Ziemer, is an excellent example of the Shingle style. The dwelling's romantic external appearance provides a striking contrast with the use of almost totally classical motifs for the interior. Ziemer was an early resident of Lincoln, working briefly as an interior designer and later becoming a practitioner of Christian Science.


Nebraska State Historical Society


Reach the writer at 402-473-7254 or [email protected]
On Twitter @LJSPeterSalter
Subscribe to our Daily Headlines newsletter.