The BIG EAST softball season usually is bound for a feverish fight, but that rings especially true for the 2023 campaign ahead.
Why? Well, official opinion differs on which program is the one to beat.
The league's Preseason Coaches' Poll, released earlier this month, had three teams all garnering multiple first-place votes, a compliment to the league's quality and competitiveness, but also a message that the fight to go down as conference champion is not going to be without the eventual winner fending off worthy challengers.
That fight begins Feb. 9, when BIG EAST softball teams officially get their seasons underway.
2023 THE Spring Games Opening Weekend
With a high chance the battles are going to continue on into mid-May's conference tournament, it's best to get acclimated now with the who's who across the league – and there are plenty of dangerous teams and names that have the ability to make the 2023 season one of epic proportions.
Here's a team-by-team preview of the BIG EAST softball slate for the upcoming season, with conference games, and many others featuring the teams below, being streamed live on FloSoftball.
St. John's Red Storm
2022: 12-35 overall (5-18 BIG EAST), no postseason
The lowdown: A .197 team batting average and just 91 runs scored in 47 games probably won't pick up many victories, no matter how you slice it, and St. John's found that out the hard way a year ago. With those statistics, the Red Storm sunk to the bottom of the BIG EAST standings. 
SJU was shut out 16 times last season and – with the notable exception of one player – heavily struggled to find consistent production out of the lineup, with the program's five conference wins being its fewest in a league slate since 2008. 
Nine new freshmen dot the 2023 roster, as coach Bob Guerrero attempts to rejuvenate the team and get it climbing up the BIG EAST ladder with some fresh faces, and considering that many of St. John's' top producers (both in the batter's box and on the mound) were underclassmen last year, it's not a bad idea for Red Storm softball to be investing in some youth and form a base upon which to build back their pedigree in the sport. 
Name to watch: London Jarrard, Soph., UTL
The Californian began her first season in the Red Storm program last year and almost immediately began carrying the offense essentially by herself. 
Jarrard's .400 batting average was second in the BIG EAST, tops among league freshmen and in the top 10 among freshmen nationally. She secured an All-BIG EAST first-team selection, despite St. John's' difficulties on the diamond, and that's a testament to how highly regarded she's considered to be by her peers. 
And to put into perspective how much St. John's needed her last year to even be close to competitive on offense, her average was greater than any of her teammates' slugging or on-base percentages, and her team-best 25 RBIs was over double the amount of any of her peers. 
With plenty of time left in her college career to develop, Jarrard is near-certain to be the centerpiece of a Red Storm program that can pretty much only go up from where it's been recently.
Creighton Bluejays
2022: 15-27 (5-17), no postseason
The lowdown: A Creighton player last season had one of the greatest individual seasons in the program's history, while the team as a whole started the season 7-2 overall. 
So, everything was all hunky-dory for the Bluejays a year ago then, right? Not so. 
Creighton faded hard as the year went along – it lost 15 of its final 16 games, as the program's promising beginning ended up being for naught in the final season of former coach Brent Vigness' 29-year career at the helm of the team.
Into the Creighton dugout steps Krista Wood, the school's third coach since 1977, and she brings a decorated resume to Omaha that includes three Summit League Coach of the Year awards, multiple NCAA Tournament wins and more from during her eight seasons at the helm of the South Dakota State program. 
What's more is that Wood already is well-versed in playing (and winning) against the BIG EAST – the Jackrabbits were 20-5 overall against teams from the league (and currently are on an active 11-game winning streak) while she was coach, including a NCAA Regional win over conference champ Villanova just last year.
🔷🔹 NFCA Great Lakes All-Region🔹🔷
Congratulations @kaileywilson42 on being named to the NFCA Great Lakes All-Region Second Team
📰 https://t.co/JhvB4C90OJ#GoJays pic.twitter.com/N0ISz2dq0a
— Creighton Softball (@BluejaySoftball) May 19, 2022
Name to watch: Kailey Wilson, Gr., INF
It takes a special player to be named the BIG EAST Player of the Year while playing for a team that didn't even reach the .500 mark, but Wilson's stellar 2022 season simply had to be properly recognized as one of the greats in recent league history. 
The reigning BIG EAST batting champion at .436 last year – and the No. 1 returner across the league in a lot more offensive categories, too.
The Colorado native had the Bluejays' best single-season individual average at the plate since 1978 and merely upped her game even more when conference play came along. She finished with a superb .524 mark against BIG EAST foes. 
Now a two-time unanimous All-BIG EAST first-team pick, Wilson is seeking a three-peat in that regard, on top of being Creighton's first consecutive league player of the year since Renae Sinkler-O'Gorman accomplished the feat in 2009 and 2019 in the Missouri Valley Conference.
That feat that would only further nail down the fact that Wilson deserves to be considered one of the greats in Bluejays softball history when all is said and done. 
Georgetown Hoyas
2022: 15-28 (5-16), no postseason
The lowdown: It was a welcome sight to see Georgetown back to playing against BIG EAST competition after it was forced to play a shortened 2020-2021 season due to pandemic-related issues, but the program's return to the fray probably didn't go the way it would've preferred.
Consistency in BIG EAST play was hard to come by for the Hoyas, who won just one league series (against St. John's) and was off the pace in too many games to be anywhere near the program's first winning season since 2014. 
Pitching issues didn't help, either, as Georgetown had a BIG EAST-high 5.81 team ERA and gave up a league-most 138 extra-base hits on the year, adding to GU's overall struggles.
Dartmouth grad transfer Brooke Plonka (3.10 ERA, 213 strikeouts across 216 2/3 career innings with the Big Green) should be able to provide a nice boost in the circle for the Hoyas, however, especially as the school's only player to toss multiple no-hitters.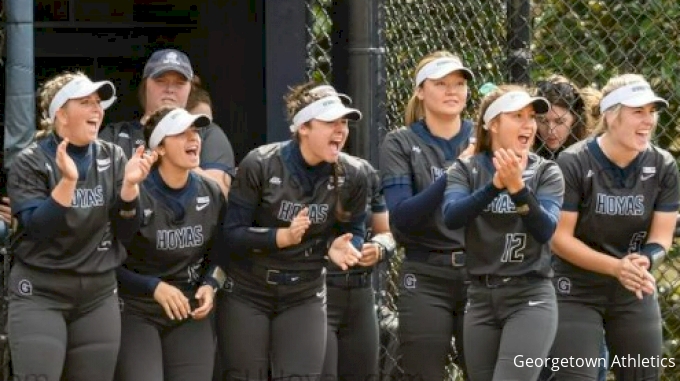 Name to watch: Mae Forshey, Gr., INF/C
A veteran piece of the GU lineup, having started all 115 games played in her college career, Forshey had a long break between the sudden end to her promising 2020 campaign (.451 average before the season was canceled) and her eventual return to the diamond for the Hoyas in 2022, but she still didn't lose much of the pop that had her on pace to be one of the BIG EAST's top hitters three years ago. 
Slashing .333/.394/.638 with nine home runs and 26 RBIs, the Phoenix native had her moments during her senior season and got her picked to the All-BIG EAST second team. 
The 2023 season is going to be Forshey's most important yet in D.C., however, as she's the only one of Georgetown's top hitters a season ago back in the mix this time around, making her one of the few proven and experienced hitters on the current Hoyas roster.
Seton Hall Pirates
2022: 20-23 (9-14), no postseason
The lowdown: Somewhat bizarrely, Seton Hall was a bit of a road warrior in 2022, going 12-8 in true road games, yet struggled to hold down the fort at Mike Sheppard Sr. Field, as the Pirates finished 5-11 at their home venue. 
That, and missing out on the BIG EAST Tournament, spoiled The Hall's achievement of having three All-BIG EAST selections and a major award winner on its squad in the program's first season under coach Angie Churchill, though there's a lot to like about their current trajectory.
For starters, no team in the league hit the ball better in 2022 (.287 average), and two-way talent Shelby Smith – who batted .311 and had a 3.38 ERA to be among Seton Hall's leaders both in the lineup and on the mound – is one of the more unique standouts of the BIG EAST for her capabilities to literally turn a game around by herself in two facets.
Congratulations once again to Taylor Hill, who today was named the ECAC Softball Rookie of the Year!
🔗: https://t.co/5vVxNY6U4O#HALLin
— Seton Hall Softball (@SHUSoftball) June 9, 2022
Name to watch: Taylor Hill, Soph., INF
That major award winner Seton Hall had last season? It was Hill, named the BIG EAST Freshman of the Year (and a member of the All-BIG EAST first team) after a phenomenal stretch of play across the year, but especially against conference competition. 
Her team-leading .373 average was good enough already, but the .449 average in BIG EAST play ranked second among all players, and her 12 doubles in that stretch set a record for a single league season. 
Hill's 35 hits in BIG EAST play also were the most by any player since 2013, and with that confidence and swagger in tow, who knows what kind of season that the in-state product is going to have in 2023 now that she's properly adjusted to the college game? In fact, it may be more so that opposing pitchers are adjusting to her, instead.
Providence Friars
2022: 25-21 (11-13), no postseason
The lowdown: From a 5-16-1 record (.250) in 2021 to a winning season in 2022, Providence softball took a big step forward in 2022, as the Friars were bolstered by a solid rotation (3.19 team ERA, 324 strikeouts) that helped the team get out to a 14-6 start, the program's best kickoff to a season since 2006. 
But, is another step toward the top of the BIG EAST standings ahead? 
That's still left to be determined, but fifth-year coach Jill Karwoski has got Providence swinging in the right direction, as her two "normal" seasons in charge – 2019 and 2022 – have featured a combined 55 victories, which would be the Friars' best two-year stretch record-wise since 2005-2006. 
That distinction is made all the more impressive, considering that Providence had some heavy offensive struggles last season, too, ranking at, or near, the bottom of the BIG EAST in multiple hitting categories, with only St. John's having a lower team batting average than the Friars' .235.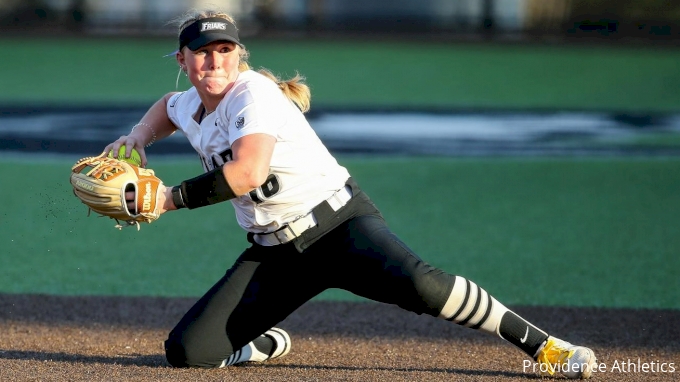 Name to watch: Jacque Harrington, Jr., INF/UTL
One Friars player seemed to avoid all the issues that plagued the Providence lineup, however, and that was the New Hampshire native Harrington. 
She had a breakout 2022 season and was named to her first All-BIG EAST squad (second team), starting all 44 games and getting major jumps from her freshman to sophomore season in just about every way to make an impact offensively, including slash line (.176/.250/.353 to .359/.452/.690), driving in runs (two home runs and two RBIs to 12 home runs and 28 RBIs) and even her walk-to-strikeout rate (four walks/eight strikeouts to 23 walks/12 strikeouts). 
Getting to the BIG EAST Tournament after narrowly missing out a season ago seems to be a reasonable goal for the Friars to achieve this season, and Harrington's continuing improvement may be the key to making it happen.
DePaul Blue Demons
2022: 29-24 (16-8), lost in BIG EAST Tournament
The lowdown: The 2021 BIG EAST regular-season champs saw heavy challenges at the top in 2022, leading to the Blue Demons' fourth-place finish and exit from the BIG EAST Tournament at the hands of UConn. 
Still, it's easy to forget that at one point, DePaul had a 10-game conference winning streak and was right in the thick of the title fight for much of the season, too. 
That's all to say that fifth-year coach and former Blue Demon playing standout Tracie Adix-Zins' team should be in the hunt for another trip to the NCAA Tournament, as the program has done 21 times in its history. 
And, with a batting order that had superb power last season – DePaul smashed a BIG EAST-best 54 home runs and 290 RBIs in 2022 – the team should have the stars at its disposal to compete with anyone it comes up against.
Among the nation's best 🌟
Congrats to @brookejohnsonn8 for earning a mention on the @ExtraInningSB position rankings! 👏#BlueGrit 🔵😈 pic.twitter.com/RqdFl8VQmy
— DePaul Softball (@DePaulSB) January 24, 2023
Name to watch: Brooke Johnson, Sr., INF
The BIG EAST's reigning home run (13 homers last season) and RBI (52) queen, Johnson found her way to the All-BIG EAST first team in 2022 (the second all-conference nod of her career after a second-team pick in 2021) as the league's undisputed best slugger. 
But perhaps the most dangerous part about the California native's game (for other teams, at least) is the fact that her run-driving abilities a year ago often came in devastating waves. 
Johnson had 17 multi-RBI games last season and had several stretches at the plate in which she essentially took over a conference series or a set of games by herself – just ask Georgetown, as she pelted the Hoyas for 10 RBIs over the Blue Demons' three-game sweep in late April of last year. 
If DePaul is to soon claim its eighth BIG EAST regular-season title (as it's narrowly projected to do in the league's Preseason Coaches' Poll), Johnson is almost certain to be a major piece to the push.
Villanova Wildcats
2022: 32-24 (16-7), lost in Orlando Regional
The lowdown: Villanova wasn't the No. 1 seed entering the BIG EAST Tournament in either of its past two seasons, but there's a reason the Wildcats are the league's two-time reigning and defending automatic representative at the NCAA Tournament – they've earned a reputation for showing up in the clutch and when it matters most. 
The Cats won four elimination games in a row in the 2021 conference tournament en route to winning the whole thing and earning their debut on the national stage, while Villanova pitchers didn't allow a single run in the 2022 conference tournament to make it an unprecedented back-to-back NCAA tourney appearances for Wildcat softball. 
Is a three-peat now in the cards? 
That remains to be seen, but there's a lot of steam in coach Bridget Orchard's program, and it's a heavy possibility, as 'Nova should be among the BIG EAST's heavy hitters.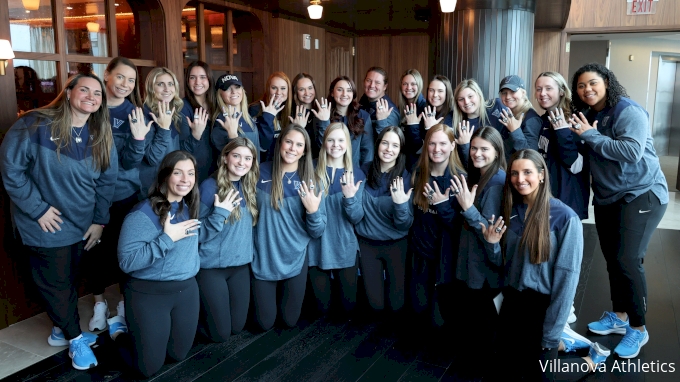 Name to watch: Peyton Schnackenberg, Gr., P
Replacing an ace in the circle who had as dominant of a career as Villanova pitcher Paige Rauch – a past All-American and the 2021 BIG EAST Player of the Year – is a ginormous task that probably doesn't happen overnight. 
Still, with Rauch and another solid pitching option in Sara Kennedy (22-19, 3.94 ERA in Villanova career) now out the door, someone will need to step up in the rotation to fill the gaps.
Enter Schnackenberg, a grad transfer from Boston College who very well might be tasked with doing just that. 
Over three years with the Eagles, the New Jersey native had a 10-12 record with a 4.81 ERA on some BC teams that had their shares of struggles, but some individual gems she had on the mound last season were especially notable.
That includes an 11-strikeout game against Belmont and a complete-game, one-hit shutout in an upset over blue-blood program Florida State. 
Keep an eye on how Schnackenberg progresses in her new home. Villanova could use more of those outstanding outings on the mound this season. 
Butler Bulldogs
2022: 31-17 (16-6), lost in BIG EAST Tournament
The lowdown: The Bulldogs' 16 wins in league play last season was the best of the program's BIG EAST era (and the 31 wins its most in a single year since 2011), winning all but one series in conference competition and qualifying for their fourth BIG EAST Tournament in the process. 
That success was anchored by an elite pitching rotation that cut through opposing lineups like butter. 
Led by unanimous BIG EAST Pitcher of the Year Alyssa Graves, Butler's 2.53 team ERA was the best in the league, with Graves leading the charge as the staff's driving force, going 14-4 with a 1.95 ERA.
But after the heights Butler reached, coach Scott Hall has a lot of replacements to make on the roster for the upcoming campaign. 
Graves is gone, as are All-BIG EAST selections Lauren Fey and Bri Avery, which means that those who do return, and the seven true freshmen on the roster, have a lot on their shoulders, if Butler wants to keep pace with the league's upper tier of teams.
HOME RUN @MoniqueHoosen
Dawgs now lead 4-0!!
BU-TLE- R U a Bulldog? HELL YEAH!! pic.twitter.com/e7QFoz92eT
— Butler Softball (@ButlerSoftball) March 27, 2022
Name to watch: Monique Hoosen, Jr., OF
Explosive offensive plays weren't really how Butler made its mark in 2022, but on the occasion they did occur, Hoosen often was the one swinging for the fences in a super sophomore season. 
Of the 27 homers the Bulldogs had a year ago, Hoosen blasted 10 of them to be the best on the team and finish fourth in the BIG EAST overall, closing the show with a Butler-best .642 slugging percentage on top of it. 
Now, Hoosen's role in the Bulldogs' lineup is about to get even more important. 
As previously mentioned, Fey and Avery – Butler's leading hitters last season and the only two players on the team to bat over .300 – both must be replaced. 
As the top returning hitter, even at .294 last season, Hoosen probably is going to be tabbed to be one of the major contributors to fill in the gaps left behind. 
The ability certainly is there for the East Peoria, Illinois, native to do it, but the pressure is on, as Butler seeks a third straight appearance in the conference tournament.
UConn Huskies
2022: 38-18 (20-4), lost in BIG EAST Tournament
The lowdown: No BIG EAST team a year ago was more balanced than the Huskies, the only program in the conference to be among the league's top 3 teams in both batting average (.280) and ERA (2.85), and that steady ship helped UConn capture a regular-season conference crown for the first time since 1997, while winning every conference series. 
Still, even with success it can cherish and hold its head up high for, UConn softball likely feels as if it has another gear to reach at this point in time. 
The Huskies have reached the BIG EAST Tournament title game in each of the past two seasons, and on both occasions, they faltered against Villanova, with the Wildcats taking the BIG EAST's automatic bid to the NCAA Tournament instead. 
A chip on the shoulder can be an effective motivator, however, and with UConn likely bound to be around the top of the conference again, a 22-year drought from the regional round very well could end, too.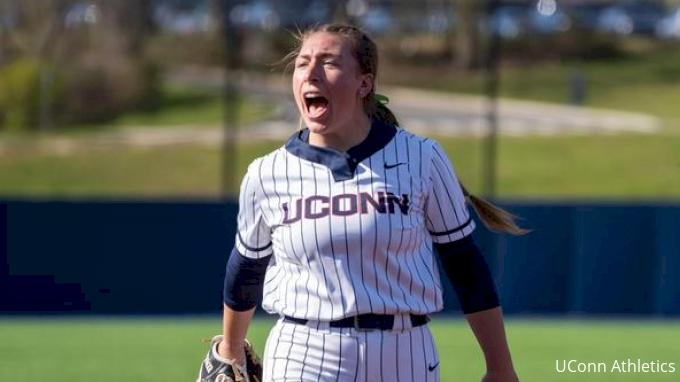 Name to watch: Meghan O'Neil, Sr., P
Even with significant change in its rotation for 2023, O'Neil's closing performances of the 2022 season helped establish that UConn probably is going to be in good hands on the mound. 
A member of the BIG EAST's All-Tournament team last season, following just three earned runs allowed and 12 strikeouts thrown in 13 1/3 innings of work across a high-pressure environment, O'Neil's late-season surge, if it extends into the 2023 season, probably is going to come in handy now that the Huskies' former ace and last year's BIG EAST wins leader, Elise Sokolsky (20-6, 2.55 ERA, 180 strikeouts), transferred to Oregon in the offseason. 
But O'Neil's overall cool demeanor in her own right in 2022 (13-8, 2.84 ERA, 131 strikeouts) – plus the fact that she's going to be one of only two players who is a senior or above on a young UConn roster this year – makes her one of the Huskies' most important players from both playing and leadership standpoints.