If you haven't made it down to the Margood Theater on Goodland on the first Monday of the month to see JRobert and Friends, you're missing out.
On Monday, January 2, JRobert Houghtaling, a former Entertainer of the Year on Marco Island, welcomed TR Kerth, Caleb Neff, and Marie Nofsinger to join him on the large outside stage at Margood Theater on Pear Tree Avenue on Goodland.

Close
3. TR Kerth regaled the crowd.tif
TR Kerth regaled the crowd with a clever original, "Loretta," based on a motel stay in Peoria, Illinois.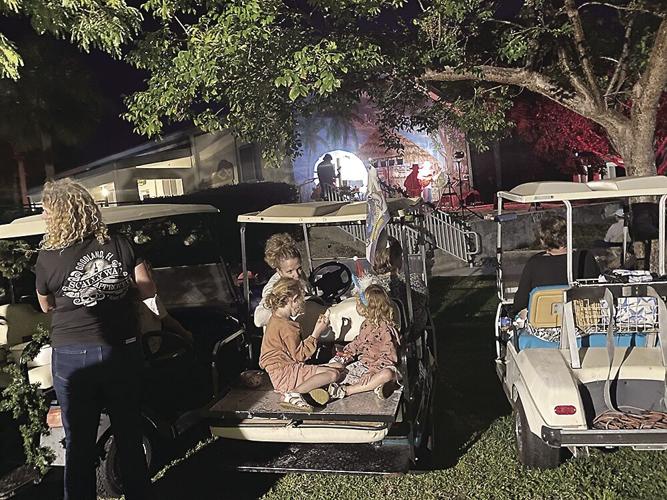 2. Many concert goers arrived by golf cart.tif
Many concert goers arrived by golf cart—a popular transportation mode on Goodland.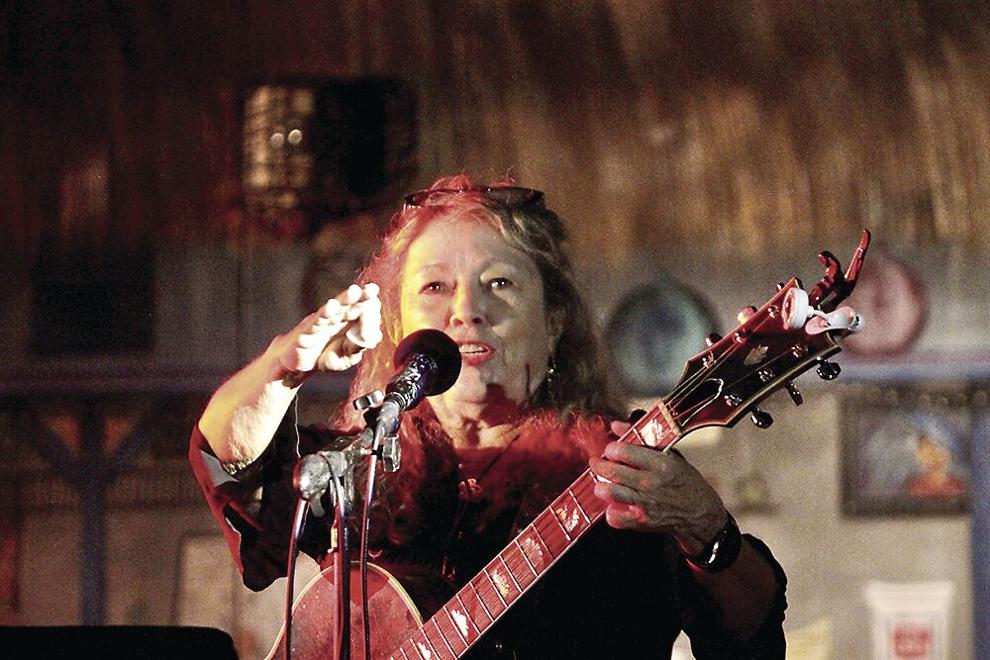 Marie Nofsinger at the JRobert and Friends concert series on Goodland. They play every first Monday throughout the Winter Season.
There was a chill in the air, and the atmosphere was a bit muggy for a winter night on the island. Humidity is not the best thing for wooden acoustic guitars.
"I usually get a hotel room just so my guitar can be in air conditioning," Marie Nofsinger told the crowd, who was spread out across the shores of Goodland Bay—many luxuriating in their golf carts.
JRobert got things started with one of his tender original love songs, "Thread of Life."
The humorous TR Kerth had the crowd hooked with an original song that had a back story that was about as long as the song itself. It centered around a night he spent in a low rent motel room in Peoria, Illinois. As is often the case at any JRobert show, the stories are often just as good as the music they spawned.
Kerth describes Peoria as a "sort-of seedy midwestern Las Vegas." He tells the story of receiving a strange phone call at 2:00 AM from a man looking for a woman named Loretta. He felt that the gentleman making the call had a "professional" relationship with Loretta, and that the motel room he was staying in was where she did her work.
Kerth said he went back to sleep after receiving the call and dreamed about the words to the song.
Kerth delivered the humorous lines to Loretta, accompanied by his acoustic guitar, much to the audience's delight.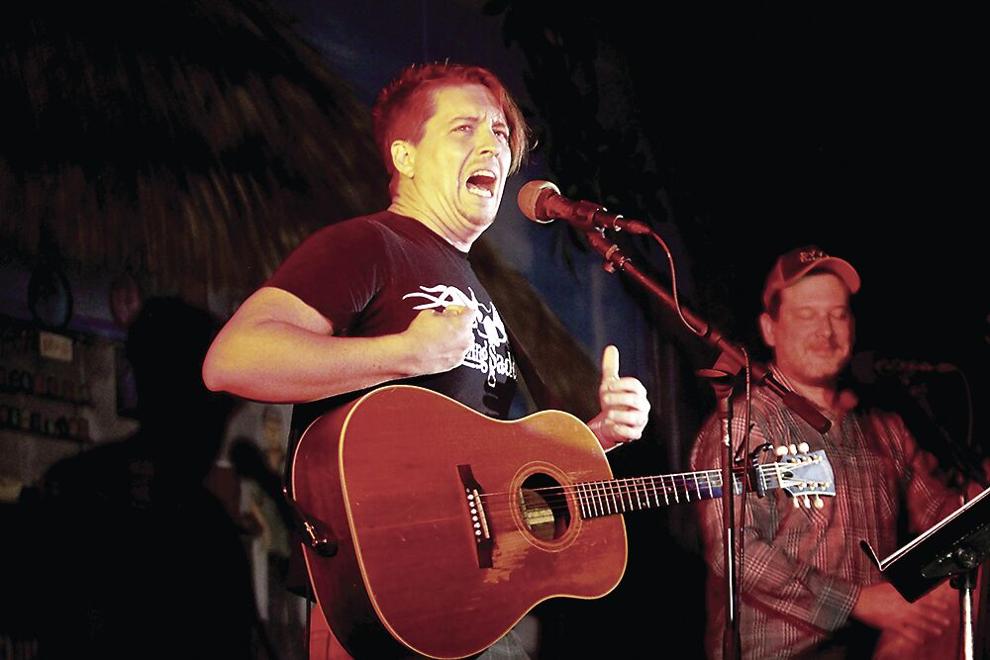 Caleb Neff delivered an energetic set.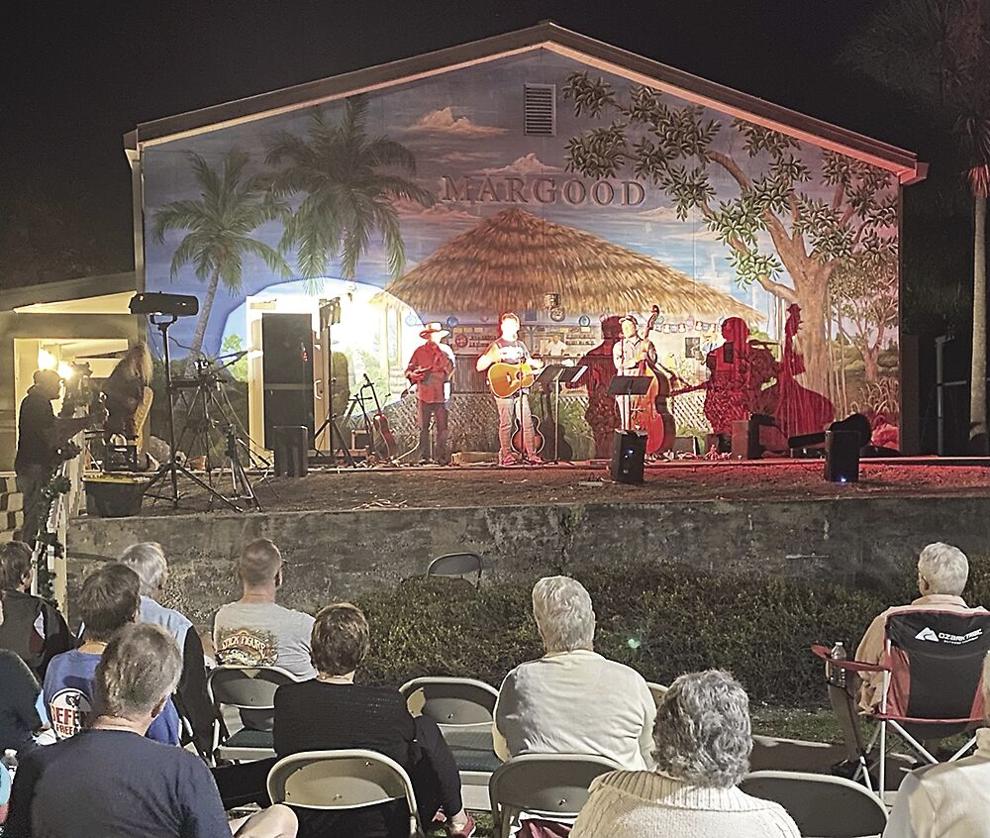 An appreciative crowd behind Margood Theater on Goodland.
Nofsinger then took the stage and delivered a beautiful original titled, "Things You Can't Leave Behind." She finished by saying, "In life there are some things you wish you could leave behind, but you can't."
JRobert, also known as the Florida Fiddler, accompanied Nofsinger on a beautiful rendition of "Four Strong Winds," honoring its writer, Canadian singer-songwriter Ian Tyson, who passed on December 29 at 89.
"Farewell to Ian Tyson," Nofsinger said as she strummed her last chord and JRobert fiddled the outro. "God bless him."
Though JRobert is always the star of the show, he gave top billing to Caleb Neff on this night. Neff is a young singer-songwriter based in Cape Coral whose repertoire ranges from in-your-face folk-inspired protest songs to touching ballads. Both were on display on the Margood stage Monday night.
JRobert performs an off the cuff fiddle interlude before Neff takes the stage. Nofsinger looks on in wonder as the Florida Fiddler makes it look easy. Earlier in the show Nofsinger told the audience that JRobert had broken a string on his fiddle and had to do an emergence string job just before the concert.
JRobert, fiddle in hand, is ready to take the stage.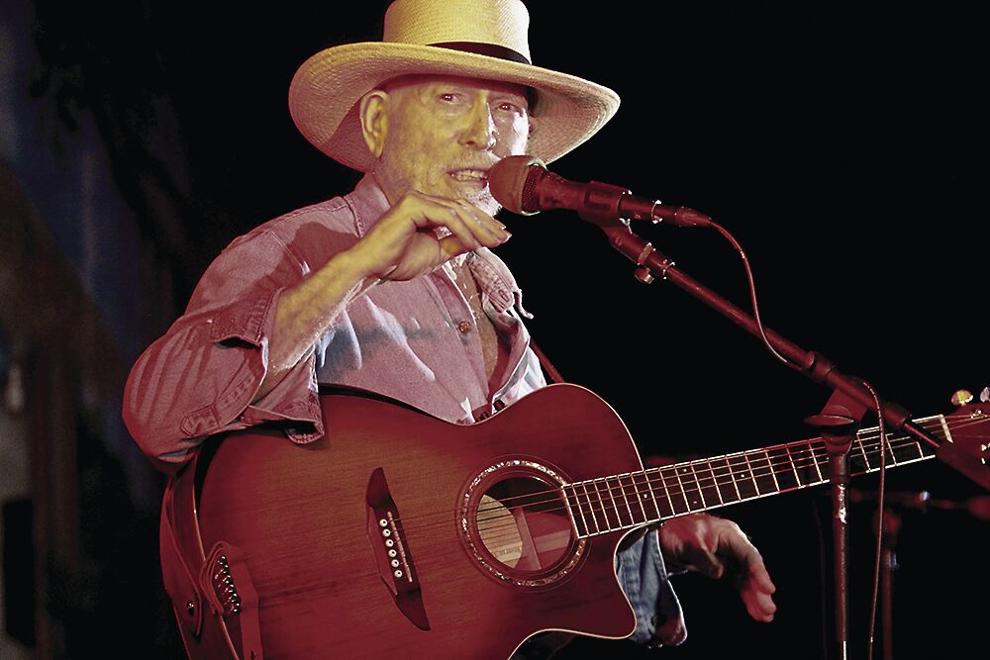 JRobert's stories are as good as his songs.
"Man, that sounds pretty good for the quick string change you did," Nofsinger said admiringly. Nofsinger has become a regular co-star at the Goodland gigs.
After playing a couple of his in-your-face tunes, Neff wondered aloud if he was smart to sings songs when many in the audience are members of the demographic targeted in his lyrics.
"I'm always surprised that it goes over as well as it does," Neff jokes with the audience. "You guys know that the song is about, right?"
Neff was a pastor in his 20s, before turning to music. He delivers his songs with a fervor that probably served him well at the pulpit.
"It's just an honor to be invited here," Neff tells JRobert as he steps onstage with his fiddle. It seems JRobert can accompany any song after hearing the opening licks. Neff was both surprised and impressed.
"Good Lord," Neff said, shaking his head in response to JRobert's playing. "That was real good. I've heard JRobert play, but I've never played with JRobert. So I'm just going to have to take a moment to myself to appreciate how sweet that was."
Neff showed his sensitive side with a song he wrote for his son, titled "Blade of Grass." The song's hook urges the listener to "Be a blade of grass, not a rolling stone." Again, JRobert's fiddle accompaniment adds depth to the tune.
The ensemble came together for a finale, Bob Dylan's "I Shall Be Released." It was the perfect way to finish, no doubt reminding the audience of a vintage performance of the song by The Band in the 1970s.
You can catch JRobert and Friends at Margood Theater on Goodland the first Monday of every month for the rest of Winter Season.