Trucking news and briefs for Thursday, Jan. 26, 2023:
Used truck sales rose in December but were down year-over-year
Used Class 8 retail volumes (same dealer sales) increased 16% in December from November, according to the latest release of the State of the Industry: US Classes 3-8 Used Trucks by ACT Research.
Average mileage for used trucks sold in December was down 4% from November, with average price and age down 2% and 3%, respectively. Longer term, average price and miles were lower, with age flat year-over-year.
"Activity typically sees a moderate increase in December, so the increase was directionally consistent with expectations," said Steve Tam, Vice President at ACT Research. "We ascribe the relative strength to the elevated new truck sales in November and December, which helped to sate pent-up demand in the inventory-starved used truck market."
Tam noted that while there have been slowdowns in the economy and freight market, in turn lowering used truck demand, "there are many used truck buyers who have been forced to hold onto their trucks beyond their expiration dates."
Overall, used Class 8 truck sales "were still meaningfully weaker for longer-term comparisons," with sales being down 30% year-over-year in December and down 35% for all of 2022 compared to 2021.
Illinois truck show being held next weekend
The Mid-West Truck & Trailer Show will feature exhibitors, a custom trucks show, educational sessions and more.Mid West Truck & Trailer ShowWhat organizers call the "biggest little truck show in the country" takes place the first weekend of next month.
The Mid-West Truck & Trailer Show is Feb. 3-4 at the Peoria (Illinois) Civic Center. It's organized by the Mid-West Truckers Association, which also holds its annual convention; the registration deadline for the convention is Jan. 30. The show is free to the general public.
The truck show is open from 9 am to 5 pm Friday and 9 am to 4 pm Saturday.
In addition to a variety of exhibitors, the show includes several special events.
The Safe & Courteous Driver Award is open to all members of the Mid-West Truckers Association and their drivers.
The show also includes the Truckers Pride Contest truck show, which is open to trucks of all makes, models, and years. There will be a People's Choice award based on show attendees, and a Driver's Choice award voted on by participants in the truck show.
There is a slate of educational programs open to association members.
This year's show also features the first kids' pedal semi pull, "Pull for a Cure," Saturday, Feb. 4 at 2 pm on the show floor. Sponsored by Truck Centers, Inc., "Pull for a Cure" will cost $25 per entrant, with all proceeds going to pediatric cancer research. There are no age restrictions for participants, but rather classes will be based on weight (maximum 80 pounds). Kids will have one attempt to pull as far as possible. There will be prizes for each class Registration for Pull for a Cure is required.
Driver named Highway Angel for coming to help fellow driver having a stroke
Cardington, Ohio-based truck driver Joshua Harris has been named a Highway Angel by the Truckload Carriers Association for rushing to the aid of a fellow trucker having a stroke while driving. Harris drives for Scotts Miracle-Gro out of Marysville, Ohio.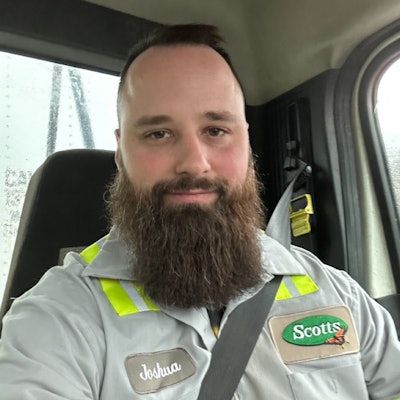 JoshuaHarrisAround 4 pm on Dec. 15, Harris was on his way to the Columbus Zoo with his family when he received an urgent phone call from his work colleague, Dusty. He was told Dusty was having some sort of medical emergency while he was driving his truck and requested Harris come to his aid immediately.
"He was on the road with his tractor-trailer," Harris said. "I didn't know what to expect when I got there."
Harris drove about 30 minutes to Mount Vernon, Ohio, to meet Dusty, who he found standing on the side of the road vomiting in the rainy, cold weather.
"He couldn't get back in the truck," Harris said. "At the time I didn't know it was a stroke."
Harris said an Ohio State Trooper had been called and arrived just before he did. They waited for the ambulance to arrive, and Harris safely parked Dusty's truck and held on to the keys. He then followed the ambulance to the hospital and waited in the ER for an update. Doctors determined the trucker had suffered a stroke, but he was released from the hospital the next day.
"I wanted to know what was going on — I care about the guy," Harris said. "Thankfully it turned out well."