The first round of Z06 allocations have been produced, with 450 total cars completed prior to the Christmas break. With these Corvettes now built and delivered to their dealerships, we now have some examples of some of the 120 "dealer stock" orders that were placed during the first order cycle and are now available for sale on AutoTrader. These Corvettes are new from the dealer, so the buyer does receive the full warranty, but the market adjustments are pretty steep with the majority offered with a $100,000 greedy dealer fee added.
First up is a 3LZ Arctic White Corvette Z06 with the two-tone Blue interior. This is #290 and there are just 5 delivery miles on the car. Options include the black aluminum spider wheels with yellow brake calipers and the Level 2 carbon fiber interior trim package. The MSRP for the C8Z is $135,080 and Leman's Chevy City of Bloomington, Illinois added an additional $100,000 market adjustment to make the total price $235,080.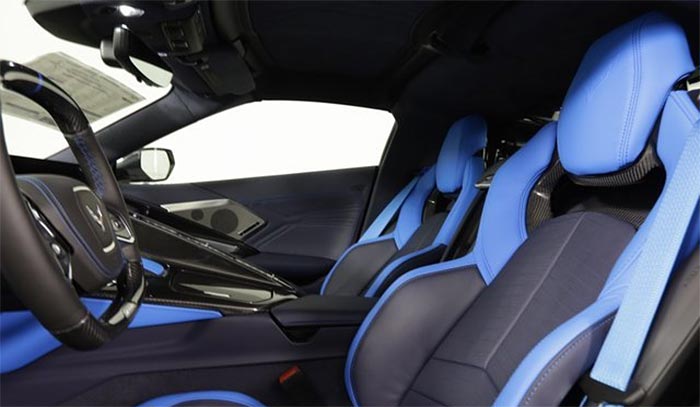 Mike Molstead Motors of Charles City, IA is going the extra mile for their customers (according to the AutoTrader ad) and they will help anyone get behind the wheel of this 3LZ Amplify Orange Z06 with the Jet Black interior when you put down a 20% down payment which totals $48,994. The total price out the door is $244,970 which we believe includes a $100,000 market adjustment. Don't ask them what the car looks like though, as they shared a pic of a Stingray Coupe on their listing.
Kevin Whitaker Chevrolet of Greenville, SC scored this Arctic White Z06 Convertible with the 3LZ Adrenaline Red dipped interior and its currently sitting in the dealer's showroom with a price tag of $242,974. Options include the Black Spider Aluminum wheels with red brake calipers, bright exhaust tips, level 2 carbon fiber interior package, and a full body black racing stripe.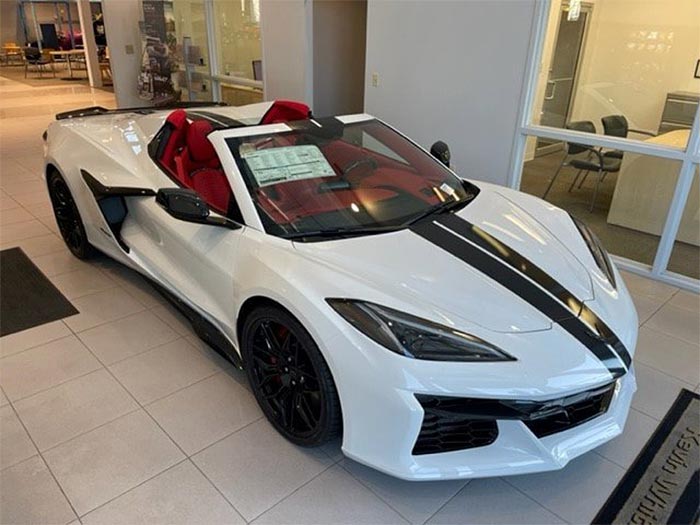 For those still hoping to score a 'bargain' Z06, Wilson Chevrolet of Stillwater, OK is offering this Hypersonic Gray Convertible with a market adjustment of $64,330 added to its $150,670 MSRP. Vin #338 doesn't look to be in stock yet and we only have this website renders that incorrectly show the front dive planes on a non-Z07 aero package. This 2023 Z06 has an Adrenaline Red interior, bright spider wheels and Bluetooth according to the listing.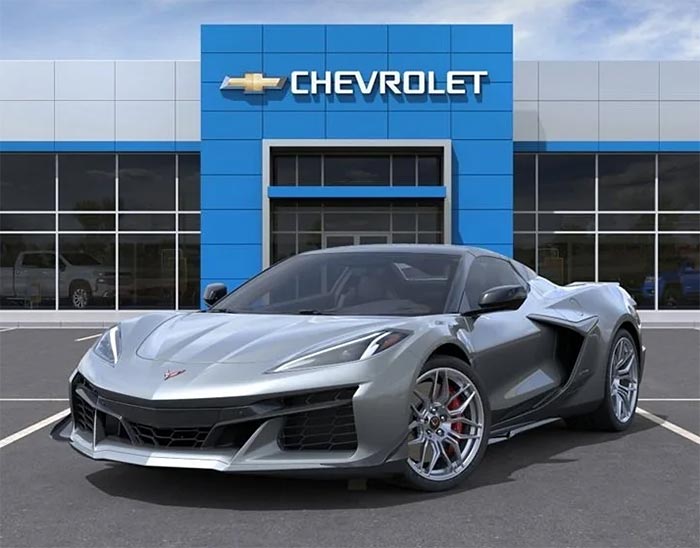 The way to fight back against greedy dealers and their obscene market adjustments is to not buy from them and let them know you will not be scheduling any service appointments for your other Chevy/GM products because of the market adjustments. However, we fear the lure of the car might just be too much and the fear of missing out could be a factor with buyers who can provide these dealers with the lavish lifestyle they are obviously choosing over their customer's satisfaction and goodwill.
sources:
AutoTrader
Related:
[VIDEO] Speed ​​Phenom Finds a Chevy Dealer Hoarding Several New 2023 Corvette Z06s
[VIDEO] Chevy Dealers Submitted 120 Dealer Stock Orders in First Round of Z06 Ordering
Three Examples of Dealers Behaving Badly with their 2023 Corvette Z06 Allocations
–