This post was updated Saturday at 11:15 am It will be updated as the National Weather Service updates its forecasts.
URBANA – Meteorologists are predicting Central Illinois will receive measurable snowfall on Friday afternoon and evening.
The National Weather Service has issued a Winter Weather Advisory from Friday at 6:00 pm until Saturday at noon for portions of central and west central Illinois. The cities of Galesburg, Havana, Jacksonville and Springfield are included in the advisory. The Weather Service says the area could receive between 2-4 inches of snow, resulting in slippery road conditions.
In the Champaign-Urbana area, meteorologists say snow will fall between Friday at 10:00 pm and Saturday at 7:00 am New snow accumulation of less than one inch possible.
Light snow has ended across central IL late this morning. However, untreated roads will be snow covered and slippery across portions of central IL today as temperatures remain below freezing. Use caution if traveling into this afternoon. pic.twitter.com/se2P6mLjTZ
— NWS Lincoln IL (@NWSLincolnIL) January 15, 2022
It's not deep but it is beautiful ❄️ @skydrama @ChambanaWX @NWSLincolnIL pic.twitter.com/7abDVNJLmH
— Reg News (@RNewsWILL) January 15, 2022
Good Morning! The snow has mostly diminished across Illinois but as you can see, many roads are still troublesome. Blowing snow also could be a problem today.
Please remember to slow down and give plenty of space to other vehicles. pic.twitter.com/HBg6tgVoLh
— IDOT_Illinois (@IDOT_Illinois) January 15, 2022
Timing of Wintry Precipitation #ilwx pic.twitter.com/FkK9opzkzC
— NWS Lincoln IL (@NWSLincolnIL) January 14, 2022
Snowfall Forecast for Tonight…updated at 2:45pm CDT #ilwx pic.twitter.com/YjsYSiECAS
— NWS Lincoln IL (@NWSLincolnIL) January 14, 2022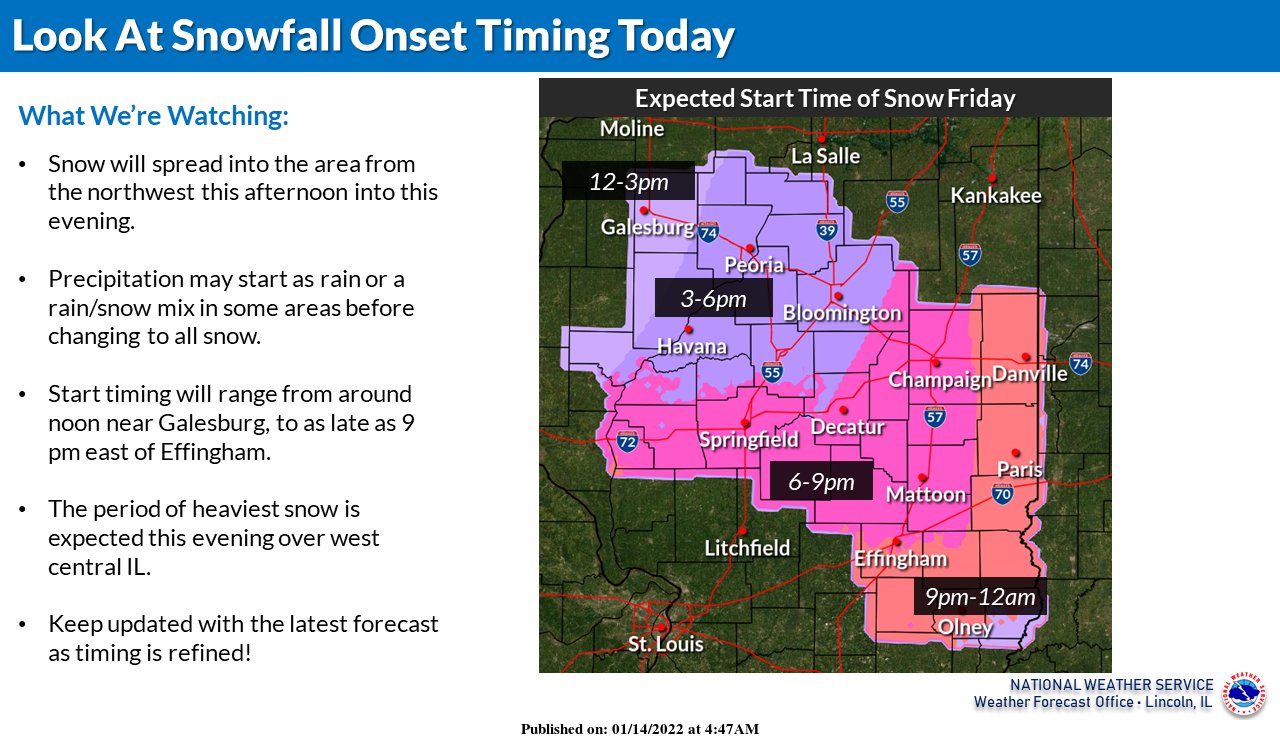 8:30 pm update: Dense Fog Advisory extended until 4 am for much of central IL. Be aware of rapidly changing and low visibility along with slick spots on roads. #ILwx pic.twitter.com/ZEvMJta0eG
— NWS Lincoln IL (@NWSLincolnIL) January 14, 2022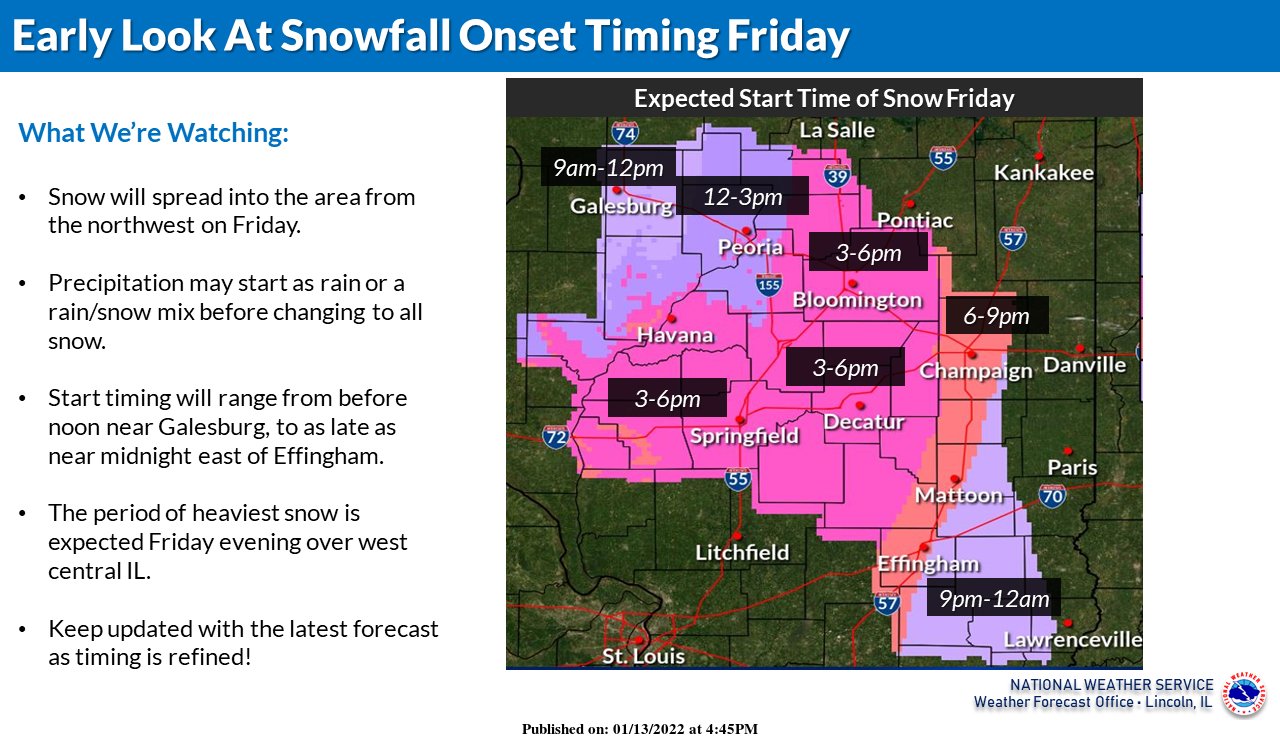 window.fbAsyncInit = function() { FB.init({ appId : '2269864749914972', xfbml : true, version : 'v3.1' }); FB.AppEvents.logPageView(); }; (function(d, s, id){ var js, fjs = d.getElementsByTagName(s)[0]; if (d.getElementById(id)) {return;} js = d.createElement(s); js.id = id; js.src = "https://connect.facebook.net/en_US/sdk.js"; fjs.parentNode.insertBefore(js, fjs); }(document, 'script', 'facebook-jssdk'));