Posted in Illinois
November 08, 2022
by Chris Muras
When you think about small towns in Illinois, you can't help but imagine hard-working people and a sense of community you don't always find in bigger cities. Quite often, these small towns have a rich history or even mysterious legends and stories embedded in their very roots.
No matter what stories these towns can tell, you just know there is more than meets the eye in small towns all over America. For fun, why don't we put together a list of some charming small towns in Illinois that start with "m"? Let's take a moment to hear their stories.
1. Macedonia, Illinois is a town of changing names, and it's truly a small town with only 29 residents.
In its heyday in the 1840s, there were 500-600 residents, and it was the third-largest town in Hancock County. Macedonia was originally settled on land by Revolutionary War veteran Ute Perkins in 1826. At the time, it was simply called the Perkins Settlement. Eventually, in 1839, a group of Mormons moved into the area and the town was given the name Ramus. After that group of Mormons moved on, the town was named Macedonia in 1843 by a rival group of Mormons – the Macedonian Saints. And the final name change occurred in 1846 when the Macedonian Saints left. The town is now called Webster.
2. Mackinaw, Illinois is a small town near Peoria Illinois known as a "dry" town for over 80 years.

After prohibition ended in 1933, the sale of alcohol was prohibited in Mackinaw all the way until 2013. With a current population of around 1,879, Mackinaw is a charming town with several historic saloons and the beautiful Mackinaw Valley Vineyard, somewhat of an irony considering its dry past.
3. Macomb, Illinois has historic roots going back to 1855 when the Northern Cross Railroad turned this small town into a bustling destination.

Macomb is the home of Western Illinois University, which technically bumps it out of the "small town" category because the student body and staff make up over half of the town's population. Nevertheless, Macomb is a charming town that blends the youthful exuberance of a college town with a rich history dating back to the 1800s.
4. Macon, Illinois is another wonderful small town in Illinois well known for the Macon Speedway – a dirt-track raceway in operation since 1946.

This charming town of around 1,100 residents was also a railroad town originally owned by the Illinois Central Railroad in 1856. It officially became a city in 1869 and has proven to be a quiet lovely place to live in rural Illinois.
5. Madison, Illinois is home to the eastern edge of the historic Chain of Rocks Bridge on Chouteau Island.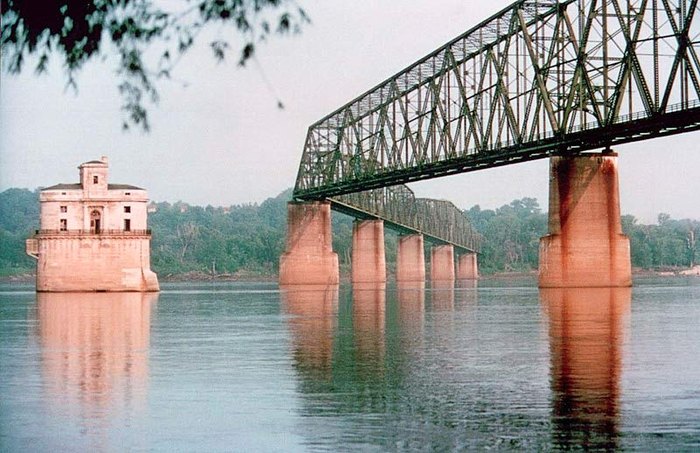 The Chain of Rocks Bridge (owned by the city of Madison) was inducted into the National Register of Historic Places in 2006. This toll bridge built in 1929 spans the Mississippi River from Illinois to St. Louis, Missouri, and has a bit of a sordid history as the two states battled over which state would collect the toll fees. The bridge was decommissioned as a toll bridge in 1966. The high cost of demolition prevented any use for three decades, until it was renovated in 1998 for use as a pedestrian bridge.
6. Maeystown, Illinois is unique in that the whole town is listed on the National Register of Historic Places.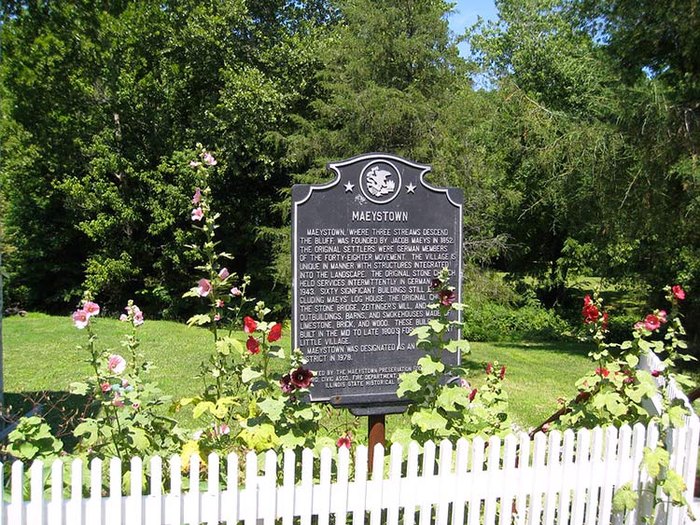 Maeystown's roots date all the way back to 1782 when an American Revolution soldier staked claim to 100 acres. James McRoberts then moved on to explore land further south in Tennessee. Our adventurer was smitten by a woman in Tennessee (Mary Fletcher-Harris) and returned to his original stake where he claimed an additional 100 acres. On this land, they raised a family of 10 children in their peaceful log cabin on the Illinois plains.
The town didn't take off until Jacob Maeys arrived and built a sawmill and a town store. As families moved in, the town grew roots and began to thrive, becoming Maeystown when the town's first post office was built and Jacob Maeys became head postmaster.
7. Magnolia, Illinois is a quiet village in Putnam County. It holds the honor of being the oldest town in that county, having been established in 1824.

Magnolia, despite its beautiful flower-inspired name, was once the home of the Illinois State Morel Mushroom Hunting Championship. This international competition (since there were participants from Canada) included 520 competitors searching for the elusive morel mushroom. The competition has since moved on to larger cities in the area, but Magnolia, a town of only 250-ish residents, was the epicenter of fungi lovers all around the state.
That's the thing about small towns in Illinois, there's something fascinating about each and every one of them. What is your favorite small town in Illinois? And what can you tell us about it that we might not know? Share a story or two with us in the comments.
Address: Madison, IL, USA
Address: Macedonia, IL 62860, USA
Address: Mackinaw, IL 61755, USA
Address: Macomb, IL 61455, USA
Address: Magnolia, IL 61336, USA
Address: Maeystown, IL, USA
Address: Macon, IL 62544, USA
OnlyInYourState may earn compensation through affiliate links in this article.