Rockford leaders use chalk messages to show their support for domestic violence survivors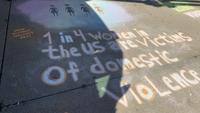 ROCKFORD (WREX) – Rockford and Winnebago County's leaders joined the YWCA on Monday to unveil chalked messages to show their support for domestic violence survivors.
The YWCA in northwest Illinois launched A Week Without Violence, a global YWCA movement to end violence against women and girls.
Community leaders including Winnebago County Sheriff Gary Caruana, District Attorney J Hanley and Chairman Joe Chiarelli wrote messages of hope for women and children exposed to violence outside the Winnebago County Justice Center Monday.
"This week of no violence is a great place to start to raise awareness, but I urge all residents to go one step further.
The news also revealed statistics, including 1 in 4 girls being sexually abused into adulthood, and resources in the county where women and children can get help.
"Whether you contact the police or not, contact the Family Peace Center, contact Remedies, get help," said Sheriff Caruana. "Contact the YWCA if you don't want law enforcement to interfere if you are intimidated by law enforcement. We'll help, but I fully understand."
Sheriff Caruana said more than 10 percent of the county's service calls were for domestic violence or domestic violence in 2021. 41 percent of violent crime is domestic, according to Rockford police.
The start of the week comes a day after Rockford 2021 marked its 20th murder in the city to date. There were a record 36 murders in the city last year.
The YWCA will hold events every day for a week without violence. Everyone is invited to take part.