While poker has always been portrayed in the media as a game of dominance played by men with gruff voices and cowboy hats, the truth is, women have been right there at the table all along.
Thousands of women play poker professionally, making cash games pay daily and taking seats at the final tables in tournaments from Las Vegas to the poker rooms of Europe.
Do not worry; I'm not here to thumbnail the careers of thousands of poker players. Still, it wouldn't hurt to show some respect for 10 of the top women poker players of all time.
They paid their dues just like the men did, whether it was grinding away, hand after hand, in the local poker rooms or spending hours seated before a glowing computer screen, learning the ins and outs of the game at the top online poker sites.
Let's show some respect for the women who best exemplify the winning spirit of the game of poker. Here's my take on the 10 best female poker players out there.
Vanessa Self
winnings: $11,906,247
WSOP money finishes: 20
WPT Money Finishes: 3
European Poker Tour Money Finishes: 4
Years in the Game: 2006-2017
fun facts: Self has a Juris Doctorate from Yale Law School.
Born in New York in 1984, Vanessa K. Selbst discovered poker while working on her undergraduate degree at Yale during the early 20-oughts. She entered her first tourney in 206 and quickly rose to the top by winning.
During her poker career, she won three WSOP bracelets. We featured her in our "Worst Bad Beats in WSOP History" blog.
Now an investment associate with Bridgewater Associates in Westport, Connecticut, her career winnings put her in the top 100 poker players of all time.
Kathy Liebert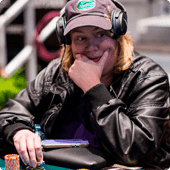 Nickname: PokerCat
winnings: $6,442,129
WSOP money finishes: 47
WPT Money Finishes: 21
European Poker Tour Money Finishes: 1
Years in the Game: 1991-present
fun facts: In 2001, Leibert became the first woman to win $1,000,000 in a poker tournament when she beat Phil Hellmuth, Chris Ferguson, and Mel Judah at the final table during a PartyPoker cruise.
Born in 1967 in Nashville, Tennessee, Kathy Liebert began her poker career as a prop player in Colorado in the early '90s. She earned a BS in Business and Finance from Marist College in New York.
In 2005, Liebert led the women's team to beat poker pros Amir Vahedi, Layne Flack, and Antonio Esfandiari, winning the $100,000 first-place prize in the Game Show Network's Poker Royale: Battle of the Sexes.
She won her WSOP bracelet in 2004, playing a $1500 limit Texas Hold'em shootout.
Kristen Bicknell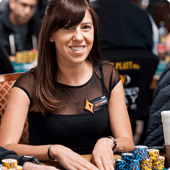 winnings: $5,374,547
WSOP money finishes: 33
WPT Money Finishes: 5
European Poker Tour Money Finishes: 4
Years in the Game: 2006-present
fun facts: Kristen recently married fellow pro poker player Alex Foxen.
Born in Ontario, Canada, in 1986, Kristen Bicknell began playing online poker on both Poker Stars and Full Tile Poker during her freshman year in college. She characterizes her play style during those formative years as the "Ultimate Grinder."
Talking to a reporter about her learning experience playing online, she said: "I was still attending university, and it was just so easy to play online poker sessions from my own home. It was also a great way to play a lot of hands and get a ton of experience."
She has won (so far) three WSOP bracelets.
Annie Duke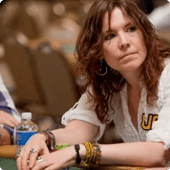 Nickname: The Duchess of Poker
winnings: $4,270,548
WSOP money finishes: 38
WPT Money Finishes: 4
European Poker Tour Money Finishes: n / A
Years in the Game: 1992-2012
fun facts: Duke's brother is professional poker player Howard Lederer.
Anne LaBarr Lederer was born in Concord, New Hampshire, in 1965, and until 1992, when she married Ben Duke and moved to Billings, Montana, she had only played poker "for fun."
Encouraged by her brother, she began playing cash games at a local poker room in Billings.
In 1994, she entered the tournament during the 1994 World Series of Poker in Las Vegas, where she won $70,000 in her first month. She promptly decided to move to Las Vegas and pursue poker as a full-time occupation.
She won her WSOP bracelet in 2004.
Maria Ho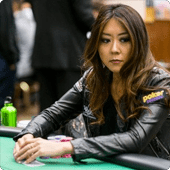 nickname: None
winnings: $4,246,404
WSOP money finishes: 64
WPT Money Finishes: 14
European Poker Tour Money Finishes: n / A
Years in the Game: 2002-present
fun facts: When she was 18, Maria was a competitor on American Idol (2004). Later, she teamed with fellow poker player Tiffany Michelle in The Amazing Race.
When Maria Ho was four years old, her family moved to the US from their native Taipei, Taiwan, arriving in New York but soon moving to Los Angeles.
Maria says she didn't play poker until she was in college, but she acquired skill at the game quickly. She began winning low-limit cash games in southern California's smattering Indian casinos. By the time she got her baccalaureate, she was playing—and winning—high-stakes cash games.
Apparently @Twitch & my face made it to Times Square this week! Skies the limit @PokerCentral_. Next stop: Broadway! pic.twitter.com/JqWh0DbJMw
— Maria Ho (@MariaHo) October 1, 2015
Oddly, as often as she's been in the money at the World Series of Poker, the WSOP gold bracelet evaded her grasp.
Unlike several other poker stars of her generation, Ho was a scrapper in real-life games rather than online poker rooms.
Annette Obrestad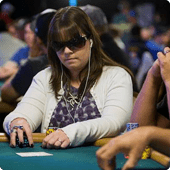 nickname: The Huntress, Annette_15
winnings: $3,942,232
WSOP money finishes: 10
WPT Money Finishes: n / A
European Poker Tour Money Finishes: 3
Years in the Game: 2007-present
fun facts: In 2007, Annette won a 180-player sit-n-go without ever looking at her hole cards.
Norway-born Annette Obrestad had already won the World Series of Poker Europe (WSOPE) Main Event by the time she was 18 (one day before her 19th birthday, to be exact), making her the youngest person to take that award.
That was in 2007, and while she has wondered whether that might have been the apex of her career, she continues to play professionally to this day.
Incidentally, Obrestad was named the official spokesperson for the Las Vegas Venetian's poker room in 2016.
Liv Boeree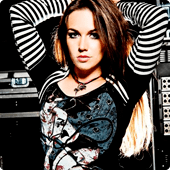 nickname: Iron Maiden
winnings: $3,852,996
WSOP money finishes: 20
WPT Money Finishes: n / A
European Poker Tour Money Finishes: 12
Years in the Game: 2005-2019
fun facts: While earning her degree, Liv played lead guitar in the heavy metal band Dissonance and modeledvarious clothing brands in several alternative clothing brands such as Alchemy.
Born in Kent, England, in 1984, Liv Boeree has degrees in physics and astrophysics from the University of Manchester.
In 2005, she was selected as one of the five in Ultimatepoker.com Showdown, a television program aired in England. Newcomer to the game at the time, she was coached by Phil Hellmuth, Annie Duke, and Dave Ulliott.
She picked up her WSOP bracelet in the 2017 $10,000 Tag Team No Limit Hold'em Championship (along with Russian poker player and boyfriend, Igor Kurganov.
In a 2018 TEDTalk, Boeree waxed philosophical about winning in poker and life. "How much of [winning] is truly down to us?" she asks, then continues: "Because our egos love to downplay the luck factor when we're winning."
Vanessa Rousso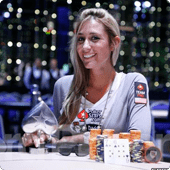 nickname: Pokerness, Lady Maverick
winnings: $3,554,327
WSOP money finishes: 17
WPT Money Finishes: 7
European Poker Tour Money Finishes: 1
Years in the Game: 2005-2019
fun facts: Besides her BS from Duke University, Vanessa is also a graduate of the University of Miami School of Law and passed the Florida bar in 2018.
Vanessa Ashley Rousso was born in 1983 in White Plains, New York, and when she was three, her family moved to a small village outside of Paris. She and her family lived there until she was ten when the family returned to the States.
She learned poker early, playing games with her family when she was five. Something of a prodigy even then, it was probably no surprise that she took a baccalaureate in Economics and Political Science in two-and-a-half years—the shortest time for a four-year degree in the history of Duke University.
While Rousso took plenty of cash home from WSOP, WSOP-E, and WPT during her career, she somehow missed adding a WSOP bracelet to her bling. Sad emoji.
Joanne Liu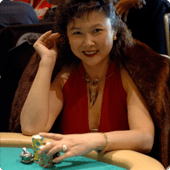 nickname:JJ
winnings: $3,482,034
WSOP money finishes: 43
WPT Money Finishes: 5
European Poker Tour Money Finishes: n / A
Years in the Game: 1996-present
fun facts: JJ is an active real estate entrepreneur. In 2020, She began building a sports pub—the top choice in Rosati's Pizza franchises—in her current hometown of Braselton, Georgia.
Born in Taipei, Taiwan, Joanne Jishung Liu moved to the US as a child with her family. After graduating high school, she pursued an advanced degree in computer engineering at Bradley University in Peoria, Illinois.
She then took a job as a software engineer in Silicon Valley—and discovered poker, which she says she had never played before coming to the US. She attributed some of her success in poker to her philosophical readings, particularly Sun Tsu's The Art of War.
Like many of her counterparts, Liu never got to add a WSOP bracelet to her CV
Loni Harwood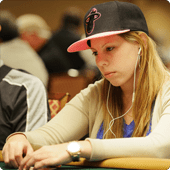 nickname: Harwood
winnings: $3,420,008
WSOP money finishes: 35
WPT Money Finishes: 8th
European Poker Tour Money Finishes: 1
Years in the Game: 2012?-present
fun facts: In November 2020, she became Loni Harwood Hui when she married fellow pro poker player Phil Hui.
Born in Staten Island, New York, in 1989, Loni got her finance degree in 2012 from SUNY Albany. Shortly after graduation, she moved to Florida to live with her father. He taught her the basics of poker as he played online, and soon Loni was playing cash games at the nearby casinos. She eventually moved to the WSOP circuit.
Harwood has taken home two WSOP bracelets (so far).
The first for her 2013 win in the $1,500 No Limit Texas Hold'em tournament and her second with a win at the 2015 WSOP National Championship at Harrah's Cherokee in North Carolina.
Along with her two WSOP bracelets, Harwood has also earned five WSOP Circuit rings.
Want to have a shot at a similar career path? Start honing your craft at the best live dealer casinos online.
The Real Deal
Although men continue to dominate the world of competitive poker, women are more regularly taking the lead, surviving the grueling tournaments to get to that final table.
Most recently, the Hendon Mob named more than 14,000 women who had each earned a place on its All-Time Money List of the top poker players in the world.
If there were any historical social or cultural barriers to women in the poker room (spoiler alert: there were), those barriers have begun to crumble away under the steady and equalizing pressure of the internet.
Put simply, it doesn't matter whether you're a man or a woman. You, too, can excel in the world of poker if you play your cards right. To help improve your performance at the tables (or online), here's some advice to becoming a more confident poker player.

Advice to Become a More Confident Poker Player
Do you want to learn how to gain more confidence in poker? Sit down at any poker table and look around you. You'll find plenty of people with ever-dwindling stacks of chips in front of them. But you'll also see other sorts, the one with growing…
read more