The head of the UI Police Training Institute, Michael Schlosser, in front of the building on Fourth Street in Champaign. (Robin Scholz/The News-Gazette).
Judy Schlosser still makes a mean meatloaf. But that's down the list of reasons son MICHAEL SCHLOSSER still stops by regularly when he's not working as director of the UI's Police Training Institute.
"My true role model has been and still is my mother," says the LeRoy native. "She taught me that your character is judged by how you treat people who can't do anything to you or for you. These words were never said; she simply lived them by example. She never angers and sees the positive in everyone. I couldn't have had a better role model growing up."
Mom gets a lot of the credit for the life Schlosser's gone on to lead — the five college degrees (including a Ph.D. in education from Illinois), the 41 years (and counting) of marriage to Kim, the job preparing the next generation of police officers after retiring from the force himself, in 2004 while a lieutenant with Rantoul PD.
Schlosser, a father of three adult children and grandfather of three little ones — with one cat (Peanut) and a stray on the way — took time out to answer questions from Editor Jeff D'Alessio in the 142nd installment of our weekly speed read spotlighting leaders of organizations big and small.
My favorite moments in this job come in the form of … the numerous emails and calls I receive from former recruits, detailing something that occurred and letting me know that they "resorted to their training from PTI" and everything ended successfully.
They are usually talking about their ability to de-escalate a situation, their ability to control someone without anyone being injured or a serious deadly force incident.
Michael Schlosser leads the UI's Police Training Institute. (L. Brian Stauffer/University of Illinois).
I can't live without my… family. I'm kind of boring when I'm not working. I love spending time with my family — my wife, kids, grandchildren, sister and my mother.
Three adjectives I hope my staff would use to describe me are … empathetic, optimistic and approachable.
On my office walls, you'll find… pictures of my family, a framed photo of Chicago Bear great Walter Payton, a framed photo of Martin Luther King and a photo of one of my closest friends for 30 years who passed away recently, Officer Tony Carpenter. He made a positive impact on everyone who ever had contact with him.
My philosophy on meetings is … do not have a meeting for the sake of having a meeting. Meetings must have a purpose and must accomplish an outcome or lead toward an outcome or goal.
It's extremely important to make sure everyone has a voice, regardless of their position.
The hardest thing about being a leader is… it is never enjoyable when you have to discipline an employee. To ensure the success of the organization, it is important that everyone be held to the expected standards, policies and procedures.
Often, discipline simply involves proper training to remediate the issue.
Other than Mom, my professional role model is … Martin Luther King Jr. I try to follow a lot of what Dr. King stood for, and I have his picture and quote in my office that I look at and read every day:
"The ultimate measure of a man is not where he stands in moments of convenience and comfort, but where he stands at times of challenge and controversy."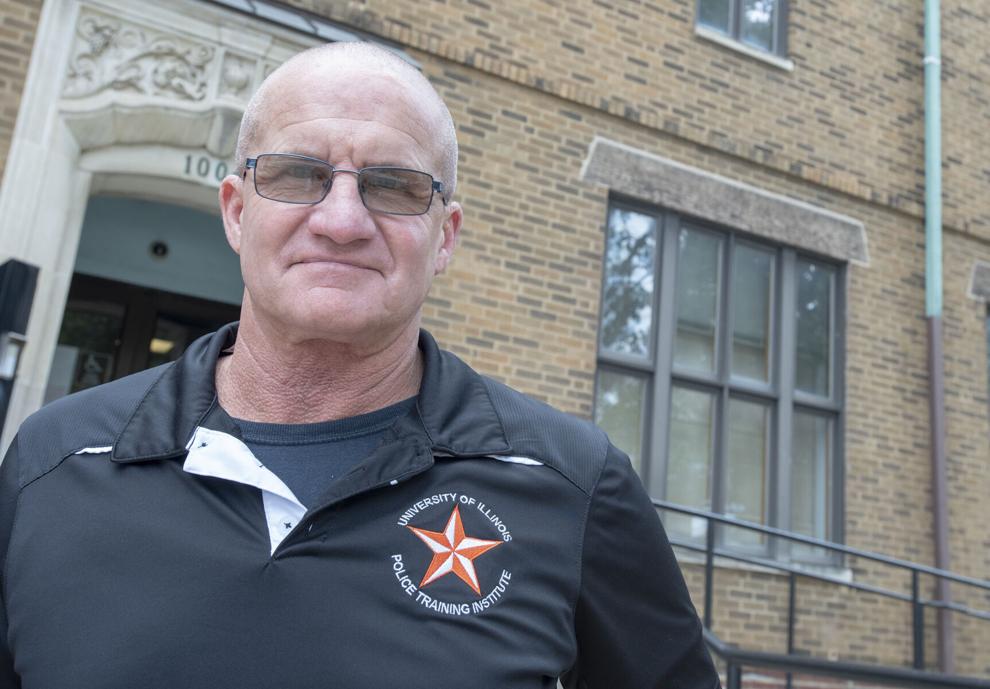 Robin Scholz/The News-Gazette

I'm frugal in that… I own nothing fancy. In fact, my friends lovingly call me "cheap."
However, I don't skimp when it comes to my favorite charities.
If I could trade places for a week with any other business person in town, I wouldn't mind switching with … Jack McVicker, with McVicker's Martial Arts.
He is a renowned martial artist and highly respected as a person. His job is teaching and training in jiu-jitsu and martial arts for a living.
Martial arts has been a part of my life since high school in the 1970s and is still a big part of my life. To be able to work out, train and teach for a living would be pretty cool.
My one unbreakable rule of the workplace is … one simple word: Integrity.
I wind down after work by … riding my stationary bike and turning on a sporting event, like the Cubs, Bulls or Bears — and, of course, the Fighting Illini.
When it comes to the last luxury in which I indulged … any time I visit my mom, her food is a luxury. I indulge in her awesome cooking — not always healthy, but delicious.
Some of my favorites include her meatloaf, scalloped corn, creamed peas, mashed potatoes, chili and her holiday cookies — for virtually every holiday.
When it comes to my exercise routine… I enjoy exercise and have to stay physically fit for my job since I teach control and arrest tactics to these young recruit officers.
I exercise at every opportunity I get. I average two to three hours per day. This consists of cardio, weight training and martial arts.
As far as the worst job I ever had goes… I have never had a job that I didn't enjoy. I enjoyed working at a lumber yard in high school, bagging groceries for Eisner Food Store and training people in exercise at fitness centers in college, my career as a police officer and my career at the Police Training Institute.
All were rewarding, but in different ways.