You've likely encountered a scenario in which you're in a hurry and want to cross the street, but the crosswalk is far away. Your intended destination is directly across the street, whether it's your parked car or a store you want to visit. Like many people, you probably went ahead and crossed the road after it was clear of traffic. You jaywalked. Jaywalking is also when a pedestrian crosses an intersection with a red traffic light. While jaywalking across a street is very common, is it still illegal?
Is jaywalking still a crime?
Women jaywalking across a street | Phong Phạm via Unsplash
In most locations in the United States, jaywalking across a street is still illegal. While there is no federal statute that makes jaywalking a crime, most states have laws that make it illegal. Also, the jaywalking laws vary from state to state. Much of this variation is due to how states view the rights of pedestrians.
Additionally, states have different interpretations of "whether the pedestrian was in a 'controlled' crossing, with a crosswalk, or an 'uncontrolled' crossing, with no markings or signals," as detailed by HowStuffWorks.
Another complicating factor is traffic signals have different meanings for some states. Also, some states have "distracted walking" laws. These laws enable the police to issue citations for such things as texting while crossing an intersection. Furthermore, there are some states, such as Michigan, that have no jaywalking or crosswalk laws. They leave it up to local towns and cities to create their own regulations.
In reality, the police rarely issue citations for only jaywalking. When citations are issued, the jaywalking is usually accompanied by another potentially harmful activity. This includes distracted walking or public intoxication.
Why is jaywalking across a street still illegal?
A woman jaywalking across a street | Akos Nemes via Unsplash
The reason why jaywalking across a street is still illegal in most locations in the US is pedestrian safety. According to the National Highway Traffic Safety Administration (NHTSA), in 2020 in the US, 6,516 pedestrians were killed, and an estimated 55,000 pedestrians were injured. Also, the NHTSA estimates a 13% increase in pedestrian deaths in 2021. Also, 70% of pedestrian deaths were outside of crosswalks and intersections — when many pedestrians jaywalked.
Do pedestrians have the right of way — even when jaywalking?
A man jaywalking across a street | Yannes Kiefer via Unsplash
The laws for the right of way for pedestrians also vary from state to state. However, in general, for crosswalks and intersections with traffic signals and stop signs, drivers must yield the right of way to pedestrians. Conversely, in most states, pedestrians must yield the right of way to drivers when there is not an established place for them to cross the street.
In 19 states, though, drivers must yield the right of way to pedestrians at any spot on a roadway. Also, in even more states, drivers must stop and yield to pedestrians when they are close to a car.
All of these variations in jaywalking and right of way laws may seem confusing. However, for the most part, in practice, the drivers are more likely to be cited. In its publication, "Pedestrian Safety Enforcement Operations: A How-To Guide," the NHTSA instructs police officers to "cite both drivers and pedestrians, but focus on drivers, as they are the less vulnerable population." Essentially, since pedestrians are more likely to get injured or killed in a collision with a car, a greater responsibility falls on the driver.
Why is jaywalking called jaywalking?
*{padding:0;margin:0;overflow:hidden}html,body{height:100%}img,span{position:absolute;width:100%;top:0;bottom:0;margin:auto}span{ height:1.5em;text-align:center;font:48px/1.5 sans-serif;color:white;text-shadow:0 0 0.5em black}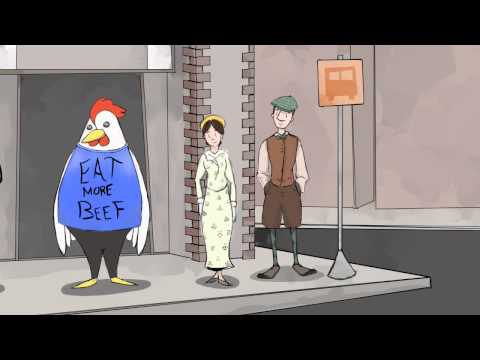 *{padding:0;margin:0;overflow:hidden}html,body{height:100%}img,span{position:absolute;width:100%;top:0;bottom:0;margin:auto}span{ height:1.5em;text-align:center;font:48px/1.5 sans-serif;color:white;text-shadow:0 0 0.5em black}