Top 10 Most Impactful Tropical Remnants In Our Area Since 1850
Here is a look at the top 10 most impactful remnants of tropical storm & hurricanes to affect our area.  Survey was based on damage done by flooding &/or wind, the amounts of rainfall that occurred & the duration/strength of the wind………….or uniqueness of the event.
1.  The 1941 Texas Hurricane
Our Main Impacts September 25-26, 1941
Many areas were still without power from the eastern Corn Belt to Ohio Valley to southeastern Canada after an Ike-type wind event (remember Ike in September 2008 with wind gusting tropical to hurricane-force in parts of the Midwest & Ohio Valley). This particular hurricane made landfall just southwest of Ike's.
Remnants of a hurricane ("The 1941 Texas Hurricane") that caused significant damage to the Houston area with maximum sustained winds of 125 mph with surface pressure 942 mb raced over the area. The remnants were very strong when moving over with surface pressure of 990 mb. The wind & rain combined produced an agricultural disaster by downing vast acreages of maturing fruit, corn & wheat. With similarities to Ike, widespread wind damage occurred Indiana, Kentucky, Ohio to western New York & through Ontario & Quebec. Trees, limbs & power lines were downed over Indiana & Kentucky counties with heavy losses to the apple crop. Corn was also downed. Several people were injured in Ohio & heavy crop losses occurred, in addition to trees, limbs & power lines being knocked down. Over western New York, the apple losses were staggering. 1.5 million bushels were lost just in a few counties along Lakes Erie & Ontario. Trees & powerlines were blown down & buildings were damaged. Areas around Erie, Pennsylvania also saw similar damage. Vast acreages of wheat were destroyed over Ontario. 3 people were killed & several injured in Toronto. Hurricane-force gusts & 40′ waves occurred along Lake Ontario, while 55 vessels were sunk.
In our area, thousands of acres of corn were flattened & trees & limbs downed in consistent gusts +50 mph over several hours.  The crop losses were in the hundreds of thousands of dollars.  Although rainfall was light at a trace to just 0.50″ (rainfall with the system was very lobsided with heavy rainfall on the northwest quadrant, like Ike), the wind was significant.  In this swath of strong winds, gusts of 51 mph were record at Fort Wayne.  Gusts of 60 mph were reported at Chicago.
Note that even Iowa saw strong winds from this system.  In the observations on the map below, that Des Moines had SUSTAINED north-northwest winds at 30 knots or 35 mph!
September 25, 1941 morning map:
Rainfall totals: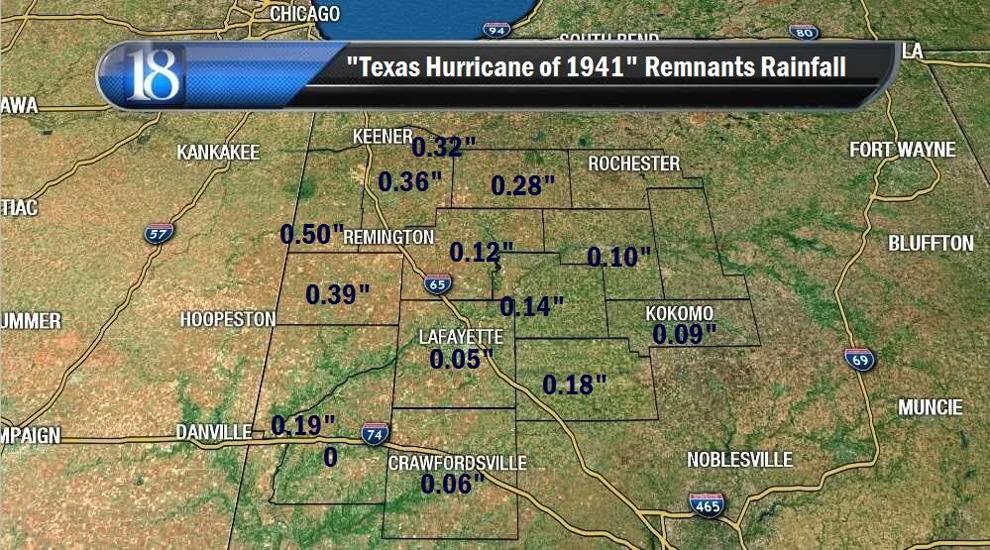 2.  June 1902 Texas Hurricane
Our Main Impacts June 28, 1902
The remnants of a Category 1 hurricane, combined with strengthening mid/upper winds in a warm, humid tropical airmass caused a rather unseasonable severe weather outbreak of wind & tornadoes just south of our the region. It was quite intense…..as tropical systems usually produce widespread rainfall & can produce EF0-EF1 tornadoes & isolated severe gusts.
This had a May-like character. Just days prior, June 25, a major, High Risk-type severe weather outbreak struck central Illinois & Indiana. Indiana was hit hardest with several tornadoes & significant wind damage. The very beginning of July saw two additional outbreaks in northern Illinois & Indiana with extensive wind damage & large hail. This shows you the strength of the wind fields aloft in the warm, tropical airmass over the region, making sense of the outbreak with the Cat. 1 hurricane remnants. The actual land-falling storm producing some tornadoes in Texas, but much of its destruction occurred as it metamorphosized into a mid-latitude storm, like those that produce severe weather in the spring-early meteorological summer over our area.
Severe weather occurred as far north as Montgomery & Clinton counties with the Indianapolis area hit hard.  The wind damage in our southeastern areas appears to have been apart of a storm that tracked north of I-70 in Illinois with tree, power pole, barn & crop damage.  Limited evidence support wind, not a tornado, but it appears to have occurred along a warm front (areas where tornadoes often occur in these situations).  Widespread severe weather occurred in the outbreak Illinois & Indiana to Mississippi.  The worst of it was over Kentucky & Tennessee & southern Indiana.
In our area up to 6″ of rain was measured, including 5.15″ at Purdue University.  5.66″ fell at Winamac.  3.37″ fell with the severe weather at Crawfordsville.
Over the southern Indiana 1.5-4″ generally fell, which helped to bust the on-going drought. Three people were killed & 8 seriously injured when a tornado tracked through Posey & northern Vanderburgh counties. The swath of intense damaging winds was 2 miles wide, but the tornado was embedded within them. All of the deaths occurred at St. Wendell where homes were demolished. 4 of the 8 people injured were at St. Wendell, as well. Damage at St. Wendell along was $100,000 (1902 dollars), which would be near $3 million in 2017. Damage peaked in the high-end EF2/low end EF3 range. Widespread wind damage was reported from northern Vanderburgh County & across the city of Evansville. Several buildings were damaged & hundreds of trees toppled. 1 person was killed in a path of extensive damage between Lincoln City & Buffaloville, near Rockport, in Spencer County. Numerous trees were toppled & buildings damaged to demolished. Little Pigeon Church was demolished, as well as well as the homes & barns on 6 farmsteads. A child was picked up & carried +100′ by an apparent high-end EF2/EF3 tornado, but they were uninjured. Another child on a farmstead suffered a broken arm. At Gentryville, the tornado was half a mile wide with a 3- to 4-mile track occurred, "wiping out" homes, barns, woods, crops & livestock. In one home it was reported that everything was carried away except the people inside & the floor, carpet. Wind damage, in general, was widespread throughout Spencer County. Flooding rains accompanied the storm.
A towboat was sunk by the storm winds in the Green River in western Kentucky.
A damaging tornado occurred at Charlestown, Indiana, near Louisville, Kentucky & significant wind damage was reported over Harrison, Floyd & Jefferson counties in Indiana. A couple cores of significant wind damage occurred in Louisville, Kentucky. Paducah, Kentucky & Cairo, Illinois saw damage wind with many trees downed & buildings damaged. The severe weather outbreak produced 5 tornadoes across Middle Tennessee, beginning on the afternoon of the 28th, and continuing into the next morning. All tornadoes were classified as F2. One person was killed in Davidson County. Another 38 injuries were reported overall. Widespread wind damage is also reported, and heavy rainfall produces flooding in many areas. The municipal power dam across the Falling Water River 12 miles from Cookeville collapses, sending a 20-foot wall of water downstream.
On the northwest side of the system, 40 mph wind gusts & torrential, flooding rains hit Chicago.
1902 saw a deadly F4 tornado at Goliad, Texas (April) & significant deadly tornadoes directly hitting Joplin, Missouri & Trenton, New Jersey (August).
June 29, 1902 7 a.m. surface map: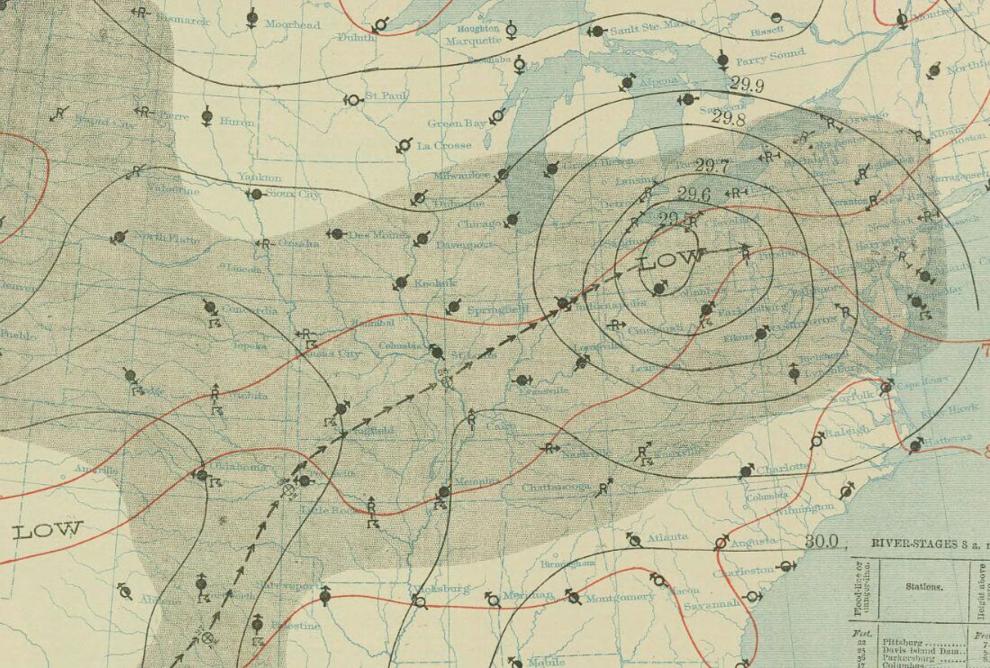 Rainfall totals: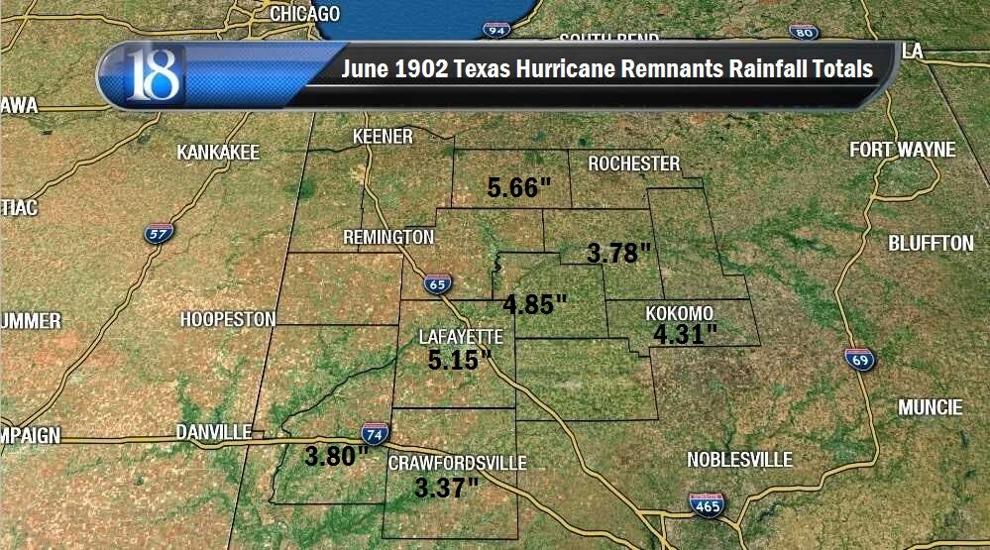 3.  Hurricane Ike – 2008
Up to 8″ of rainfall was measured over the area, highest totals in the northwestern counties with a lobsided "Ike" (similarities to the 1941 Texas Hurricane).  Winds were similar to the '41 hurricane.
Ike was responsible for 195 deaths with a peak at Category 4 strength.  Widespread devastation resulted from Texas to Louisiana with significant tidal flooding all the way to the Florida Panhandle. 
Evolution from tropical depression to mid-latitude low pressure system took place in the Ohio Valley.  Like other wind makers of tropical origin in our area, the combination of a shortwave & jetstreak caused the storm to strengthen rapidly.  A PRE (Predecessor Rain Event) preceeded the lobsided storm, resulting in major flooding from Missouri to Illinois & into our northwestern counties.  With the rapid deepening of the storm & some sun on the eastern side of it, a large swath of widespread damaging winds of up to hurricane force resulted from Arkansas to Ohio.  Gusts to 81 mph occurred in southern Indiana, while Indianapolis gusted to 63 mph.
Here, gusts of up to 55 mph downed crops weakend by the heavy rainfall & persistent preceding breeziness.  The strongest winds were in our eastern & southeastern counties, but everywhere, strong winds resulted in crop damage.
September 19, 2008, 7 a.m. surface map: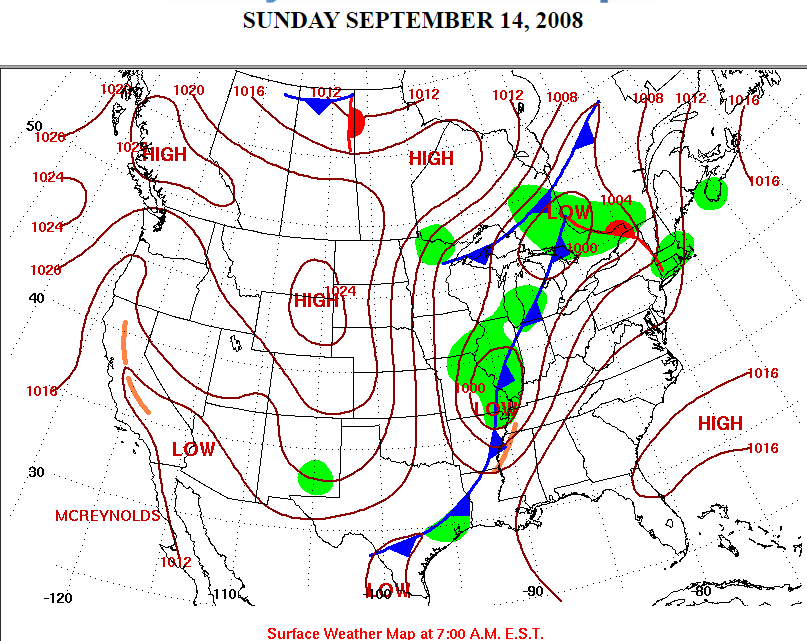 Rainfall totals: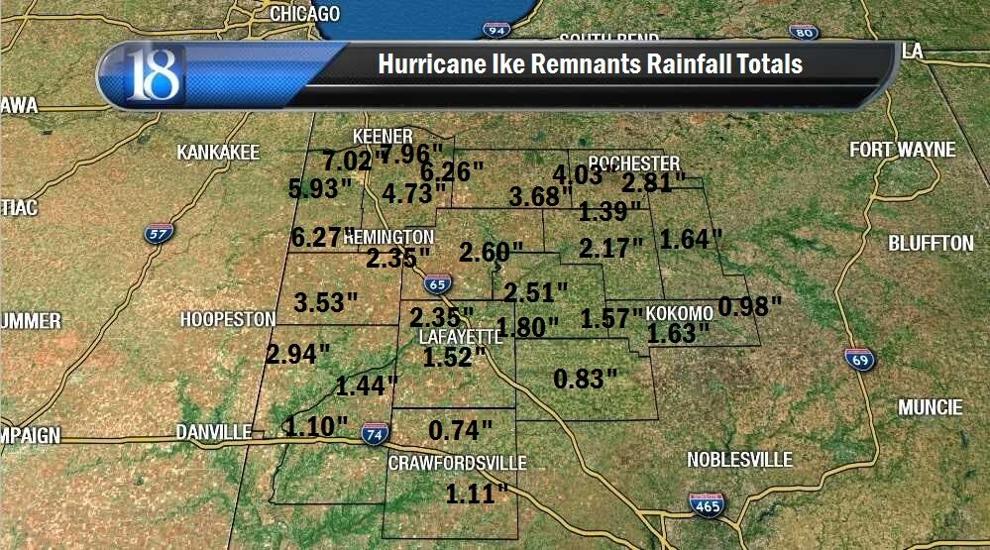 4.  1949 Texas Hurricane
Up to 4″ of rainfall was measured over the area, but just like the 1881, 1886, 1941, 2008 hurricanes, it was the wind that was the biggest factor.  Vast acreages of crops were weakened or blown down from Missouri to Indiana & Michigan with gusts to 50 mph over several hours.  The Category 2 hurricane made landfall near Houston, Texas & cut Galveston off from the mainland U.S.  as 11.4′ tides overtopped the seawall. Winds of up to 135 mph were measured at Freeport, Texas.
What is phenomenal is that just days later, a historic "bomb" occurred in the Plains with a violent tornado outbreak, then a massive area of damaging wind from Colorado to the Dakotas to Michigan & Ontario to Arkansas.  This storms destroyed the corn & wheat crop & led to historic losses in farm structures.  Winds gusted to 100 mph for hours over Iowa & Minnesota, while 80 mph gusts were recorded in Wisconsin.  Gusts in our area reached 45-60 mph.
The two systems were not related, but the two together over a 5-day period led to one of the worst disasters in Midwest agriculture on record.  Corn, already weakened by the hurricane remnants, easily fell over.  Trees on muddy, wet soil from the hurricane remnant rains, were pushed over.  Insurance claims still remain at once of the highest on record for the state of Iowa.
14 people were injured by the actual severe weather outbreak (one tornado tracked 35 miles). Amazingly, there were no deaths (mainly due to sparse settlement) despite the magnitude of the event. Contrastingly, 13 were killed by the wind event. 81 were injured in Minnesota alone.
October 5, 1949 1:30 a.m. surface map: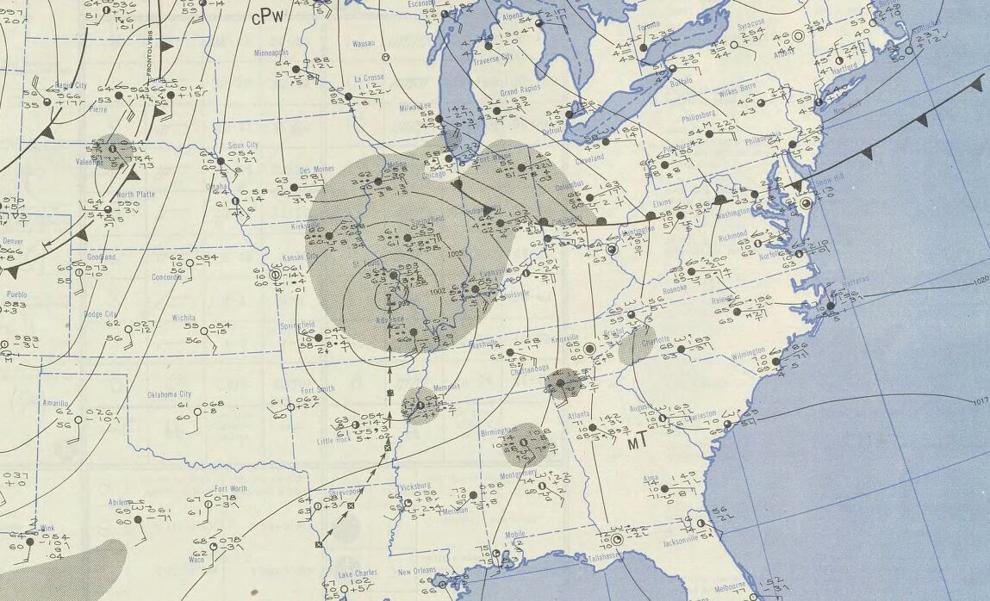 Rainfall totals: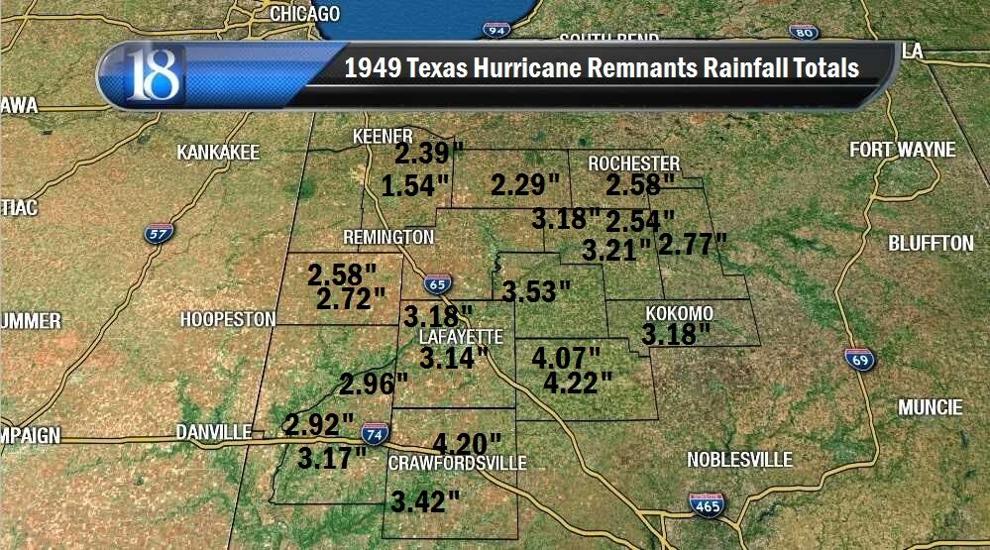 5.  Hurricane Baker – 1950
We frequently see this situation where a hurricane or tropical storm makes landfall & the remnants swing up into our area with rain & wind.
Another facet of landfalling tropical systems is the PRE or Predecessor Rain Event. This occurs as the large-scale flow from the southeast around a tropical system interacts with a front in our area. A convergent band of heavy rainfall up to 36 hours BEFORE the actual system rainfall will occur. Sometimes the PRE actually produces heavier rainfall than the rainfall associated with the tropical remnants themselves in our area. I usually include the PRE in the remnant totals.
Here is a look back at Hurricane Baker, whose PRE was significant & overshadowed actual remnants. It brought heavy rainfall & gusty winds in very early September 1950. 
This hurricane led to 38 direct deaths & max sustained winds peaked at 120 mph.
The track ends in southeastern Missouri because the system went from depression to extratropical at that point.
Sustained winds were at least 10 mph for 25 consecutive hours at the Purdue Airport.  6 of those hours saw winds exceed 20 mph.  I could not uncover any gust information from the airport, however.
August 31-September 1, 1950 surface maps: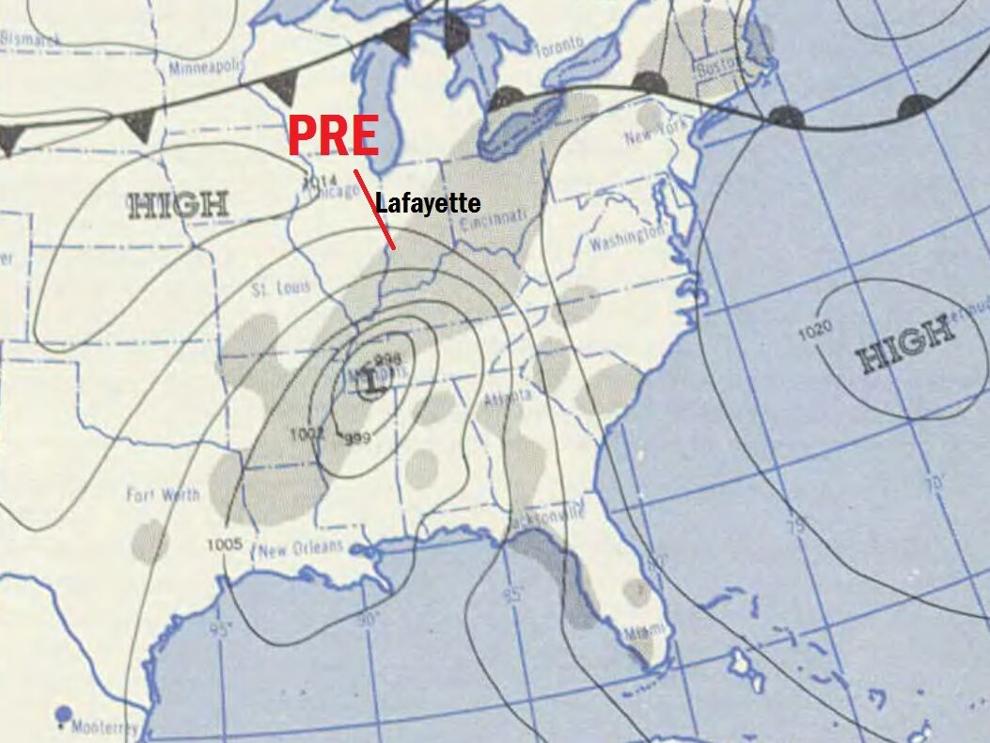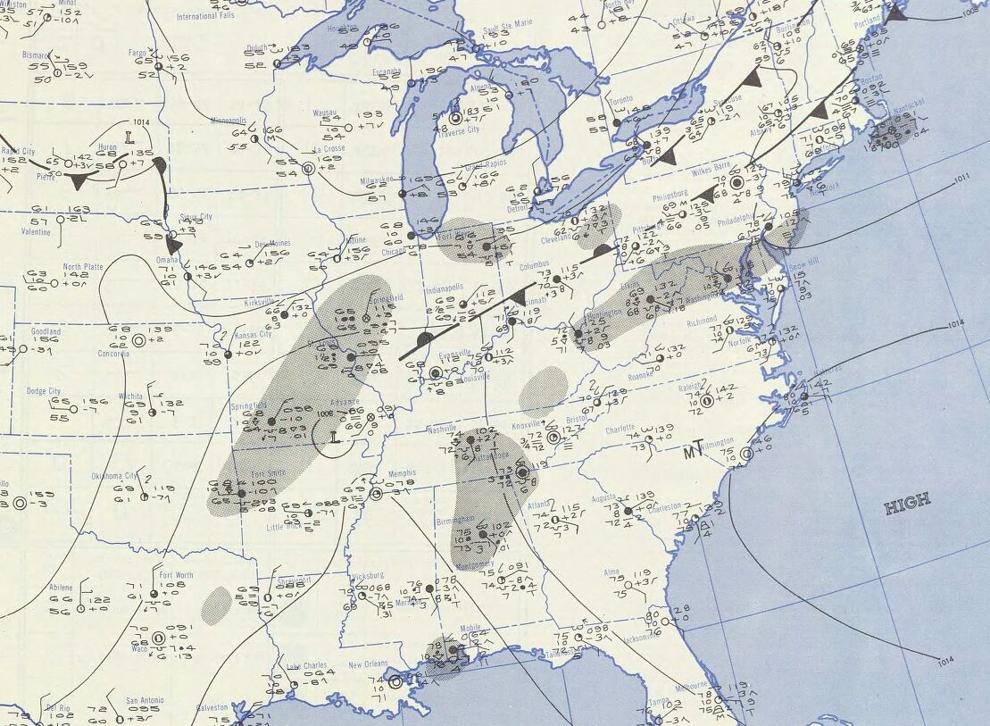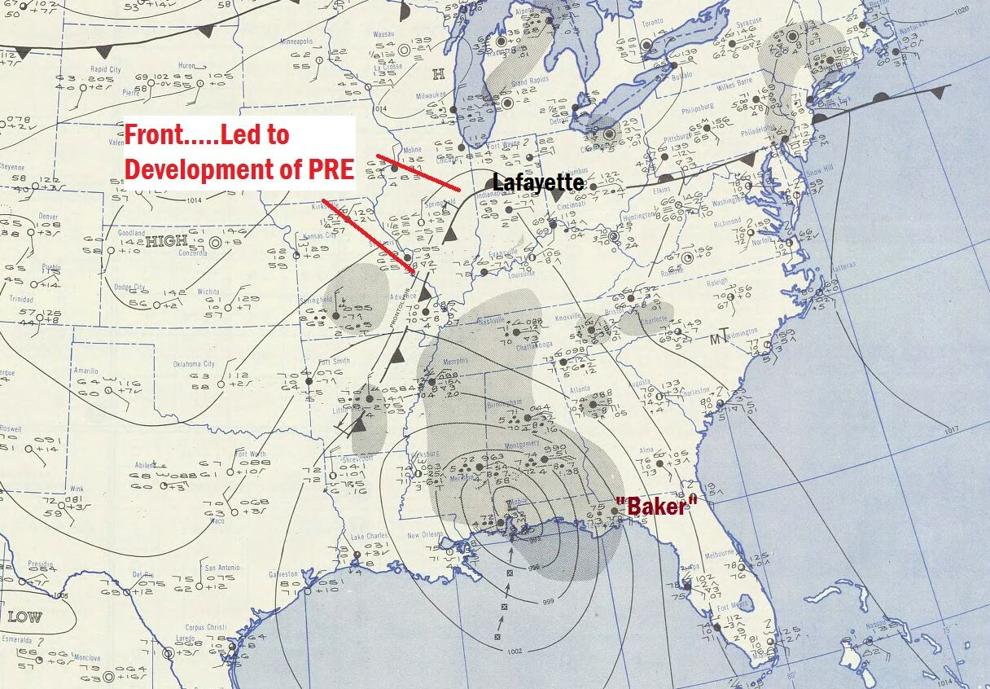 Rainfall totals: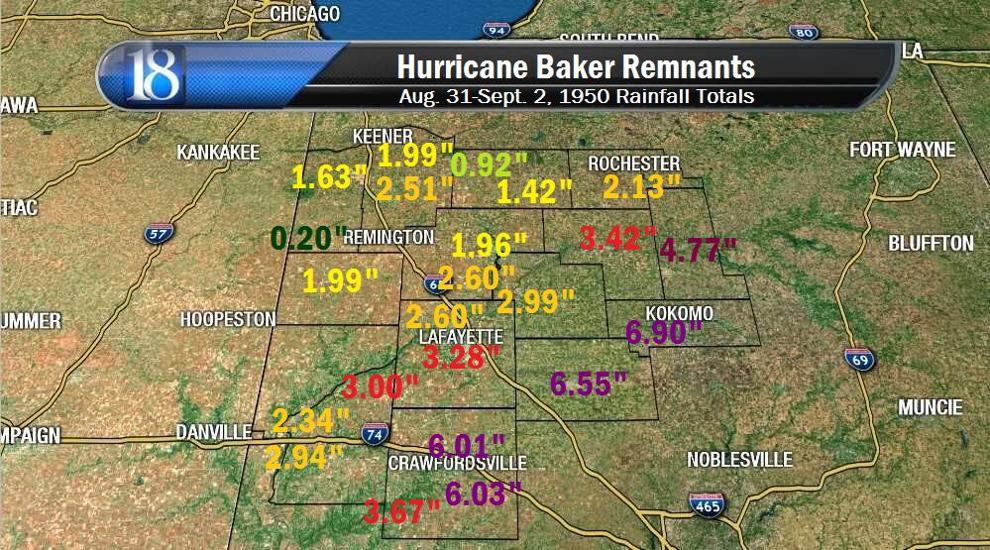 6.  Hurricane Carla – 1961
Catastrophic Hurricane Carla (with a peak at Category 5 & landfall at Category 4) devastated part of Texas in mid-September 1961. With landfall at Port O'Conner/Port Lavaca (very similar to Harvey), the storm brought a massive surge into Galveston.
The hurricane was historic & noteworthy in many ways, as it was really the first hurricane in which a well-planned mass evacuation plan was instituted, based on weather forecasts. It was the first time that a hurricane forecast track was so accurate & so far-advanced, marking a revolutionary change in weather forecasting seen in the 1960s as computer model resolution began to improve. Nearly 400,000 people were evacuated, mostly in Texas.
Also, this was the first live television coverage of a hurricane, which is now the standard in broadcast journalism. Local television newsman Dan Rather reported from the second floor of a building (the storm surge overtook areas below & winds were too strong above the second floor). Well ahead of his time, he even reported live from the Weather Bureau office (National Weather Service) in Galveston well ahead of the storm. Talking to the meteorologist, they drew & explained the sheer size of the massive storm (even showed radar & satellite image of the hurricane…..a first!), prompting more people to flee, likely saving additional lives. All of this was well ahead of 1961 & nothing like this had ever been done prior from a preparedness & also technological standpoint. It also began Dan Rather's career at CBS as they were so impressed with this new style that they offered him a job as a correspondent.
The hurricane also caused the strongest tornado every recorded in a hurricane, a high-end F4, near Galveston that caused even worse damage than the hurricane's winds & storm surge by themselves. Overall, Carla caused a record tornado outbreak for any hurricane up to the time Texas to Louisiana & Arkansas, only to be beaten by 115 tornadoes spawned by Beulah in 1967, which made landfall in the Rio Grande Valley of Texas.
Another noteworthy aspect of Carla was that tremendous rainfall that occurred with the storm way west & northwest of where most hurricane remnants track. To get such flooding rainfall from a landfalling tropical cyclone in Oklahoma, Kansas, Nebraska, Iowa to Wisconsin is uncommon & even rare. To this day, this storm remains as the wettest tropical storm remnants to hit Kansas, Nebraska, Iowa or Wisconsin. +9″ rainfall fell in parts of Missouri, Iowa & Michigan. Up to 6″ fell in Nebraska.
The storm was also a lot like Hurricane Ike in 2008. Not only did it take a similar track & cause extreme devastation like Ike, but became a rather oddly, very highly-lobsided storm system as it tracked well-inland. Phasing with a shortwave trough, much like Ike, it brought widespread strong winds, even outside of the areas that did not receive much rain (eastern/southeastern half of the remnants). This included our area.  In fact,
In Oklahoma 55 mph SUSTAINED winds were measured with gusts to hurricane force & even as the remnants of the storm system moved over southeastern Canada, gusts of 80 mph were measured at St. Johns, New Brunswick. Winds up to 70 mph occurred over Ontario with widespread power outages.  Hundreds of thousands of acres of crops were flattened from the Corn Belt to Ontario. 
In our area, sustained winds peaked at 29 mph with high sustained +20 mph winds for 16 hours.  Gusts are not in record data from the Purdue Airport, Peru, Indianapolis or Fort Wayne.  The highest winds occurred on the night-early morning hours of September 14.
However, what made this wind different from Ike was that the core & peak of it occurred at night, not during the day. So, the intense gusts (like with Ike at 50-80 mph) did not mix down to the surface with some sunshine. That is how Ike became so damaging with winds already high with it, but mixing due to its lobsidedness with dryness & sun on the southeast side mixing down the intense low-level gusts.
Rainfall of 0.21-1.16″ was measured from U.S. Weather Bureau stations in the viewing area.
Another interesting thing about Carla once the remnants/mid-latitude storm combo exited our area, unseasonably to record cold weather was dislodged & followed with an early season widespread frost.
September 14, 1961 1 a.m. surface map: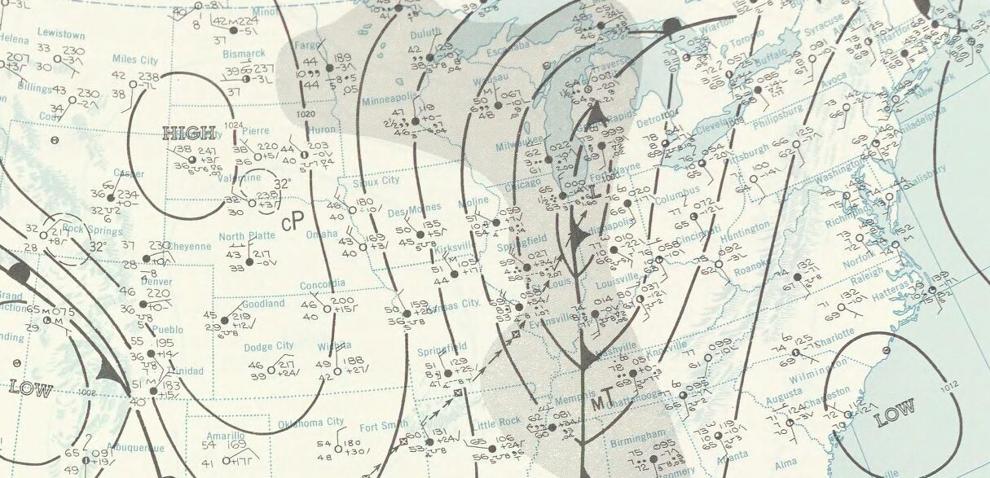 Rainfall totals: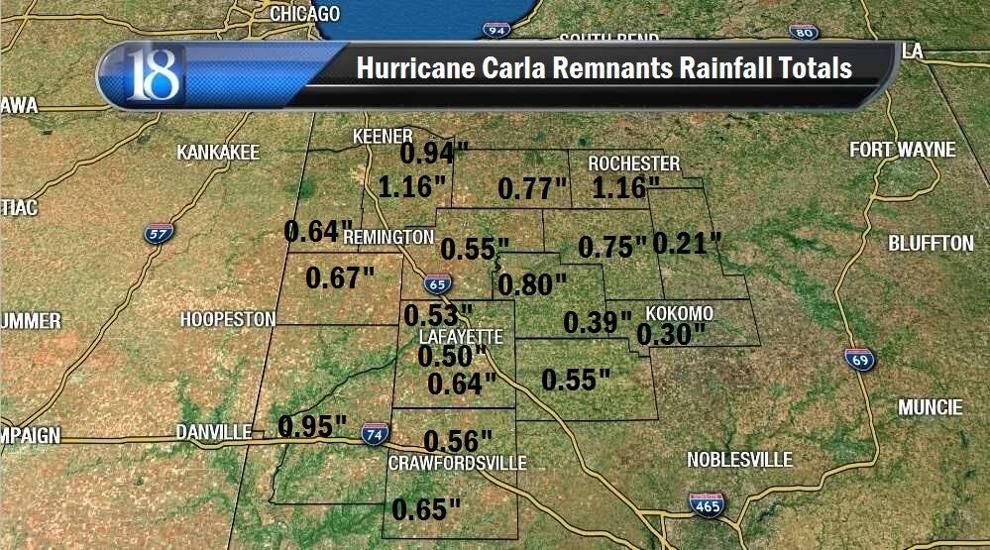 7.  1915 Galveston Hurricane
Up to +10″ rainfall fell in south-central Illinois from the historic Galveston hurricane.
The 1915 storm was a tropical depression as far north as Paducah, Kentucky, also produced severe weather. A wind gust of 64 mph was measured at Columbus, Ohio as the remnants pivoting through Ohio. Several tornadoes were spawned.
August 20 & 21, 1915 8 a.m. surface maps: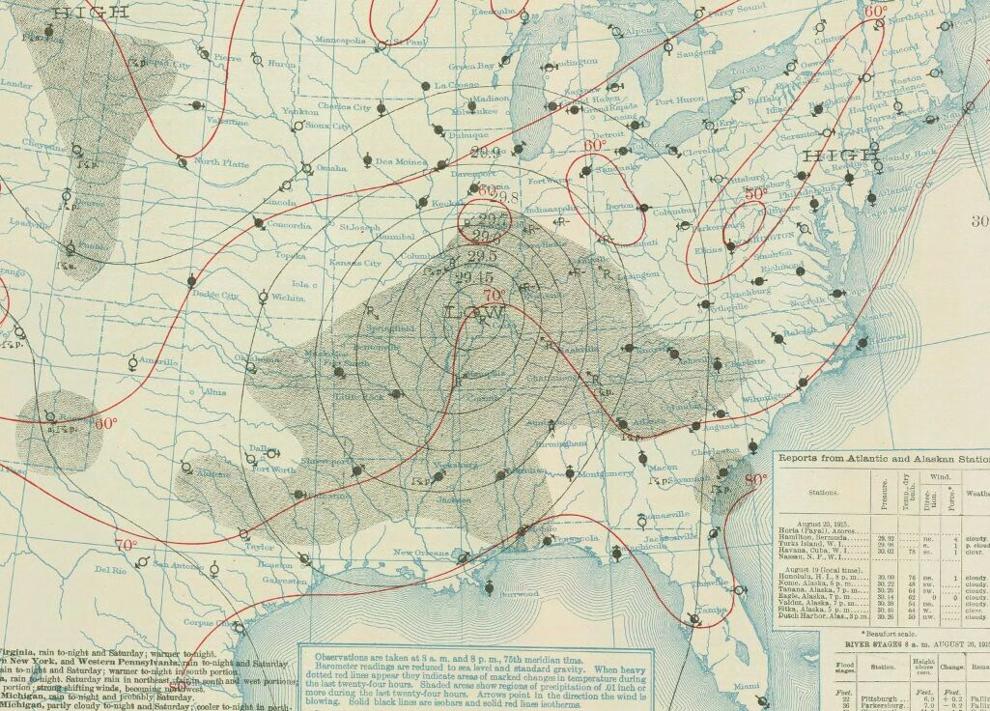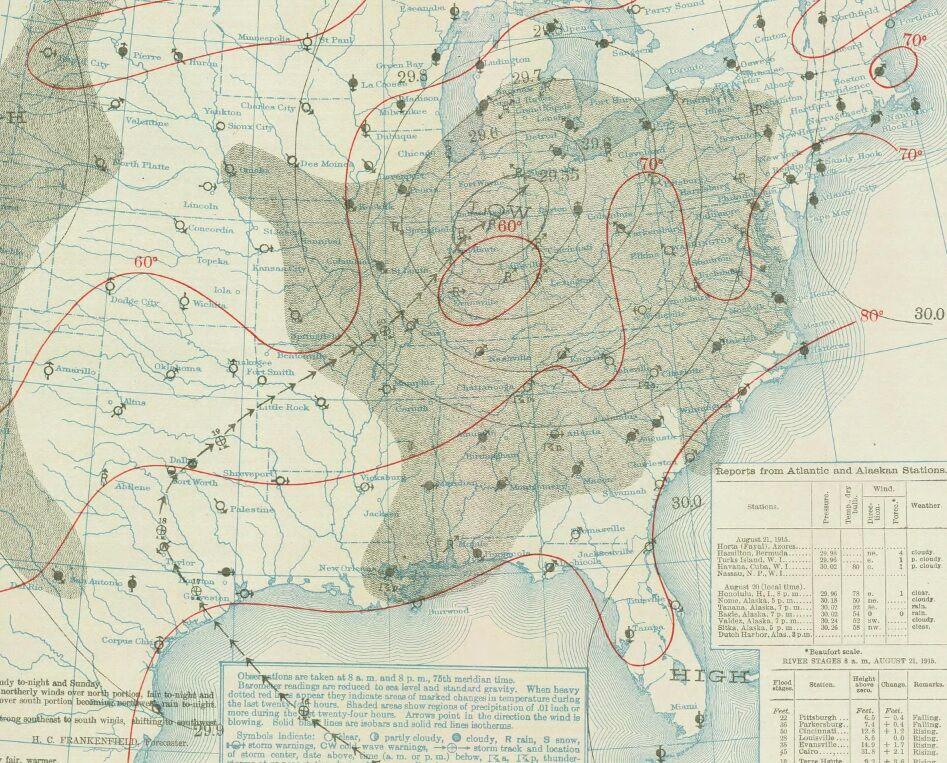 Rainfall totals: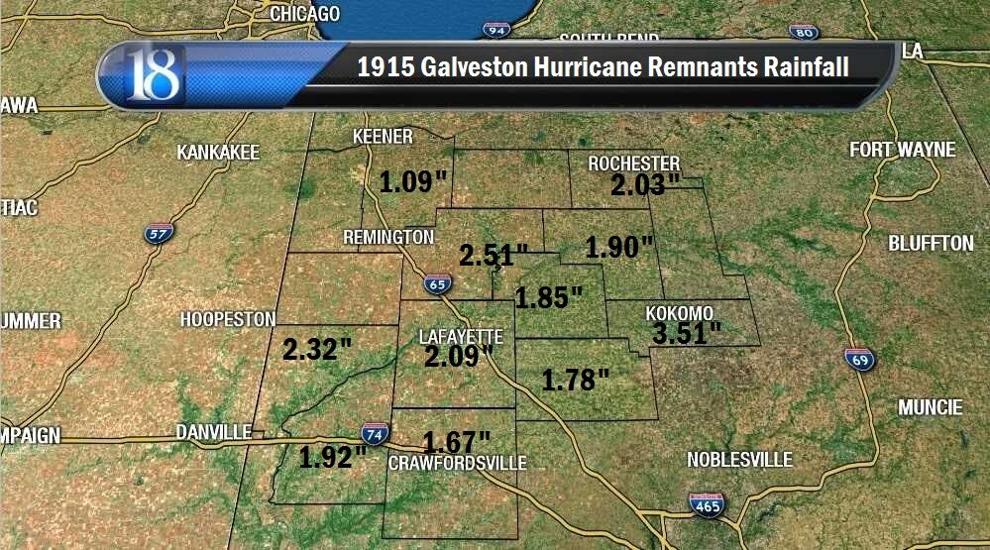 8.  The Georgia Hurricane of 1881
Hurricane remnants can bring flash & river floods, non-t'storm hurricane force wind gusts & severe weather outbreaks, as we have seen.  However, the 1881 remnants actually fan a slew of literal fire storms.  Let's set the stage…..
A major, historic drought & persistent, chronic heat wave associated with stagnant upper ridge caused one of the deadliest hurricanes on record to take a less traditional path.
The block also caused the remnants to slow & then stall, resulting in heavy rainfall over a large area of the central & northern U.S., greatly diminishing the drought.
As the remnants merged with a storm system & cold front, the gusty winds of the front, fanned on-going forest fires in the Great Lakes & also fires in our region. This wind led to the great disaster: the massive deadly Thumb of Michigan fire charred a massive area of forest land.
Now the details…………
_________________________________________________________________________________________
The summer of 1881 was historic for the central & eastern U.S. (& the Tri-State) in the extent & intensity of the heat & drought. It ranks as one of the outstanding weather events in our weather history, comparable with the extreme summers of 1839, 1841, 1854, 1887, 1901, 1934, 1936, 1953, 1954, 1988, 2012.
Temperatures reached as high as 111 in the region with reportedly many deaths from heat strokes.
Each month June -September saw temperatures reach the 100s over the area, but the heat seemed to peak in mid-August.
Greater Lafayette's official government observation site at the time was located at Purdue University.  A peak temperature of 107 was recorded.
Some other peak temperatures from the June-September period:
115 Milton, Pennsylvania (South-Southeast of Williamsport): this would be the state record, compared to the modern state record of 111 set July 9 & 10, 1936
112 Lincoln, Nebraska
112 Present-Day North Dakota
109 Long Branch, New Jersey (20 Miles Southeast of Newark)
108 Fort Benton, Montana
108 Portsmouth, Ohio
108 Franklin, Ohio (Near Columbus)
108 Clinton, Illinois (south of Bloomington, Illinois)
108 Danville, Illinois
108 Plano, Illinois (West-Southwest of Chicago)
108 Independence, Kansas
108 Topeka, Kansas
107 Weldon, North Carolina (Near Virginia State Line in the North-Central Part of the State)
106 Burlington, Iowa
106 Champaign, Illinois
106 Spencer, Indiana
106 St. Louis, Missouri
106 Shelbyville, Indiana
106 Ashwood, Tennessee (Southwest of Nashville): Long called "Memorable Hot Friday"
106 Richmond, Virginia
106 Petersburg, Virginia
105 Louisville, Kentucky (Hottest Since 1841)
105 Springfield, Illinois
105 Clarksville, Tennessee
105 Logan, Iowa (Hottest Since 1856)
105 McGregor, Iowa
105 Tuscola, Illinois (East of Decatur)
105 New Albany, Indiana (Hottest Since 1821)
105 Shreveport, Louisiana
104 Lacrosse, Wisconsin
104 Little Rock, Arkansas
104 Madison, Ohio (Between Cleveland, Ohio & Erie, Pennsylvania)
104 Bluffton, Indiana (Southwest of Fort Wayne)
104 Connersville, Indiana (East-Central Indiana)
104 South Bend, Indiana
104 Marshalltown, Iowa
103 Janesville, Wisconsin (Near Madison)
103 Augusta, Georgia
103 Des Moines, Iowa
103 Manchester, New Hampshire
103 Hanover, New Hampshire
103 Nashville, Tennessee
103 Cape Henry, Virginia (North Shore of Virginia Beach)
102 Bradford, Vermont
102 Charlotte, Vermont (Just South of Burlington, Vermont, in Northwestern Part of State)
102 Jackson, Michigan (South of Lansing)
101 Wilmington, Ohio (Hottest Since 1841)
101 Norwich, Vermont
100 Albany, New York
100 White River Junction, Vermont
July 1-September 13, 1881 Temperature Anomalies:
100s over the area occurred in early September & over the eastern U.S. under the ridge. The ridge guided the Great Georgia Hurricane westward on the underbelly of the ridge where it slowly turning to the north & stalled at times. This led to significant rainfall & some flooding Nebraska to Minnesota, Iowa & Wisconsin & helped elevated September 1881 to being one of the wettest on record for some of those areas.
The rainfall was extremely welcome, given the hot, dry summer.
As the remnants combined with a mid-latitude or typical frontal system, great deepening occurred with some severe weather occurring. This caused a strong pressure gradient over our region & especially over the Great Lakes. Multiple forest fires had been burning due to the extreme drought & heat since August in Michigan. However, once widespread +35 mph gusts took over ahead of the system, multiple fires were fanned & merged to form the great Thumb Fire. It merged into an uncontrollable inferno fire near where a massive fire occurred in the fall of 1871. This fire, northwest of Detroit, spread uncontrollably in the heat, strong winds in thickly-timbered pine forest. The only thing that stopped the fire was Lake Huron.
It continued to race northeastward, encountering older, virgin pine forests. 150′ crowns of tree ignited & spread even faster. The fire moved so fast that many sought shelter by jumping down into wells. At least 300 people were killed. Nearly 2100 structures were burned to the ground, including 51 schools.
The area burned would be the equivalent to a good chunk of the WLFI viewing area: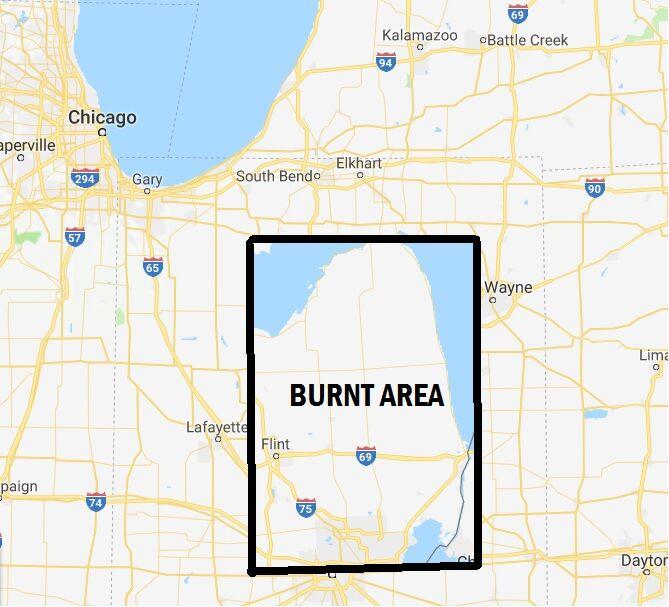 Note the strong winds from the southeast, then southwest over our area & the Great Lakes around the remnants of the hurricane.  The gradient between high pressure over the Northeast & the low result in strong, gusty winds (several areas reported blowing dust either from roads or plowed/disked harvested wheat fields) to be funneled through area area.  Since the wind was over land & downsloping off the Appalachians (with dry soils of the drought) for a while, dew points continue to drop.
Numerous brush & forest fires were reported in our viewing area.  Some corn fields caught fire.  Fires scorched the Kankakee Valley area, the worst until 1887 & 1895.  Large forest fires occurred in Decatur & Franklin counties in southeastern Indiana, in Parke & Montgomery counties, as well as areas of south-central Indiana.
Smoky conditions were reported in West Lafayette & Lafayette for several of days as fires burned.
Very little rain fell with the system here.  Even on August 31, Dr. Huston's notes to the U.S. Weather Bureau office from Purdue reported a completely dry, brown, scorched landscape with trees shedding leaves prematurely.
August 28, 30, 31, 1881 at 7 a.m.: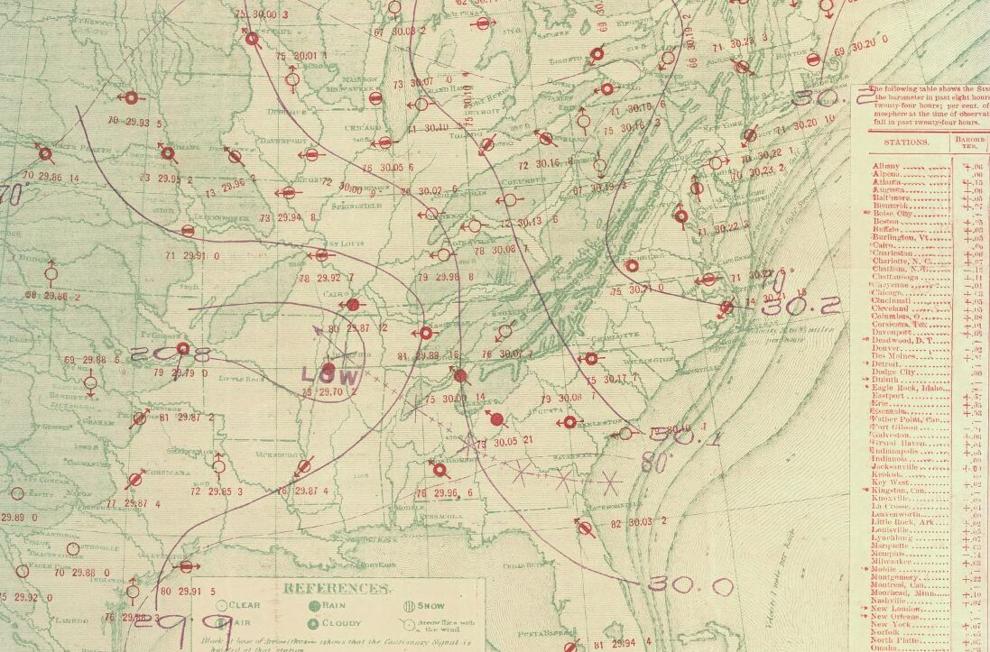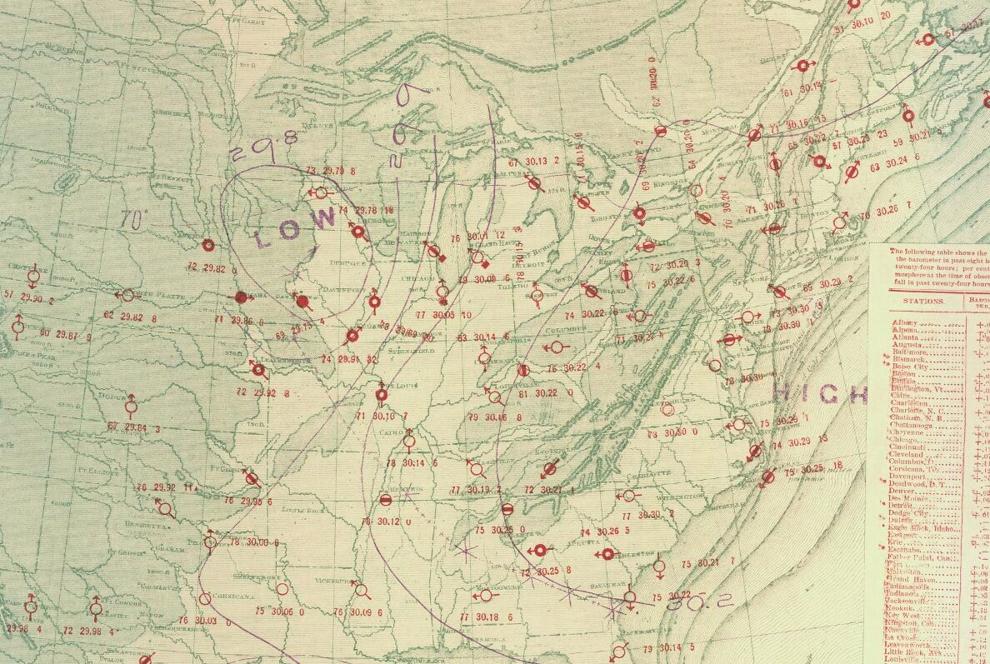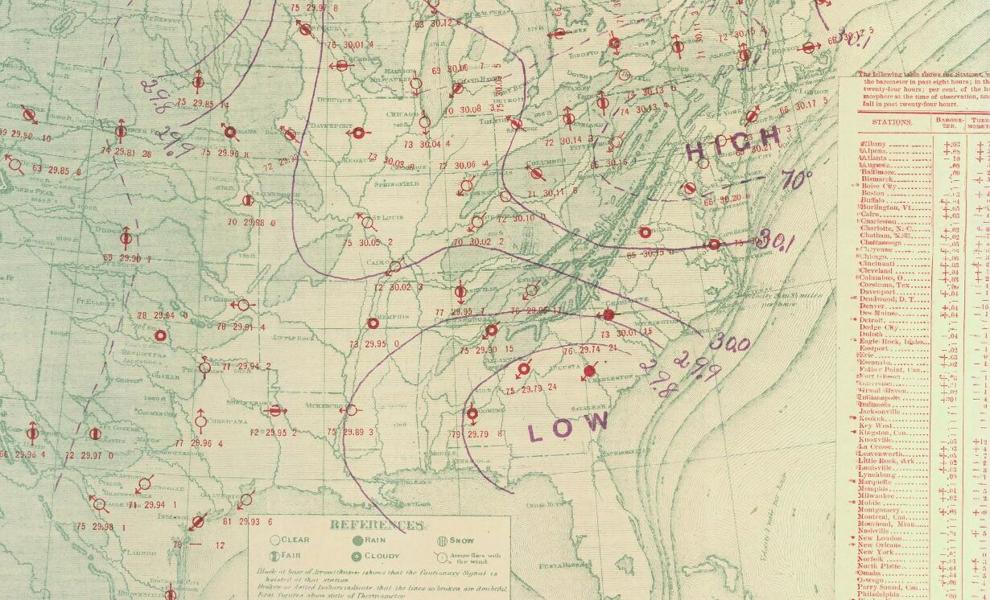 9.  The Texas-Louisiana Hurricane of 1886
Wind gusts were measured at 50-60 mph in a broad zone from St. Louis, to Chicago, Detroit, Sandusky, Grand Haven & Port Huron.  Buffalo, New York measured a wind gust to 63 mph.  Prof. Huston of Purdue University reported to the U.S. Weather Bureau that "the high winds of the 14th prevailed throughout the state".  He reported a maximum a "wind velocity" of 48 mph at Purdue.
Trees were downed & vast acreages of corn were flattened over Missouri, Iowa, Illinois, Indiana, Ohio & Michigan.  The month was very dry overall with a state-wide average rainfall of just 1″.  Many areas saw totals under 0.50″.  Lafayette saw 0.73″ for the month.  1.30″ fell at Logansport.  To this day, a few long-standing climate stations in southern Indiana show that October 1886 was the driest on record. 
During this time, the winds fanned several significant fires.  A few include, one  that reportedly burned a track of several square miles of marshy land near Akron, Ohio.  "Several miles" & "burned much valuable timber" in Burlington County, New Jersey, while "5,000 acres of valuable timber land" were "charred" near Reading, Pennsylvania.  200 square miles reportedly burned in an area of Minnesota with a loss to structures, crops, etc. of $17.3 million (inflation-adjusted).
The winds fueled some brush & field fires here that were swirled & fanned about reportedly by the wind.  Like Ike & the 1941 hurricane, the system was highly-lobsided with the east side showing a lack of rainfall & more rain on the western/northwestern quadrant.  "A single very heavy rainfall on the 13th & 14th" was reported from Dr. Gustavus Hinrichs of the University of Iowa.
Interestingly, a good chunk of the moisture for the month in eastern Indiana occurred with a freak snowfall event.  This occurred late in the month & dumped up to 6″ of gloppy, wet accumulation.  Snow fell as far west as Marion, Indiana with 1″.
Like these, the remnant of this hurricane deepened very rapidly as it became extratropical or a mid-latitude low pressure system.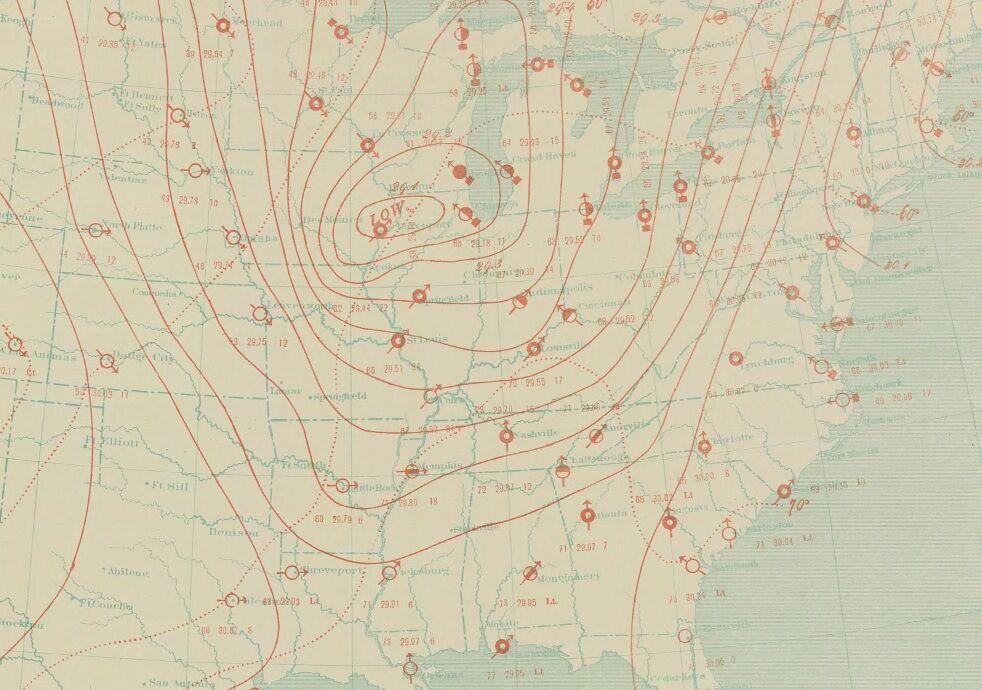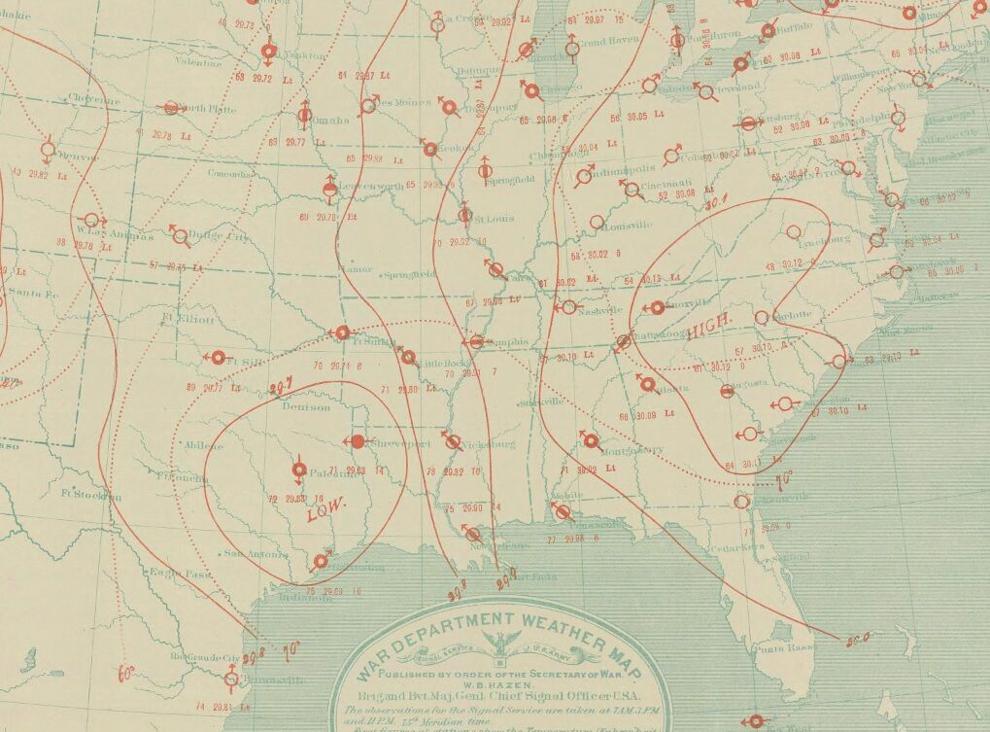 Note the unseasonably cold weather that was dislodged behind it.  This often occurs in this situation when a former hurricane deepens rapidly.  This Arctic high laid the groundwork for the unusual eastern Indiana snowfall event & the widespread lower to middle 20s low temperatures in our area.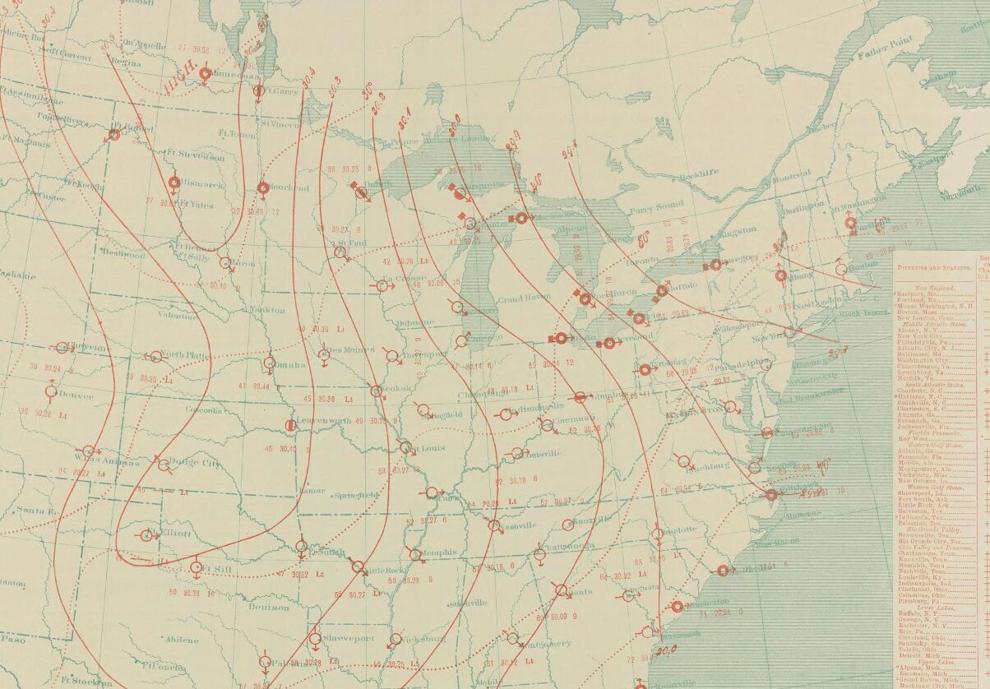 10.  The Last Island Hurricane of 1856
The Last Island Hurricane, which made landfall August 10 in southern Louisiana. This also called the Great Storm of 1856 & the Isle Derniere Hurricane, as Isle Derniere (also known as Last Island) was completely submerged by the storm & the island swept clean of structures. More than 200 homes & a large hotel & resort were leveled as it was a popular destination, known for its white, sandy beaches, nice breezes & an escape from the yellow fever-infested marshy areas inland around New Orleans.
The storm had sustained winds of at least 150 mph. It was at least a Category 3 & may have been a 4 or 5 in the Gulf, given the surge at 12′. Katrina produced a storm surge at 12′ at Grand Isle, Louisiana & 14′ in Plaquemines Parish. The The narrow island chain, the Chandeleur Islands, were nearly completely submerged after Katrina. Over 13" of rain fell on New Orleans in the 1856 storm. The storm moved northeastward & the remnants dumped 4-6″ of rainfall across southwestern Indiana 12-13.  It was reported, "Rain fell in liberal quantities" & that "[rain] very much needed & it will be productive of great good." "6" of dust laid quickly". A brief tornado was spawned north of Dayton, Ohio that killed 2 & injured 2. In Baltimore, a tornado unroofed warehouses & heavily-damaged "a row of large 4-story dwellings".
Indianapolis reported heavy rainfall & heavy rainfall muddied streets in Lafayette.  Winds were reportedly gusty as well.
1856 was a very dry year, in fact early climate stations in Illinois & southern Indiana show that it was the driest year on record, even right up to 2018. 
This rainfall was one of the biggest in the May-November period in the extremely , droughty year of 1856, making this hurricane's impacts much more positive than negative in our region.
The hurricane shows up well in this reconstruction: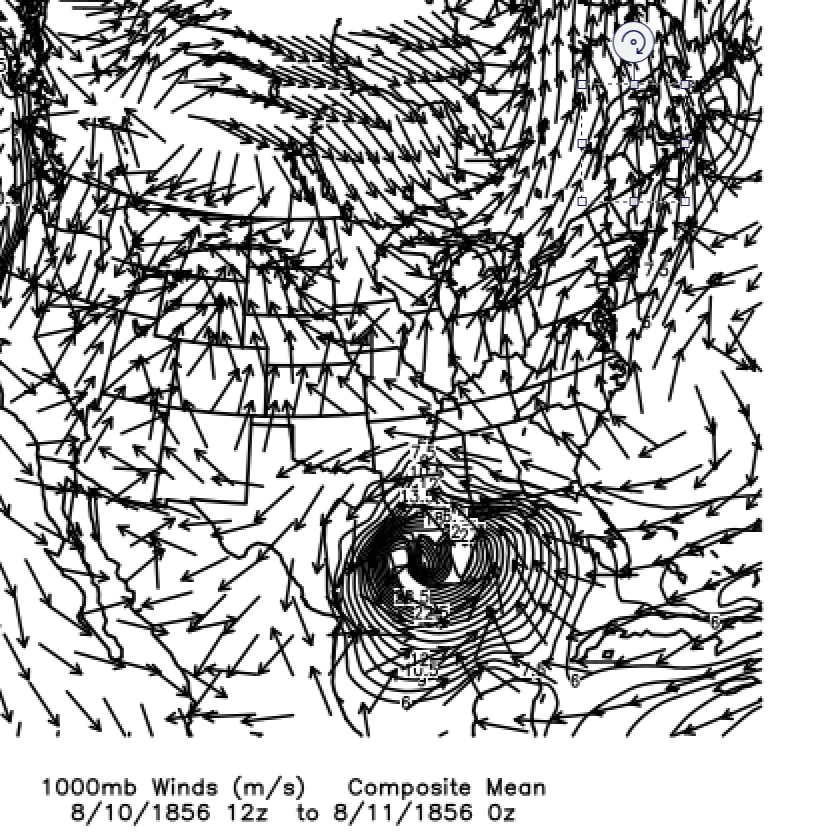 Center of the remnants appears to have move into Arkansas then the Lower Ohio Valley.