BLOOMINGTON – Illinois Wesleyan heads into the second half of the football season in a most unusual position.
The Titans have a 1-4 record with five games remaining, including their toughest season of the season on the road against Division III No. 1 North Central (October 23) and No. 5 Wheaton (November 6). This is the IWU's first 1-4 start since 2006, when it finished 3-7.
Despite the record, senior tight end Zack Tencza insists that the Titans not only play the string against Millikin at Tucci Stadium on Saturday at 1 p.m.
"We still have a lot to do. We want to have the chance to compete against the best teams and play the best football possible," said Tencza. "Maybe the CCIW Championship is something that is no longer on the table for us, but there are a lot of competitors on our team."
IWU has suffered just seven lost seasons during head coach Norm Eash's 35-year reign. Two of those came in his first two years and the last in 2014 when a string of injuries crippled the Titans.
Eash does what he can to keep the spirits high.
"I told them today that everyone expects coaches to train Xs and Os and fundamentals. But a coach must also train the faith," he said. "I said I think I did pretty well in my tenure here. I reminded her today that I still believe in our football team and still believe that in the worst case scenario, we can 5-0 or 4 : Could be 1. I still think so. " these things.
"I think we are still a very good football team and every time we step on the field we expect to win. We have to have that attitude too. A coach can have that, but when the players don't have that, does that mean "nothing."
IWU senior cornerback Tyler Maple believes the influx of newcomers to the defense – eight of whom are on the twofold list – will help the Titans going forward.
"They always want to improve. I see it every day in training, but what I see in practice I haven't seen in games," said Maple. "That disappoints me because I know what they can do and it starts with their mentality. I do that in every game. I always trust myself and I think they don't really trust themselves yet."
"This second half of the season is really important for them to get that mentality."
Eash said he had a meeting with these newbies at Two-Deep and told them to play like beginners rather than newbies.
"They're good or they wouldn't start," said Eash. "Sometimes you have the mindset of being a newbie and making mistakes and it's okay because you're a newbie. That's not the mindset we're looking for. We trust you to be a starter in our program and you have to play like a starter.
"I told them to play harder. Sometimes you play as a newbie instead of playing to win so you don't get beaten."
Tencza said: "We have a very healthy dressing room" and this season still means a lot to all players.
"We already play D-III football. We love football," he said. "Nobody checks out because we still have the chance to compete against the best and prove how good we are. A lot of people feel that. We had a great training session yesterday."
Tencza, butcher honored
Tencza and senior linebacker Skyler Metzger have secured a place in D3football.com's team of the week for their game in the 38:22 defeat last Saturday in Washington (Mon).
Tencza took a career high with eight receptions for 113 yards and a touchdown.
Metzger was tied high for the team with a sack for the loss with 10 tackles, including nine solos, and a career high of four tackles.
Oldest CCIW rivalry
IWU and Millikin have the oldest rivalry in the Illinois and Wisconsin College Conference, with 113 games dating back to 1904. Millikin holds a 55-51-7 lead all-time, but the Titans have won 13 of their last 16 games.
Interestingly, both teams have 27 wins in games at Bloomington.
PHOTOS: Illinois Wesleyan Football
081421-blm-spt-1iwumediaday
Illinois Wesleyan University soccer captains (left to right) AJ Lust, Nick DeGregorio, Bo Neidballa and Jake Buhe look forward to a real fall soccer season during IWU Media Day on Friday.
DAVID PROEBER, THE PANTAGRAPH


TENCZA BROTHERS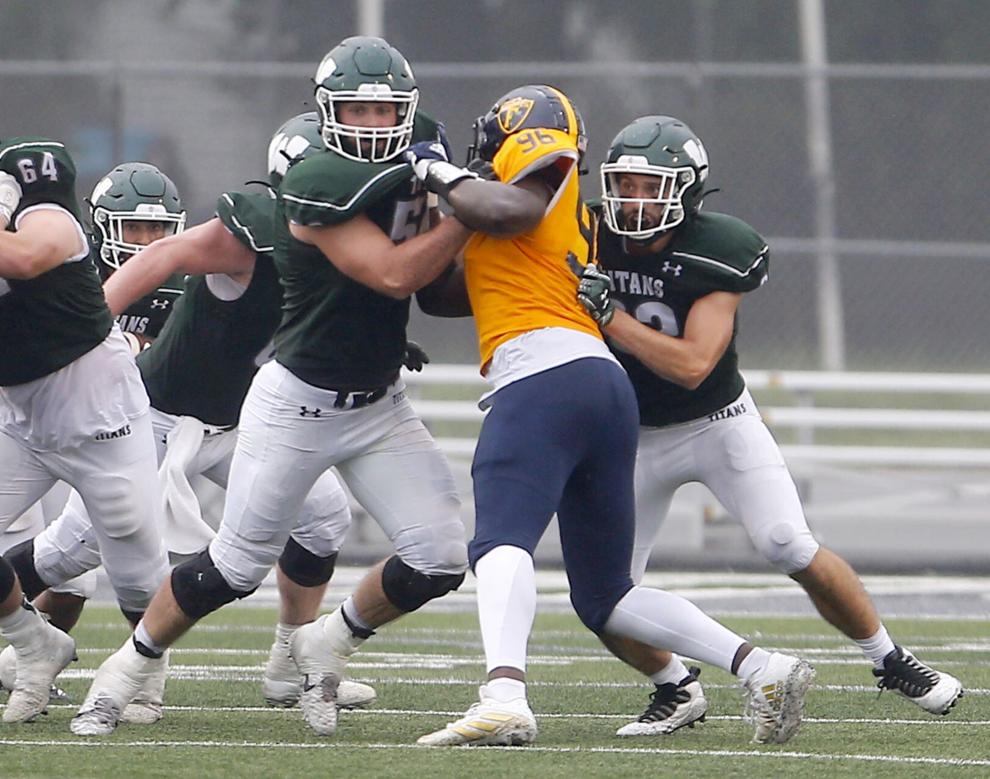 Illinois Wesleyan's Jake Tencza, left, and his brother, Zack Tencza, right, double-team a Franklin defender during the Titans home game September 4 at Tucci Stadium. The brothers are the sons of former IWU linebacker Brian Tencza.
Jim Benson
IWU vs CARROLL PASS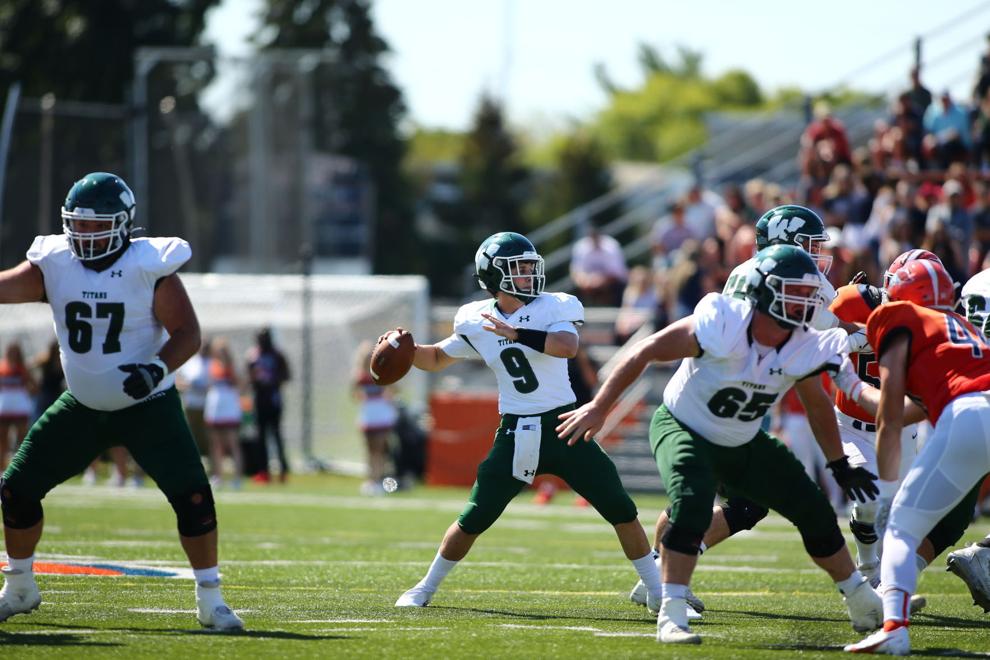 Illinois Wesleyan quarterback Sage Shindler prepares to throw a pass during Saturday's Illinois-Wisconsin college conference against Carroll in Waukesha, Wisconsin. Carroll handed the Titans a 34-33 loss at Schneider Stadium.
Jim Benson
IWU D VS CARROLL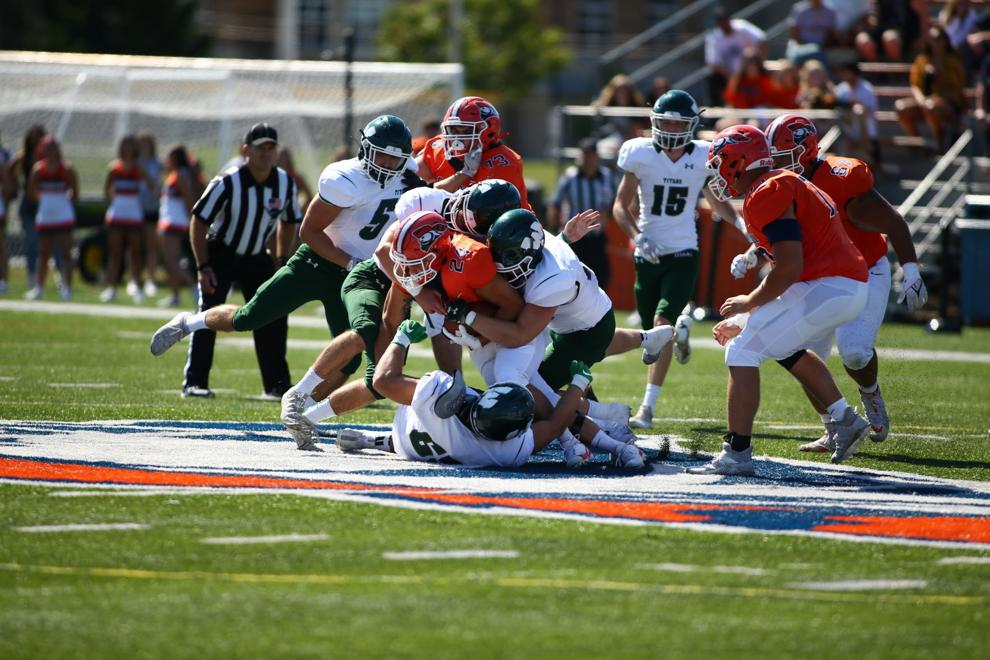 Illinois Wesleyan defense flocks during Saturday's game in Waukesha, Wisconsin from Carrolls Isaac Allen.
Jim Benson
CONOR MURPHY ACTION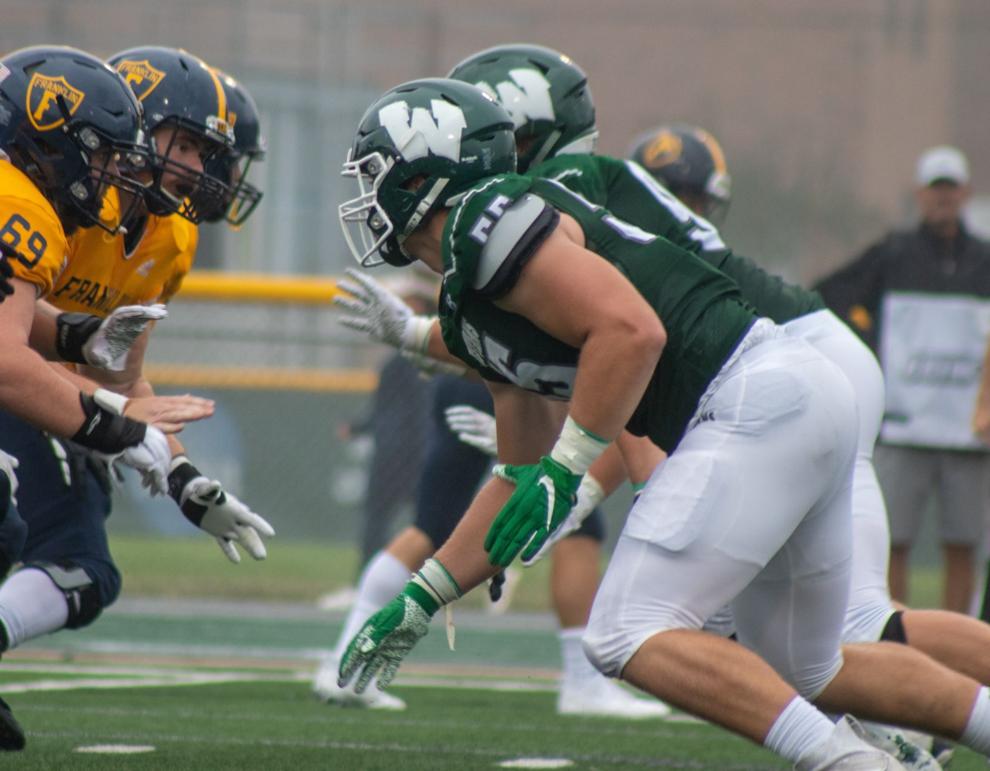 Illinois Wesleyan Senior Defensive Lineman Conor Murphy, right, prepares to rush the passerby during the season opening game against Franklin. Murphy and the Titans begin CCIW action against Carroll in Waukesha, Wisconsin on Saturday.
Jim Benson
CHARLIE HAMILTON PHOTO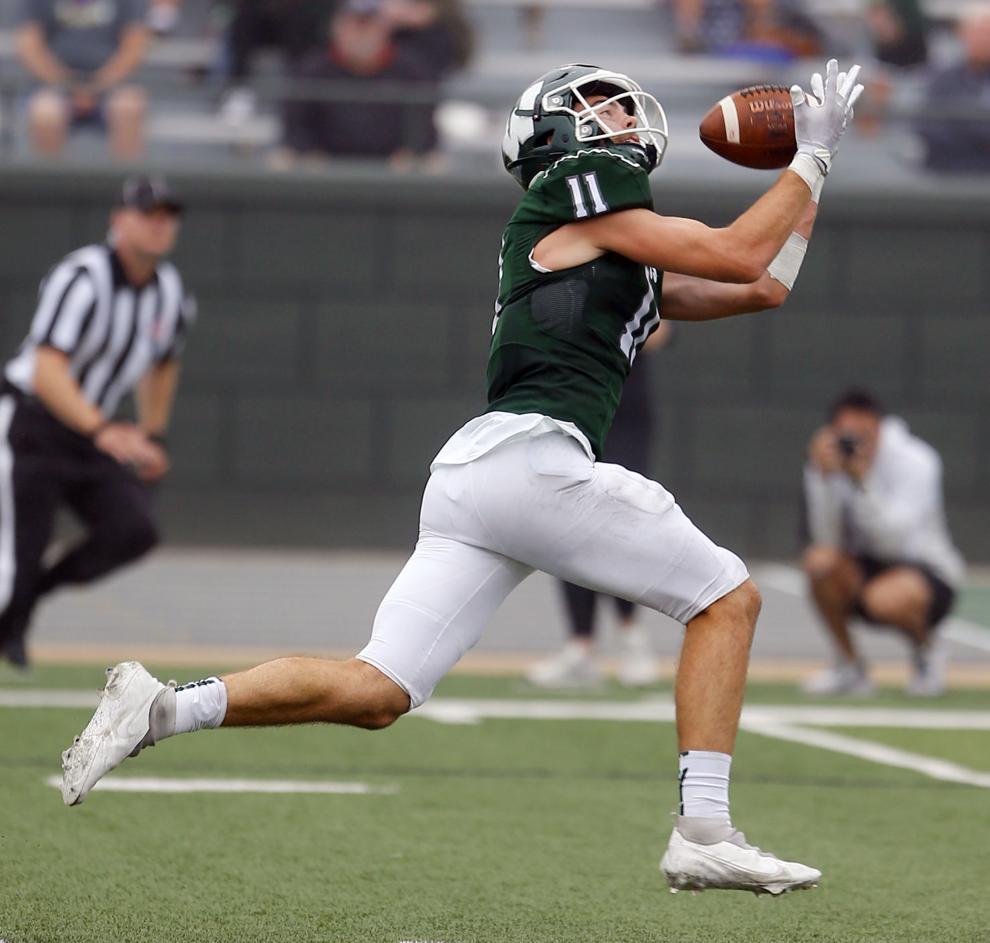 Charlie Hamilton picked up two touchdown passes for Illinois Wesleyan in his season opening loss to Franklin, Ind. The Titans will meet Carroll at the CCIW opener in Waukesha, Wisconsin on Saturday.
Jim Benson
HAMILTON TD VS FRANKLIN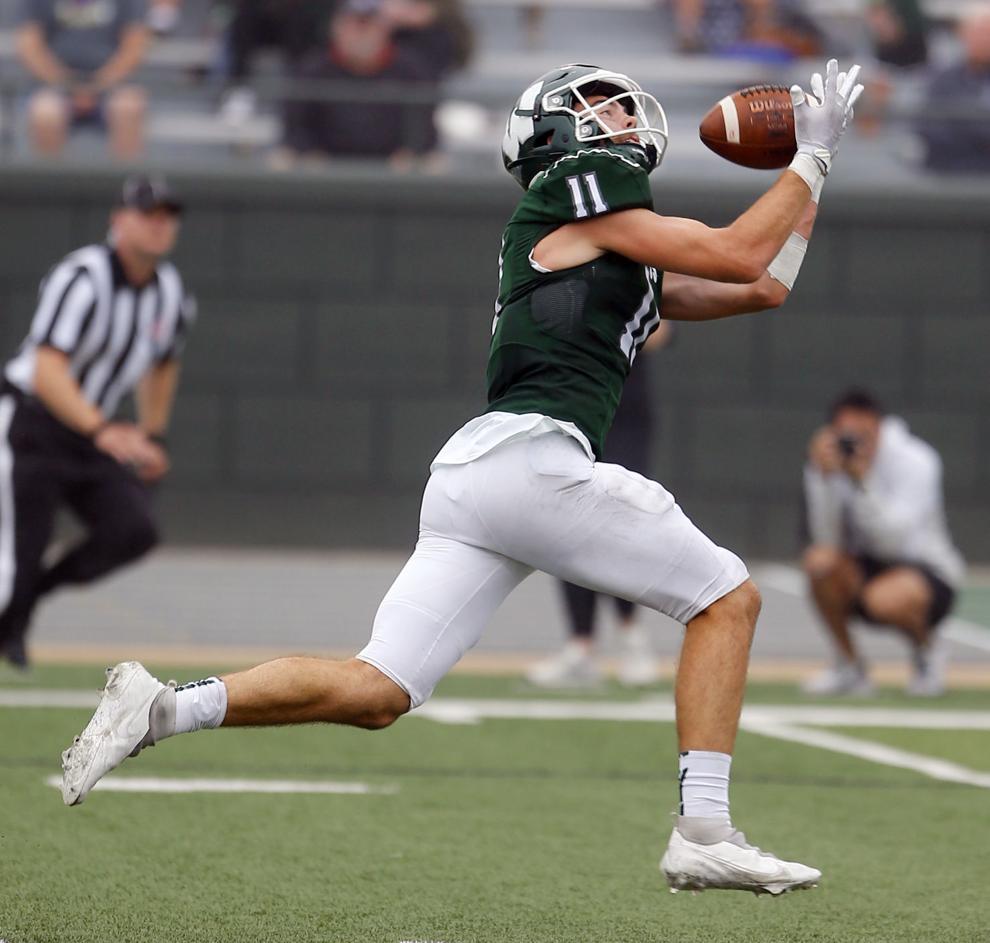 Illinois Wesleyan's Charlie Hamilton wins a touchdown pass from Sage Shindler in the first quarter of Saturday's game at Tucci Stadium.
Jim Benson
WATSON VS FRANKLIN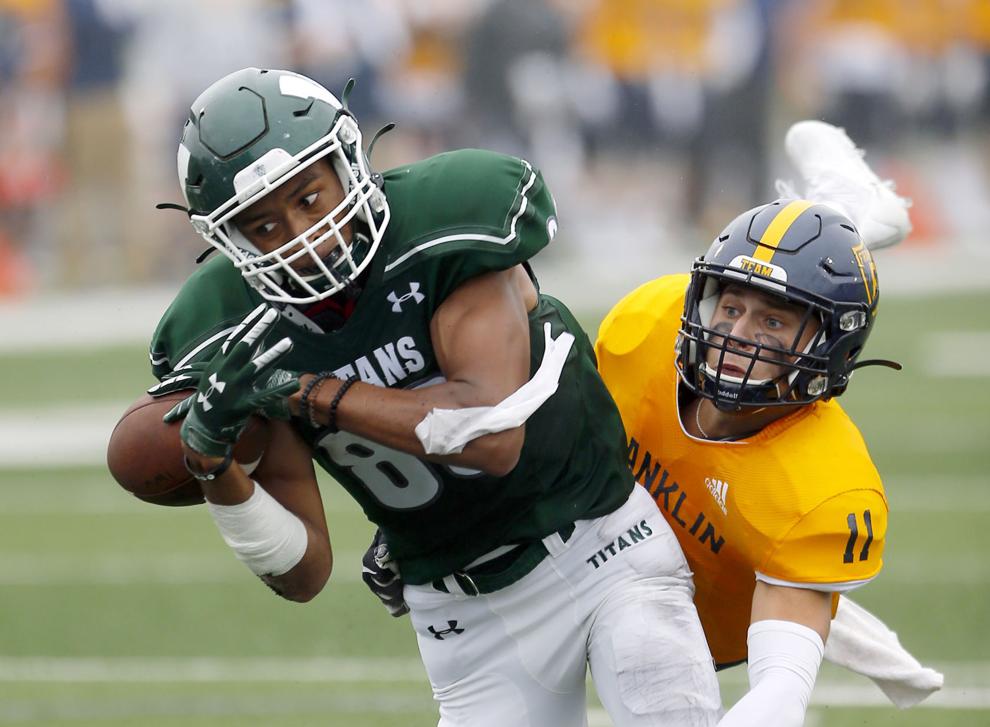 Illinois Wes Watson Wesleyan fails to capture a pass from Sage Shindler after falling behind Franklin's Cam Levers at Tucci Stadium on Saturday.
Jim Benson
BULLIE VS. FRANKLIN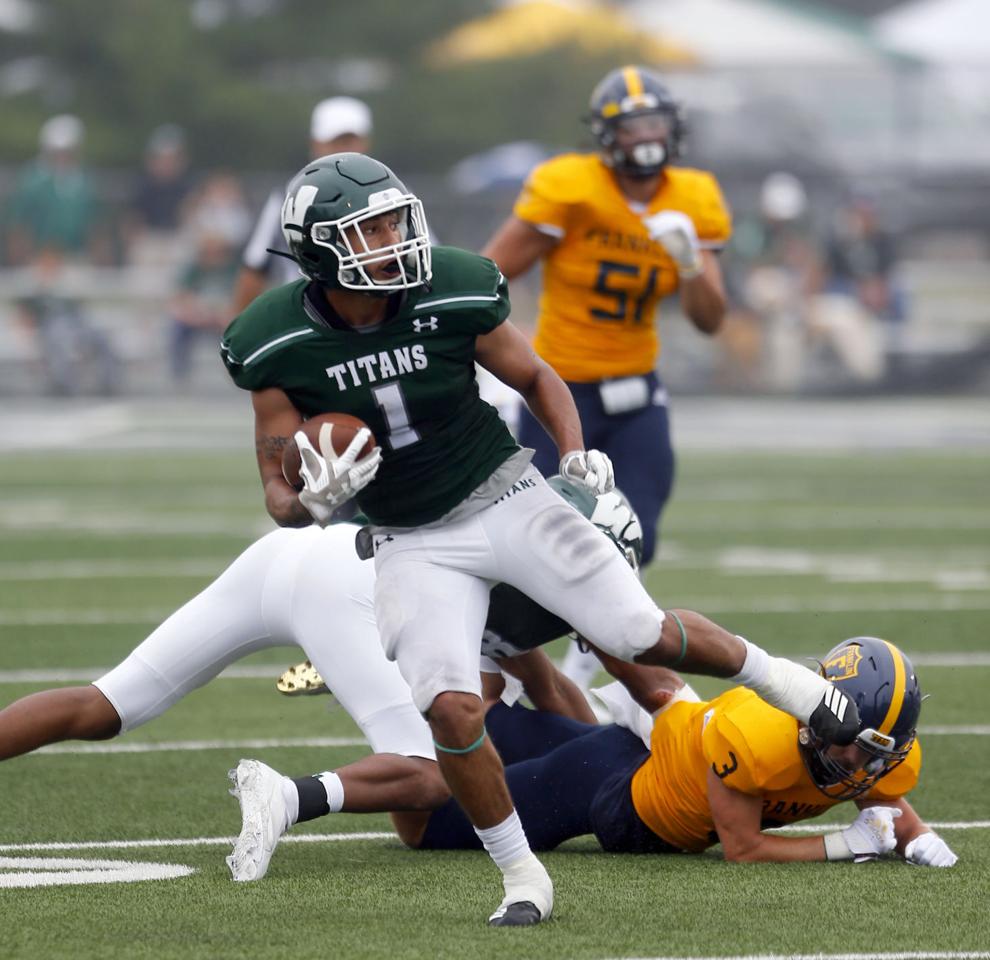 Hamid Bullie of Illinois Wesleyan breaks into the open in Saturday's game against Franklin at Tucci Stadium. Bullie won 141 yards on 21 carries in the Titans' 35-21 loss.
Jim Benson
ALBIN CONQUERED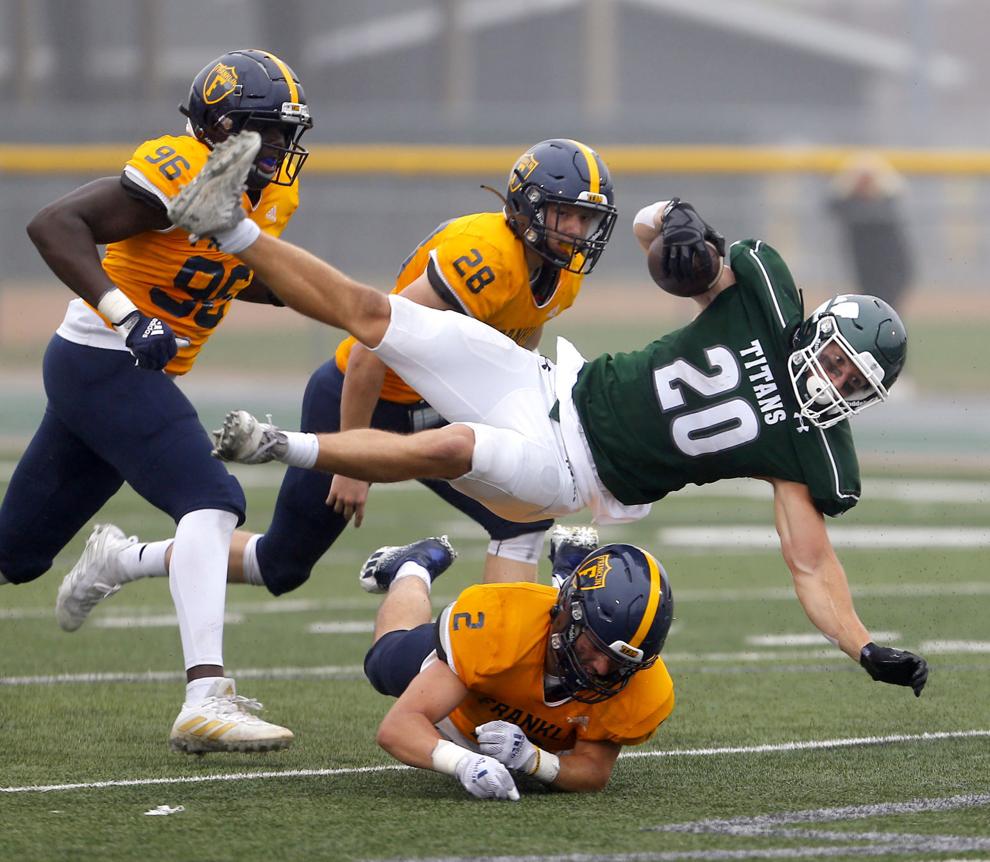 Seth Albin (20) of Illinois Wesleyan is defeated by Franklin's Nick Winders in Saturday's season opener at Tucci Stadium. Franklin bounced back from a 14-0 deficit to take a 35-21 win.
Jim Benson
DEGREGORY VS FRANKLIN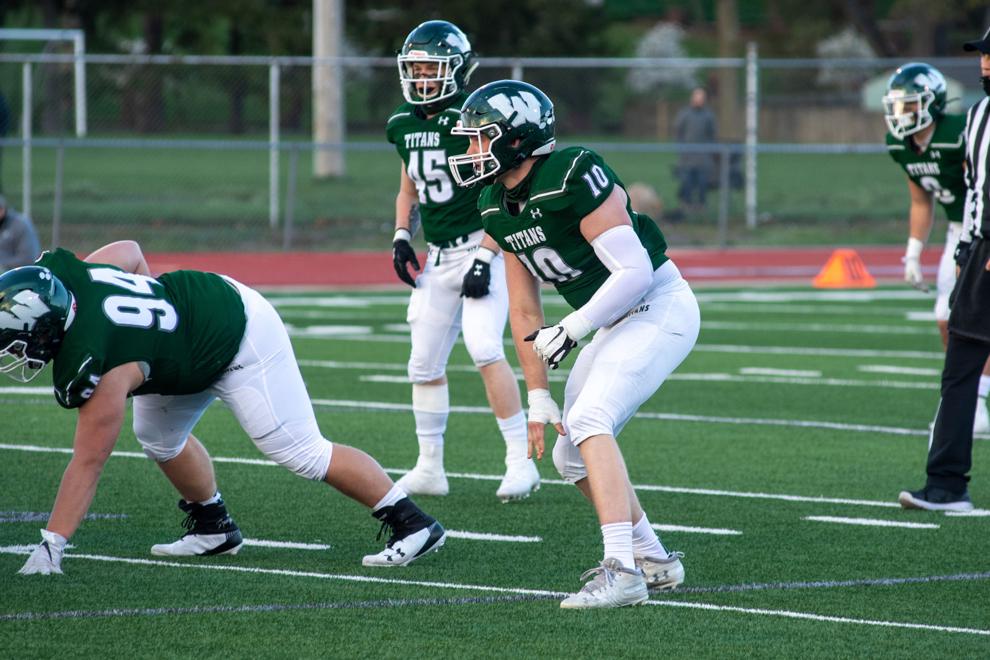 Senior Nick DeGregorio (10) is confident in the defense of Illinois Wesleyan ahead of the season opener against Franklin, Ind., On Saturday at 1:30 p.m. at Tucci Stadium.
Jim Benson
NORM, SAGE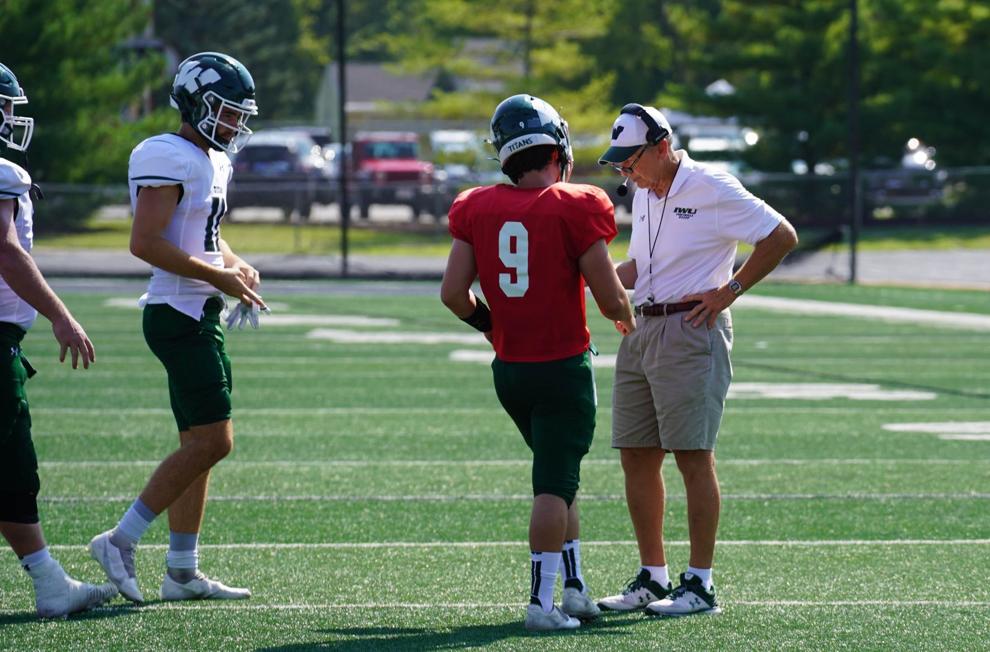 Illinois Wesleyan head coach Norm Eash speaks to quarterback Sage Shindler during Saturday's Green-White scrimmage at Tucci Stadium.
Jim Benson
BULLIE RUN
Nico Rendina, left, approaches to bring down Hamid Bullie during Illinois Wesleyan's Green-White scrimmage at Tucci Stadium on Saturday.
Jim Benson
081821-blm-iwu-1defensemen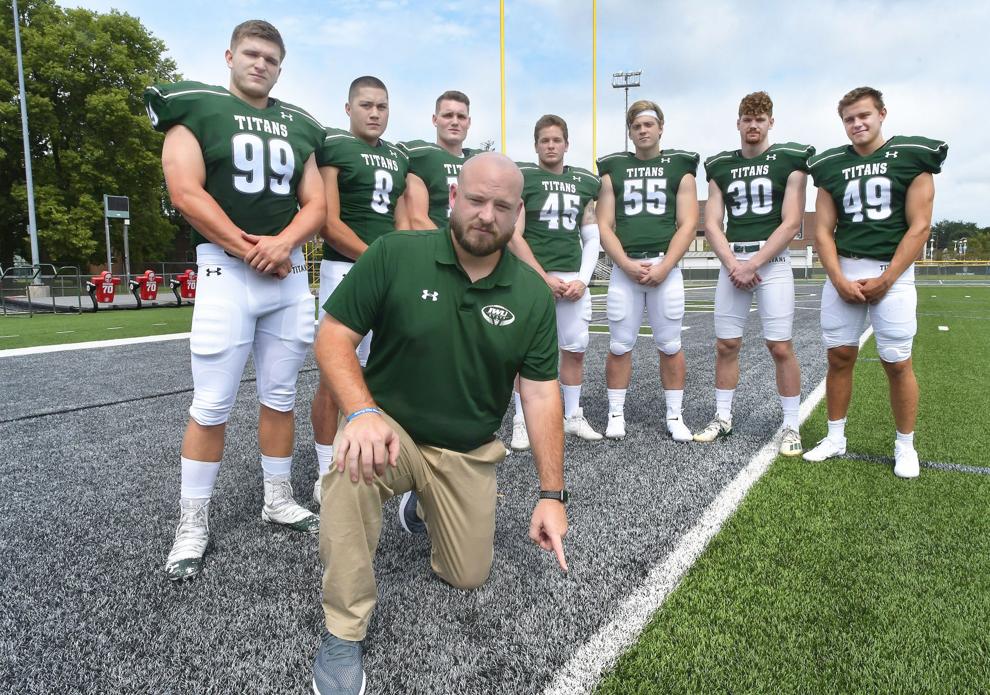 New Illinois Wesleyan University defensive coordinator Matt Williamson draws a line on the goal line for his veterans, which include (left to right) Thomas Mulhall, Jack Dawson, Nick DeGregorio, Bo Neidballa, Conor Murphy, Tyler Maple and Arthur Chatt belong.
DAVID PROEBER, THE PANTAGRAPH


Contact Jim Benson at (309) 820-3404. Follow him on Twitter: @pg_benson
Get Local News in Your Inbox!