Editor's Note: A prior version of this story, Jones was identified using the incorrect pronouns. The story has been updated to reflect their gender identity. We regret the error.
URBANA — This summer, Champaign-Urbana teens who identify as Black, Indigenous, and People of Color (BIPOC) are getting free weekly training in all aspects of theater in the Teen Spotlight at the Station Theater this July.
the Celebration Company at the Station Theatre and the Champaign-Urbana Theater Company partnered with Black Voices Theater Productions to hold this summer workshop, with financial support from an arts and culture grant from the city of Urbana. The organizers say that because the workshop is geared specifically toward non-white kids, it's more than just an opportunity for the kids to learn about acting or costume design. They can also learn about theater created by and for people who look like them and may have had similar experiences to their own.
The workshop participants pose in the outfits they've assembled before explaining the characters they each imagine based on their costumes. Krishnan brought in boxes of costume pieces for the students to look through and then develop characters as an acting exercise.
"Teen Spotlight is an opportunity to expose POC youth to POC theater," said J'Lyn Hope, one of the instructors for the workshop. "It's an opportunity to engage them in the writings of artists who understand their experience, because it's a part of their own and to give them exposure that they kind of wouldn't get in our community in the same way."
Hope is one of four instructors who are running the workshop, where the teen participants have been reading and writing monologues, practicing scenes, and learning how to improvise, as well as hearing talks from guest speakers about aspects of theater like sound design and stage management .
Director Leslie Smith of Black Voices Theater Production, one of the workshop's leaders, adds that another reason the Teen Spotlight is so important for the kids is that many students don't get the chance to get involved in the arts, saying that the organizers wanted to "teach them things that they ordinarily perhaps don't have the opportunity to learn in traditional schooling, as some of the programs have been cut over the years."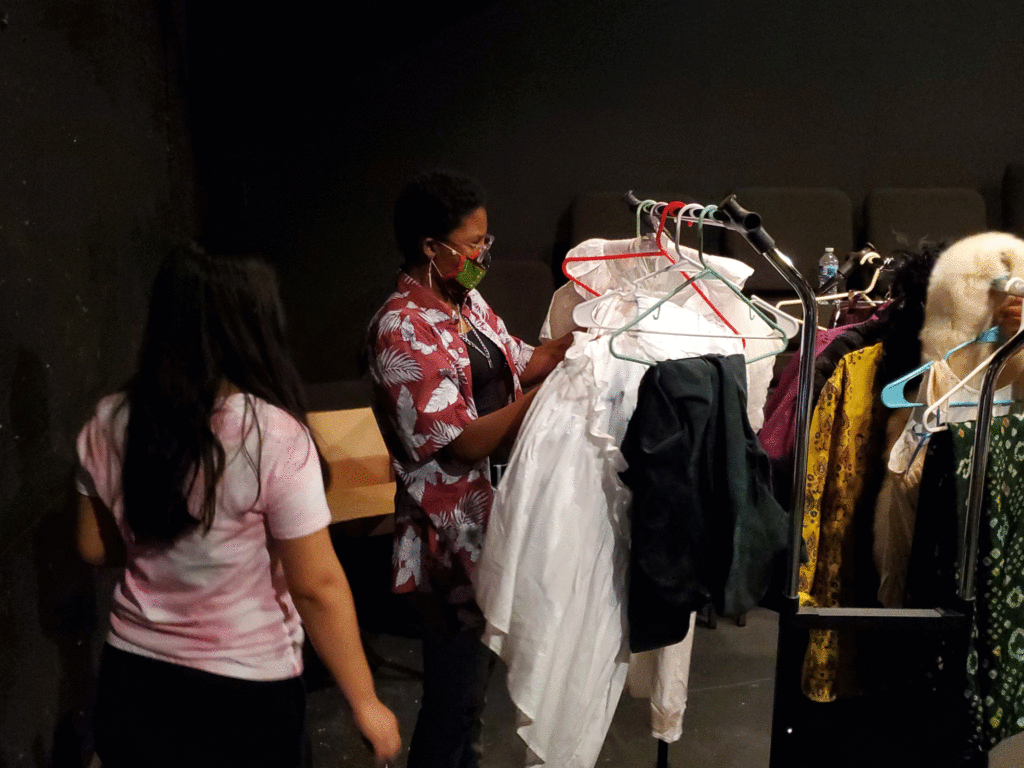 Nevaeh Bickerstaff looks through the costume rack. Bickerstaff is one of 13 teens enrolled in the workshop at the Station Theatre.
The teens expressed a few different reasons for joining the workshop. For some, like 15-year-olds Kamiah Staples and Chandler Jones, it was an opportunity to try something new and step out of their comfort zones. "I thought it would be fun, and it could help me get out of my shell because I'm a shy person," Staples said. Jones said they had no acting experience, but their friends convinced them that this would be a fun way to try it out.
Others, like 15-year-old Samiah Goines, saw an opportunity to practice their skills and improve before they were auditioned for shows in the future. Some others said seeing the posting for the workshop made them aware that they didn't see many other people of color in the arts and made them want to change that.
"I saw this thing for people of color, and I realized how under-represented we are within theater communities," said 14-year-old Nevaeh Bickerstaff. "So I saw it as a chance to not only meet people who have the same interests I do but a way to expose myself to more of the community."
The teens will be recording their performances of monologues and scenes, some of which they've written themselves, at 2 pm on July 31 at the Station Theatre. The performances will be streamed on Facebook Live. More information can be found on the Station Theater's site or Facebook page.
window.fbAsyncInit = function() { FB.init({ appId : '2269864749914972', xfbml : true, version : 'v3.1' }); FB.AppEvents.logPageView(); }; (function(d, s, id){ var js, fjs = d.getElementsByTagName(s)[0]; if (d.getElementById(id)) {return;} js = d.createElement(s); js.id = id; js.src = "https://connect.facebook.net/en_US/sdk.js"; fjs.parentNode.insertBefore(js, fjs); }(document, 'script', 'facebook-jssdk'));