Drop in a question of your very own by clicking here
Happy Independence Weekend! Huzzah!
Here's how Champaign-Urbana celebrated the holiday in 1896 — 126 years ago — according to The Champaign Daily News.
"First the Big Four (train) from the east came in about 3:20 and unloaded quite a number. Then the fast mail (train) from the north dropped its quota, and so it went until noon," the newspaper reported. "The country people  began arriving in buggies and wagons about 7 o'clock …"
Later the Champaign and Urbana firemen put on a display along Hickory Street of their firefighting ability.
"Every foot of available space was occupied for blocks by a pushing, crowding, struggling mass of humanity, each member of which was craning his neck to the utmost to get a glimpse of what was going on. Three lines of hose were laid, two by Champaign and one by Urbana, and after the fire had got a good start the water was turned on. It didn't take but a few minutes to demonstrate that the tree lines would shut down the fire in too short a time and so Urbana was left to watch the blaze while the two Champaign boys turned the hose on each other."
Once evening came crowds gathered to watch the fireworks "and Main Street was packed from one end to the other," the Daily News reported.
"The work was done from the top of the Supply Co.'s building and certainly a more advantageous place could not have been secured. The program opened by sending up a balloon followed by a very pretty display welcoming the people. The entertainment was kept up for about two hours and there were many beautiful and novel effects, which brought out shouts of applause from the immense throng."
Now back to this week's mailbag: Virginia Theatre acts, absentee farmland ownership in Champaign County, progress on the Hotel Royer, violence concerns at Carle Foundation Hospital and attendance at last week's Trump rally in Quincy.
Absentee farmland owners
"How much area farmland is owned by non-local investors? I know the question is nebulous, use any criteria you like."
A recent story in Farm Progress magazine by Michael Lauher, a farm appraiser and farm manager in Savoy, revealed the top 10 absentee farmland owners in 14 central Illinois counties, including Champaign. Those 10 landowners hold only 0.02 percent of all the farmland in the 14 counties. It would take me weeks to figure out how much farmland in Champaign County is owned by absentee landlords but I can assure you that the vast majority of local farms are owned by Illinoisans.
Here's from Lauher's research on absentee landowners in Champaign County, some of whom are actually Champaign-Urbana residents:
— The Church of Jesus Christ of Latter-Day Saints, 4,232.72 acres
— Scully family (a farming family from Ireland that settled in Logan County in the 1800s and started buying land). 81 acres in Champaign County
— Bill Gates, co-founder of Microsoft, 1,855 acres in Champaign County
— Renato Ribeiro, the Brazil native behind Incobrasa Industries Ltd., a soybean producer and processor located off Interstate 57 in Gilman. 1,132.84 acres in Champaign County.
— Shahid Khan, owner of Flex-N-Gate, the Jacksonville Jaguars, Fulham F.C. of soccer's Premier League and the Urbana Country Club, owns 3,027.59 acres of Champaign County farmland
— Premiere Farm Properties, investment fund for the pension fund firm TIAA-CREF, owns 789.5 acres of Champaign County farmland
— Global Ag Properties USA, another pension investment fund, owns 674.13 acres.
— Jimmy John Liautaud, founder of the Jimmy John's sandwich chain, owns 1,700.08 acres
— CERES Partners, an asset investment manager bases in South Bend, Ind., owns 376.51 acre sin Champaign County.
The Mormon Church, listed officially in property records as Farmland Reserve Inc. and based in Salt Lake City, is the largest farmland owner in the county. It has land in Hensley, Mahomet and Scott townships.
There are, however, other large, local farmland owners aside from Khan and Liataud: J&G Warner Trust 3,027.81 acres; Tack Farms LLC/Slo Farms LLC/Magalodon Farms LLC/Amy Allison Farms LLC, 2,651 acres; and Francis J. Barker, 2,027 acres.
Violence prevention at Carle
"This morning I was at Carle ER and the door greeter who gives out the visitor bands seemed to be wearing a bullet proof vest. Is this new? Is the ER really that dangerous now? I understand the guards having them but was just really surprised that a greeter would need one."
"What I can share about this question," said Carle spokeswomen Brittany Simon, "is that we are committed to creating the safest environment possible for team members and are exploring several opportunities to offer increased safety measures within our facilities, including in the Emergency Department.
"The national and local rising trend of violence in healthcare facilities is felt within the Carle healthcare system and we look to both internal and community solutions to help curb the regional impact of violence. We are proud to be a part of several partnerships across the region working toward creating safer communities."
Hospital complaint
"Carle Hospital Rogers 4 is badly in need of upgrading. Rooms are not private and space is limited. Is this going to be addressed? HIPAA requirements cannot be met in such a situation."
"What I can share about this question is that Carle is committed to providing the best experience possible while seeking our care," said Simon. "As we continue to serve the region as the Level I Trauma center and offer the highest level of specialty care in the area, we work hard to balance the routinely high capacity levels at Carle Foundation Hospital to best support community members.
"While offering semi-private rooms is necessary for us to meet the needs of the region, it's done with the utmost priority to maintain all HIPPA requirements and quality standards. We recognize the significance and impact providing as much privacy and comfort as possible can bring to a healthcare experience and have added private room space in our medical/surgical hospital areas and our emergency department with each new addition to the hospital."
Faded highway sign
On I-74 westbound at mile marker 159 is a very faded and I'm sure the original sign for Clinton Lake. It's very hard to read. Any chance IDOT or the (Department of Natural Resources) can get a new sign?"
"Thank you for your inquiry about highway signage. A work order was previously submitted to the statewide freeway sign maintenance contract to replace this and other aged signs in the area," said Kensil Garnett, the Region 3 engineer for IDOT. "The contractor has been working recently on a large backlog of such work orders in our district. We will also be happy to see this sign replaced."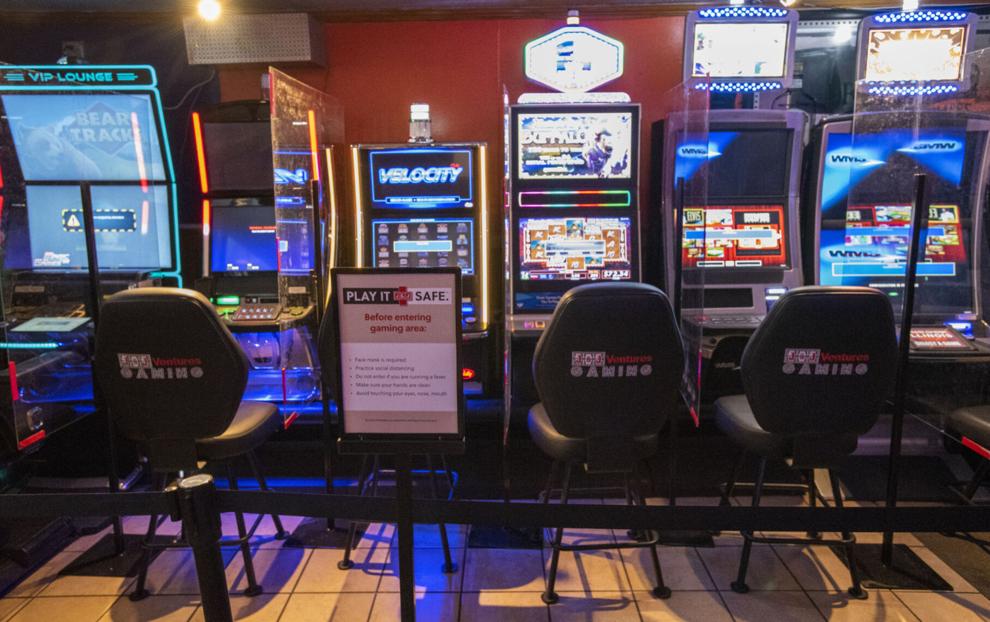 Robin Scholz/The News-Gazette

Video gaming
"I was told by some bar owners that video gaming numbers are down. Is that true?"
There is strong evidence to suggest that is true. Statewide, "funds in," the amount of money put into video gaming machines to wager, was $900 million in May 2022. That's up from the $890 million in May 2021, but the number of video gaming terminals had grown by more than 3,000.
Per terminal, $22,395 was bet at each terminal in May 2021, but $20,966 at each terminal in May 2022.
Perhaps more alarming to local governments is the drop in "funds in" reported in many local communities.
For the period February to May, funds in in Champaign dropped from $37.53 million in 2021 to $35.1 million in 2022. Urbana reported a similar decline — $15.9 million to $14.5 million. Rantoul's yield dropped from $8 million to $7.4 million.
Danville saw a slight increase — from $15.8 million in February-May 2021 to $15.9 million in February-May 2022 — but the number of video gaming terminals in the city increased from 151 to 181 in that time.
Campustown apartment vacancies
"I see another 1,000-bedroom apartment complex is being built in Campustown (at 28 E. Green St., Champaign). On Nov. 10, 2019, you wrote about the enormous vacancy rate all these luxury apartment buildings were having such that the owners wanted a tax break. Is this a problem now?"
I talked to members of the Champaign County Board of Review (they were the ones who heard the appeals from high-rise apartment building owners in 2019). They said there were no claims from high-rise owners last year about elevated vacancy rates. Perhaps that will change this year but apparently apartment construction is keeping pace with rising enrollment at the University of Illinois. It's grown from 42,606 in the fall of 2012 to 56,257 last fall.
(Incidentally summer 2022 enrollment figures became official earlier this week. There are 18,561 students enrolled at the Urbana campus this summer; that's down from 18,742 last summer. But it's up from 10,010 in the summer of 2012).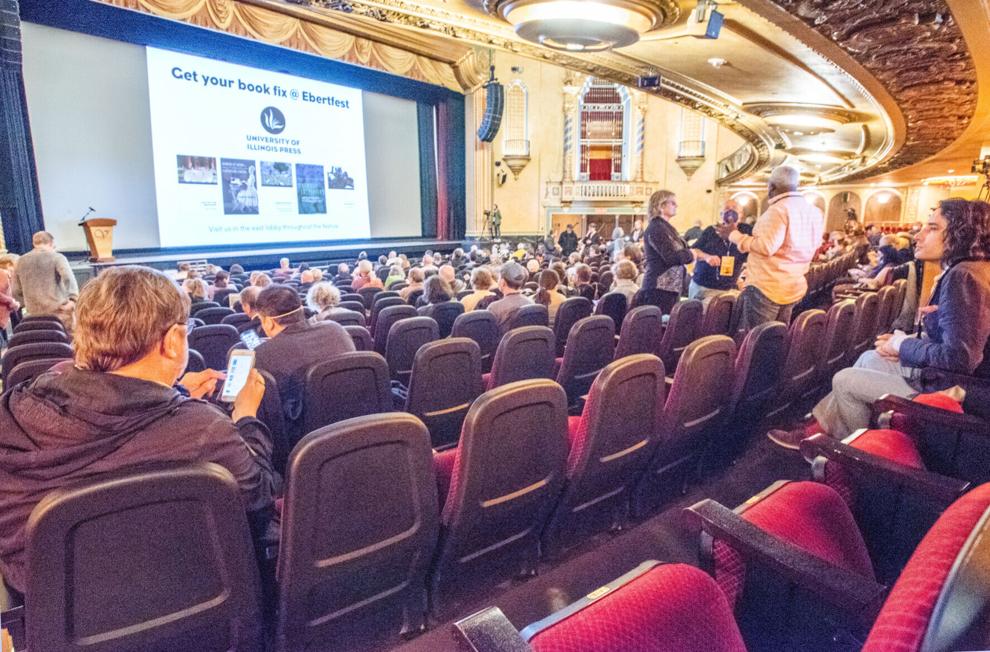 Robin Scholz/The News-Gazette

Virginia Theatre acts
"How does the Virginia Theatre decide on what acts to book? There have been many established artists with very few emerging acts. Clearly, budget and schedule are key factors. However, there are plenty of regional and national artists whose tours pass through C-U. There may even be UI alums to consider."
"The Virginia Theatre's calendar typically includes a large number of community events and fundraisers, local children's shows, special film screenings, and a growing roster of touring performers. But the Virginia is also somewhat unique for a space its size in that many of these events (both local and touring) are facility rentals, with a small number of self-presented shows added into the mix by the Champaign Park District (which owns and operates the building)," said Steven Bentz, director of the theater. "A given promoter might decide to present an artist like Chris Isaak or Mary Chapin Carpenter, Herman's Hermits or Paula Poundstone (all current rental offerings at the Virginia), and they will simply lease the theatre to put on that show.
"It's been really gratifying for the park district to see the positive public response to established artists like these, but it's also been exciting to see newer acts like Hasan Minhaj and Kurtis Conner (both recent rentals) sell out the Virginia. We look forward to seeing even more of those kinds of rental bookings develop in the future as promoters try out different things in the market.
"For the park district's self-presented series, we try to balance well-known acts such as LeAnn Rimes (coming up Sept. 9) with emerging talent like our recent one-man show The American Soldier, featuring actor Douglas Taurel, and with special movie presentations like our Arthouse Experience Film Series, curated by former Art Theatre Director Sanford Hess.
"And with both the Virginia's rental and self-presented programs, we work hard to listen to what the public is asking for, talking with community members about what they'd like to see on the Virginia stage, compiling lists of possible future shows, researching entertainment industry trends, and communicating with talent agencies and promoters about prospective bookings.
"The entertainment world is definitely heating up this year after a long, difficult pause, and the Virginia Theatre's 2022-2023 season might actually end up being its busiest yet. How the calendar looks in the end will certainly be shaped by the local and national promoters renting this space as they work through the many economic and scheduling factors that go into putting on a show here in east central Illinois."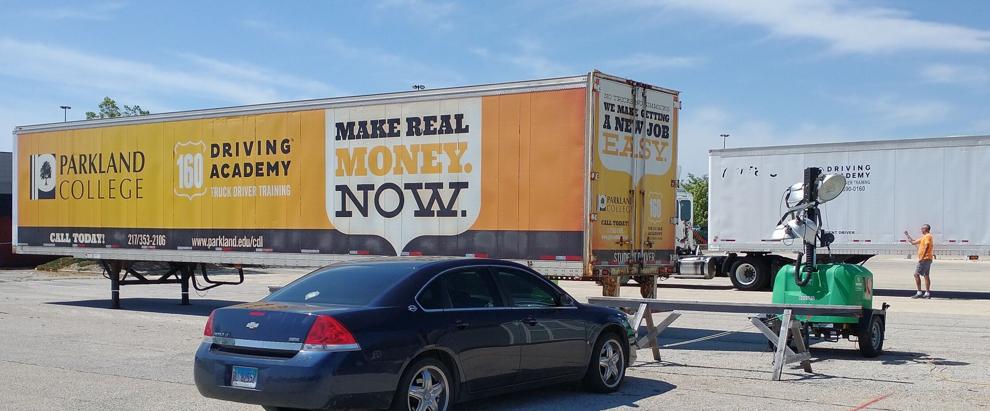 Tom Kacich/The News-Gazette

Parkland truck driver training
"Why can't Parkland College move its truck driver training to their campus parking lots? There is way too much congestion already on the intersection of Prospect and Marketview Drive. These big rigs cause backups constantly. Also, let's get our right turn arrow back on Mattis and Anthony."
"Parkland College's CDL Training Program is working to meet the expanding need for licensed truck drivers within our community. Students who complete Parkland's CDL training program quickly move into careers that pay family sustaining wages and meet a critical need in the supply chain," said Stephanie Stuart, vice president for communications and external affairs at Parkland. "Over the past year, the program has served more than 200 students, many of whom receive funding from area employers, Workforce Innovation and Opportunity Act funds, or the college's Support for Workforce Training program to take part in the four-week training.
"At this time, the college does not have a parking lot space that could be dedicated for this purpose on the main campus. Additionally, the roads near the current training site are better equipped than Parkland Way (the college's internal perimeter road) to handle large vehicles. The site near Rural King has consistently met the college's needs for a large, paved surface with adequate lighting and access to main access roads for our students and instructors at a responsible rate to the college.
"While we recognize there are other businesses and activities taking place in this area, training takes place within the leased area. Trucks access public roads along with other vehicles for on-the-road portions of the training program, as they would at any other site.
"Safety is our utmost priority, so if the reader has any immediate concerns regarding safety, we encourage them to contact Parkland's Public Safety Department at 217-351-2369."
For more information on Parkland's truck drive training program: here.
With regard to your question about Mattis & Anthony, Kris Koester of the Champaign Public Works Department said: "Public Works is aware the overlap arrow is not working. Traffic and Lighting staff have been working closely with the manufacturer of the cabinet to resolve the issue, but that has not yet been successful. We are currently waiting for one of their technicians to schedule a time to be on site to troubleshoot the cabinet and hopefully resolve the issue."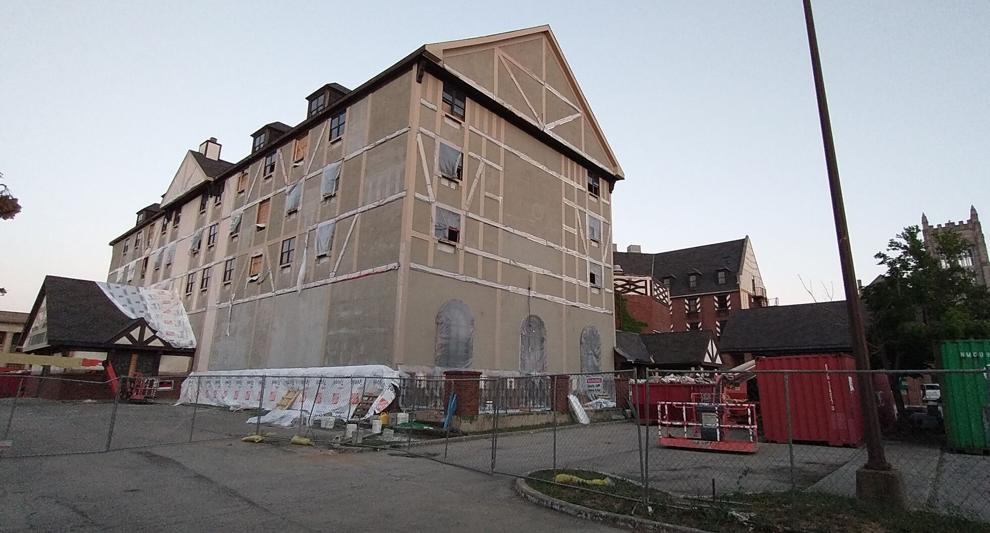 Tom Kacich/The News-Gazette

Hotel remodeling
"Why has no building permit been issued for the remodel of the hotel at Lincoln Square? It's obvious that there is work going on in there."
"The current exterior stucco/masonry repair and decorative half-timber replacement work is considered cosmetic and does not require a building permit, however Icon Hospitality did obtain a Certificate of Appropriateness from the Historic Preservation Committee in June of 2021 for this work," said Nick Hanson, building official with the city of Urbana.
"Our office has approved the plans for the interior remodel and are in the final stages of issuing that permit. However, no substantial construction work has started. Icon Hospitality has only been working to remove the old furnishings and fixtures from the interior during the permitting process."
The slow pace of work suggests that the hotel will not be open in late 2022, as was promised last November.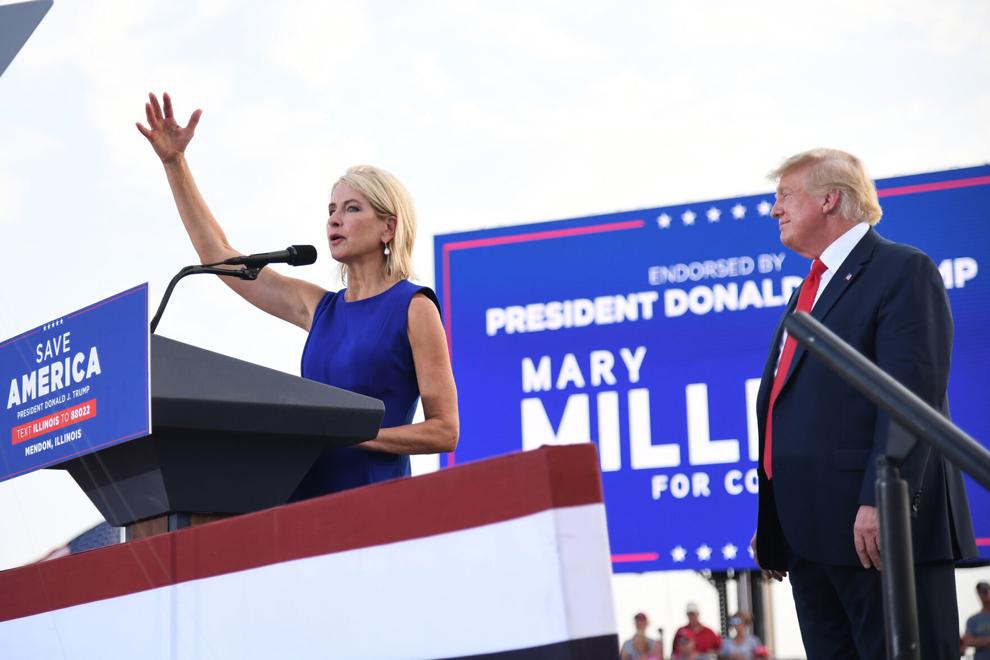 U.S. Representative Mary Miller (R-IL) gives remarks after receiving an endorsement during a Save America Rally with former US President Donald Trump at the Adams County Fairgrounds on June 25, 2022, in Mendon, Illinois. Trump will be stumping for Rep. Mary Miller in an Illinois congressional primary and it will be Trump's first rally since the United States Supreme Court struck down Roe v. Wade on Friday. (Michael B. Thomas/Getty Images/TNS)

Michael B. Thomas/TNS

Attendance at Trump rally
"How many people attended the Trump rally in Quincy on June 25th?"
Adams County Sheriff's Office Chief Deputy Sam Smith said he was told by Secret Service officials that more than 9,000 people went through the metal detectors at the county fairgrounds for the rally Saturday.
Because of the expanse of the area, though, Smith said it was possible to see and hear Trump without entering the fairgrounds.
"If I had to guess I'd put the crowd at more than 10,000 but less than 15,000," he said.
Voter ID
"When going to vote today, I asked if we would be required to show ID. I was told that they are not allowed to ask for ID. All they have to do is get a name and address. So I could give them a name and address of anyone who is a registered voter, and vote in their place? With all the issues of potential voter fraud and talk of having safe and secure elections, how is this secure? Is this just a local thing, or does this come from the state?"
It's state law. Illinois is one of about 15 states that do not require voters to present identification while voting, in most cases.
From the State Board of Elections: "If you register by mail, you must vote in person the first time, either at the polling place, or by early voting, unless you submit with your mail-in registration form your driver license number or state ID number, the last four digits of your Social Security number, or one of the forms of ID listed below."
That includes: a current and valid photo identification, a utility bill, bank statement, government check, paycheck, lease or contract for residence, student ID & mail addressed to voter's residence, or government document.