A pallet loader moves large quantities of food between storage locations at Midwest Food Bank in Normal. Supply chain issues have affected distributors of almost every item, from electronics to food, and even charity operations.


DAVID PROEBER, THE PANTAGRAPH


The Pantagraph is counting down the Top 10 stories of 2021. This is No. 3. What do you think are the top stories of the year? Join our conversation here.
BLOOMINGTON – Despite the widespread availability of COVID-19 vaccines across the country this year, leading to many businesses and events reopening to full capacity, the pandemic has still controlled several facets of the economy.
Outbreaks of the coronavirus in domestic and international manufacturing plants created pauses and bottlenecks in the production of numerous items.
Necessary products, everyday items and luxurious goods have been backed up in the global supply chain, creating a shortage of materials while demand grew.
Just as Americans and Europeans were eagerly awaiting their most normal holiday season in a couple of years, the omicron variant has unleashed a fresh round of fear and uncertainty for travelers, shoppers, party-goers and their economies as a whole.
The continued risks of COVID and the emergence of the delta and omicron variants have kept workers wary about returning to jobs for the same pay rates and benefits.
The new variants also caused the first and second quarter economic growths to halt over late summer and fall.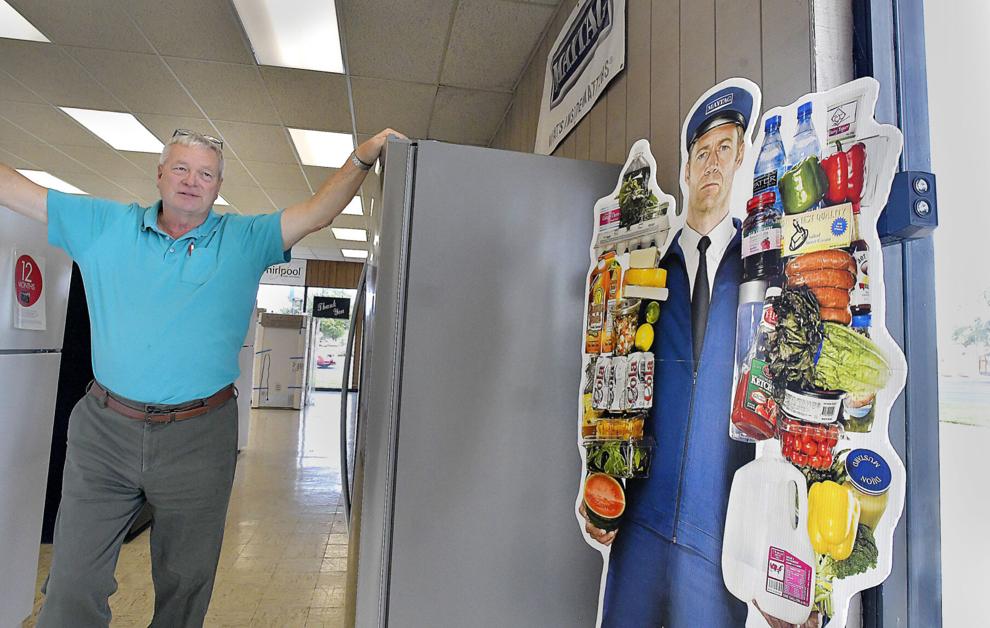 Steve Kant, co-owner of OK Appliance, is shown in his Bloomington store. Issues with the supply chain have had a widespread impact on area businesses.


DAVID PROEBER, THE PANTAGRAPH


Steve Kant, co-owner of OK Appliance in Bloomington, said in August that the store was "nowhere close" to back to normal.
The store has experienced shortages in refrigerators and other necessary components to larger products.
Manufacturers that the company works with "shut the plants down for two months, didn't build anything, so they blew through a lot of whatever they had hidden away in inventory," Kant told The Pantagraph at the time.
As supply decreased and demand increased, the U.S. has seen its largest inflation rate in nearly four decades.

Chicken wing 'shortage' comes to roost in Southern Illinois
Prices for gasoline, used and new vehicles, energy services, and food products such as cooking oil, beef and chicken, soared in mid-to late 2021.
The U.S. Labor Department said in December that consumer prices increased 6.8% in November compared to a year ago.
Those price increases have largely affected low-income households, as costs for everyday necessities have continued to grow.
All the while, experts are unsure yet how the omicron variant will affect inflation and the supply chain holdups in the long term, but for as long as the pandemic lingers on, it is likely that inflation will, too.
Collection: Pantagraph Photos of the Year 2021
Weather to the extreme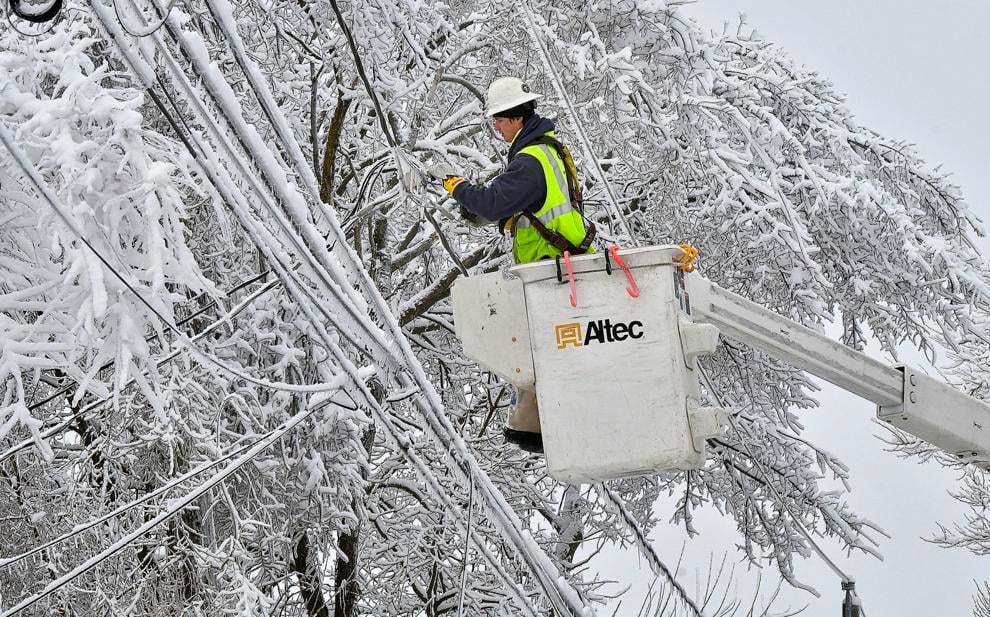 A lineman with Intren, an electrical contractor from Union, Illinois, untangles ice covered electrical lines in the 1300 block of W. Mulberry St. in Bloomington, Monday, Jan. 4, 2021. The workers followed up on utility issues following an ice storm that caused wide outages across central Illinois.


DAVID PROEBER, THE PANTAGRAPH


Reaction to insurrection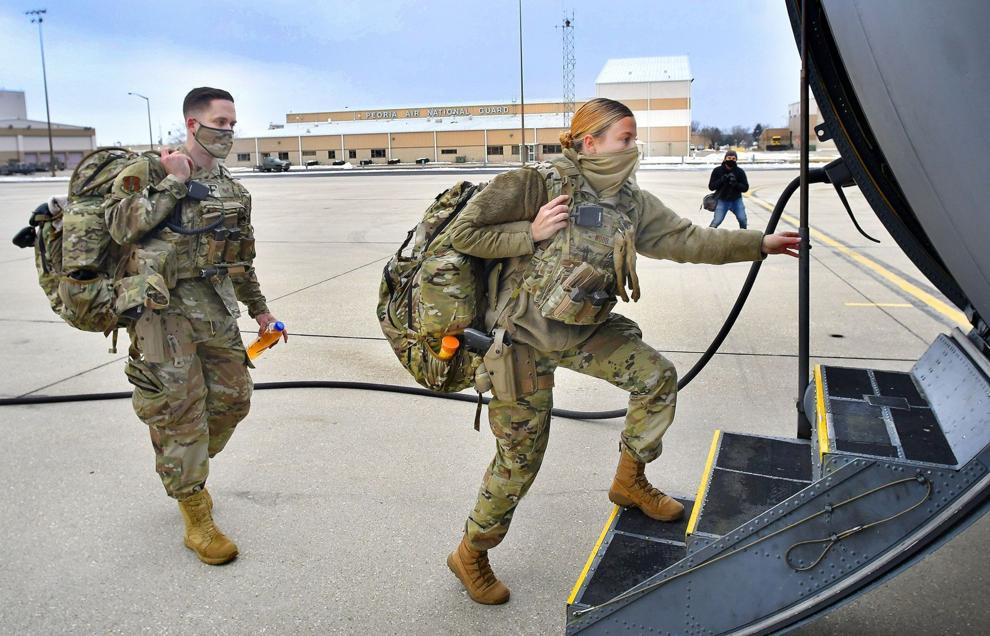 Airman Bridgett Wood, 20, right, an Illinois State University freshman from Morton, majoring in business and marketing, and Tech Sgt. Jacob Moushon, 29, of Peoria, a crime analyst with the Peoria Police Department, load onto a C-130 national guard transport plane as they deploy to Washington D.C. to provide security for the presidential inauguration, Thursday, Jan. 14, 2021. They are both members of the Illinois National Guard 182nd Air Lift Wing Security Forces. Guardsmen were sent to Washington following the Jan. 6 insurrection.


DAVID PROEBER, THE PANTAGRAPH


Pandemics survivor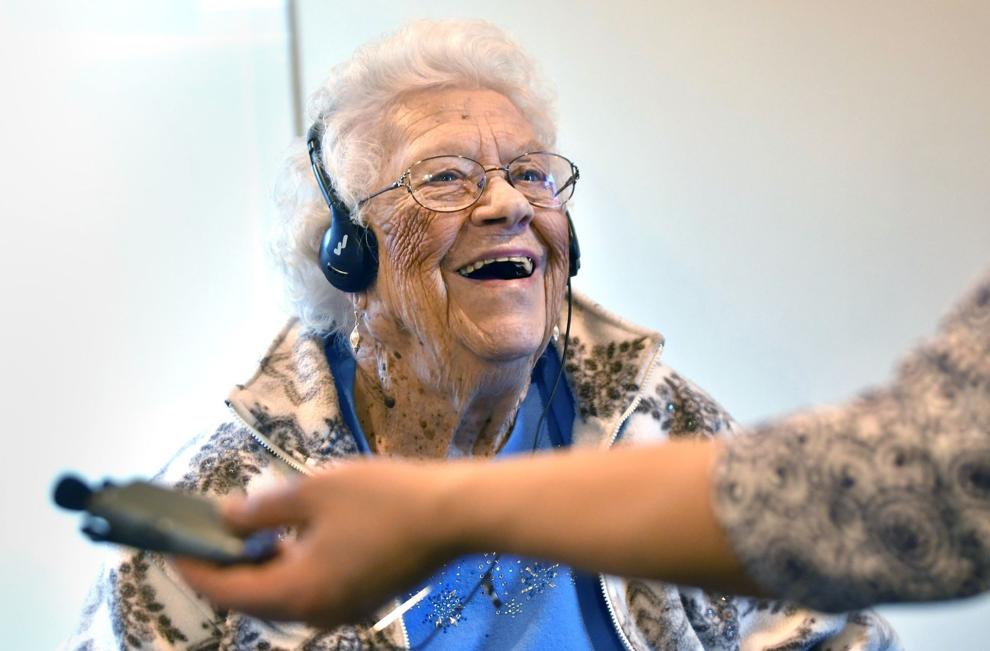 Dorothy Householder recounts moments in her 103-years of life that show she is survivor while sharing during an interview at in Fairview Haven Retirement Community in Fairbury, Tuesday, Jan. 12, 2021. She survived the 1918 flu pandemic.


DAVID PROEBER, THE PANTAGRAPH


Capitol security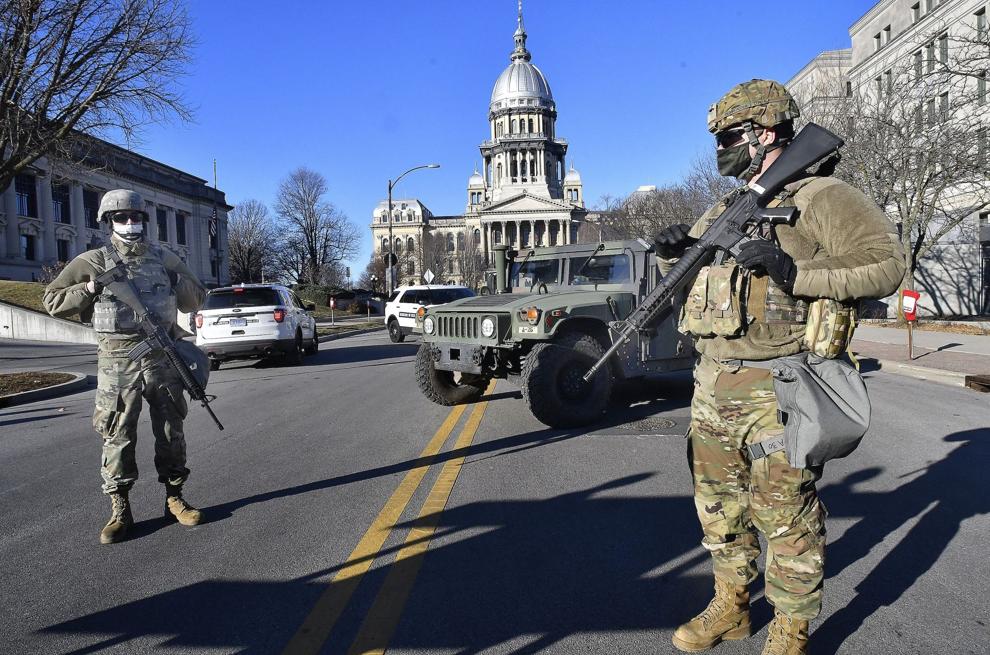 Illinois National Guard troops stand guard over the Illinois State Capitol just an hour from the inauguration of Joe Biden as the President of the United States, Wednesday, Jan. 20, 2021. Widespread fear over continued right-wing protests led state officials to place guardsmen around the capitol.


DAVID PROEBER, THE PANTAGRAPH


Leadership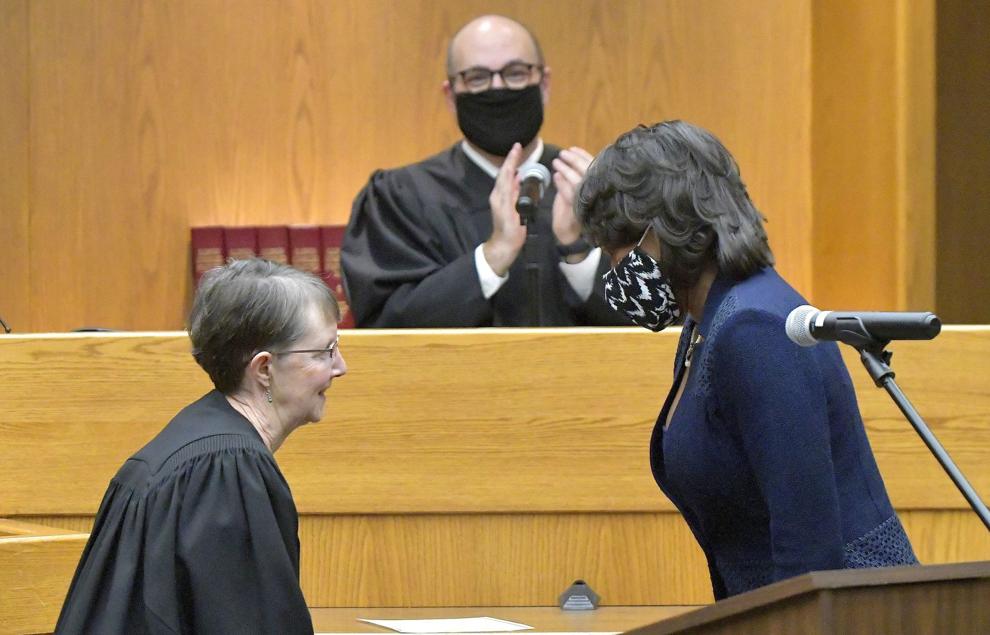 Retired McLean County Judge Elizabeth Robb, left, and Carla Barnes, bow to each other as opposed to giving each other a hug, as Barnes was sworn onto the bench in the 11th Circuit Court while Chief Judge Mark Fellheimer applauds, at the Law and Justice Center in Bloomington, Illinois, Thursday, Feb. 11. 2021


DAVID PROEBER, THE PANTAGRAPH


From the ashes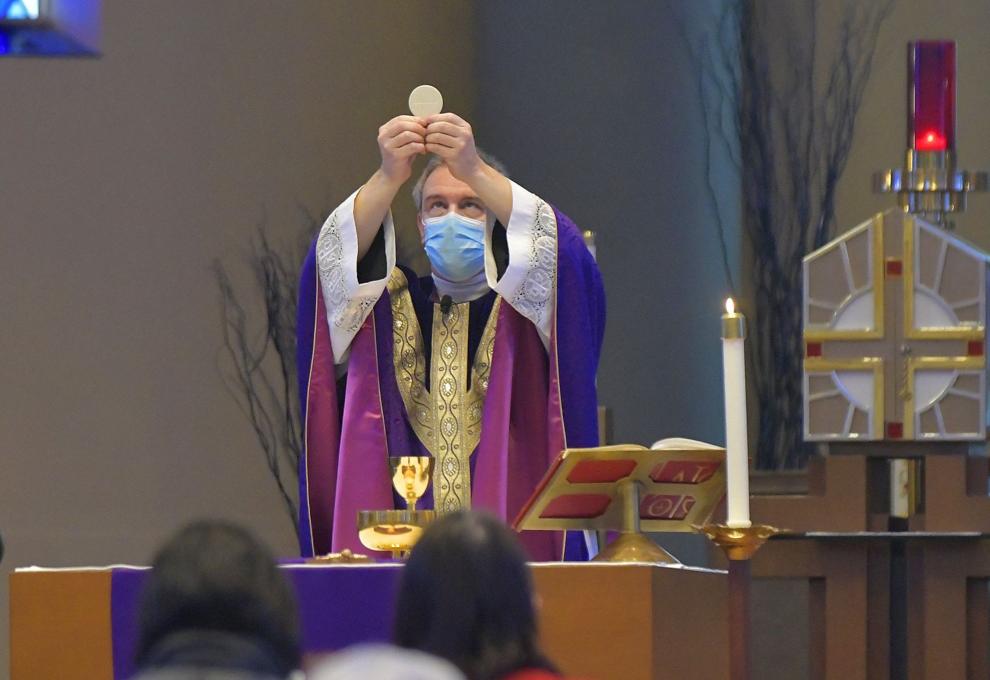 Armed with a mask to fight the pandemic, Father Jeffrey Stirniman, pastor of Holy Trinity Catholic Church, 711 N. Main St., Bloomington, concludes Ash Wednesday services with a celebration of Holy Communion, Wednesday, Feb. 17, 2021.


DAVID PROEBER, THE PANTAGRAPH


A little closer to Thee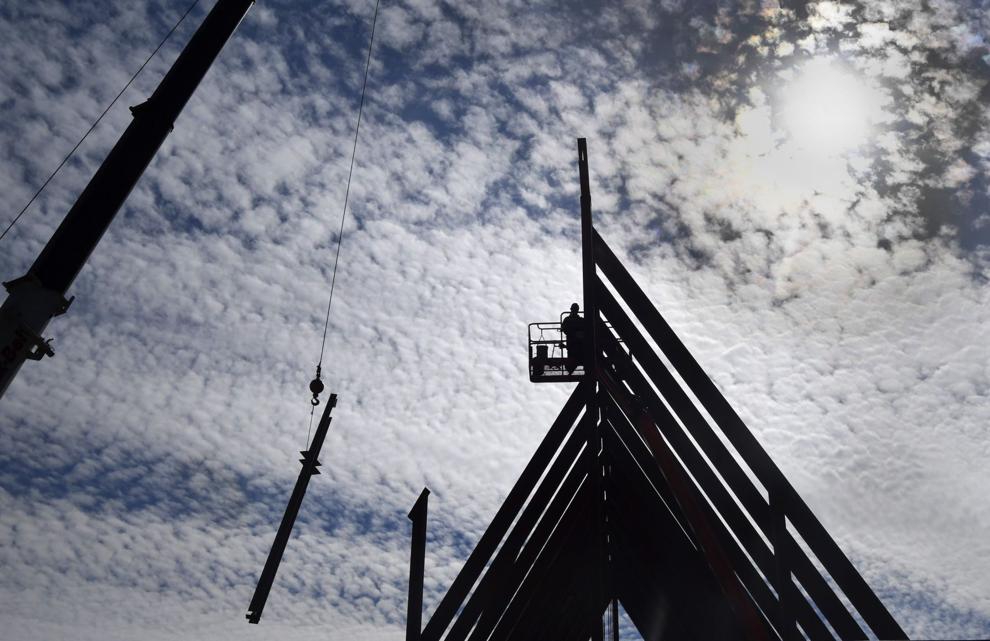 Steel beams are lifted into place as a worker with VanBuskirk Steel of Peoria, builds the A-frame construction that will be the new sanctuary at St. John's Lutheran Church, 1617 E. Emerson St. in Bloomington, Wednesday, Feb. 24, 2021.


DAVID PROEBER, THE PANTAGRAPH


Plan of attack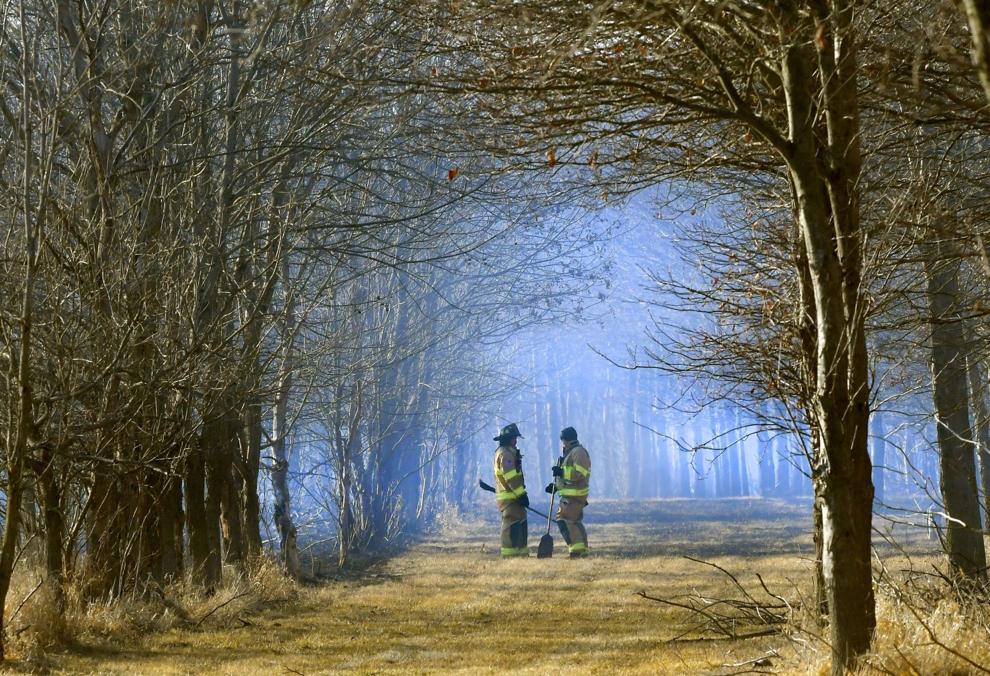 Firefighters plan their attack as they fight a fire that spread into about 20 acres of trees at the Bloomington-Normal Water Reclamation District, four miles southwest of Bloomington, Friday, Feb. 5, 2021.


DAVID PROEBER, THE PANTAGRAPH


In the fight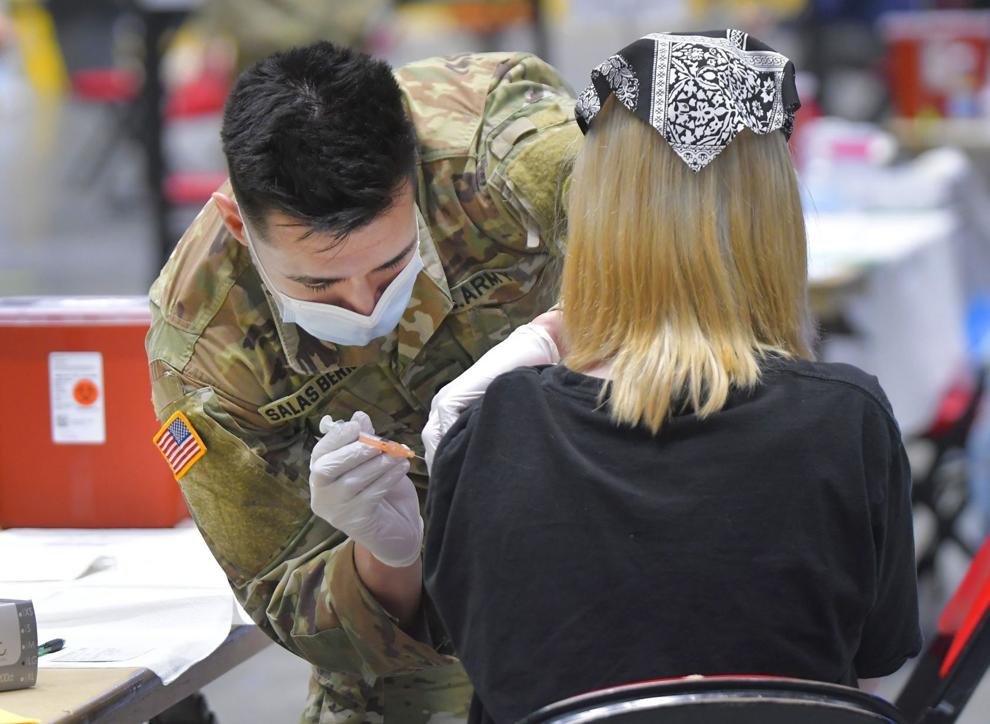 Army National Guardsman Spc Noe Salas Bernal, a medic with the 178th Infantry Regiment from Chicago, vaccinates a patient at the McClean County Health Department's COVIC-19 vaccination clinic at Grossinger Motors Arena, Thursday, March 11, 2021. Aout 60 guardsmen assisted in vaccinating 800 residents during the clinic. The vaccinations were the most effective means yet to fight the coronavirus.


DAVID PROEBER, THE PANTAGRAPH


A night for the history books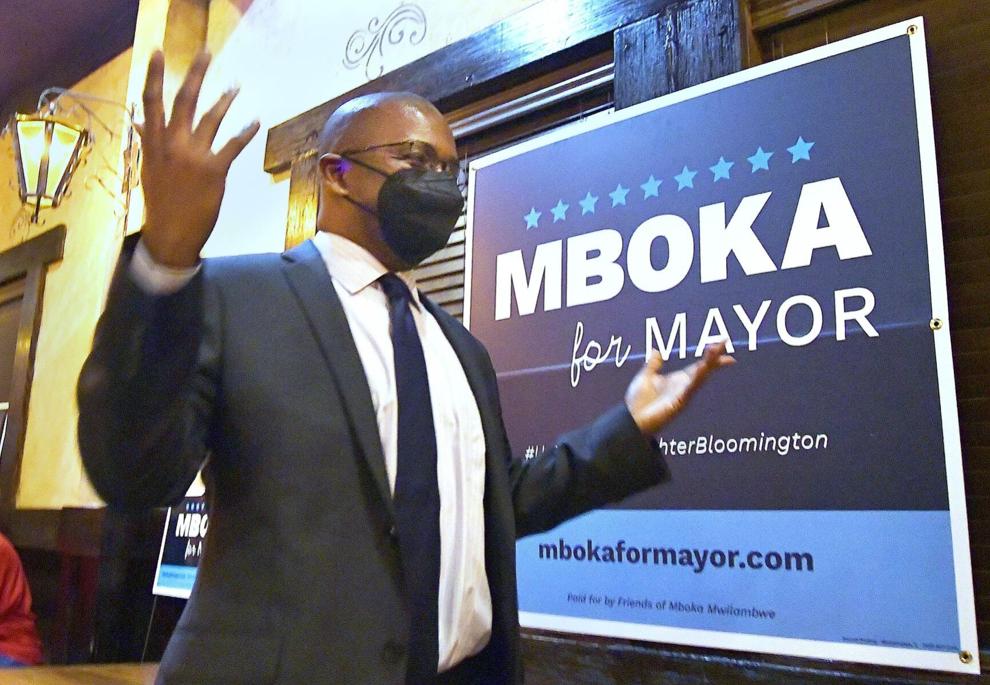 Newly elected Bloomington Mayor Mboka Mwilambwe celebrates early returns that showed him ahead as he arrived at his watch party at Hacienda Leon, Tuesday, April 6, 20212.


DAVID PROEBER, THE PANTAGRAPH


Structural questions after fire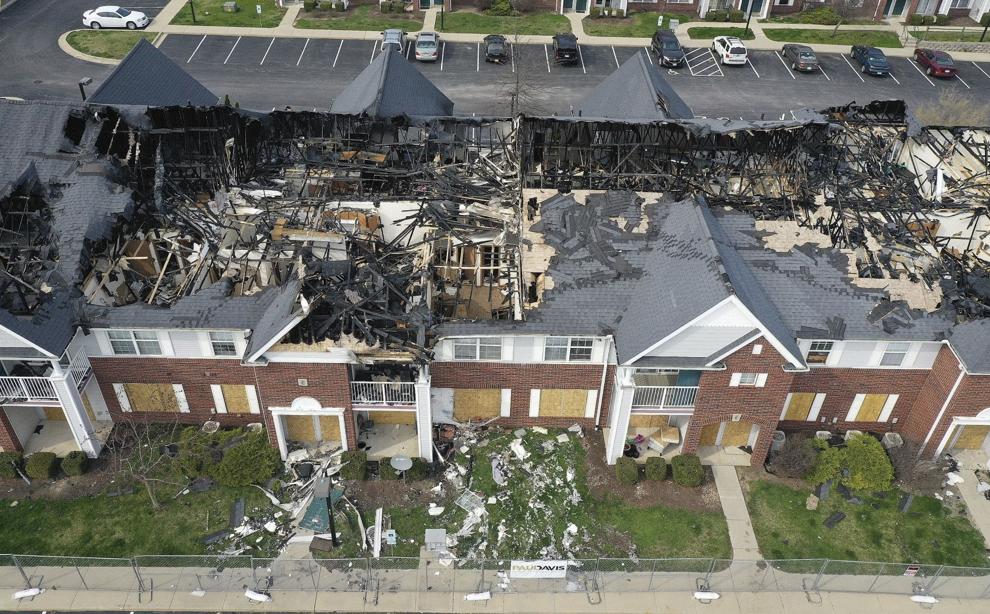 Damage to the roof and other parts of the structure were observable by aerial photography, Monday, April 5, 2021, after fire destroyed a large apartment building at Traditions Bloomington Apartments, 265 Reeveston Drive last March. About 20 units were damaged or severely damaged in the fire. Fire investigators were attempting to determine if firewalls were adequate in the structure.


DAVID PROEBER, THE PANTAGRAPH


So close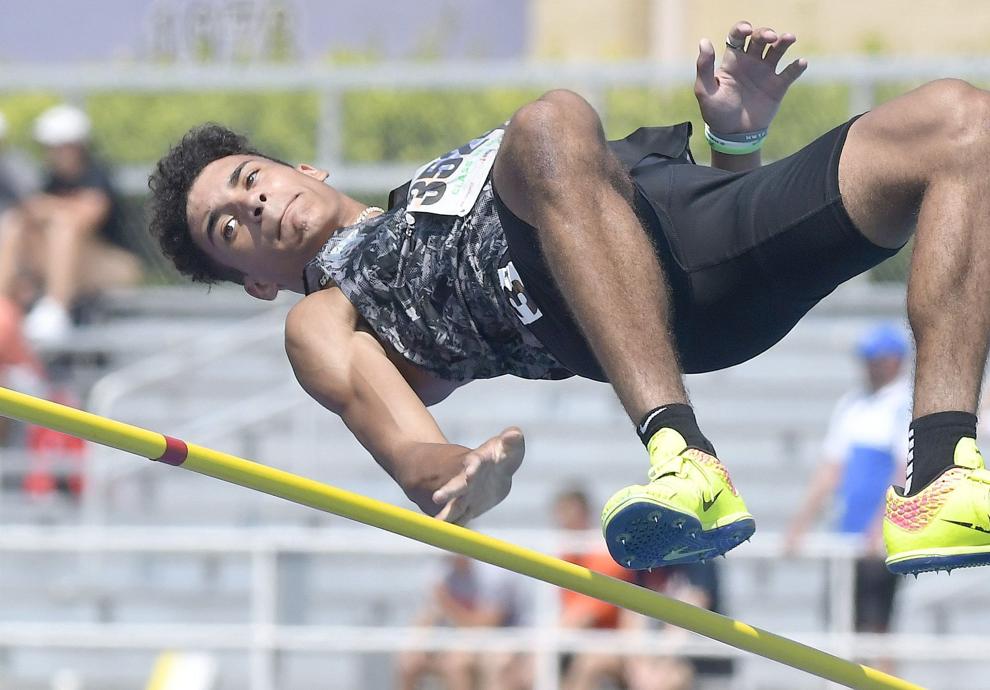 Normal West's Charlie Nolan fails to win but takes second place in the IHSA state track and field championship in the high jump Saturday, June 19, 2021, at Eastern Illinois University in Charleston.


DAVID PROEBER, THE PANTAGRAPH


The 100-year flood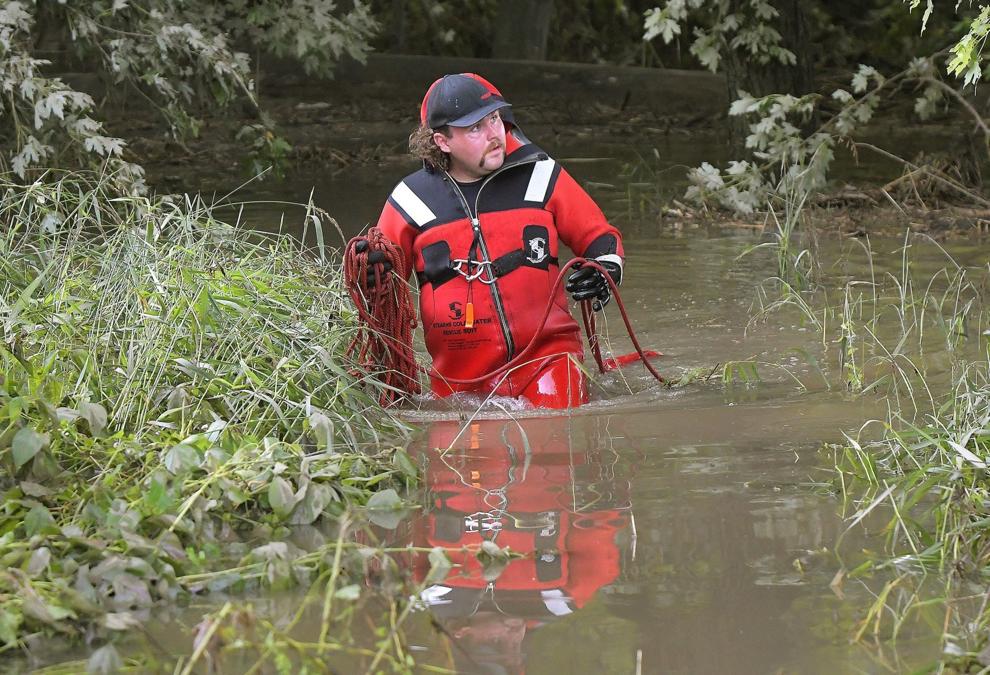 A Funks Grove firefighter used an exposure suit to recover a guideline used in rescues from the swollen Timber Creek along Interstate 55 on Saturday, June 26. Firefighters said water had come up over 15 feet from the normal level of the creek as they began to pull vehicles from the creek after they were swept off I-55 during what officials describe as a 100-year flood.


DAVID PROEBER, THE PANTAGRAPH


Eyes on the Olympics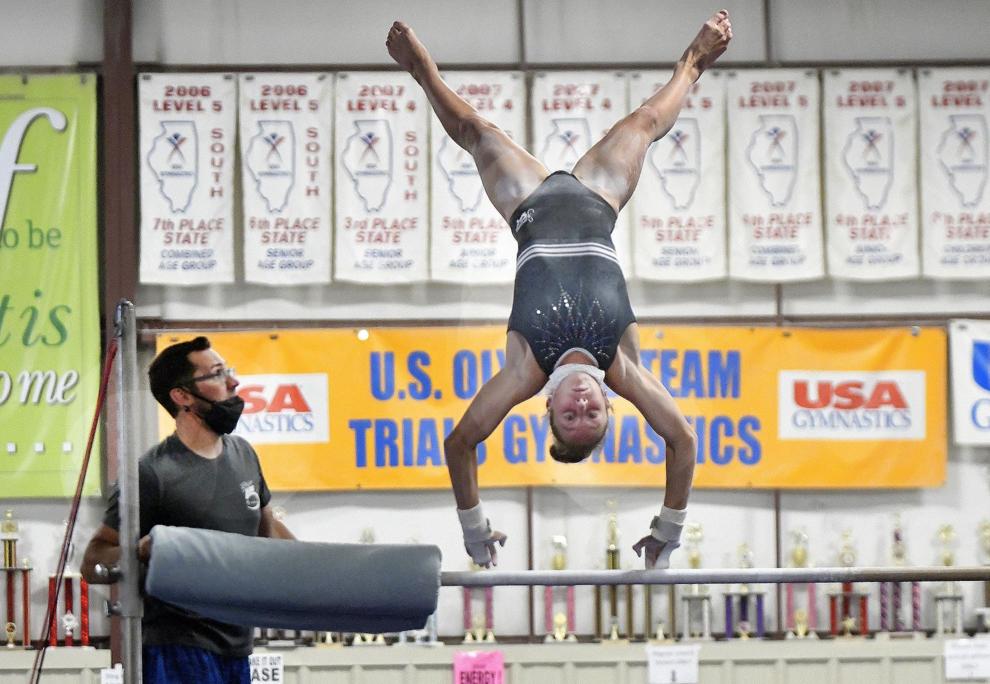 Gymnast Kennedy Dietz lunges off the parallel bars under the watchful eye of coach Brad Tubbs during a workout at Rising Stars Gymnastics, Friday, July 2, 2021. Dietz is among a growing number of Twin Cities athletes who are watching the Olympics with the possibility that they could qualify at some point in their lives.


DAVID PROEBER, THE PANTAGRAPH


Lone voice in a wilderness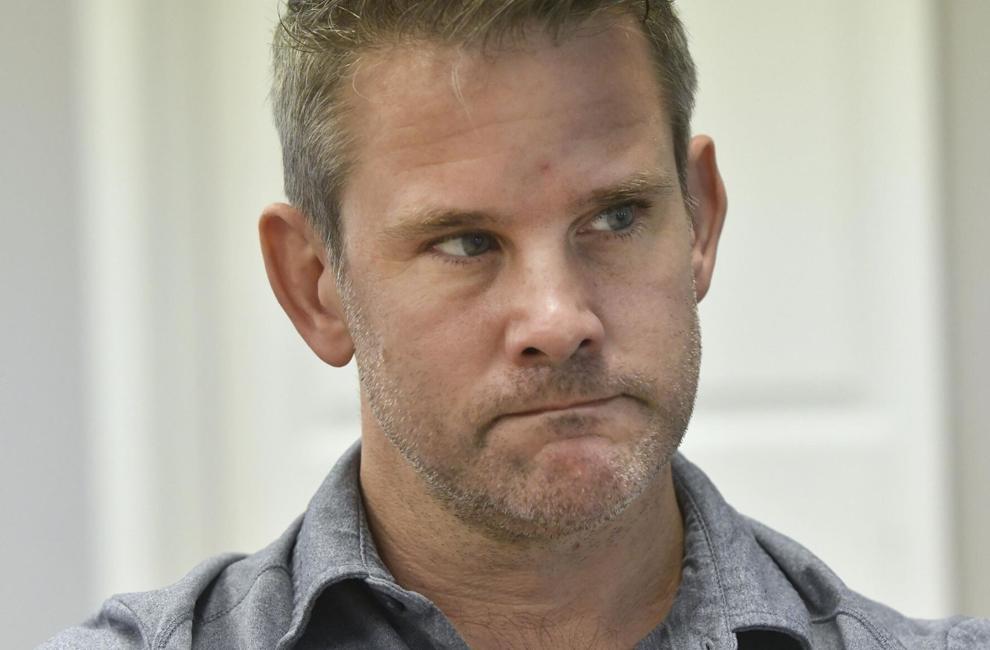 U.S. Rep. Adam Kinzinger expresses disappointment with his fellow Republican legislators who have been unwilling to deal with policy issues during an interview in Morris, Thursday, July 8, 2021. Kinzinger is one of only a handful of Republican leaders who have been willing to call out former President Trump for spreading lies about the election.


DAVID PROEBER, THE PANTAGRAPH


They'll take every blessing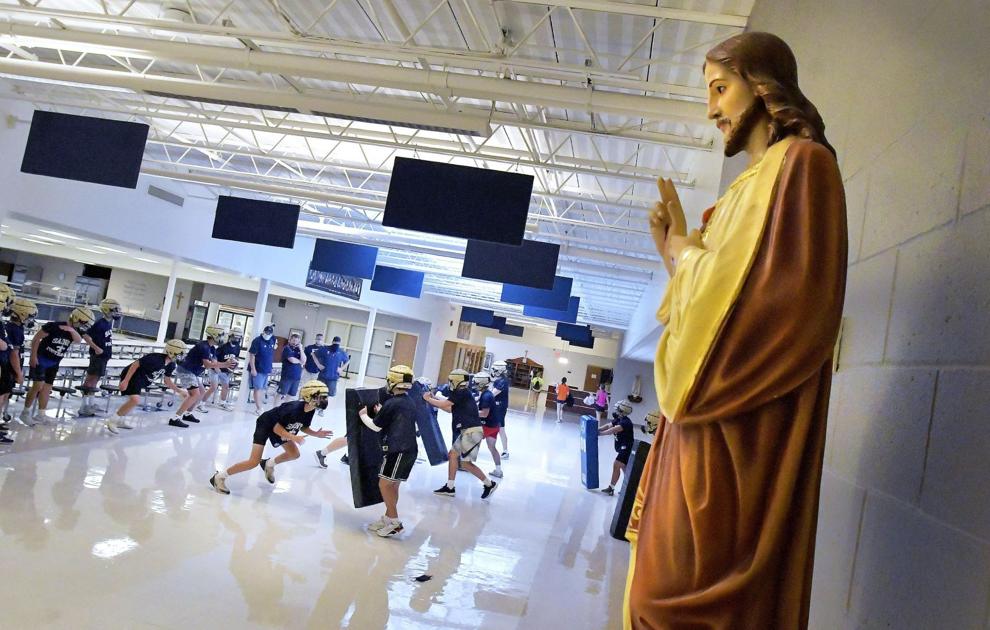 The Central Catholic High School linemen wore masks as they practiced under the blessings of a statue of Christ while working out on the first day of practice inside the school's lunchroom, Monday, August 9, 2021.


DAVID PROEBER, THE PANTAGRAPH


Someone is listening
Jamie Snow waves to his family after Schuyler County Circuit Judge Ramon M. Escapa ordered that 8,000 documents collected by Bloomington police and Illinois State Police investigators be turned over to Snow's legal counsel during a hearing at the Law and Justice Center in Bloomington, Wednesday, Sept. 8, 2021.


DAVID PROEBER, THE PANTAGRAPH


Rivian is for real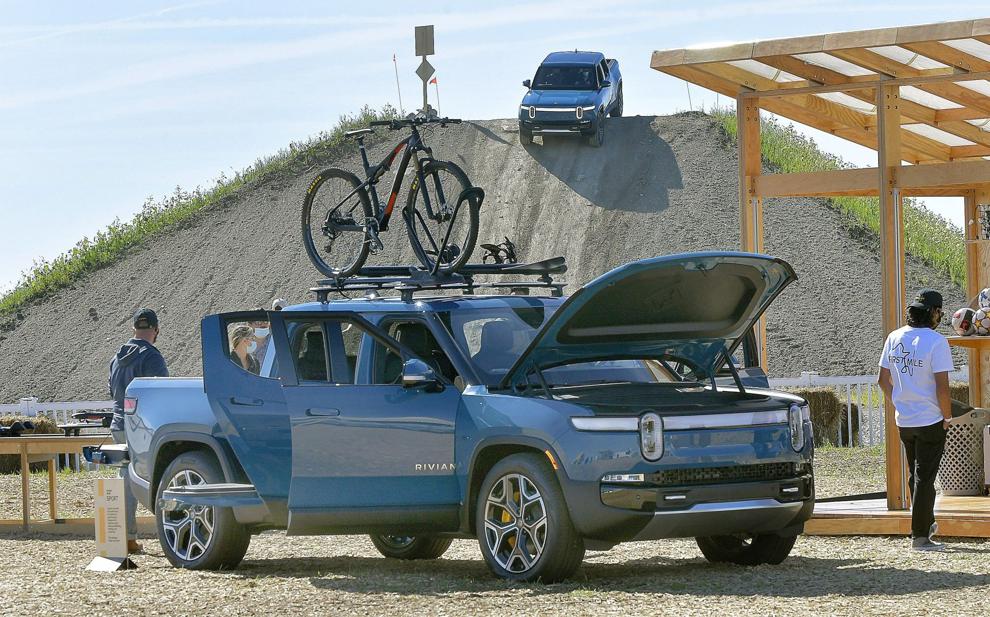 A Rivian R1T pickup truck is on display as another goes over the side of a 45 degree embankment on a test track at the Normal automotive plant, Sunday, Sept. 26, 2021. The company's First Mile event allowed government officials and other invited guests to test drive the first electric truck that was being released to customers on Monday.


DAVID PROEBER, THE PANTAGRAPH


March for justice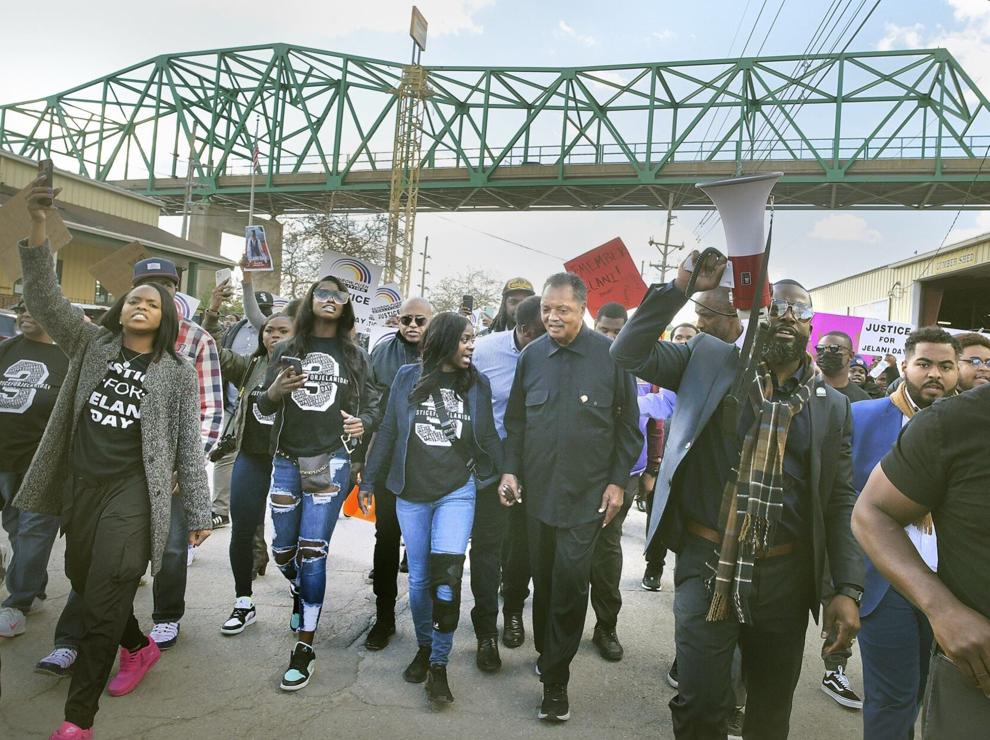 Carmen Bolden Day, center, held hands with Rev. Jesse Jackson as they passed under the bridge that passes over the Illinois River where the body of her son, Jelani day, was found, as they marched across Peru tracing Day's whereabouts before his death, Tuesday, Oct. 26, 2021.


DAVID PROEBER, THE PANTAGRAPH


A mother's love, sailor's pride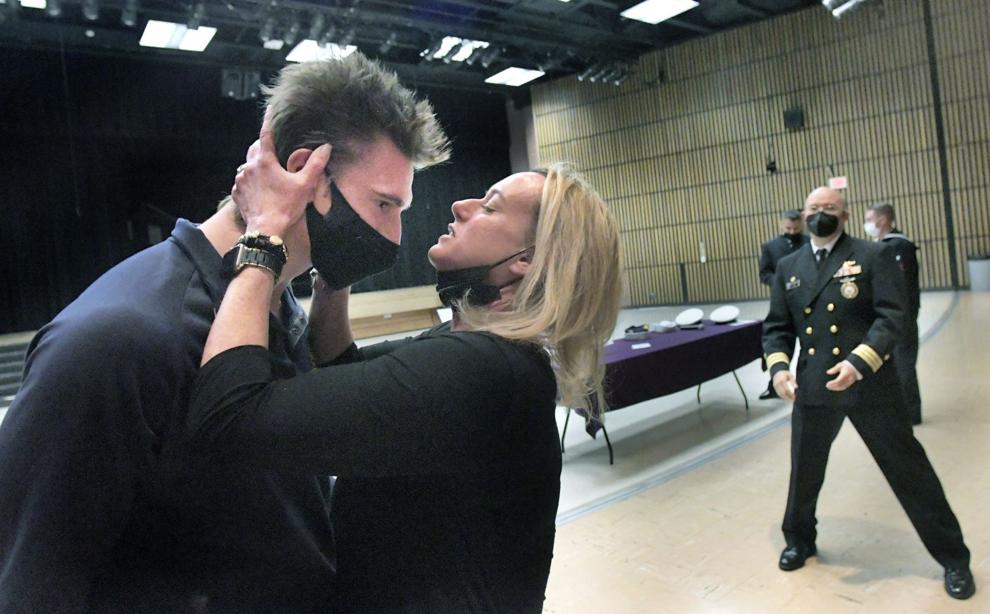 Noelle Burns, center, kisses her son, Walker Burns, 17, as she congratulates him before he received the U.S. Navy's Regional Office Training Scholarship, presented by Commander Ben Fischer, right, during a presentation at Bloomington High School, Thursday, Oct. 28, 2021. Walker, one of three recipients across a 13,000,000 person midwest recruitment zone, received the $200,000 scholarship to attend the university of his choice. He hopes to attend Georgia Tech and study aeronautics. While studying the sciences, he will take officer training courses, and hopefully graduate as a Navy commissioned officer. He said he hopes to go into naval aviation or nuclear power. Fischer said Burns' application was noteworthy, not so much because he was a straight A student, but because of his leadership qualities as captain of the BHS football team.


DAVID PROEBER, THE PANTAGRAPH


The struggle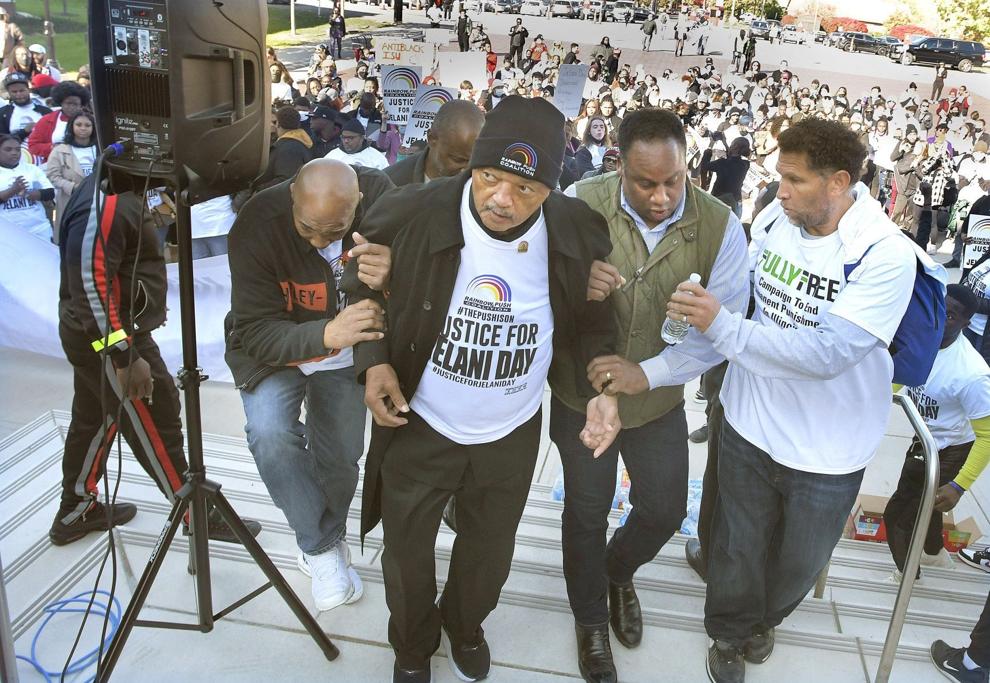 Assistants helped Rev. Jesse Jackson climb the steps at Illinois State University's Welcome Center as The Rainbow Push Coalition sponsored a march that went from the Bloomington Police Department to ISU calling for police investigations into the disappearance of ISU graduate student Jelani Day, Friday, Nov. 5, 2021. Jackson, who was recently in the hospital, inspired marchers with a message that called for justice for more than 400 minorities who have disappeared across the country.


DAVID PROEBER, THE PANTAGRAPH


A fiery call for peace and understanding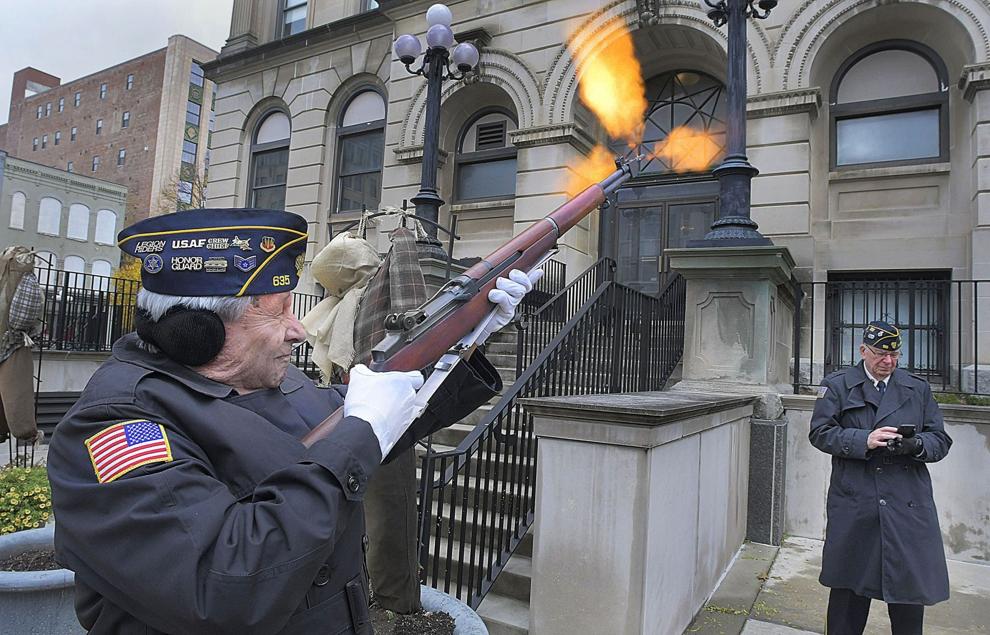 Muzzle flashes erupt from the M1 rifle fired by Butch Ekstam, left, a U.S. Air Force veteran from 1966 to 1970, as Rick Ross, also a USAF veteran, times the one-minute intervals in the 11-minute countdown to the Veterans Day observance at the McLean County Museum of History, Thursday, Nov. 11, 2021. This year's speaker, Travis Wheet, a U.S. Army veteran of the war in Afghanistan and commander of the Post 454 VFW, called for all Americans to work for peace and an understanding of all people across all corners of the world.


DAVID PROEBER, THE PANTAGRAPH


Contact Kade Heather at 309-820-3256. Follow him on Twitter: @kadeheather
Get the latest local business news delivered FREE to your inbox weekly.