DIXON – In a match full of stops and starts, and big momentum swings down the stretch, the Dixon Duchesses were able to pull off one last surge to defeat Rockford Lutheran 25-21, 26-24 in a Big Northern Conference match Tuesday evening at Lancaster Gym.
After a stoppage of play to discuss a call late in the second set, Lutheran went on a 5-0 run to turn a 21-18 deficit into a 23-21 lead, and the Crusaders looked poised to force a third set.
But the Duchesses (9-4, 2-0 BNC) had one last run in them, and Sydney Hargrave's kill for a sideout and a Lutheran hitting error tied the score 23-23. Lutheran retook the lead on a Kayla Spangler tip-kill, but a serve out of bounds made it 24-24, then a Crusaders hitting error and an Ella Govig kill sent Dixon to the victory.
[ Photos from Dixon vs. Rockford Lutheran ]
"The way we work as a team is so amazing. We have so much team chemistry, and that's what carries us to win these games," Govig said. "We work together so well, and everyone can do their job and execute so well, everyone was on their toes. Everyone in the back row getting their passes up. Then our setters, they did an amazing job distributing the ball, getting it to everyone. And our hitters, everyone was doing their jobs, and that's exactly what we need to do."
The biggest key for the Duchesses in this one was their pure scrappiness. Several points were determined by Dixon refusing to let a Lutheran hit touch the floor, instead finding a way to send it back over the net and make the Crusaders go on the attack again.
Libero Natalie Davidson led the way with 13 digs, Charlie Cole added nine digs, and Sydney Hargrave had eight more as the Duchesses dove, sprinted and leaped their way to keep point after point alive.
"We're really scrappy, and we try not to let anything hit the floor," Joey Brumbly said. "Everybody on our team can dive, we can all pass, and we really just don't want stuff to hit the floor. That really brings our energy up, and it's so nice that we have so many players who can turn those into points by finishing it off with a kill."
Dixon's defense at the net was stellar as well. Govig finished with 10 blocks, Brumbly had two, and Olivia Cox, Elexa Varden and Madyson Tichler got plenty of touches to make the job easier for the back row.
And when the Duchesses got a sideout, they kept it going with some aggressive serving that kept the Crusaders off-balance on defense and out of system on offense.
"One thing is with our serves, we know if we have the serve and we keep pushing on them, we have the momentum and they have the pressure. So we need to just keep doing that," Govig said. "We need to stay calm, but we know what we need to do in order to get the win, and we can't let them put the pressure on us. We know we need to control the game, so that's what we try and do."
Lutheran jumped out to a 5-0 lead to start the match thanks to a couple of dump-kills by setter Kayla Spangler, but a pair of kills by Brumbly around a Govig block, followed by a Hargrave ace, tied the set 5-5 . Brumbly got a kill and Govig took care of an overpass then served an ace to give Dixon a 9-7 lead.
An ace by Hanna Lengquist, a kill by Tichler, and an ace by Cole made it 13-9, then kills by Brumbly and Govig – on another overpass – pushed the lead to 16-12. Brumbly slammed two kills in a row and Hargrave served another ace for a 19-13 lead, before a Govig block stopped a Lutheran run and made it 20-17 Duchesses.
Govig and Cox combined for a stuff, then Varden spiked a kill to make it 23-19. Hargrave's roll shot fell for a kill to get to set point, then a Lutheran hitting error closed it out.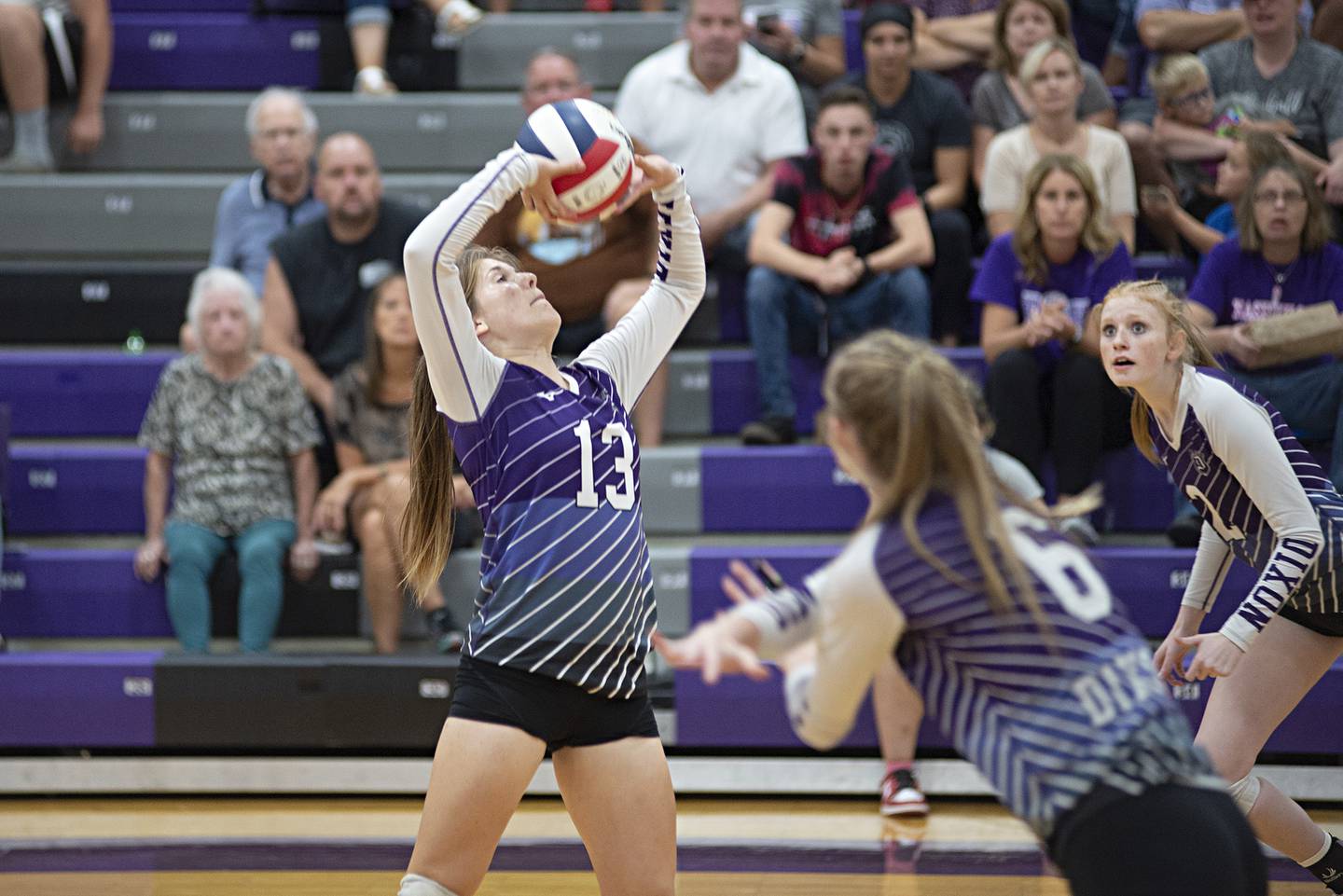 Lutheran led early in the second set as well, as Kayla Spangler served an ace, then Sami Spangler ripped back-to-back kills for a 4-2 edge. An ace by Aubree Pohl made it 6-3, but after a kill by Tichler and two errors by Lutheran, the score was tied 7-7. Cole then answered a Kayla Spangler kill with an ace to make it 9-9.
Three straight errors by Dixon gave the Crusaders a 12-9 lead, then another dump and an ace by Kayla Spangler made it 14-11. But that's when the Duchesses made their move.
Brumbly had a kill, Govig stuffed a block, and Brumbly served an ace to give Dixon a 16-15 lead. A Lengquist ace and a tip-kill by Hargrave pushed the lead to 21-18, setting up the wild finish.
"I know we definitely caught up on their setter dumps a lot, because whenever she was in front row, they were doing that a lot. She's a good setter, and the first two times she got us on those. But when we caught up on it, it definitely helped us to pick ourselves up," Brumbly said. "And we kept our serves in a lot; we're working on it, and we're getting it a lot better, so that definitely helped us to get up, because when they had a bad pass off of our serve, it really brought us up and got us going."
Govig finished with 10 blocks, four kills, five digs and an ace, and Brumbly added eight kills, two blocks, five digs and an ace for Dixon. Hargrave stuffed the stat sheet with eight assists, eight digs, eight points, three kills and an ace, Lengquist had seven assists, six points and two aces, and Davidson finished with 13 digs, five points and an assist. Cole chipped in nine digs and two aces, and Tichler spiked a pair of kills for the Duchesses.
Kayla Spangler did a little of everything for Lutheran, finishing with 11 assists, six kills, seven points and four aces. Pohl had four kills, eight points and an ace, Sami Spangler and Tahlula Habedank both added three kills, Anna Larson spiked two more, and Thalia Mackey served two aces for the Crusaders.