Wendy Rogers at the McKechnie Family LIFE Home on the UI campus. (Robin Scholz/The News-Gazette).
Today's host on our guided, virtual tour of favorite places and spaces on and around campus: WENDY ROGERSthe Shahid and Ann Carlson Khan Professor of Applied Health Sciences, director of the McKechnie Family LIFE Home and a member of the UI faculty since 2017, following an 18-year run at Georgia Tech.
The first spot on campus I'd take a newcomer I wanted to impress
The Morning Plots. I remember learning about the idea of ​​split-plot design in statistics class and it is fun to see that the plots are still active on campus. This is always a part of my walking tour of campus, which of course also includes the Quad, the Undergraduate Library and Lincoln Hall.
Where I went on my job interview trip to CU
I had the pleasure of giving two job talks when I interviewed in February 2016. Amazingly enough, the weather was beautiful.
First was a research talk that was held in the National Center for Supercomputing Applications Auditorium to attract an interdisciplinary audience. I was interviewing for a position supported by an investment for growth proposal from the university to promote collaborations across the College of Applied Health Sciences and the Grainger College of Engineering.
My second talk was held in Huff Hall and was my vision for a program I called CHART: Collaborations in Health, Aging, Research and Technology, which is now established on campus.
On my second interview visit in May, the AHS dean at that time, Tanya Gallagher, and her husband, Ken Watkin, brought me and my husband, Dan Fisk, to Silvercreek for dinner. I had pretty much decided I wanted to move here by then and celebrated with their amazing lobster mac and cheese.
To this day, that is all I ever order when I go there and I have recommended it to many people. In fact, I have some leftovers in my refrigerator right now from my visit there earlier this week.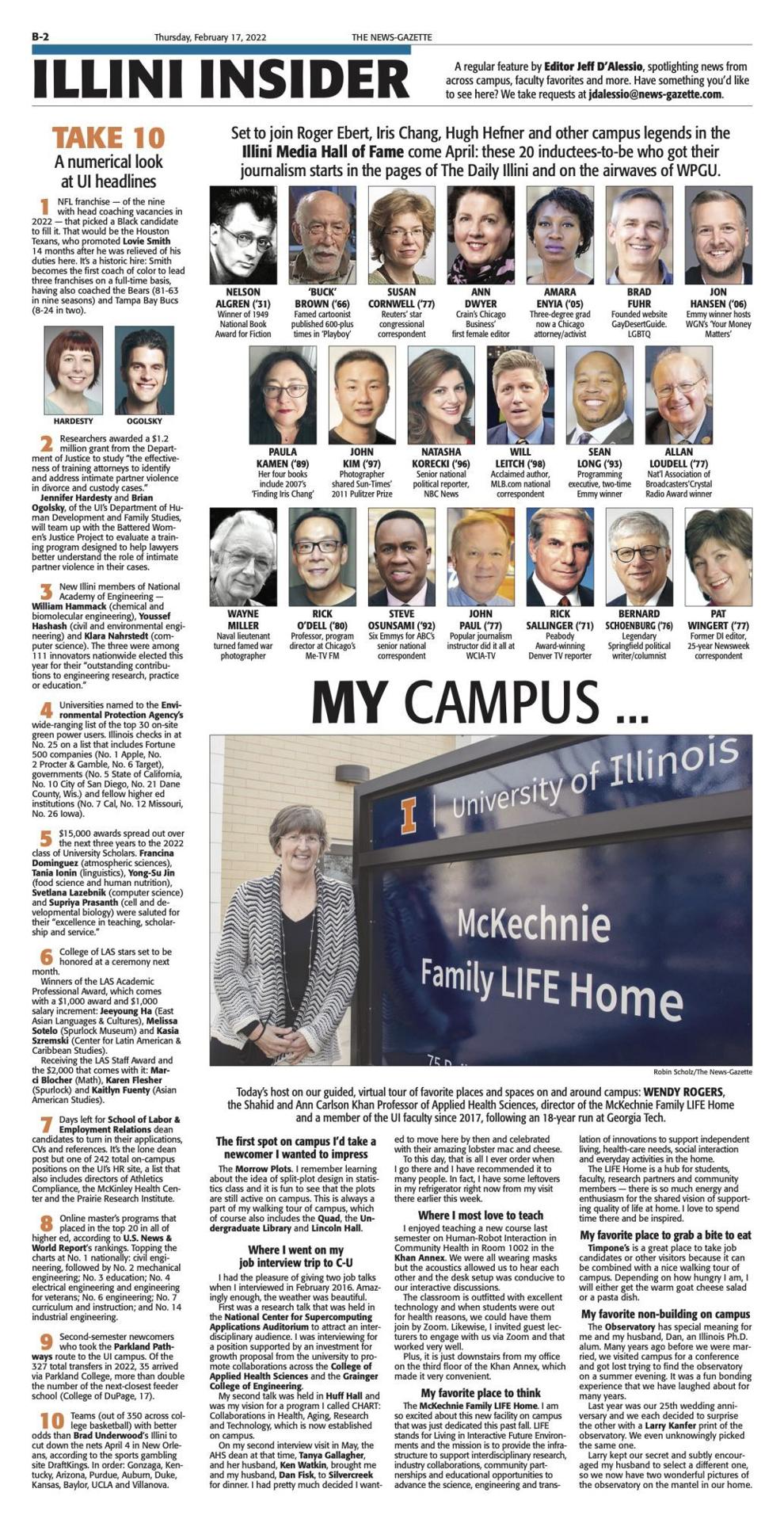 Where I most love to teach
I enjoyed teaching a new course last semester on Human-Robot Interaction in Community Health in Room 1002 in the Khan Annex. We were all wearing masks but the acoustics allowed us to hear each other and the desk setup was conducive to our interactive discussions.
The classroom is outfitted with excellent technology and when students were out for health reasons, we could have them join by Zoom. Likewise, I invited guest lecturers to engage with us via Zoom and that worked very well.
Plus, it is just downstairs from my office on the third floor of the Khan Annex, which made it very convenient.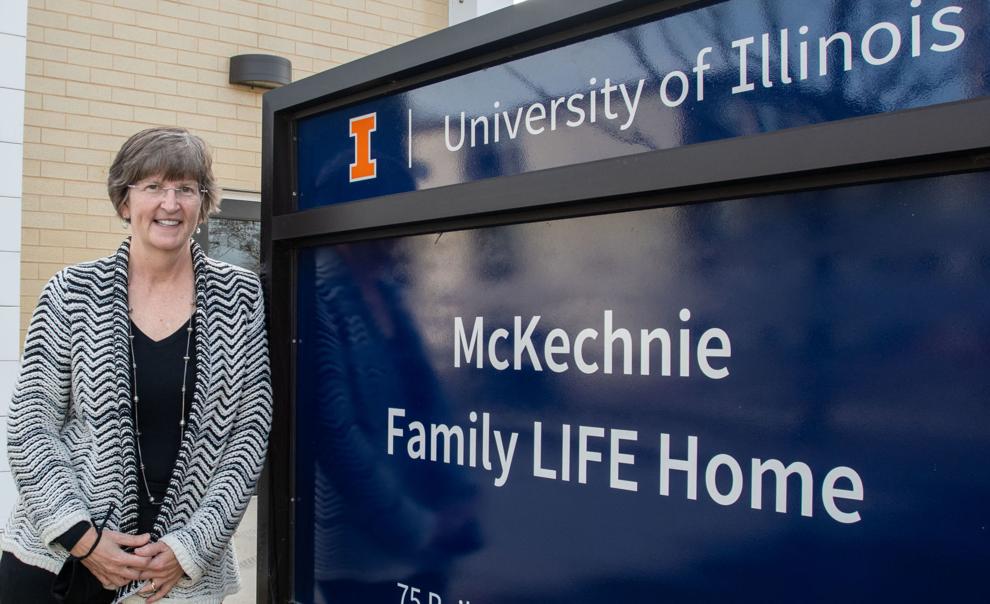 Of her new home away from home — the McKechnie Family LIFE Home — Wendy Rogers says: 'I love to spend time there and be inspired.' (Robin Scholz/The News-Gazette).
My favorite place to think
The McKechnie Family LIFE Home. I am so excited about this new facility on campus that was just dedicated this past fall.
LIFE stands for Living in Interactive Future Environments and the mission is to provide the infrastructure to support interdisciplinary research, industry collaborations, community partnerships and educational opportunities to advance the science, engineering and translation of innovations to support independent living, health-care needs, social interaction and everyday activities in the home.
The LIFE Home is a hub for students, faculty, research partners and community members — there is so much energy and enthusiasm for the shared vision of supporting quality of life at home. I love to spend time there and be inspired.
My favorite place to grab a bite to eat
Timpone's is a great place to take job candidates or other visitors because it can be combined with a nice walking tour of campus. Depending on how hungry I am, I will either get the warm goat cheese salad or a pasta dish.
My favorite non-building on campus
The Observatory has special meaning for me and my husband, Dan, an Illinois Ph.D. alum. Many years ago before we were married, we visited campus for a conference and got lost trying to find the observatory on a summer evening. It was a fun bonding experience that we have laughed about for many years.
Last year was our 25th wedding anniversary and we each decided to surprise the other with a Larry Kanfer print of the observatory. We even unknowingly picked the same one.
Larry kept our secret and subtly encouraged my husband to select a different one, so we now have two wonderful pictures of the observatory on the mantel in our home.

Wendy Rogers

Robin Scholz/The News-Gazette