Best wishes for a happy new year, mailbag readers.
This week's 'bag includes information on passenger train stations around Champaign-Urbana, former businesses in the west Urbana neighborhood, a renamed car repair shop in Champaign, options for disposing of yard waste, free air for tires and the road between St. Joseph and Sidney.
Also, where to dine outdoors this winter, the Cherry Hills subdivision, the demographics of crowds at UI games and more on our dearth of snow so far this fall and winter.

Jim Rossow/The News-Gazette
Outdoor winter dining
"With omicron on the march, eating indoors again seems risky. Do any area restaurants have heated (or semi-heated) outdoor eating areas?"
"We are not currently aware of any enclosed outdoor dining options in our area like this last year," said Terri Reifsteck, vice president of marketing and community engagement at Visit Champaign County. "However, many of our area restaurants made the investment to update their ventilation systems and enhance their cleaning procedures, allowing for a safer environment.
"Most restaurants also offer carryout, delivery, or curbside pickup for anyone interested in supporting our local restaurants from home. We'd like to remind anyone that is dining out to please wear a mask when not eating or drinking, be patient and kind to our hospitality workers, and tip generously as they are all working very hard under difficult conditions. Updates on hours and offerings can be found under the Food & Drink section of our website at visitchampaigncounty.org."
Free air
"The Haymakers gas station next to Harvest Market in Champaign as had an 'out of order' sign for their tire air pump for months. When will they get this fixed? Otherwise, is there another place in Champaign-Urbana I can air up car tires for free?"
A woman who said she is the manager of the store but declined to give her name said parts are on order to repair the air pump.
You are likely to get free air at Casey's General Stores in the area.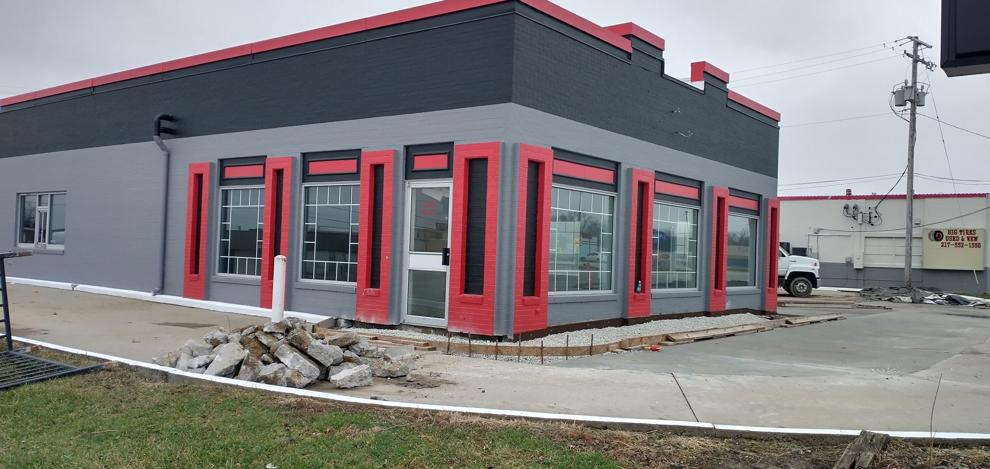 North Prospect site
"I see that there is some construction at 1308 N. Prospect Ave., Champaign. This was the site of a KFC, most recently a title loan business. Any idea what's coming to that location?"
The building is being remodeled in hopes of being leased, said a contractor working at the location. No building permit has been issued, said Randy Smith, Champaign's building safety supervisor, because "the work being done inside 1308 N. Prospect is considered finish work and does not require a permit.  This can include painting, wallpapering and carpeting."  
Yard waste disposal
"I wonder if there are options for disposing of yard waste in a carbon-neutral manner. I take my yard waste to the Champaign Township waste disposal site in west Champaign. I have been there several times and observed that the waste is put in a huge pile and burned. There is a large gray cylindrical apparatus/fan nearby which I assumed was involved in treatment of the smoke. In years past it seemed to be running during burns, but no longer. Does the township have any plans for a more ecological friendly disposal of yard waste? I noticed in the township website a referral to the Landscape Recycling Center which obviously is an option, but there is a charge."
Champaign Township Supervisor Norman Davis said your question is one the township has been "wrestling with for a number of years. It is one that is fraught with misunderstanding and lots of anxiety.
"First, let me say that the burn pit we do have is permitted by the EPA (ID #019010) for the current year. We are awaiting word if we will be allowed to renew the permit for 2022.
"Second, we only operate the burn pit when the winds are favorable. Our road commissioner is very diligent about this and he only allows the burn pit to operate with the winds being from the east and north and only under very light winds (less than 5 mph, according to the EPA permit). The fan device your reader mentioned is an air curtain, mandated by the EPA and operates once the burn reaches a certain stage. It is there to cut down the particulate matter from rising above the pit. Currently, we use the burn pit primarily for the burning of branches and tree trunks and try to avoid leaves as that creates far too much smoke. And, yes, there is some smoke when burning branches and tree trunks; most of that which we receive is green and will smoke no matter how hot the fire is.
"Finally, we take our leaves and bagged debris to the Landscape Recycle Center, just like everyone else does. It costs us $100 a dump truck load (over $10,000 spent so far this fiscal year) and is the best option we have found.
"I have tried to take this problem to the University of Illinois in the hopes that someone there would be willing to find us a more carbon and cost-effective way, but I have been unsuccessful in my efforts. If there is anyone out there with a better solution to this problem (and it is a nationwide problem, especially where you have deciduous trees), I would be willing to listen to them."
The Landscape Recycling Center (in Urbana) fees are pretty reasonable. You can drop off one to six bags of bagged material such as grass and leaves for $5. A cubic yard of brush and woody material is $10.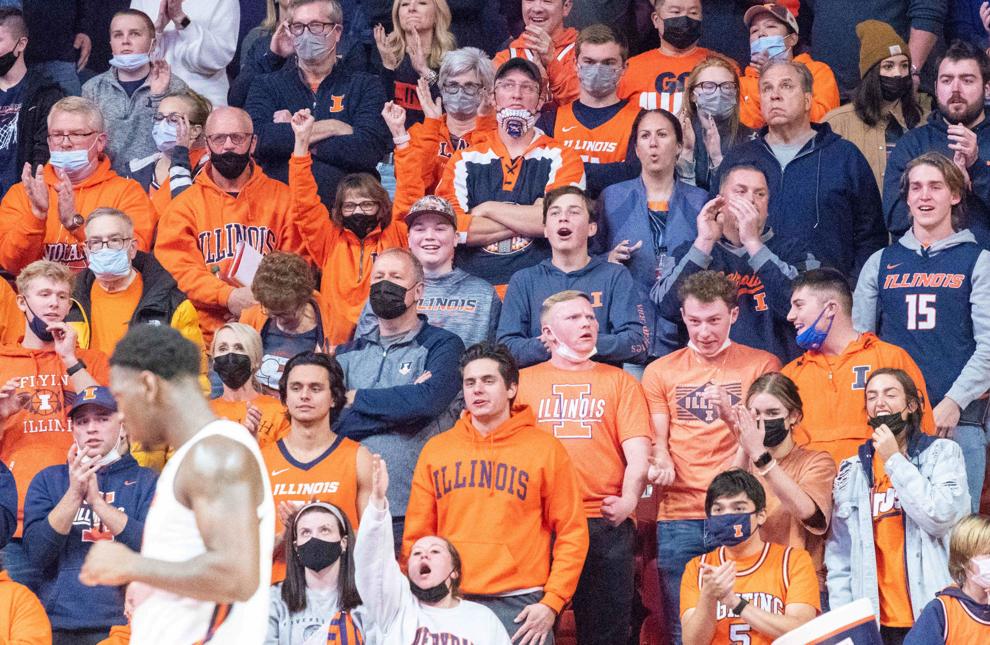 Illinois fans stand for the end of the game in the second half in a NCAA basketball game at the State Farm Center in Champaign on Friday, Nov. 26, 2021.

Robin Scholz/The News-Gazette

UI athletics crowds
"What percent of attendees at University of Illinois sports events (especially football/basketball) have an affiliation with UIUC (i.e.., students, staff, faculty, alums)?"
"We don't have current information on that, and I'm not even sure how accurate it would be," said Kent Brown, spokesman for UI athletics. "Each event is different. We are currently taking a survey of football ticket holders and there are some questions about that, but we don't have the data compiled yet."
Tatman care repair business
"Can you tell us what has happened to the Tim Tatman Carstar business on Mattis Avenue? The sign has been changed to Caliber Collision."
Caliber Collision said that Tatman retired and sold the business. The same employees are working at the renamed shop.
Businesses in west Urbana neighborhood
"I attended (on-line) a meeting held by the city planning department of Urbana concerning the plight of properties zoned R-7 (rooming house/fraternity, sorority). Because these lots are scattered around the (West Urbana Neighborhood Association) neighborhood, there is a lot of 'energy and passion' involved in the discussions.
"One of the city proposal options is to rezone the sites to a different zoning category (MOR) which would allow certain business and office uses. This did not seem to be supported at all by the neighborhood residents because they do not want to have businesses fingered into, and disrupting, their residential area.
"But this area – in the past – was littered with small businesses, just tangled into the midst of single family houses. In Champaign think of Hubers, or the recently mentioned Ice House, or Hopscotch Bakery. It seems that allowing small neighborhood businesses back into the landscape is returning to the historical nature of the area rather than turning its back on that history.
"Can you uncover a list of neighborhood businesses that had existed in the WUNA neighborhood in the past?"
According to city directories from the 1950s and '60s there was a smattering of local businesses in the neighborhood including a grocery, restaurant and gas station at the corner of Race and Washington streets, a florist at 703 S. Race St. and a Roto-Rooter Sewer shop at 305 S. Race.
There were several small businesses along West Green Street, including a grocery, and there also was a small grocery at 603 W. California Ave. There were many in-home businesses in the neighborhood including an upholsterer, a dentist, a TV repair shop and a refrigerator supply shop.
N-G search option
"Is there a search option on the News-Gazette internet edition? Of course I want to search for Tom's Mailbag."
There's a search box at the top right of the main webpage. Just type in "Tom's mailbag" or a particular item such as "Ameren" or "State Farm Center."
St. Joseph to Sidney road
"The state just built a new bridge over the Salt Fork River north of Sidney, but the 'Sidney Slab,' the road from St. Joseph to Sidney, is a mess full of potholes and missing pavement. Does the state have any plans to repair this road that goes over the new bridge?"
You're actually talking about two different roads, said Champaign Engineer Jeff Blue.
"The road between Sidney and St. Joseph is a state route," said Blue. "The road from Homer to Sidney and on to Illinois 130 (typically referred to as the Sidney Slab) is a county road and we rebuilt the part from Sidney to 130 this year.
"It is not totally complete. The contractor will be back in the spring to finish the dirt work and clean up. The road from Sidney to Homer is in our current 5-year plan for reconstruction."
As for the road from Sidney to St. Joseph, there are no projects in the current multi-year plan (MYP) for resurfacing it, said Kensil Garnett, the Region 3 engineer for the Illinois Department of Transportation.
"District maintenance forces will do their best to keep this road in a serviceable condition until the road is resurfaced," said Garnett.
Vintage passenger stations in C-U
"Besides the three stations in downtown Champaign (Illinois Terminal, Illinois Central passenger terminal, and the former train depot that now houses Black Dog), were there any other rail stations that once served passengers in the Champaign-Urbana area?"
The original Illinois Central depot was the Doane House, which stood along Main Street on the east side of the tracks and operated from 1856 to 1898, when it was destroyed by fire.
The depot that now is the Black Dog operated from about 1898 to 1924. After that it was converted to a freight station.
The third passenger station, which was built at the same time the IC tracks were raised above grade level through Champaign, operated until 1999 when it was replaced by the Illinois Terminal building on the south side of University Avenue.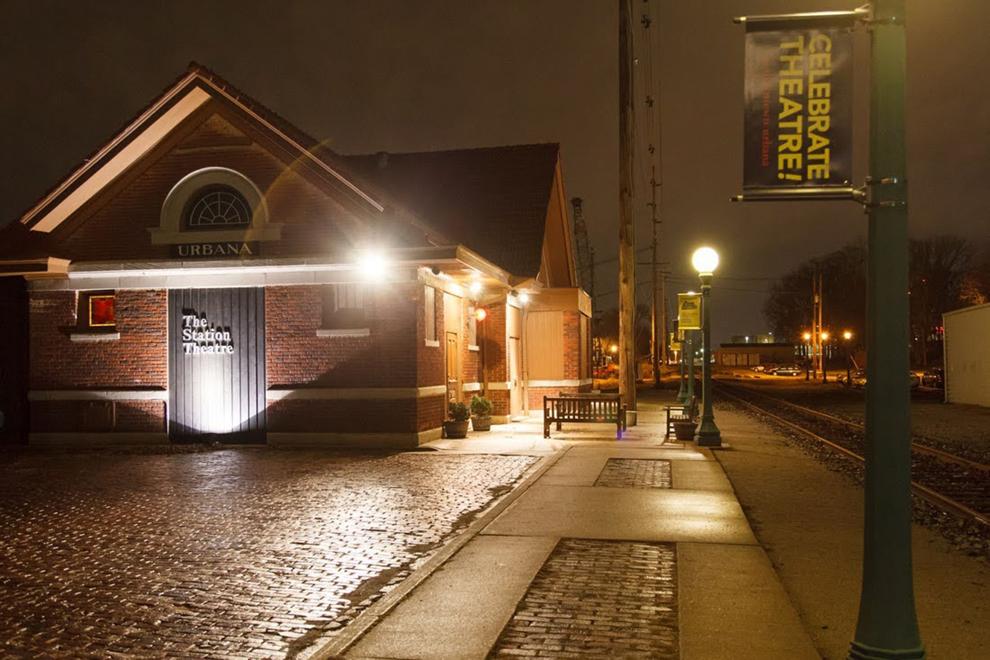 Urbana's Station Theatre.

Provided

Other passenger depots were:
— Big Four Railroad, 719 N. Neil St., Champaign, and 223 N. Market St. (now the Station Theatre on what is now called Broadway Avenue), Urbana
— Kankakee & Urbana Traction Co., 108 N. Market, Urbana
— Wabash Railroad, 804 N. Randolph St., Champaign, and 220 N. Market St., Urbana
— Illinois Traction System, 39-41 E. University Ave., Champaign (now known as the Illinois Traction Station) and 120 E. Main St., Urbana, across from the county courthouse
Later the Illinois Terminal station in Champaign moved to 622 N. Neil, then 804 N. Randolph.
And the Big Four station (later the New York Central) moved to 301 N. Broadway Ave., Urbana.
Cherry Hills oddity
"Why are there still a few homes in Cherry Hills subdivision considered county when most others are within city limits and paying city taxes? These homes are not on the edge of the subdivision, they are a few houses on or near Cherry Hills Drive."
Quite a few lots on the northeast side of Cherry Hills are outside the city, said Bruce Knight, the director of planning and development for the city of Champaign.
"That area developed without an annexation agreement and because the farmland to the east owned by the (Lo family) never has developed the area that remains outside the city is greater than 60 acres and under State law cannot be annexed as surrounded territory," Knight explained. "Subsequent phases of Cherry Hills developed under an annexation agreement and were annexed as they developed."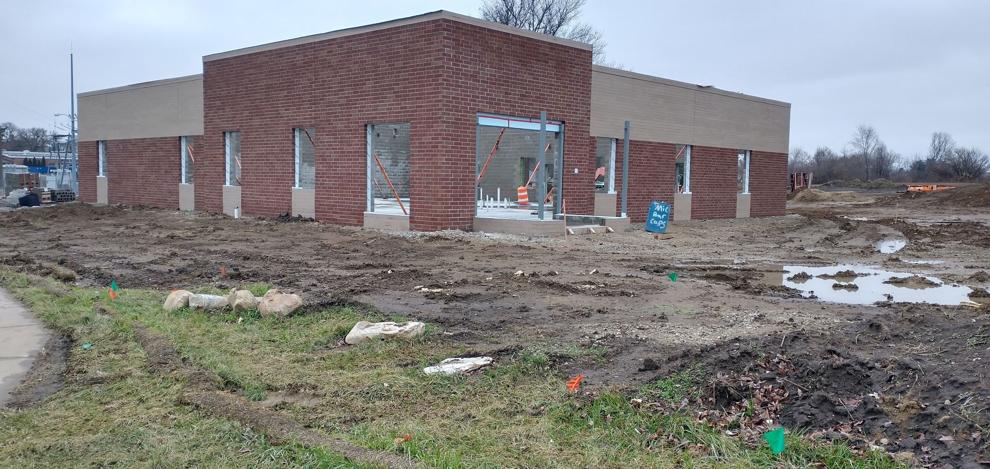 Under construction
"What is being built on South Neil Street close to Old Orchard bowling alley?
That's a new union hall for the Plumbers and Steamfitters Local 149. It is expected to be completed by May.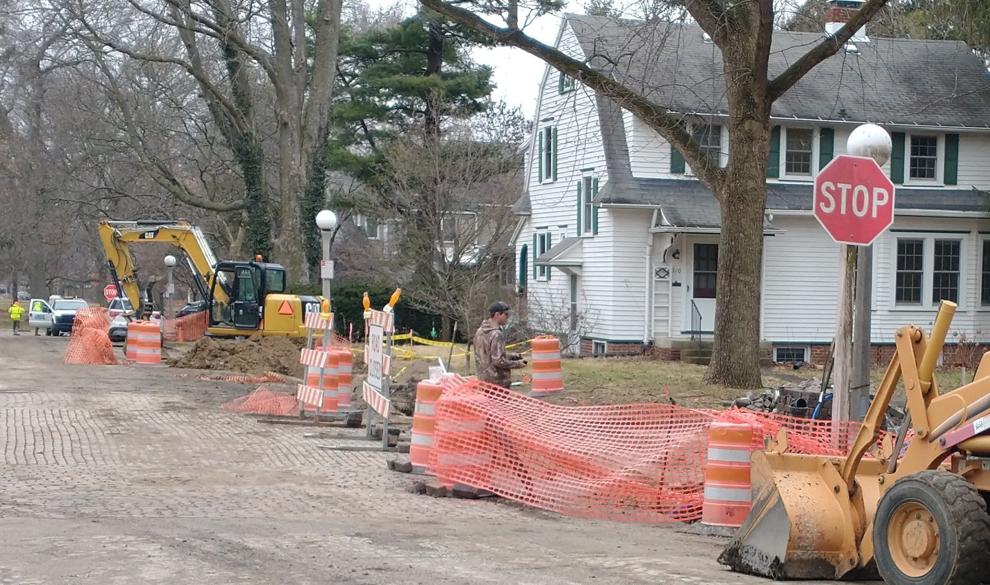 Pipe work in central Urbana
"What's the scoop on the pipe-laying operation going on this holiday season from Carle Park south along Carle Avenue?"
Illinois American Water Company is replacing an existing water main, said Urbana Public Works Director Tim Cowan.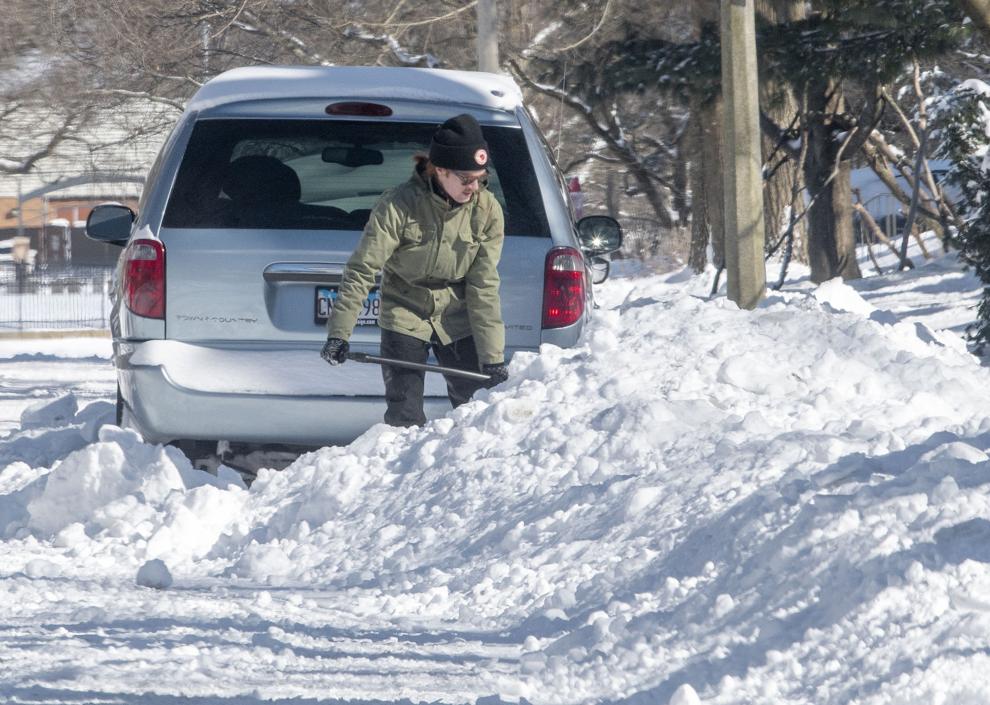 Joe Rogowski clears his driveway from snow piled up by the plow along Indiana in Urbana following Monday's snowstorm on Tuesday, Feb. 16, 2021.

Robin Scholz/The News-Gazette

More on what happened to the snow
Meteorologist Steve Hilberg wrote to correct part of last week's mailbag item on the latest first snowfall of the season.
"In your Tom's Mailbag on December 24, you wrote that the latest first snowfall before this year was Dec. 19, 2009. The correct date is Jan. 4, 1913. There were eight days with a trace of snow in December 1912, but the first measurable snow was 1.0 inch on Jan. 4, 1913. That season ended with 19 inches of total snowfall."
Steve is, of course, correct and what that means is that we did not establish a record this year for the latest first snow of the season. The Illinois State Water Survey recorded 0.1 inch of snow on Wednesday, Dec. 29, so our snow drought has ended.
So far this calendar year Champaign-Urbana has received 18.2 inches of snow. The average annual snowfall is 20.8 inches. Almost all of the snow in 2021 came in February, 12.5 inches